Here's some food for thought: Singapore Airlines went more than 30 years without operating a narrowbody aircraft, having sold off the last of four Boeing 757-200s to the International lease Finance Corporation in 1990. 
These were received factory-fresh from Boeing in 1984, but lasted less than six years after losing a head-to-head trial with the Airbus A310. Passengers preferred the spaciousness of a widebody, two aisles allowed for more efficient boarding and disembarkation, and freight capacity trumped the Boeing 757.
Singapore Airlines then became an all-widebody carrier for three decades, and in a way, this moulded the perspectives of many Singaporeans born in the late 80s onwards. We came to associate premium service with widebody aircraft, since narrowbodies were relegated to lesser lights like SilkAir, Scoot, Tiger Airways, Air Asia and Valuair (remember them?). That's certainly the case for me at least, 34 years old and having never seen the Singapore Airlines livery on anything smaller than an Airbus A310. 
But that all changed in 2018, when SIA announced its plan to absorb the SilkAir brand. Integration started in early 2021, and in March that year, Singapore Airlines Boeing 737-800s made their first flights to Phuket. There are now more than 20 narrowbody 737s in Singapore Airlines colours, with 22 more to come. 
It's a seminal moment for sure, and now it was my turn to experience A Great Way To Fly- amidst considerably tighter quarters.
✈️ tl;dr: Singapore Airlines B737-8 Business Class

SIA's B737-8 Business Class is nothing revolutionary, but

it does offer a flat bed on the shortest of flights, plus everything you need to be productive in the sky.

👍 The Good

👎 The Bad

A full flat bed is always welcome, no matter how short the flight

Wi-Fi, in-seat charging, and personal IFE screens

Throne seats offer excellent privacy and storage space

4 out of 10 seats without direct aisle access

Throne seats have cramped footwells

Truncated Book the Cook menu on regional flights

Cabin was not cleaned properly
My trip to Lang Co would begin by flying SQ174 to Da Nang, which boarded from T3 (as a reminder, SIA is currently operating departures out of T1, 2 and 3, though all check ins take place at T3 exclusively).
As a side note: don't confuse the B737-8 with the B737-800. It's not the simple case of dropping trailing zeroes; the two aircraft are completely different beasts altogether!
| | | |
| --- | --- | --- |
|   | B737-8 | B737-800 |
| Total Seats | 154 | 162 |
| Business Class | 10 (Flat Bed) | 12 (Recliner) |
| Economy Class | 144 | 150 |
| Seatback IFE | Yes | No (IFE via wireless streaming) |
| In-Seat Power | Business Class only | No |
| Wi-Fi | Yes | No |
In terms of comfort, it's no contest. The B737-8 has Singapore Airlines' latest and greatest narrowbody cabin products, while the B737-800 is nothing more than a reskinned SilkAir plane with some new upholstery, running down the clock till retirement.
Fortunately, the B737-800s are only deployed on the shortest of regional routes, namely Kuala Lumpur, Medan, Surabaya, and Kathmandu (an outlier with a flight time of 4h 35m). Da Nang saw the B737-800 until recently, when it was upgraded to a B737-8; I got the email about two weeks before departure. 
Here's a brief rundown of what passengers can expect on the B737-8 (and if you have concerns about flying this aircraft, you might want to read this piece I wrote).
✈️

Singapore Airlines B737-8
 
Business Class
Economy Class
Seats

10

144

Layout

2-2, 1-1, 2-2

3-3

Seat Pitch

44″

30″

Seat Width

Up to 22″

18″

Seat Recline

Reclines to full flat bed

5″

Bed Length

76″

N/A

IFE Screen Size

16″

10″

In-Seat Power

AC charging

N/A

USB Charging Ports

2x USB ports

1x USB port
Boarding was called with 30 minutes to go, and it was a surreal feeling indeed to step onboard a narrowbody aircraft and see a sarong kebaya clad stewardess waiting at the door!
Let's first talk seat selection. 
Singapore Airlines' B737-8 has 10 Business Class seats, configured in a 2-2, 1-1, 2-2 layout. This arrangement means that only 60% of passengers have direct aisle access; those seated in 11A/K and 14 A/K will need to step over their seatmate to access the aisle. 
Seats are up to 21 inches wide, depending on row. Row 11 seats are the narrowest at 19 inches, because the footwell from Row 12 extends into the space between the seats.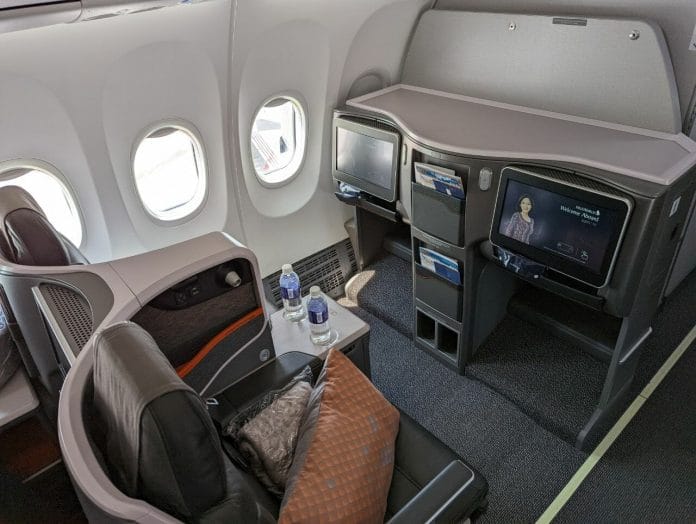 Row 12 seats are the widest at 21 inches. They're unofficially known as the "throne seats" because passengers enjoy two full-sized armrests all to themselves, and while some airlines reserve these for elite flyers, Singapore Airlines allows selection on a first-come-first-serve basis.
Row 14 seats at the rear of the cabin (SIA skips the unlucky row 13) measure in at 20 inches wide.
If you're a solo traveller, you'll no doubt want to pick 12B/J, while couples with infants will need to pick 11 A/C or 11 H/K, as these come with a bassinet area. 
I chose 12J and placed The MileLioness in 14K (she's understanding that way), but since 14H was empty we could rotate among the three seats as we wished.
The seat has a three-point seatbelt, which must be used for taxi, take-off and landing. During the flight, you can unhook the shoulder band use it as a two-point seatbelt if you prefer.
While throne seats offer more personal space, it comes with a trade-off in the footwell area. It's a tight squeeze, perhaps even tighter than the notoriously narrow footwell on the A350-900. 
The inside of the aisle-facing privacy ear has a textured side pocket that can store a water bottle or a tablet, although it must be kept clear for taxi, take-off and landing. A reading light, earphone connector and USB charging port can be found here too. 
An easily-accessible USB port plus universal power outlet is located on the opposite table. Unfortunately, there's no wireless charging available- that's a poor miss, given how ubtiquous the format will eventually become.
Seat controls are found on a touch-sensitive panel, with presets for full flat, full upright, as well as the option to individually control the footrest. 
The tray table slides out from the privacy wing instead of the armrest. It's reasonably sturdy, if slightly smaller than expected. A 14-inch laptop would just about fit, though with minimal space to rest your wrists. 
It's not possible to exit the throne seat without folding the table, but if you're seated in one of the aisle seats, you can lower the armrests and squeeze out. 
One of the main perks of the throne seat, apart from additional privacy, is the extra storage space. Not only do you get the benefit of two side tables, there's also a small storage closet that pops open to reveal a mirror.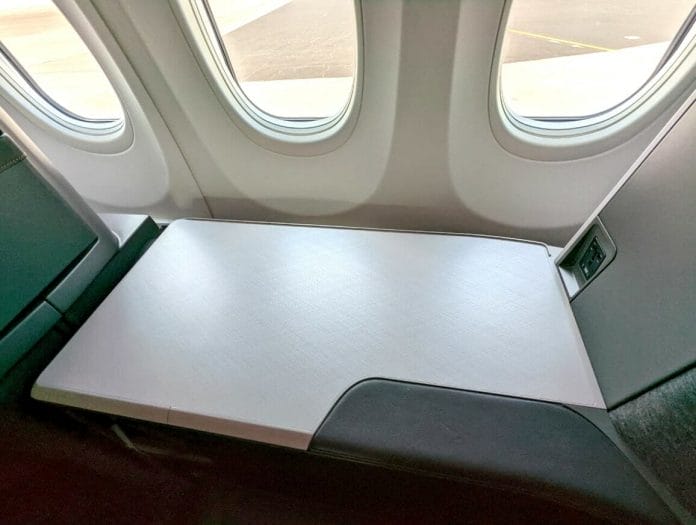 The cubby near your feet is large enough to store a laptop or a pair of shoes. 
Singapore Airlines offers tip to tail personal IFE screens on its B737-8s, and Business Class passengers can find a remote with button and touch inputs inside the armrest.
The high definition 16-inch screens are also touch-sensitive, but are positioned so far forward that gorilla arm is inevitable. You'd be much better off using the remote instead.
Headphones are the same noise cancelling model you'll find on SIA's widebody aircraft. 
For all the talk about hygiene hypervigilance in a post-COVID world, the cleaning wasn't up to scratch. The MileLioness found red wine stains all over her inflight entertainment controller…
…while I found a used mask and half-eaten biscuit behind my seat. 
I flagged these issues to the crew, who took a photo with an iPad and filed an onboard report that hopefully makes its way to the right parties.
While most aspects of inflight service have been restored, pre-departure beverages are a notable exception. I'm not sure if this is a CAAS restriction, but it seems very strange that passengers still can't enjoy a tipple before take-off.
The pilot came on the PA to welcome us onboard this 2 hour 45 minute flight to Da Nang. Pilots sometimes mention the aircraft type in their welcome address, thought the omission was perhaps understandable given the B737-8's, shall we say, chequered history. 
We pushed back on time and soon started climbing out of Changi. 
Once the seatbelt sign went off, the crew closed the curtain between Business and Economy and got to work preparing lunch.
After a two-year absence, Singapore Airlines has finally restored physical menus in First and Business Class. 
Singapore Airlines restores physical menus in First and Business Class
Say what you will about the environment, but digital menus are no substitute for paper ones. A good quality menu is an important part of the premium cabin experience, providing a tactile way of browsing through the food and beverage options while recreating the feel of being in a restaurant. It's also fun to see the labels of the various wines you're about to enjoy, even if they are in monochrome.
While Book The Cook is offered on all Business Class flights out of Singapore, the selection depends on where you're flying to.  As a regional destination, Da Nang only gets an abbreviated selection:
Note the absence of favourites like lobster thermidor or Thai-style cod, which can only be had on flights longer than 3.5 hours.
I'm a sucker for chicken rice, and enjoyed the Boon Tong Kee version served on my flight to Germany in September 2021. However, there's one key difference between then and now: chicken supplies. Because of Malaysia's temporary ban on chicken exports, the caterer has had to switch to frozen chicken (which to be fair is disclosed in the menu itself). 
And having seen the final product, it's understandable why they're keen to moderate expectations. The chicken rice was abject, with dry chicken that had been nuked to oblivion, and pale-looking, unappetising vegetables. The rice was mushy in parts, and this dish was a total write-off.
The MileLioness went with the beef rendang, which was much better. 
Singapore Airlines has brought back Charles Heidsieck champagne, which is served as an either/or option alongside the popular 2012/2014 vintage Piper-Heidsieck Brut. Frankly I prefer the latter, though Charles Heidsieck is still much superior to the Ernest Rapeneau which occasionally pops up on some flights!
I connected to the Wi-Fi network while eating. PPS & KrisFlyer members are entitled to free access, provided they entered their membership number at the time of booking or check-in (i.e. it needs to appear on your boarding pass). If you forgot to do this, it's too late to do anything once on the plane. 
 

PPS

KF

Non-KF

Suites & First

Unlimited

Business

100MB

Premium Economy

100MB

2-hrs chat

N/A

Economy
Allowances do not stack; for example, a PPS Club member in Business Class would only receive 100MB, not 100+100MB. 
Once the free access is exhausted, you can pay out of pocket for the following:
| | | |
| --- | --- | --- |
| Plan | Cost | Allowance |
| Chat | US$3.99 | 2 hours |
| Pro | US$9.99 | 100MB |
| Premium | US$15.99 | 200MB |
| Surf | US$15.99 | 3 hours |
There isn't a whole lot of time to watch movies on a short flight like this, but passengers still have access to the KrisWorld entertainment system powered by Panasonic's X-series system. It's basically the same range of movies, TV shows and music available on Singapore Airlines' bigger aircraft, and you're bound to find something you like.
New additions for July include The Batman, Morbius, and Sonic the Hedgehog 2. 
By the way, am I the only one who can't take Robert Pattinson seriously as Batman? Bruce Wayne is meant to convey the pathos of a boy who watched his parents gunned down in cold blood; this one looks like he missed a My Chemical Romance concert. 
If you'd rather stay in touch with the real world, there's also four channels of live TV: BBC, CNN, CNBC and Sport24.
One unique feature that the B737-8s have is Panasonic Avionics Arc, a new type of moving map application that's meant to enhance the passenger experience with personalised recommendations and geo-triggered information. For the moment, however, it looks just like any other flight map- perhaps SIA hasn't activated its full features yet.
I decided to take a quick nap, and reclined the seat into bed mode. The smart money says that Singapore Airlines has ended its experiment with flip over beds, last seen on the 2013 Business Class seat. Both the 2017 Business Class and 2018 Regional Business Class seats allow recline-to-flat, and this seat does likewise. 
The bed is 76 inches (193cm) long, and although there's a visible seam between the seat cushion and seat back, I didn't feel it at all when prone. I doubt you will either.
Singapore Airlines does not provide a mattress pad, but I found it very comfortable regardless. That said, some passengers may dislike the coffin feel created when the seat is fully flat, and the tight confines might pose an issue for passengers of size. As mentioned earlier, the footwell can be restrictive too, specially if you're a back sleeper. 
If you're particular about leg space, you may very want to pick one of the seats in Row 11, which have a much wider footwell.
Just before landing in Da Nang, I popped into the single lavatory, which is shared by all 10 Business Class passengers.
If you think the toilets on widebody aircraft are cramped, wait till you get a load of the B737-8. It's tiny, and taller people will find their knees pressing against the curved side panelling when seated on the loo. The push tap spurts water at an uneven clip, and the sink is maybe 60% the size of that on a widebody airplane. 
On the bright side, Business Class passengers still get Penhaligon's Quercus amenities, though only the hand lotion and facial mist. The cologne wasn't stocked on this flight.
SQ174 touched down in Da Nang International Airport at 3.50 p.m, just five minutes behind schedule. 
Conclusion
When Singapore Airlines first unveiled its B737-8 cabin products, I read complaints that it wasn't anything ground-breaking compared to other products like JetBlue's Mint Suites.
Mint Suites are certainly impressive with their all aisle access configuration and closing doors. But it's not a fair comparison, because these seats are only available on A321LR and A321neo aircraft plying high margin trunk routes like JFK to LHR, or JFK to LAX. JetBlue has many other differently-configured narrowbody aircraft which are used on less profitable, lower volume routes.
Singapore Airlines only has a single type of narrowbody (well, once the -800s leave the fleet), which is expected to fly everything from a business-heavy Monday morning hop to Hanoi, to a leisure-focused midweek flight to Male. It's simply not realistic to expect an entire narrowbody fleet configured with an ultra low density premium cabin product, as amazing as that would be. I mean, you don't see JetBlue installing Mint Suites fleetwide for a reason. 
A better comparison would be to look at what regional carriers are doing, as that's what Singapore Airlines is up against on such routes. In that respect, the 737-8's seat more than outperforms its narrowbody competitors: StarLux and Philippine Airlines have flatbed seats, but in a 2-2 configuration, Cathay Pacific, Garuda, and Vietnam Airlines use recliner seats for regional flights, and the less said about Malaysia Airlines' new Business Class the better.
At the end of the day, this Business Class seat, while far from revolutionary, provides passengers with a comfortable ride to anywhere from Kuala Lumpur (45 minutes) to Cairns (6 hours 40 minutes). It's the best narrowbody experience you'll find anywhere in the region, that's for sure. 
What do you think of SIA's new B737-8 Business Class seat?