Japan Airlines First Class has long been on my bucket list, and I finally had an opportunity to review it on my whirlwind trip to San Francisco.
JL57 from San Francisco to Tokyo Narita had started rather poorly with the truly dreadful JAL Sakura Lounge, but fortunately, things were about to get a whole lot better…
✈️ tl;dr: Japan Airlines B777-300ER First Class

Japan Airlines' First Class seat might be dated, but its catering, amenities and service are right up there with the best of them.

👍 The Good

👎 The Bad

Excellent food and drinks selection, with numerous snack options

Comfortable bedding provides a great sleep experience

Zero Haliburton amenities kits, Shiseido and Cle De Peau skincare amenities

Older seat design with no doors or any other gimmicks to get excited about

Clunky inflight entertainment system with poor navigation design
⏱️ 17 hours in San Francisco
First Class Seats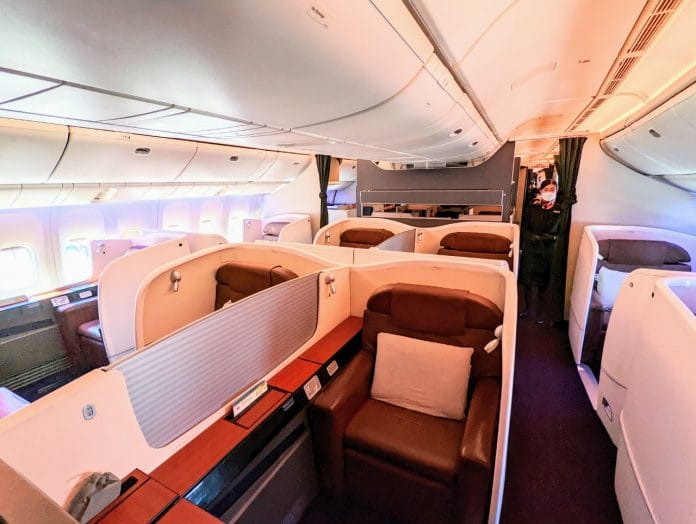 Japan Airlines only offers First Class on its B777-300ERs, and has eight seats arranged in a 1-2-1 configuration. With many airlines downsizing First Class or dropping it altogether, an eight-seater cabin is a rare sight these days (Emirates and Singapore Airlines have six and four seats respectively on the same aircraft).
Japan Airlines doesn't have the most cutting-edge First Class seats out there. They're more like oversized armchairs, which lack doors or any of the other gimmicks competitors have introduced (minibars, virtual windows, video call systems and separate beds, to name a few). Moreover, the design is staid, with a uniform woodgrain finish in light, minimalist tones.
That said, the seats were in good condition, and privacy is still good, thanks to the high walls and adjustable dividers between the middle seats. 
In terms of seat selection, 1A and 1K are blocked for JAL elite members, but will open up for selection during online check-in (24 hours before departure).
I selected seat 1A, but was later relocated to 2A due to an inoperable in-seat power outlet. It didn't bother me that much, since the only other occupied seats in the cabin were 1K and 2K and I had the entire port side to myself. 
Couples travelling together will obviously prefer the D/G seats in the middle, although even with the privacy partition lowered, you'll need to lean forward slightly to talk to each other.
To the front of the seat is the IFE display, tray table and ottoman. 
A standard-sized carry-on bag can be stored beneath the ottoman, and an additional seatbelt is provisioned here to facilitate couple dining. Seeing it pulled tight and secured just did wonders for my OCD. 
The tray table slides forward from beneath the IFE screen. It's big for one person, but if you're dining with a companion the width might be insufficient for two large plates unless there's some extension I'm unaware of. 
The inflight entertainment remote is stored inside a flip up compartment with a small mirror for last looks.
Seat controls featured pre-sets for full upright, full flat, and lounging. You could also adjust individual parts of the seat or lumbar support, and turn on a mild massage function. 
Since the seat doesn't require flipping over to become a mattress, it actually supports a wide range of lounging positions, You could even put the footrest up 90 degrees for a power nap, in lieu of lying flat. 
Hidden beneath a panel was the seat's universal power outlet and USB charging port. I found the positioning to be awkward though, since you'd need a very long USB cable if you wanted to charge your phone while keeping it within arm's reach. Moreover, you have to get up every time you want to charge a different device.
In-seat storage is plentiful thanks to a large storage bin under the window. What's weird is that there's another IFE remote inside. My guess is that they upgraded the system somewhere along the way and found it cheaper not to remove the previous remote. Either that, or they wanted to preserve the inflight phone call functionality (the unit was still connected and powered).
Amenities
Waiting at my seat upon boarding was a Shiseido Men's skincare kit (with hydrating lotion, revitaliser cream and cleansing foam) and Zero Haliburton hardcase amenities kit. A bit of trivia: Zero Haliburton cases were used on Apollo 11 to carry moon rocks to earth!
I do love me a good hardcase amenities kit (I'm still holding on to a since-discontinued Rimowa kit I got from EVA Air), and this one included a toothbrush set, tissue packet, eye mask, ear plugs, moisture mask, comb, and L'Occitane lip balm and hand cream. 
Pyjamas were also distributed, featuring 100% organic cotton fabric. They're notably lighter than the previous generation, which is good since the cabin is kept relatively warm.
A day blanket was offered by the crew. This was a bit scratchy, but there's a smoother duvet provided when you wish to sleep (see the "sleep experience" section below for more details).
Slippers and a shoe horn rounded out the amenities offerings. 
Food & Beverage
Pre-departure drinks were served shortly after boarding, with a choice of water, juice or champagne. 
As is typical for most airlines, JAL serves the cheaper champagne on the ground to minimise the duties it needs to pay. First Class passengers receive Delamotte Brut, which is decent but hardly worth filling up on, given what's coming once airborne. 
The drink was accompanied by a pre-wrapped moist towelette. It's a small thing, but plastic-wrapped towelettes look out of place in First Class. 
Menus came wrapped in a handsome dark leather folder, with separate booklets for food and drinks. 
Passengers could choose from either the Japanese or Western menu. You're perfectly at liberty to mix and match, of course. I went for the Japanese option, with caviar from the Western set. 
The meal began with a small amuse bouche of prosciutto-wrapped asparagus and burrata cheese on miniature toast. 
Next came the caviar course, served with a mother-of-pearl spoon. The accompaniments were rather unconventional; instead of the classic egg whites, egg yolks, chives and toast points, there was Atlantic salmon bavarois, herb waffle and chilled smoked salmon soup. 
The Kozara (Japanese for small plates) offered five different items (from left to right):
Chicken meatball with miso sauce
Simmered abalone and watercress
Sesame tofu
Carrot and radish in vinegar sauce with crabmeat
Beef roll with celery
Owan was served next, a Japanese clear soup with shrimp cake and king oyster mushrooms. The broth was incredibly light and subtle.
I had been looking forward to the lobster with sea urchin, but the final product was slightly underwhelming, with rubbery lobster and watery sea urchin. The tuna with grated yam turned out to be the surprise hit, as the tiny dollop of wasabi provided a big herbal kick. 
The main course consisted of stewed beef tongue and chirashi sushi rice. To set your expectations: food safety regulations preclude the serving of raw fish onboard, so the chirashi was served warm, garnished with cooked pieces of prawns. Japanese pickles and miso soup rounded out the course. 
For dessert, apple jelly from Aomori prefecture was served together with a ginger cookie. I'm a big fan of Aomori apple juice, so this was a delightful way of enjoying the flavour with a different texture. 
While an impressive meal on the whole, there was no disguising it was catered out of San Francisco rather than Tokyo. The obsessive level of attention to detail you can expect out of Japan wasn't there, with the occasional misstep like rubbery crab and lobster or underseasoned watercress. If you're fortunate enough to be flying Japan Airlines First Class both ways, it'd be smart to try the Japanese option out of Japan, and the Western option into Japan.  
The drinks selection an area where Japan Airlines truly excels, with multiple cocktails, spirits, wines, sake and shochu to choose from. Those who don't take alcohol aren't left out either, with an extensive range of teas and coffees also available. 
You can't talk about Japan Airlines First Class without talking about champagne, since the airline stocks some of the most expensive bottles in the sky: 
Unfortunately, Cristal was replaced by Billecart-Salmon Cuvee Nicolas Francois 2007 on my flight. Don't get me wrong- this is an excellent champagne in and of itself, and I know that Cristal is mostly hype. All the same, I was really looking forward to trying it, if only so I knew what all the rappers were talking about. 
In addition to the Billecart-Salmon, First Class passengers can also choose Taittinger Comtes de Champagne 2007 (which Singapore Airlines serves in the air, and on the ground in The Private Room).
Here's the full wine list, including a few unexpected options like a white wine grown from Koshu grapes, and red wines cultivated by Japanese winemakers in California and New Zealand.
| | | |
| --- | --- | --- |
| Name | Type | Vivino |
| Taittinger Comtes de Champagne Grands Crus Blanc de Blancs 2007 | Champagne | 4.6/5 |
| Billecart-Salmon Cuvee Nicolas Francois 2007 | Champagne | 4.5/5 |
| Giant Steps Sexton Vineyard Chardonnay 2018 | White | 4.1/5 |
| Peninsula Vino Atlantico 2018 | White | 3.9/5 |
| Domaine de Terres Blanches Sancerre Bellechaume 2015 | White | 3.9/5 |
| Coco Farm & Winery Koshu FOS 2017 | White | 3.5/5 |
| Chateau Lagrange 2014 | Red | 3.9/5 |
| Prophet's Rock Rocky Point Vineyard Pinot Noir 2020 | Red | 3.8/5 |
| Ch.iagi Takaha SONO Pinot Noir 2017 | Red | 4.0/5 |
| KUSUDA Martinborough Pinot Noir 2018 | Red | 4.2/5 |
Over the rest of the flight, I had a chance to sample the rest of the extensive snack menu. Singapore Airlines could learn a lot here, since their First Class snack menu amounts to sandwiches and instant noodles!
The recommended dish was black vinegar chicken with vegetables, so I tried that first. I'm normally weary of vinegar (I'm the weird person who eats xiao long bao without it), but this was very subtle.
I paired it with an intriguing beverage called Queen of Blue, the flagship product of Royal Blue Tea. A bottle of this costs upwards of S$192.60, so you know they're not messing around.
Queen of Blue is made from precious tea leaves carefully picked by hand once a year, known as Oriental Beauty. The leaves are then infused for 7 days before being bottled for your enjoyment in the elegant bottle you see here. We serve the tea in a stemmed glass to help enhance the tea's sweet aromas of fruit and honey.
I can't say I'm much of a tea person, but if I were I imagine this would be quite the experience. 
The Beyond Burger was beyond disappointing, since it was inexplicably served stone cold. The bread crumbled when you bit into it, making me long for the mouldable texture of a great potato bun, and the patty was bland. I don't know if I just got unlucky on this flight, because the chief pursuer seemed surprised when I gave her feedback later that the burger was cold. 
The best option was the Japanese set plate, a simple combination of Japanese steamed rice and black cod. I think this was meant to be the pre-landing meal, but they'll serve it whenever you wish.
Just before landing, the crew insisted on feeding me more, so I wrapped up the snack menu by trying the Thai green curry with jasmine rice, curiously paired with raspberry yoghurt. 
For those with a sweet tooth, Haagen Dazs ice cream (chocolate and vanilla) is available anytime. While the presentation wasn't anything fancy, I appreciate they made an effort to soften and scoop it out instead of just passing me a rock-hard tub. 
Wi-Fi
Japan Airlines offers inflight connectivity on the vast majority of its flights (they don't provide a list of exactly which aircraft types), including the B777-300ER. 
What's great is that all packages are time-based instead of volume-based, giving you unlimited data for a given period. 
| | |
| --- | --- |
| Duration | Cost |
| 1-hour | US$10.15 |
| 3-hours | US$14.40 |
| 24-hours | US$18.80 |
JAL First Class passengers receive a complimentary code that's valid for 24 hours of internet access.
The connection remained stable throughout most of the flight, and I was impressed by the speeds which were as high as 10 Mbps down and 1.6 Mbps up. 
One important thing to note is that Japan Airlines does not offer mobile network connectivity in its cabin. This matters in case you're trying to receive an SMS OTP for online banking or shopping.
Inflight Entertainment
Each First Class passenger has a 23-inch personal IFE display. It's a last-generation screen, so don't expect the deepest blacks or the crispest colour reproduction. It's also not touch-sensitive, though that doesn't matter as much since it's so far forward that tapping wouldn't be an efficient means of navigation. 
In fact, you might spend more time staring at the handset instead, since the interface is rather finicky. Unlike other IFE systems, it's not possible to browse the selection on the main screen. You instead select what you want to watch on the handset, which then throws the video to the main screen. 
Browsing is much slower on the handset due to the limited screen size, and the fact the system doesn't feature nested options. What this means is that a given title can appear multiple times, depending on the language tracks available (versus a nested system which would show the title once, then let the passenger select the language on the next screen).
For example, notice how Bob's Burgers is listed three times. Multiply that by the number of titles in the library, and you're looking at a lot of scrolling. It's frustratingly inefficient. 
The movie selection was substantial, with recent titles like Elvis, Lightyear, The Unbearable Weight of Massive Talent, Jurassic World Dominion, and The Batman. Passengers can check the upcoming movies on their flight via the JAL website.
There was also live TV service from BBC and NHK. No live sports is available, unfortunately.
Wired Bose QC-15s with noise cancellation are the standard issue headsets in First Class. This model is more than a decade old, however, and it would be nice to seen an upgrade to QC25s or QC35s in the near future. 
Sleep Experience
When the time comes to sleep, the crew will turn down your seat for you. Since the middle seats were unoccupied, I used one to rest, while keeping my workstation untouched.
The crew will ask if you prefer a soft or hard mattress pad, which comes from premium mattress manufacturer Airweave (Airweave, incidentally, manufacturers mattresses for the Ritz Paris). It's called dual mode because one side of the pad is soft, the other side hard.
The mattress pad provided good spinal support and was very breathable. Even so, I did get sweaty armpits midway through sleeping because Japanese airlines just keep the cabin so darn warm. The lack of individual air nozzles didn't help either. 
Toilets
The First Class cabin has a total of two lavatories, but only one of them was usable by passengers on my flight. The other was curtained off, presumably for the pilots' use. 
As you might expect for a Japanese airline, toilets come with built-in bidets (yes, there is toilet paper for those who aren't aquatically-inclined). Taps are automatic, but bins and flushes are not touchless. 
Bathroom amenities included toothbrush kits, individual sachets of mouthwash, and Cle de Peau skincare amenities (fancy stuff, or so I'm told). 
Service
Unsurprisingly for a Japanese airline, service was uniformly excellent, hampered only by the language barrier. Even though the crew spoke perfectly passable English, they seemed almost embarrassed to use it, and were relieved when I filled in the gaps. They were unfailingly polite, even if it took a few tries to explain some requests. 
That said, it wasn't quite as polished as what you'd get on Singapore Airlines. For example, the crew weren't as diligent at proactively removing plastic wrappers or trash from the seats, and a few requests were forgotten. I also wish their service routines would be a little less rigid- despite requesting for a post take-off drink, it only came with the meal itself.
Before landing, the crew all came around to say goodbye and presented me with a little souvenir model of an Airbus A350. It was a lovely touch to cap off a wonderful flight. 
Masking
Finally, a word about the masking policy. Japan Airlines officially requires all passengers to wear a mask while onboard, regardless of the origin and destination country requirements (this is a company-level decision; the Japanese government has no mandate on masking in planes).
On this flight, however, enforcement was completely absent. I can't say how it works in other cabins or on other flights though, and as long as the official policy is to mask, you might always run into a crew who enforce the rule more strictly. 
Conclusion
I have no complaints about the Japan Airlines' First Class soft product. The food and drinks selection was one of the best I've ever seen on an airplane, with numerous snack options and a drinks list that doesn't forget teetotallers. Bedding was comfortable, amenities kits had everything I could need, and service was always on point.
The hard product is where it struggles a bit more, since we're basically dealing with a seat that was introduced in 2008 and only received a cosmetic refresh since then. It wasn't unpleasant by any means, but won't hold up well if you've flown other modern First Class seats on ANA, Emirates or Singapore Airlines. 
All in all, an enjoyable flight. Even if the Cristal was MIA.