After a mixed experience at the Conrad New York Midtown, I took an Uber down to the southern tip of Manhattan to its sister property: Conrad New York Downtown.
As the name suggests, the hotel is just a stone's throw away from the Financial District.  Brookfield Place mall (and gourmet food hall Hudson Eats) is just next door, and while you're quite some distance from Central Park and the Theatre District, you'll have ready access to Brooklyn, the Statue of Liberty, the 911 Memorial and the Oculus Centre.
I didn't come in with high expectations for the Conrad Downtown, since it used to be an Embassy Suites until 2012. Embassy Suites, for the uninitiated, is Hilton's midrange all-suites brand. It's not a dive by any means, but not exactly what you'd call a prestige marquee either. Legend has it that employees at the nearby Goldman Sachs didn't want to stay at an Embassy Suites (so gauche!), so the firm bought the property and rebranded it as a Conrad. It's a very Bruce Wayne thing, if you think about it. 
Still, this ended up being the surprise winner of the Conrad New York showdown.
🏨 tl;dr: Conrad New York Downtown

While it lacks a luxury vibe, the Conrad Downtown offers New York City's truly precious commodity: space.

👍 The Good
👎 The Bad

All-suite format means separate living and bed rooms, great for families or couples who want extra space

Dining credit can be used for hot breakfast (unlike at Conrad Midtown)

Good staging point for those who want to explore lower Manhattan

As a converted Embassy Suites, lacks a true luxury feel and closer to a 4-Star hotel in terms of vibe

Small gym for a hotel of this size
Booking the Conrad New York Downtown
I redeemed this stay through Hilton Honors at a cost of 80,000 points per night with the 5th night free, which meant an average cost of 64,000 points per night. 
Given a value of 0.85 US cents per Hilton point, this was a good value redemption compared to cash rates (~US$600+). At the same time, there are certainly cheaper Hilton options to be found in New York City, and I wouldn't consider this to be a bucket list stay by any means. 
Conrad New York Downtown: Arrival & Check-in
The Conrad Downtown's lobby is up a long flight of stairs from the street level, a cavernous space that feels more convention hotel than luxury. That's probably because the soaring atrium makes you think "man, this hotel sure has a lot of rooms", rather than conjuring any sense of opulence. In fact, it kind of reminds me of Marina Bay Sands and its luxury factory approach. 
The centrepiece of the lobby is an art installation called Loopy Doopy (also the name of the hotel's rooftop bar), a 100-foot wall drawing by conceptual artist Sol LeWitt. Other artworks in the lobby include Imi Knoebel's "Mennige (Polygon)" and Pat Steir's "Topsy Turvy". The hotel employs an art collection advisor, and is home to more than 2,000 works of contemporary art. 
Our room was ready when we arrived at 4 p.m. I had done online check-in in advance, so all that was necessary was to collect the keys (you can supposedly use your phone to unlock the door, but the technology fares poorly in the lift, making it a hassle more than anything).
Conrad New York Downtown: Room
The Conrad New York Downtown has a total of 463 rooms, all of which are suites. While the hotel website lists nine categories, there's really only four, further split by bed type and views:
Deluxe Suite (430 sq ft)
Executive Suite (700 sq ft)
Luxury Corner Suite (750 sq ft)
Conrad Suite (1,500 sq ft)
Points reservations book into the lead-in Deluxe Suite. The interiors weren't quite as modern as the Conrad Midtown, and the living room lacked any kind of natural light. Still, space is at a premium in New York, and having a separate living room to repack bags and eat take-out was a luxury.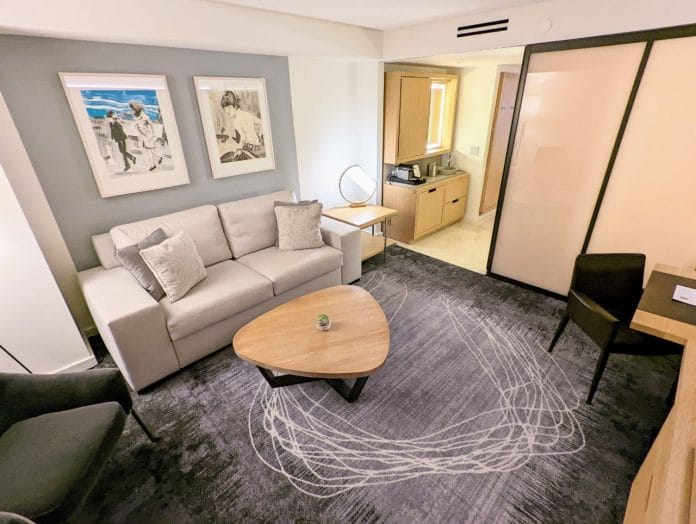 A work desk ran along the console beneath the TV, with a leather desk mat, phone and two power outlets. 
Wi-Fi speeds clocked in at 15 Mbps down and up, not lightning fast by any means but good enough for most purposes. 
The living room and bedroom were divided by the bathroom and shower. The bathroom was slightly cramped, but this was alleviated somewhat by having the shower in a separate area. It does mean you'll need to step back into the room while transiting from shower to bathroom, which might be an issue if you're sensitive to cold. 
The rainfall-type shower head was small, but water pressure was satisfying. 
Toiletries from Conrad's new global supplier BYREDO were provided in bulk-size pump bottles. I know people have mixed feelings about bulk-sized dispensers, especially those with no tamper-proof mechanism, but have we so little faith in humanity we think these to be prime targets for peeing and other bodily fluids? 
Actually, don't answer that question. 
Opposite the bathroom was a wet bar, with a Nespresso coffee machine and mini-fridge.
The highlight of the mini-bar was the Rocean One Smart Water System which dispensed filtered still water. Yes, I know New York City's tap water is perfectly drinkable, but it was fun to track how much water we were drinking with the counter. This hotel used to give guests two refillable Conrad-branded bottles, but they're no longer provided. 
Inside the bedroom was a king-sized mattress, with another flat screen TV mounted on the opposite wall. 
Touch-sensitive lighting controls, power outlets and USB ports (2x Type-A, 1x Type-C) were built into each bedside, together with a phone and alarm clock. It would have been nice to see universal power outlets, but I don't remember seeing a lot of these in the US- maybe they're cautious about people plugging in 220V devices. 
There was plenty of wardrobe space for personal clothes storage, and two very plush bathrobes.
Facilities
The Conrad Downtown has no swimming pool, but there is a 24-hour gym for guests. It's a relatively small facility for a hotel with 463 rooms, much smaller than the one at the Conrad Midtown, so you might want to avoid it during peak hours. 
Breakfast
Breakfast is served from 6.30 a.m to 11 a.m daily at ATRIO.
Some brief context about the breakfast situation. Back in July 2021, Hilton eliminated the complimentary breakfast benefit for Gold and Diamond members at hotels in the United States, replacing it instead with a US$10 to US$25 F&B credit. This was meant to be a temporary measure lasting till the end of 2021, but was subsequently extended till the end of 2022. 
Hilton argued the change gave members "more flexibility", but I call BS on that. If that were truly the objective, they could have given elites a choice of free breakfast or the F&B credit. It's so obvious what the real goal is here: to generate incremental revenue by hoping that people spend more than they otherwise would have.
To add further insult to injury, the F&B credit is non-cumulative, and does not roll over to other nights. If you don't use it, you lose it. 
The credit for Conrads is US$25 per person, per day (granted for a maximum of two persons per room). This didn't get us very far at the Conrad New York Midtown, where the continental breakfast buffet (no hot items) cost US$25 on the dot, before taxes and tips. 
The situation at the Conrad New York Downtown was slightly better. Let's be clear, the prices were still outrageous: US$8 for a glass of juice, US$10 for a side of bacon and US$17 for oatmeal. But since they didn't offer a buffet, we could at least use the credit towards a hot breakfast.
For what it's worth, the food quality was decent. Don't get me wrong, I wouldn't have paid these kinds of prices outside, even for New York City. But after the Conrad Midtown, a hot breakfast seemed like a luxury. 
Conclusion
I'll admit the knowledge that the Conrad Downtown was a converted Embassy Suites did colour my impressions going in, but having stayed I think there's a lot to like about it. Yes, you won't have the ultra-modern rooms of the Conrad Midtown, but there'll be spacious rooms, more breakfast choices, and cheaper points redemptions. 
Definitely my pick of the two New York Conrads, assuming you're location agnostic.