Singapore Airlines Suites may no longer be the most luxurious experience the Airbus A380 has to offer, but you should never underestimate its ability to touch a special chord with many miles and points junkies. 
I still remember the day it was unveiled in 2007. As the launch customer for the A380, everyone was waiting to see what SIA would do with the cavernous space on offer. And what we got was revolutionary for its time:  the first double bed in the sky, sliding doors creating a bubble of privacy, and finishings evoking comparisons with a luxury yacht. Marketing called it a "class beyond First", and while I don't normally go in for that sort of flag-waving, I did feel a tinge of national pride. 
Of course, other airlines have since upped the A380 ante with showers, bars, even presidential suites. Singapore Airlines, on the other hand, has played it rather safe. When it had the opportunity to leap ahead again in 2017 with the second generation of A380 cabin products, it expanded the space per passenger, but didn't exactly reinvent the wheel. 
I first reviewed the new Suites in 2018 on an 8-hour flight to Sydney, where I found the experience to be somewhat mixed. Now, four years later, I had a 22-hour flight to see how much had changed. 
✈️ tl;dr: Singapore Airlines A380-800 Suites

Singapore Airlines Suites will always be a fun experience, but fundamental design flaws keep it from being all it could be.

👍 The Good

👎 The Bad

An unprecedented amount of personal space on a commercial airliner

Good sleeping experience, now that the seatbelts aren't so tight

Incredibly spacious bathrooms with vanity areas

Design issues mean it's not the best experience for couples, even in the double suite

Doesn't feel like the designer truly made the most of all the space available

Poor quality catering out of FRA
Singapore Airlines A380 Suites
If you were hoping to board the A380 and ascend the grand staircase a la Titanic, you might be a little disappointed. Boarding for Suites takes place on the upper deck, and the average Suites passenger won't even touch the stairs on a typical flight!
In fact, you actually board through the rear of the Suites cabin, since the door is located behind. 
When Singapore Airlines introduced the second generation of Suites in 2017, it cut the number of seats in half from 12 to 6. The six Suites are arranged in a 1-1 configuration, with 'A' seats on the port side, and 'F' seats on the starboard.
❓ Will I get the new Suites or old Suites?
New Suites, period. All A380s with the older Suites have been retired or retrofitted. 
In terms of size, not all Suites are made equal. Row 1 is the largest, followed by Row 2 then Row 3. Keep in mind you're still talking about 35 ft2 in Row 3, more than any regular First Class seat out there (for comparison, Etihad's Apartments and Emirate's new First Class suites measure in at around 40 ft2 )
1A
(54 ft2)
1F
(54 ft2)
2A
(43 ft2)
2F
(43 ft2)
3A
(35 ft2)
3F
(35 ft2)
Seats 3A and 3F are known as the "solo" Suites, while 1A/2A and 1F/2F are the "couple" Suites, since they can be converted into one large room. 
On this trip, I had the opportunity to try out both types of seats. From New York to Frankfurt, we were in 3A and 3F. But from Frankfurt to Singapore, the cabin crew asked the solo travellers in 1A and 2A if they'd be willing to switch, and they graciously agreed.
Suites were designed by Jacques Pierrejean, known for his work with luxury yachts. His vision was to give each passenger a hotel room in the sky, something as close to the private jet experience as you could get flying commercial.
In that respect, he's certainly succeeded. The amount of personal space available to each passenger is unprecedented for a commercial airliner. It's insane to think that you can stretch your legs and go for a little walk without ever stepping into the aisle. 
At the same time, however, I couldn't help but feel like the Suite was a bit empty, as if they hadn't done all they could with the space on offer. 
Let's begin by talking about the seat. Some unfavourable comparisons have been made to a dentist chair, but as The MileLioness (registered dentist) says, you should be so lucky to get a chair this luxurious. It is, after all, upholstered in full grain leather by Poltrona Frau, and exceedingly comfortable. There's a heavy use of beige and dark brown, with the only splash of colour provided by the orange seat cushion. 
A wide range of lounging positions are supported, and with recline of up to 45 degrees, it could even provide an excellent nap for those who don't fancy the bed. I do wish, however, that the footrest were slightly longer since your feet dangle off the edge. 
Touch-sensitive controls for the seat are found inside the armrest, together with a wired IFE remote. 
The seat swivels between 135 and 270 degrees  into three preset positions:
Facing the window
Facing full forward
Facing the TV
(1) allows you to enjoy the view outside and use the vanity mirror stored in the console. However, you won't have a lot of legroom, and it won't be possible to extend the footrest.
(2) is the default position for taxi, take-off and landing.
(3) angles you towards the aisle, and is used for watching TV or dining. This is the position I spent most of the flight in, as you can enjoy the full range of recline without restrictions. However, you'll be facing away from your partner (in the double suite), and spending more time making eyes at the person across the aisle.
Do note that the recliner must be in one of the three fixed positions before the controls to recline the seat and leg rest will illuminate (not possible with (1)).
Built into the armchair is a headphone jack, but I found the positioning a bit strange. It's placed on the left armrest, while the wire connects to the right headphone. This means the wire will run across your body when seated.
Each Suite has a credenza of sorts, complete with faux flower vase (the vase is affixed to the table top, for obvious reasons). Here's where the Suite's sizeable tray table is stored when not in use. When deployed, it feels sturdy with very little give.
The suite has two windows with electronically-controlled shades. They're not the electrified gel type you'll find on Boeing's Dreamliners, but still quite cool. Press and hold the down button, and the first set of day blinds comes down. Keep pressing, and the second set of night blinds comes down. 
Further controls for the Suite's lighting can be found near the windows, together with the attendant call and do-not-disturb buttons. You can also manage this via the Suite's tablet, which I'll talk about more in the inflight entertainment section.
Beneath that is a pull-down shutter which covers the HDMI, universal power outlet and USB port and NFC terminal (inactive) when not in use. I suppose the NFC terminal is there for future-proofing; it'd be pretty nifty if you could tap your own earphones to pair them with the IFE system. 
An additional power outlet and USB port are affixed to the credenza. 
Loose items can be stored in one of three leather-clad compartments by the window. A small backlit vanity mirror allows for last looks.
Each Suite is equipped with a 32-inch HD LCD monitor, which while massive isn't the largest in the sky (that would be ANA with their whopping 43-inch 4K screens). The viewing angle looks strange at first, until you realise it pivots out from the wall towards you. 
This oversized screen is excellent for getting work done, provided you've remembered to pack a HDMI cable. Once connected, I could see The MileLion in all 32 inches of glory (heh heh heh). 
Near the entrance to each Suite is a storage closet for your carry-on bag, as well as your clothes once you've changed into the sleeper suit. 
Now let's talk privacy. I'm sure you'll have noticed by now that the walls of the Suites aren't quite full height; there's gaps at the top and at the bottom of the doors. I previously spoke to the product development team, who told me that floor-to-ceiling walls were considered, but ultimately rejected for claustrophobia concerns. 
I don't know about that decision though. I'd really prefer the privacy, and it'd reduce the demand on lavatories by allowing passengers to change in their Suites (the improved chances of joining the Mile High Club have never crossed my mind).
The door isn't completely opaque either. It has flower petal shaped cutouts, which means that someone in the aisle could peer inside your Suite if they really wanted to. The crew are too professional to do that, of course, but I have to believe this was a deliberate design choice to make people think twice about hanky panky. 
As I mentioned earlier, the angling of the seat almost forces you to make eye contact with the passenger across the aisle during pre-flight, take-off and landing. That's a byproduct of the decision not to stagger the seats, which are aligned in a way that the opposing seat will always be at the corner of your eye. The crew do their best to close the door wherever possible, although it also hinders their service since they can't see if you need anything. 
If you're lucky enough to get Suites 1A/2A or 1F/2F, you'll have the option to fold down the wall and convert the twin Suites into one large room. These, naturally, are the first choice for couples, and you should make a point of reserving them as soon as your booking is ticketed. 
And yet, it's not as couple-friendly as it could be. There's no option to take a meal together, for example. You're basically dining across the bed while facing the aisle, making it difficult to try each other's food, or feed each other, or chew up food and regurgitate it into each other's mouth, or whatever it is that couples do. 
Therefore, the only time the Suite becomes a true couples' experience is when the bed is deployed- and even that's not perfect, given the hard divider in the middle (more on that later on). 
Amenities
Singapore Airlines Suites and First Class passengers receive amenities kits by Lalique. Lalique isn't really known for skincare products — they're a crystal designer first and foremost — but that doesn't mean they make bad stuff. 
Amenities kits were not provided on the first leg from New York to Frankfurt, but we did receive them on the Frankfurt to Singapore leg (on pre-COVID journeys, I remember receiving a kit for each leg). 
Lalique kits come in his and hers. The his kit contains: 
Lalique Neroli Soap (50g)
Lalique Neroli Room Spray (30ml)
Lalique Neroli Body Lotion (30ml)
Lalique Neroli Lip Balm (8ml)
The contents of the kit have changed since my flight from Frankfurt last year. Back then I received an all-black kit containing a candle instead of room spray, together with an amusing "please don't light this in the cabin" note. 
The hers kit contains:
Lalique L'Amour Eau De Parfum (30ml)
Lalique L'Amour Hand Cream (25ml)
Lalique L'Amour Facial Mist (20ml)
Lalique L'Amour Lip Balm (6ml)
Lalique sleeper suits were provided on both legs (the crew from the first leg told me that they'd hang my suit in the wardrobe for use on the next leg, but the crew on the second leg automatically gave me a fresh set). These are made of comfortable material that retains heat well, and they had four different sizes ranging from XS to L. 
Food & Beverage
Pre-departure drinks were served on the ground in New York and Frankfurt, and it was last call for Dom Perignon- the venerable brand departed from Singapore Airlines on 1 November 2022, due to an exclusive contract with Emirates.
Krug is of course lovely, and Taittinger Comtes de Champagne will be a worthy replacement, but no one can deny the charms of Mr Perignon…
That said, I do appreciate that Singapore Airlines serves the good stuff on the ground. Other airlines (e.g. ANA and JAL) stock a cheaper bubbly to serve before take-off, only opening the expensive bottles once airborne in order to save on taxes.
Prior to departure, the menu for the flight was presented as well. Before COVID, Suites & First Class menus came in handsome leather folders…
…but now they're naked. The cabin crew told me the folders were removed as a hygiene precaution (presumably because they're harder to sanitise?). Frankly, there isn't much to distinguish this menu from the Business Class one, apart from the title on the top right.
In fact, there was a shortage of menus on this flight, so the one above was for The MileLioness. I got a photocopied version- appreciated, but somewhat lacking the premium feel!
Dinner would be served immediately after take-off from New York, with a light refreshment before landing. Keep in mind, the flight time on the first leg to Frankfurt was a mere 7 hours 20 minutes, so things would have to move quickly if sleep was to be maximised. 
Dinner began with a chilled caviar course, served with the standard accompaniments of blinis, chopped egg yolk and egg white, and crème fraiche. 
Singapore Airlines has changed its caviar supplier from Gourmet House to Kaluga Queen. There's an interesting story behind the brand. It's based in Hangzhou, and for many years struggled to be taken seriously. But in 2018, Lufthansa struck a deal to make Kaluga Queen its sole caviar supplier in First Class, and today the brand supplies 27 three-Michelin-star restaurants in France. Who am I to argue with that? 
The caviar comes with its own individually-wrapped mother-of-pearl spoon, which purists will tell you is important to prevent caviar "berries" from obtaining a metallic, unpleasant taste.
Next came a roast tomato soup with mozzarella cheese. I thought this was delicious (it had a nice hint of heat around the edges), but The MileLioness said that hers was drastically over-salted to the point of being inedible. 
After the soup, an appetiser of  smoked trout and greens was served. This is one of Singapore Airlines' "farm-to-plane" meals, the result of a collaboration with local supplier Hudson Valley Fisheries. This fish farm is about 130 miles from the airport, significantly less than the thousands of miles that fish supplied from other countries would travel. The trout goes from tank to plane in under a week, accompanied by greens that were harvested from vertical farms in Newark less than 24 hours ago. 
For the main, I went with the beef tenderloin. Tenderloin will never be as flavourful as a ribeye, but what impressed me was the cook. This steak was a gorgeous medium rare on the inside, a rare feat indeed. 
The MileLioness went for the scallop and dried cuttlefish dumpling noodles, which were unmemorable. The dumpling filling was meagre, and the broth watery. I do wish airlines would stop seeing Asian options as an opportunity to save money on ingredients, because Asian food is equally deserving of elevation (lobster dumplings and Iberico pork char siew?)- just look at how Starlux does it. 
For dessert, we tried the plum cake and chocolate mousse cake. The latter was the undisputed winner, with some lovely vanilla ice cream to go with it. 
About 90 minutes before landing, refreshments were served. I had a seafood congee, which was unfortunately very bland. The you tiao weren't crispy either, though there's only so much you can do in an airplane cabin.
On the flight from Frankfurt to Singapore, lunch was served after take-off, followed by breakfast before landing.
Frankfurt has a rather poor reputation for catering, and I'm starting to see why. The satay served was bone dry, with the accompanying sauce not really helping. 
The caviar course was still good (because when has caviar ever not been good), but you can't really give the caterer kudos for that. 
Beetroot-stained smoked salmon was tasty in and of itself, but the potato rosti that came with it was soggy and unappetising. 
I suppose my mistake was choosing the Asian options out of Frankfurt, but after two weeks abroad we were hankering for a taste of home. Still, you'd think that a major hub like Frankfurt would be capable of putting together some decent Asian dishes. The seafood la mian was underwhelming, with soggy noodles, bland, frozen seafood and a thin, watery broth. 
The kai yaang (marinated grilled chicken with fried pineapple rice) wasn't much better, with the rice cooked to a mushy, unappetising pulp.
At least the desserts were more palatable. The chocolate and coffee tart was excellent (I don't like the bitter taste of coffee, but I could barely detect it here), as was the manuka yoghurt ice cream with baked banana. 
Breakfast service began two hours before landing in Singapore, and we went Asian again, with stir-fried egg noodles and Thai rice porridge. 
Both tasted more like Economy Class food plated on First Class cutlery. I'm going to return to my earlier point- it is possible to elevate Asian food beyond cheap rice and noodles, and I'd really love to see an airline try. 
No snack menu was offered from New York to Frankfurt, surprisingly (you can request for instant noodles or junk food), but there were options from Frankfurt to Singapore. 
Snacks continue to be a key weakness of Singapore Airlines. While passengers on other airlines are chowing down on steak sandwiches and bento sets, SIA's top flyers have to make do with instant noodles and reheated sandwiches. It's simply not good enough, even if the mushroom soup was rather decent.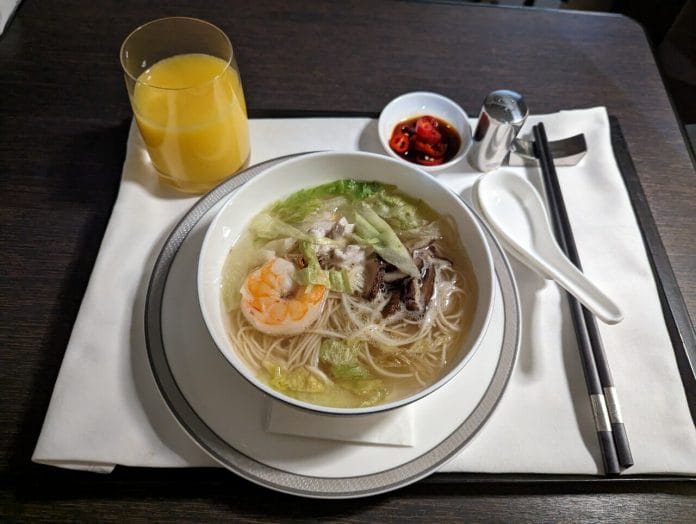 Come to think of it, the snack menu would be a great opportunity to showcase pick-me-up options like bak chor mee or prawn noodes, so how 'bout it SQ?
Inflight Entertainment
Each Suite has a 32-inch HD LCD screen, which surprisingly (given the distance from the seat) is touch-sensitive. 
The system can also be controlled via a remote control in the armrest, or a detachable tablet mounted near the window. The tablet is locked during taxi, take-off and landing, but once at cruising altitude can be removed and held in your hand. 
I found this a much easier way of navigating the system, although you can't actually watch content on the tablet (why would you though, when you have a 32-inch option?)
B&O Beoplay H9i wired headphones are standard-issue in Suites and First Class. These offer excellent noise cancelling performance, and are comfortable to wear for prolonged periods thanks to their adaptive memory foam inserts. 
In September 2018, Singapore Airlines announced that it would be bringing wireless B&O headsets to Suites and First Class, but that never actually happened. That's a shame, because wires have a nasty tendency to snag on tray tables, knock over drinks, and generally get in the way. 
What I found particularly amusing was a special section in the KrisWorld system called "Curated for First". Really? Are the tastes upfront really more erudite than the unwashed masses in steerage? And if so, why aren't they showing Paint Drying?
The system performance was generally reliable, but it did freeze a few times, requiring a hard reset. 
Wi-Fi
Suites passengers enjoy complimentary unlimited Wi-Fi throughout their flight. Connectivity speeds ranged from OK to barely usable. 
The complimentary access is for one device only, but an easy way to circumvent this is to connect your phone to the network, then turn on your hotspot. 
If you're in a different cabin, you should know that Singapore Airlines recently expanded its free Wi-Fi trial to cover its entire fleet. Business Class and PPS Club members now enjoy unlimited free Wi-Fi throughout the flight, while KrisFlyer members in Economy get a 2-hour surf package. 
📶 SIA Wi-Fi Allowances


(Trial Period)

 

PPS

KF

Non-KF

Suites & First

Unlimited

Business

100MB
Unlimited

Premium Economy

100MB
Unlimited
2-hrs chat
2-hrs surf

N/A

Economy
Allowances based on membership are only provided if your frequent flyer number is printed on your boarding pass; if you forget to provide your number, it's too late to do so once on board.
Paid plans are available as well, ranging from US$3.99 to US$15.99. 
📶 SIA Wi-Fi Pricing

Plan

Cost

Allowance

Chat

US$3.99

2 hours

Pro

US$9.99

100MB

Premium

US$15.99

200MB

Surf

US$15.99

3 hours
Sleep Experience
Beds in Suites flip down from the opposite wall, and measure 27″ (69 cm) wide and 76″ (1.93m) long. That's actually smaller than the previous generation of Suites (35″ wide, 78″ long), and isn't even the widest bed in the fleet (the B777-300ER offers 35″ of width), but should still be sufficient for all but the most portly.
If you prefer to watch TV in bed, do note that there's a lever near the bed head that lets you prop yourself up. 
Lalique-branded bedsheets and comforters are provided. These do a good job of retaining heat, but I found it too warm after a while. The sleeping surface is on the firmer side, and I do wish Singapore Airlines provided an optional mattress topper for those used to a softer bed at home. 
The first time I flew the new Suites in 2018, I remember the bed seatbelt being as tight as a vice. It would pin me to the bed, making it extremely uncomfortable to sleep. Thankfully, that problem has resolved itself over time, as the spooling mechanism has loosened up with repeated use. 
But I'm sure you'd rather know about the double bed experience in 1A/2A and 1F/2F.
It needs to be said that despite the name, it's more like two single beds pushed together. That's because of the unremovable divider between the two beds, a rock-hard reminder that you're not at home. We tried to cover it with blankets, but that still didn't let you roll over comfortably.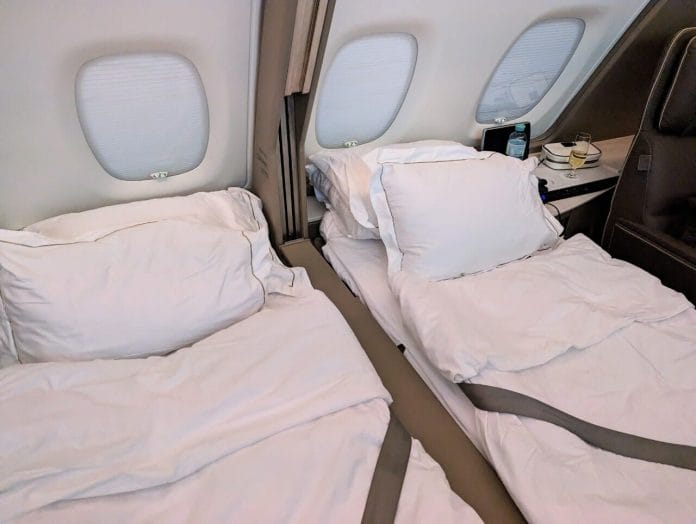 Don't get me wrong: in the cold light of day, you're still enjoying an oversized bed in an oversized suite in an oversized aircraft. That's an amazing feat, in and of itself, and would have been unthinkable at the turn of the century. 
I just wonder why a major issue like this wasn't addressed during the design stage. Is there really no engineering solution to the problem?
Toilets
The front of the upper deck above the A380's cockpit has seen some fascinating innovation. The curvature means you can't really place seats here, so airlines have used the space for bars or showers. Etihad has an entire bedroom up there (you may have heard of it).
Singapore Airlines has been relatively more conservative in its approach, using the space to build two bigger lavatories. Some may call that a failure of the imagination, but still, you can't help but gasp the first time you step inside. 
The port side lavatory is the smaller of the two, yet offers more than enough room for a full-length sink, settee, and of course throne seat (I probably make that joke way too often). With bathrooms this premium, I just wish they'd bothered to install a bidet seat too.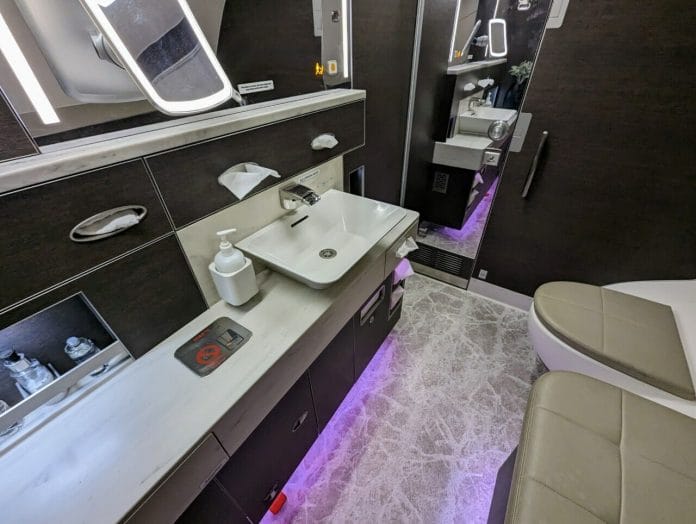 But it's the starboard lavatory that will really make your eyes pop. This is a truly colossal space, so much so they managed to put in a dressing table. There's also a baby-changing table that folds out from the wall, as well as a wall-mounted clothes hanger. 
Could they have installed a shower? I understand Singapore Airlines gave the idea serious consideration, but focus groups revealed that female passengers considered bathing a "high involvement" activity, and wouldn't be satisfied with just five minutes of water. More fundamentally, however, I believe that SIA thought the idea a bit too gimmicky. 
Speaking of water, I need to give special mention to the Suites taps, and how generous the flow is. In other airplane lavatories, water comes out at a trickle at best. Here, it cascades like a waterfall. The flow rate is so good that if not for the sink, you could stick your head underneath and wash your hair pretty decently. 
Bathroom amenities in the Suites (and First) cabins are from the Lalique Neroli range, with facial mist, body lotion, and cologne. 
Be sure to rummage around in the various drawers for other amenities, like combs, sanitary pads, razors, and toothbrush kits.
Conclusion
What do I make of Singapore Airlines' flagship product? I'm torn.
You can't not be wowed on first glance. Who wouldn't be, when you see you have an entire room to yourself in the sky? With the double Suite, you have almost 100 ft2 of space to yourself- a simply unprecedented amount for a commercial airliner. 
But when you sit down and start to lounge, dine, work and rest, you begin to realise that certain things could have been executed a lot better. It's not a great couple's experience, let's be clear about that. You'll be staring across the bed at one another as you dine; you'll at best be holding hands across a rock-hard central divider as you sleep. The best part was being able to plug in two headsets into the two ports and watch a movie together.
In fact, you're likely to enjoy more camaraderie with the person across the aisle, given the seating position during take-off and dining. Given SIA's obsessive attention to detail, I'm surprised this somehow made its way to the final product. 
Moreover, the Suite is so large it makes you start to focus on what's not there, rather than what is. I wish the designers had done more with all the space they'd been given, because the Suite feels more empty the longer the flight goes on. 
To be clear: you'd have to be dead inside not to enjoy a flight in Suites. With SIA's excellent service, food (maybe not out of FRA) and wines, this is still one heck of an experience, the kind of thing you need to try at least once in your life. 
I just feel it could have been so much more. 
What do you make of Singapore Airlines Suites?