Taken as a whole, SQ25/26 is the longest flight that Singapore Airlines operates, clocking in at 24 hours 20 minutes on the outbound and 21 hours 35 minutes on the return. That makes comfort of paramount importance, hence the deployment of the flagship A380 on this route. 
Singapore Airlines took advantage of the pandemic to refit all its A380s, with one aircraft still in the hangar (9V-SKP) and 11 others already completed. This means you won't find the 2007 Suites or 2006 Business Class seats anymore; if you step on an A380, you're guaranteed the 2017 Suites and 2017 Business Class. 
These cabin products are, to say the least, unique. Singapore Airlines has not installed them anywhere else, so their entire existence will be confined to one dozen aircraft- odd, given their not insubstantial development costs. 
The last time I flew these was in 2018, on an eight-hour flight to Sydney. It was high time to see how the experience held up four years later, on a much longer route. I was starting with Business Class on the outbound leg, switching to Suites for the return.
✈️ tl;dr: Singapore Airlines A380-800 Business Class

SIA's 2017 Business Class seat improves the couples' experience and removes the much-disliked "bed flipping", but the sleep experience is hit and miss.

👍 The Good

👎 The Bad

Excellent privacy and noise isolation

Easier communication between couples thanks to retractable privacy divider and seat positioning

Seat can be converted into bed without standing up

Double beds are a welcome novelty, though a little gimmicky

Sleeping surface may be too firm for some, and the seat joints can create some discomfort
Singapore Airlines A380 Business Class Seats
On the first generation of A380s, Singapore Airlines placed Suites on the lower deck, with Business and Economy Class occupying the upper deck (except on certain aircraft with all-Business upper decks). 
With the refits, the upper deck becomes the exclusive domain of the premium traveller. Suites is now up top, together with Business Class. If it's any consolation, the shift means slightly faster disembarkation for Premium Economy and Economy Class passengers on the lower deck, via the lower doors. 
Business Class has a total of 78 seats, configured in a 1-2-1 layout with all-aisle access. Seats are divided into two sections; the diagram below makes it look like three, but it's really two as I'll explain in a bit. 
Passengers enter through the forward section, which contains 50 seats. The cabin makes heavy use of mood lighting, bathing the interior in a purple hue to match the Poltrona Frau leather upholstery. It feels very spacious, thanks to the omission of overhead bins over the centre seats. 
When refitting the A380s, Singapore Airlines increased the density of Business Class by 18%. The first generation of A380s had 66 Business Class seats in the same footprint that 78 Business Class seats now occupy. 
And yet, the cabin still feels private. I use a simple "stand test" to gauge a Business Class cabin's privacy- when I stand up, how many people can I see? The high walls of the A380's Business Class mean I see at most my immediate neighbours, and little else. On some other airlines (I'm thinking of you, Lufthansa), standing up lets you see pretty much the whole cabin. Yes, doors would have been nice, but even in their absence this feels even more private than the previous generation.
The second cabin is smaller with just 28 seats, making it suitable to those who prefer a quieter environment with more intimate service. I say quieter in terms of passenger noise; the rear of the A380 tends to get more engine noise (but it's the kind of white noise I find soothing because it masks things like vacuum flushes and the clanging of cutlery). 
An emergency exit and storage area after row 95 leaves rows 96 and 97 in a section of their own, creating a so -called "mini-cabin".
Unlike a true cabin, however, it doesn't have a full-height dividing wall. That said, the gap between this area and the rest of the rear cabin makes it relatively more private, and it could be the best choice provided you don't mind:
Potential noise from the galley behind row 97
Being the last Business Class passengers to disembark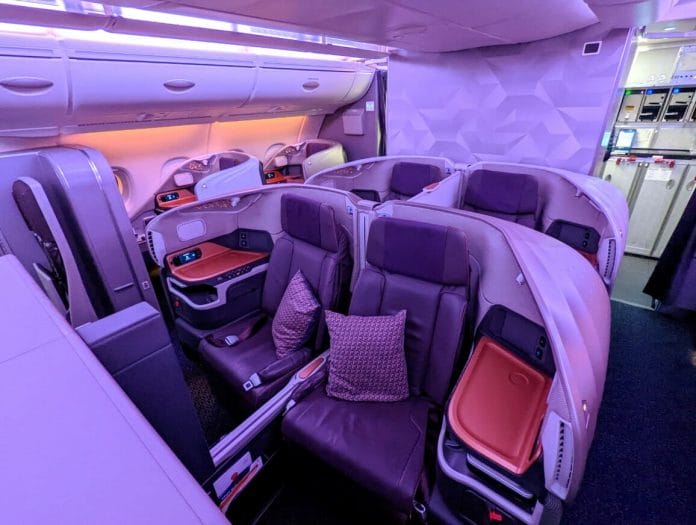 Now onto the seats themselves. Singapore Airlines' 2017 Business Class seat was designed by  James Park Associates (JPA), and is one of five seats used by the airline.
Seat

Aircraft

Width

Ex-SilkAir

B737-800

22″

2013J

A350-900ULR




A350-900LH




B777-300ER

28″

2017J

A380-800

25″

2018RJ

A350-900MH




B787-10

20″

2021RJ

B737-8

19-21″
Long-time SIA passengers might be forgiven for feeling the new A380 seats are on the narrow side. After all, the previous generation of A380s had the 2006 Business Class seats and their almost-too-wide 34 inches, even wider than some airlines' First Class! The 2017 Business Class seat, in contrast, is "just" 25 inches wide- though keep in mind this is still wider than the 20-23″ offered by competitors like Etihad, Qatar and Qantas.
Solo travellers will prefer the A/K seats at the side of the cabin, although do note the shell of the seat blocks the closest window. You'll need to lean rather far forward to see what's going on outside.
The D/F seats in the centre are better for couples, more so than any other SIA aircraft because the privacy divider can be lowered to facilitate conversation and there's no privacy wing wrapped around your head, so you can turn and see your partner. 
It's even better for the Row 11, 91 and 96 seats, where the divider goes all the way to the bottom!
Compare this with the Business Class seats on the A350-900/B777-300ER or B787-10, and you'll see what I mean. Even with the privacy divider down, you can't really see your seat mate because of the privacy wings or console.
Don't worry if you're traveling solo but end up in a D/F seat. The privacy divider, once raised, is high enough that you'll forget the other person's there. 
I'm a big fan of the seat's aesthetics too. It's not just the wraparound ears that form a comforting bubble of sound-dampening solace, it's small things like the illuminated pattern near the reading light, or the subtly textured upholstery pattern.
Bags can be stored beneath the leg rest area. Do note the photo below is for the bulkhead seats; it's relatively tighter for non-bulkhead ones. 
The side console provides a place to put personal items, with a small moulded well for a glass. A vanity mirror, reading light and IFE remote can be found here, together with a headphone jack and USB Type-A port. Note also the adjustable reading light. 
An additional USB Type-A port and a universal power outlet are located to the front or down by your side, depending on whether you're in a bulkhead or non-bulkhead seat. Below this is an NFC terminal, which despite the payment logo was also meant for pairing wireless headphones- functionality that has not been added to this day.
When I first flew this product, I found the seat controls required an inordinate amount of force to operate. I later realised they were touch-sensitive, and it didn't matter how hard you pressed. Leave your finger there and after a brief delay, you'll feel a haptic response and the seat will start moving.
Below the seat controls is a flip-down armrest, which you can deploy if you find the seat too wide. 
The tray table is smaller than expected, but I appreciated that it easily slides to the front, allowing you to enter and exit the seat even during meal service. Far too many tray tables hold you captive when they're deployed and loaded with food and drink.
Amenities
You should probably know by now that Singapore Airlines finally offers an amenities kit in Business Class, on request, on flights of six hours and more.
In a significant development (well, to me as a collector at least), the original green kits have been replaced by dark blue ones. They still contain the same Penhaligon's Quercus products as before, namely:
hand lotion (30ml)
facial mist (7ml)
lip balm (4g)
a ziplock bag to store it all inside
There's also a little card that entitles you to claim a Quercus 100ml body and hand wash from a Penhaligon's store near you.
In case you're wondering why the amenities kit's contents look relatively threadbare, the answer is that SIA adopts a waste not, want not philosophy. Instead of distributing a full set of amenities to every passenger, whether or not they want it, SIA stocks razors, toothbrush kits and combs in the lavatories. 
Sleep masks, earplugs and compression socks are available on request from the crew.
Singapore Airlines does not offer sleeper suits in Business Class, so be sure to bring something you're comfortable sleeping in.
Food & Beverage
Singapore Airlines restored pre-departure beverage service in Business Class from September 2022, which means you can enjoy a tipple before take-off. Champagne, water and orange juice are the default options. Physical menus are also back, though I hope SIA changes the design soon- we've been stuck on this cross-section of fruits (yes, capsicum is a fruit) for a few months now!
On the first leg from Singapore to Frankfurt, supper was served after take-off, followed by breakfast before landing. 
Since we were still full from the lounge, I asked the crew if we could take our meal later and they said it wasn't a problem. We ended up sleeping for about five hours first, and the crew served the meal as soon as they saw we were up. 
Proceedings began with an appetiser of crab salad. This came with real crab meat (not that fake surimi stuff), together with a Japanese-style grilled egg and pickled ginger.
I'd checked the menu in advance of the flight and none of the mains appealed to me, so I went with Book The Cook (BTC) Southern Singapore Farmed Barramundi. Barramundi is a great fish for an airplane cabin as it stays moist even after reheating, although the accompanying vegetables were rather greasy and unappetising. 
The MileLioness tried another barramundi dish from BTC: Aromatic Barramundi Stew. The barramundi fillet in this dish is simmered in tomato sauce and served with pearl couscous (though I'm pretty sure what we got today was barley), zucchini ribbons and toasted almonds. This is a personal favourite of mine, though I wish they'd increase the carbs portion.
Dessert was a pistachio cake with almond crumble and sour cherry. 
For breakfast, I went with BTC again, this time choosing the Kok Kee Wonton Mee. I gather there were some rolled eyeballs when SIA introduced this item, presumably from the crowd who wouldn't pay S$10 for good wanton mee but would splash out twice that much for a mediocre pasta (sorry, channelling my inner KF Seetoh here).
I liked this very much indeed, particularly the way they managed to keep the noodles springy while adding a crispy hit of lard. And I think it's great that there's hawker options for homesick people or foreigners who want a taste of local cuisine- not every Business Class meal needs to be lobster thermidor. 
The MileLioness had Qiu Lian Ban Mian, which also translated pretty well to a cabin environment. The chilli was spicy enough to open up the sinuses, allowing for a better enjoyment of the broth and noodles. 
On the flight from Frankfurt to New York, lunch was served after take-off, followed by a light refreshment before landing.
Since this was a full lunch service, it started with a satay course. It seems like SIA has permanently done away with beef or lamb skewers in favour of chicken, which is a shame because I always enjoyed doing a blind taste test and seeing if I could figure out which was which. 
The salad was a bit of a headscratcher: a terrine of smoked eel and trout with horseradish and greens. I don't know if this is all the rage in Germany, but it didn't quite do it for me. 
For the main, I had pre-ordered Braised Pork Cheeks from the Book The Cook menu. This was served with sauerkraut and dumplings. The pork was very tender, though the dumplings were very heavy.
The MileLioness ordered a Chicken and Farro salad from BTC, which was tiny and served cold. It went mostly uneaten. 
For dessert, we tried the Engadine Nut Cake 2020 (I didn't know desserts had vintages!) as well as hazelnut ice cream.
Before landing in New York, a light refreshment was served featuring a choice of seafood noodles or a mushroom quiche. We tried one of each; mindful that New York's gastronomic bounty was just a few hours away. Both were forgettable.
Throughout the first and second legs, passengers could choose from a small snack menu. Unfortunately, snacks continue to be a key weakness for Singapore Airlines. While other airlines are serving Ippudo ramen (ANA), curry bowls (JAL) or steak sandwiches (Etihad), it's sandwiches and instant noodles for the SIA crowd.
If anything, it feels like a missed opportunity to showcase some of Singapore's hawker fare. How I'd love for bak chor mee or prawn noodles as a quick pick-me-up! 
Or at least give the snack basket more of a local flair, like Shermay's prawn crackers, IRVINS salted egg fish skins, Fragrance bak kwa or Aroma Truffle chips (no, Gardenia buns don't count). Do we really need more Lay's, Ruffles and Kit Kat?
For what it's worth, the two sandwich options (a grilled portobello ciabatta and smoked salmon focaccia) were decent once heated up. 
In terms of drinks, Singapore Airlines has brought back Charles Heidsieck, which was its default pour until Laurent-Perrier replaced it in 2019. Some flights still receive the popular 2012/2014 vintage Piper-Heidsieck Brut, but it looks like this is in the midst of being phased out. 
🍷 Singapore Airlines Wine List




Name

Type

Vivino

Charles Heidsieck Brut Reserve
-or-
2012/14 Piper-Heidsieck Brut Vintage


Champagne

4.2/5




4.2/5

2017 Weinhaus Ress Riesling

White

3.7/5

2020 Stonier Chardonnay
-or-
2021 Dandelion "Twilight of the Adelaide Hills" Chardonnay


White

3.7/5




3.4/5

2016 Clarendelle Medoc

Red

3.8/5

2018/19 Teusner "The Riebke" Shiraz

Red

3.9/5
Other drinks options include illy coffee and TWG teas, cocktails, beers and spirits. Here's the spirits list, for those interested.
Inflight Entertainment
Each Business Class passenger has an 18″ HD touch-sensitive IFE screen, on which you can browse KrisWorld's 1,400 on-demand entertainment options including movies, TV shows, music albums and games. While Singapore Airlines has rolled out Live TV to its B737-8s, B787-10s and long-haul A350-900s, the A380-800s don't have this service. 
Even though the screen is touch-sensitive, it's a bit too far forward to reach comfortably. You can use the handset located in the side console for easier navigation.
Noise-cancelling headphones are standard across Business Class, and this model performed reasonably well.
New additions to the movie selection this month included Jurassic World Dominion, Lightyear, Elvis, Moonshot and Dr Strange in the Multiverse of Madness. I was hoping to watch Boiling Point again (Stephen Graham is mesmerising), but sadly it's been removed.
The MileLioness attempted to cure her crippling insomnia with a hearty dose of Cats. Her two questions after watching: how did the furries raise US$80 million for a movie, and how does US$80 million look so cheap?
Being an erudite man of impeccable taste, I watched a pre-couch jumping Tom Cruise in Risky Business. 
Sleep Experience
One of the biggest bugbears of the old A380 Business Class was that you had to stand up to flip it into bed mode. This would not be possible while the seat belt sign was on, and limited your range of sleeping positions.
Singapore Airlines has finally addressed this with its 2017 Business Class seats, which can be reclined all the way to flat without getting up. When fully reclined, the bed measures 78 inches long, or nearly 2 metres. 
If you weren't a fan of sleeping at an angle, however, I have bad news for you: this seat is more of the same. When fully reclined, you'll need to sleep diagonally, with your feet shunted into a small cubby hole beneath the TV console. 
The only way of avoiding this is to snag a bulkhead seat, which allows you to sleep parallel to the aisle. 
Do note that if you choose the A/K bulkhead seats, you'll still need to sleep at an angle because of a box-like protrusion beneath the IFE screen, but at least your legs will have more room.
Now let's talk about that double bed experience. 
The "glamour seats" in the new A380 cabin are 11D/F, 91D/F and 96 D/F, which convert into a double bed. That sounds impressive, but it's really more like two single beds pushed together, because there'll be a hard divider in the middle, and a dividing wall between your feet. 
While it's undoubtedly a novelty to be able to sleep side-by-side with your partner on an airplane, calling it a double bed is perhaps a bit too generous. You can try and put some extra blankets over the divider, but its firm and unforgiving shape means you'll never forget it's there. 
Also, it's only a double bed for the top half of your body. Your legs will still be separated by the divider below, and note how the seats are angled slightly away from each other. Forget spooning; holding hands is as good as it gets here. 
In terms of the sleep experience (and this will apply to every seat in the cabin), there's no disguising the fact this is one of the firmer sleeping surfaces out there. While the crew provide a bedsheet, it doesn't add much in the way of padding, and I can see some people having difficulty falling asleep.
Moreover, there's a noticeable joint where the seat cushion joins the seat back. It creates an uncomfortable bump near your lower back, which seems like a very unfortunate design issue. My recommendation is to request an extra blanket and stuff it into the gap as best you can.
I managed to catch a few hours here and there once I figured out how to avoid the joint, but I don't think this would go down as one of my better inflight sleep experiences, 
Wi-Fi
Singapore Airlines offers complimentary Wi-Fi allowances to passengers based on their status and/or cabin. 
All KrisFlyer members receive a free 2-hour chat package (suitable only for text-based messaging via apps like WhatsApp and Telegram). Solitaire PPS and PPS Club members, as well as passengers in Business Class, receive a free 100MB allowance. 
📶 SIA Wi-Fi Allowances

 

PPS

KF

Non-KF

Suites & First

Unlimited

Business

100MB

Premium Economy

100MB

2-hrs chat

N/A

Economy

Wi-Fi allowances do not stack; for example, a PPS Club member in Business Class would only receive 100MB, not 2x 100MB. 
Allowances based on membership are only provided if your frequent flyer number is printed on your boarding pass; if you forget to provide your number, it's too late to do so once on board.
Paid plans are available as well, ranging from US$3.99 to US$15.99. 
📶 SIA Wi-Fi Pricing

Plan

Cost

Allowance

Chat

US$3.99

2 hours

Pro

US$9.99

100MB

Premium

US$15.99

200MB

Surf

US$15.99

3 hours
Singapore Airlines is currently running a trial that offers unlimited Wi-Fi to Business Class and PPS Club members for the duration of the flight, but it's only available on the following aircraft:
Airbus 350-900 Long Haul
Airbus 350-900 ULR
Boeing 737-8
Selected Boeing 777-300ERs
Boeing 787-10
The Airbus A380-800s are a notable exclusion, so I had to bite the bullet and pay after my 100MB was exhausted. 
Wi-Fi speeds clocked in at a very decent 8 Mbps down and 1 Mbps up, though that will very much depend on weather conditions. 
I didn't know this before, but SITA ONAIR has a huge coverage gap over Turkey. In the three hours or so it took us to fly over, I had a constant "service unavailable" message. 
What was nice, however, is that SITA's time-based packages don't count the time you're over a dead zone. In any case, the crew removed the charge from the system once they learned I had issues connecting- something I didn't expect and really appreciated.
Toilets
The 78 Business Class passengers on the A380-800 have a total of five lavatories to use, and since passengers in rows 91-95 tend to use the two at the front of their cabin, the single lavatory at the rear often becomes the exclusive domain of passengers in rows 96/97.
While Singapore Airlines has done some amazing things with its Suites lavatories, the Business Class ones are as standard as they come. 
Bathroom amenities are from Penhaligon's Quercus range, with facial mist, eau de toilette and hand lotion. 
I realised on this flight that SIA has replaced its default hand wash (across all cabins). Instead of the generic unmarked stuff, it now offers Skin Cottage. This isn't quite Aesop, but is nicely scented and moisturises well. 
As mentioned earlier, SIA keeps the amenities cupboard well stocked with shaving kits, toothbrush kits and combs. 
Conclusion
The 2017 Business Class is a curious one. It addresses many of the issues that passengers had with SIA's older Business Class seats, like the lack of couple interaction, having to flip over the seat to make it a bed, limited lounging positions, and being "too wide" (yes, people complained about that!).
And yet, SIA has chosen to make it an A380-exclusive. This means it'll never be seen outside one dozen aircraft, and given the specific routes these ply, it's entirely possible a regular Business traveller never crosses paths with one of these for their entire service duration. 
Moreover, this isn't an off-the-rack seat. It's something SIA invested a good deal of time and money developing from the bottom up. I just don't see how a 12-aircraft deployment justifies the R&D that went into it.
All I can surmise is that it's a test bed (pun intended) for ideas that we'll see more fully fleshed out when the long-delayed B777X (five years and counting!) finally makes its debut. We know that SIA has already locked in the design for the new cabin products, but not much beyond that. 
That doesn't mean the 2017 Business Class seat is just a placeholder though. It's a worthy product in and of itself, even if the sleep experience isn't as pleasant as I would have liked, and the double bed is more gimmick than anything else. I would be happy to fly it again, although I'd probably request extra blankets to use as padding. 
What do you make of the 2017 Business Class seat?