On this trip to New York City, I visited both Conrad properties: the Conrad New York Midtown, and Conrad New York Downtown. 
As the names suggest, Midtown is located at West 54th Street, while Downtown is near the southern tip of Manhattan at North End Ave. That makes Midtown a better venue for those wanting to explore the Times Square area and museums around Central Park, and Downtown better for those who wanting to visit the Financial District, 911 memorial and Brooklyn. With five nights at each hotel, I'd have plenty of time to do both.
Before I get into the review proper, it may first be helpful to disavow yourself of any pre-existing notions of Conrad. While Conrads in Asia are luxurious 5-Star properties, the ones in the USA are closer to the 4-Star end of the spectrum in terms of service and facilities. They're built much larger, there's a concerted focus on business guests, and you can't expect the same kind of fawning service you'd get at a more intimate property. 
It doesn't make them bad by any means, just that if you go in expecting the Conrad Koh Samui you're going to be very disappointed. 
🏨 tl;dr: Conrad New York Midtown

The Conrad New York Midtown boasts modern rooms and a great location, but at 95,000 points per night it still feels like overpaying.

👍 The Good
👎 The Bad

Modern rooms with contemporary styling

Great location for exploring tourist hotspots like Times Square, Central Park and 5th Avenue

Spacious gym with wide range of equipment

Miserly continental buffet breakfast, and overpriced full buffet

Poor value at 95,000 points/night
Booking the Conrad New York Midtown
I redeemed this stay through Hilton Honors at a cost of 95,000 points per night with the 5th night free, which meant an average cost of 76,000 points per night. 
I value a Hilton Honors point at 0.5 US cents each, so in one sense this was a good value redemption (cash rates were close to US$860 per night), but I still feel like I overpaid- after all, the peerless Conrad Koh Samui requires the same number of points. Moreover, Hilton's not short of properties in New York City, and I doubt the quality of my trip would have suffered badly had I stayed in a Hilton or Doubletree…
Ah well, for the bucket list.
Conrad New York Midtown: Room
Arrival at the hotel was rather unceremonious, with the doormen more interested in chatting among themselves and none of the welcome drink/cold towel pageantry you'd get at a hotel in Asia.
Our room wasn't ready when we arrived at 1.40 p.m, and wouldn't be until around 5 p.m. My points reservation booked into the lead-in City View Deluxe Room, which at 325 sq. ft. was actually quite large for New York City. 
The problem was this room was just outside the elevator, which made a loud "ping" sound every time it opened. This was an absolute nightmare for a light sleeper like me, so I went down to the front desk and asked about a room change.
The receptionist managed to find availability in a 1-bedroom King Suite, one category higher (and arguably what a Diamond member should have been upgraded to in the first place, since the room was very obviously available!). King Suites measure in at 500 sq. ft, with separate sleeping and living areas. 
I thought the room was very nicely decorated, and having a separate sleeping and living area is always great for couples travelling together (so one party can work without disturbing the other). 
Wi-Fi clocked in at 23 Mbps down and 19 Mbps up, and 4K Netflix could stream without any issues. 
In a corner was a booby trapped mini-bar, which bills you automatically should you remove any of the items or attempt to store items of your own. That certainly didn't stop the previous guy from leaving his pizza inside, though. I messaged the front desk and told them about it, and their first reply was "don't worry, you've not been billed". Okay then…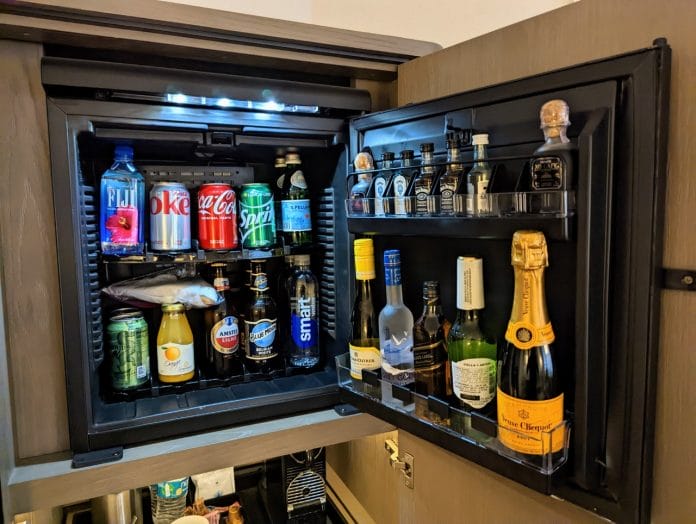 Each room had a Nespresso machine as well as complimentary bottled water. Tap water in New York City is perfectly drinkable, so we didn't need to worry about refills. 
The bedroom had a comfortable king-sized bed (any bed would feel comfortable after clocking 20,000 steps on the New York streets!), together with bedside charging outlets and USB ports. Blackout curtains did a good job of shutting out New York's perpetual light, and soundproof windows helped keep street noise to a minimum.
A walk-in wardrobe area near the bathroom offered plenty of storage space plus an in-room safe. 
The bathroom featured a shower and single vanity unit, with Aromatherapy Associate bath amenities (versus the Byredo Gypsy Water amenities found in the lead-in rooms). Water pressure was underwhelming though, and the shower head's coverage was small. There was no bidet seat nor bidet hose. 
Facilities
The Conrad Midtown does not have a swimming pool (nor do most hotels in New York City- real estate's expensive!), but there is a 24-hour gym for guests. It's a good-sized facility with 1,500 sq ft of space, and cardio and strength-training equipment by Life Fitness. Complimentary bottled water and earphones are provided too.
Breakfast
Breakfast is served from 6.30 a.m to 11 a.m daily at Dabble.
Back in July 2021, Hilton eliminated the complimentary breakfast benefit for Gold and Diamond members at hotels in the United States, replacing it instead with a US$10 to US$25 F&B credit. This was meant to be a temporary measure lasting till the end of 2021, but was subsequently extended till the end of 2022. Who wants to bet this becomes the new normal?
Hilton argued the change gave members "more flexibility", but I call BS on that. If that were truly the objective, they could have given elites a choice of free breakfast or the F&B credit. It's so obvious what the real goal is here: to generate incremental revenue by hoping that people spend more than they otherwise would have.
To add further insult to injury, the F&B credit is non-cumulative, and does not roll over to other nights. If you don't use it, you lose it. 
The credit for Conrads is US$25 per person, per day (granted for a maximum of two persons per room), and you might be thinking- what does that get you in New York City, once taxes and tips are accounted for?
The answer is not much. The continental breakfast buffet costs US$25 on the dot, or US$27.22 after taxes. A 10% tip is expected at buffets, and long story short, Hilton has taken away the free breakfast benefit and added a co-pay.
If there's any silver lining, we were in New York City, where good food was never more than a stone's throw away. We only took breakfast at the hotel on two mornings, and spent the rest of the F&B credits on (frighteningly expensive) cocktails at the bar. 
Breakfast at Conrad Midtown is nothing to get excited about. It's served buffet style, and if you opt for the continental breakfast option, you're on your honour not to take any of the hot items. 
This meant you could have:
Bagels
Toast
Cereal
Pastries
Fruit
Hard-boiled eggs
Smoked salmon
Yoghurt
The "forbidden items" included scrambled eggs, bacon, chroizo, roasted vegetables, sauteed mushrooms, and French toast. On the whole I'd say I didn't feel too bad for missing out these, since the US$45 asking price was just silly. 
Conclusion
The Conrad New York Midtown is a pleasant enough hotel, but certainly not a property that warrants 95,000 points per night. I liked the modern décor and its location— great for those wanting to explore the Times Square, Central Park and museum districts— but you could say the same of the dozens of hotels in the surrounding area. 
For the points charged, I felt the Conrad New York Downtown offered better value. I'll cover that in the next post.