| | |
| --- | --- |
| | The following impressions are based on a media stay, where accommodation, food and activities were provided by the hotel. I paid for my own flights to and from the Maldives. The article below was not reviewed by the hotel prior to publishing. |
My first trip to the Maldives came in March 2019, when I visited the W Maldives during my honeymoon.
It was memorable, to say the least: crystal clear waters teaming with marine life, beaches lined with powder-soft sand, and spectacular sunsets every evening. Yes, the Maldives will never be a budget-friendly holiday destination, but if circumstances permit, I believe it's the kind of thing you need to see at least once in your life.
I recently had the opportunity to return once again as part of a hosted visit by the JW Marriott Maldives. Here's a detailed rundown of what you can expect at this resort in terms of accommodation, facilities, dining, activities, and more.
🏨 tl;dr: JW Marriott Maldives

The JW Marriott Maldives offers a family-friendly environment with excellent facilities, and it's one of the few resorts with Overwater Villas as the lead-in category.

👍 The Good

👎 The Bad

Overwater villas are the lead-in category for points stays

Excellent facilities including a memorable infinity pool, overwater gym, and an oversized spa treatment villa

A well-equipped kid's club with a wide range of activities

High quality breakfast spread, with the flexibility to go off-menu

Some maintenance issues in the Beach Villas (which are currently being addressed)
JW Marriott Maldives: Resort Overview
The JW Marriott Maldives opened in November 2019, marking the brand's first-ever Maldives property. The resort isn't a new build, having opened in 2012 as the Viceroy Maldives. That said, it wasn't just a simple reflagging; extensive work was done during the transition:
Villa interiors and décor were refurbished
Three more dining venues (plus the brand new Wine Room) and two more bars were opened
A new arrivals jetty was constructed
A kid's club with indoor and outdoor areas was built
A new sports arena was constructed, and the existing watersports and dive centre enhanced
Two new swimming pools were added
Breakwaters were added to the sunrise side to reduce the noise from waves and provide a better snorkelling environment
Cash rates at this resort range from US$700 to US$1,500 per night (remember that all rates are subject to a 10% service charge plus 16% GST), so this is one of those properties where redeeming points can still offer outsized value.
Marriott Bonvoy members can redeem rooms from 79,000 points to 115,000 points per night. In general, you'll find the lowest prices during the monsoon season from May to October, and the highest prices from December to March. Don't forget that all members, regardless of tier, enjoy the 5th night free on redemptions.
Now, what's particularly noteworthy about the JW Marriott Maldives is that points reservations can be made for Beach Villas or Overwater Villas at the same price.
At the vast majority of resorts in the Maldives, Beach Villas are the lead-in category and Overwater Villas require a substantial upcharge (because that's what everyone thinks of when they think about the Maldives). So if your picture of a Maldives vacation involves an Overwater Villa and you don't want to pay for/take a gamble on an upgrade, then the JW Marriott Maldives takes that uncertainity out of the picture.
The resort is about a one-hour flight from Male, and the cost of seaplane transfers (inclusive of all taxes) is US$625 per adult, and US$375 per child (aged 12 and below).
Guests will receive an email 24 hours after making their reservation, which includes information on dining, activities and spa reservations, as well as airport transfers.
JW Marriott Maldives: Arrival Experience
Singapore Airlines offers two daily flights to the Maldives:
SQ438 (A350-900) departs SIN at 2035 and arrives MLE at 2210, which means you'll need to look for accommodation around the airport and wait till the following morning to catch a seaplane to your resort (they don't operate at night)
SQ432 (B737-8) departs SIN at 1005 and arrives MLE at 1155, although by the time you reach your resort it could be mid to late afternoon
We flew in on SQ432, and on arrival, a representative from the resort was waiting at the exit area. He escorted us to the Trans Maldivian Airways counter where our bags were checked and boarding passes issued. For reference, each passenger receives 25kg of luggage allowance, which includes 20kg of check-in and 5kg of carry-on. Additional weight can be purchased at US$5 per kg.
We were then brought to a JW Marriott van (with free Wi-Fi), which took us to the seaplane terminal in under 10 minutes.
If you haven't visited the Maldives since COVID, you're in for a pleasant surprise. The old seaplane terminal has been replaced by an ultramodern, air-conditioned facility. This opened in October 2022 and features 28,000 sqm of floor space with lounges and duty-free.
The JW Marriott Maldives does not have its own lounge (I saw lounges for Conrad, Le Meridien, LUX*, St. Regis, Cheval Blanc, and JOALI, among others). Instead, it uses the very comfortable Vilu Business Lounge. This is shared with a few other 5-Star resorts, but with frequent seaplane departures and seating for almost 100 guests, it never got very crowded.
This is a gorgeous-looking facility, and even has an outdoor terrace where you can observe the activity on the "tarmac". A children's area, universal power sockets, Type-A USB ports, complimentary Wi-Fi and toilets (but no showers) are available.
In terms of food, the lounge has a selection of hot and cold food (burgers, chicken wings, corn fritters and surprisingly moist banana bread), plus a wide range of non-alcoholic beverages (you won't find alcohol outside of the resorts). Frankly, anywhere that serves three kinds of mineral water, all in glass bottles, is posh enough for me!
After an hour's wait, we boarded a seaplane to the resort, which was a 60-minute direct flight away. Direct flights aren't always guaranteed, however. Depending on the day's schedule, the seaplane may make another stop at a different resort, adding perhaps 15 minutes to your total flight time. This is at the seaplane operator's discretion; resorts don't have much of a say in the matter.
Taking a seaplane is a unique experience. It's not going to be your most comfortable flight ever since there's hardly any legroom, the cabin isn't air conditioned, and the engines are very loud (earplugs are provided). But you do get to enjoy some spectacular views, especially when you fly over other resorts.
The welcome wagon was out in full force when we arrived, with the staff assembled on the arrival dock playing Maldivian drums and singing. They do this for every arrival, several times a day, and it's remarkable how they retain the same level of enthusiasm every time.
Welcome drinks were served in the arrival pavilion, and the resort's GM Marc Gussing came around to introduce himself to every guest. Guests were also introduced to their butlers (known as takuru), who would be the single point of contact throughout the stay.
Shortly after this, we were escorted to buggies to take us to the villas for check-in. En route, we passed the hotel's "front desk" and library. You'll only really visit the former when it's time to check-out, though the latter is a nice place to escape the heat during the day and read a book.
JW Marriott Maldives: Beach Villa
The JW Marriott Maldives has a total of 60 villas, split into the following categories:
Category
Size
No. of Rooms
Max. Occupancy

Overwater Villa

234 sqm

19


(9 sunrise,

10 sunset)

3A or 2A+2C

Beach Villa

248 sqm

16


(13 sunrise,

3 sunset)




3A or 2A+2C

Duplex Overwater Villa

274 sqm

12

3A or 2A+2C

Duplex Beach Villa

285 sqm

13

5A or 2A+3C
Villas are further subdivided into sunrise and sunset views.
One quirk to note about this property is that Overwater Villas are classified as the lead-in category, so you could actually be upgraded away from a Overwater Villa to a Beach Villa. If staying in an Overwater Villa is important to you, you should write in beforehand mentioning this fact.
I was assigned to 114, a sunrise Beach Villa on the Southeastern tip of the island. Unfortunately, I wasn't able to tour an Overwater Villa because the resort was running full. If you'd like to see what these look like, I highly recommend checking out Prince of Travel's comprehensive review.
Beach Villas are separated from the resort's "highway" by a sandy path, which provides them with additional privacy.
The interiors are spacious and airy, which you'll notice the moment you open the door and step into the arrival hallway.
The colour palette here is muted, giving the villa a sense of understated luxury. It's designed like an inverted dhoni boat, which means a soaring, almost cathedral-like ceiling.
The king-sized bed offered a medium-firm mattress, with smooth sheets and a choice of pillows (our butler only mentioned two types, but we later found out from another butler that they actually had additional options).
Bedside tables had a geode-pattern surface and a JBL speaker alarm clock. There were also universal power outlets and Type-A USB ports, plus master switches to control the room's lighting.
The villa lacked a proper work desk (because who comes to the Maldives to work?), but in the corner were two armchairs and a glass-topped table. On the table was a welcome bottle of red wine, plus some local snacks.
The wet bar had two complimentary 1.5-litre bottles of Bon Aqua mineral water (more can be requested at no extra cost), plus complimentary illy coffee and TWG tea. Water can be very expensive at the restaurants, so be sure to bring your bottle with you wherever you go.
In a corner of the villa was a day bed with a pair of coffee tables. This would be ideal for napping when you're sweaty or greasy with sunblock and don't want to mess up the bed.
The room had a 55-inch flat screen TV with more than 40 international satellite channels, though we didn't use this a single time during our stay. There's just too much natural beauty out there!
By the side wall was a full-length mirror that looked a little precarious initially, until you realised it's secured snugly to the wall. This provided an opportunity for last looks just before heading out.
Rounding off the bedroom was a large wardrobe area with all the storage space you could need. An ironing kit, mini-safe, laundry bag, shoe shine kit and beach/indoor sandals were provided inside the cupboards.
The bathroom had separate his and hers sinks with pendant-style backlit mirrors, a soaking tub, plus a view of the backyard. You could lower the opaque blinds for additional privacy.
The jet black soaking tub looked inviting, but it only had room for one. With all the space they had to work with in the bathroom, I wish they'd installed a larger version.
The oversized shower area had both a hand and rain shower, together with a bench that was perhaps a little too tall for feet washing. Water pressure was average- you had to use the hand shower if you wanted something stronger.
Bulk-sized toiletries from Aromatherapy Associates were provided, with shampoo, conditioner and body cleanser.
The toilet had a handheld bidet spray, plus a stand-alone bidet.
A door at the rear of the bathroom opened directly to the wooden deck and beach outside. This meant you could easily hop between outside and the shower without dripping water or tracking sand all over the bedroom area.
Outside was a private terrace with a plunge pool, sun loungers, and shaded seating area with sofa and chairs. It was too hot to hang out during the day, but in the early morning or evening this was a nice spot to take in some ocean sounds while reading a book.
While the villa had its own pool, we spent close to no time here at all. Quite frankly, it's not the nicest of pools since it's sunken (and the water level was surprisingly low). When you're inside, your view of the beach is mostly blocked, and you can't see much of anything. Besides, the views are much better at Pool 18, which I'll cover later on in this review.
An outdoor shower in the shape of a dhoni boat bow provided a place to rinse off before entering the pool or returning to the villa.
On the whole, the beach villa would be a solid option for those who want easy access to the beach, or for families with young children who can't stay in overwater villas.
There's just two points I want to highlight. First, the floor in the villa was popping up in several areas, both inside the bathroom and bedroom. The photo below perhaps doesn't capture it so well, but it could present a tripping hazard if you're not careful.
Second, the outside wooden deck had been worn down by the weather, leaving small gaps and exposing some nail heads which could scratch your feet if you didn't wear slippers. The hotel tells me that it's in the process of changing the entire woodwork of all villa decks, which has been completed for all Overwater Villas and Duplex Beach Pool Villas already. Work is currently underway on the Beach Villas, so hopefully you won't encounter this by the time you stay.
JW Marriott Maldives: Swimming pool
The JW Marriott Maldives has two swimming pools:
Horizon Pool, located located near Aailaa and Fiaama
Pool 18, an adults-only pool on the southern tip of the island
Both pools are open from 8 a.m to 6 p.m daily. No one really kicks you out at closing time , though a staff member did warn guests that the pool would start a "disinfecting cycle" after closing time.
Horizon is the main pool, open to guests of all ages. It's shaped like a T, with half-submerged sun loungers at the shallow end and a head that stops just short of the beach. You can watch seaplane take-offs and landings from here, as well as sunsets when the weather permits.
Numerous deck chairs and umbrellas were scattered around the area, plus five cabanas available on a first-come-first-serve basis.
Because it's a pool for all ages, it's inevitable that Horizon can get a little noisy at times. If you prefer something quieter, head on over to the adults-only Pool 18.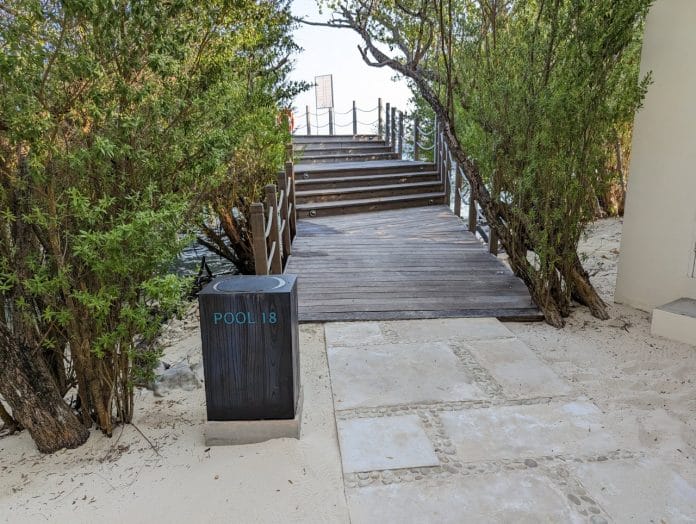 This infinity pool boasts absolutely stunning views of the Indian Ocean, the kind that make you shake your head in wonder.
You can lie face up on the shallow ledge of the pool and stare at the clouds, you can wade up to the edge and hear the crashing waves, you can walk along the edge for the 'Gram (probably a massive safety violation, though that didn't stop a few guests from doing it). Infinity pools don't get much better than this.
My main feedback about the pool experience was that Pool 18 didn't receive much service. I read in previous reports that guests used to receive chilled bottles of water, cold towels and fresh fruits by the pool— that would have been lovely, but the pool was unattended the whole time we were there. This also meant there was no one around to clear used towels, drape chairs for newly-arriving guests, or take food and drinks orders.
Also note that smoking is permitted in open areas of the resort, including the pool. Depending on your luck, you might encounter occasional secondhand smoke from other guests. Fortunately that only happened once during our stay.
JW Marriott Maldives: Gym
When the guilt of all that eating and drinking becomes too much, the fitness centre is where you do penance. It's housed in an overwater villa with glass walls that let you take in sweeping views of the ocean.
Inside you'll find a good range of strength training and cardio equipment from Life Fitness.
Equipment was in excellent condition, and the treadmills offered built-in entertainment systems. The air conditioning does an admirable job of keeping the fierce heat at bay, though even the most robust of systems will struggle during mid-day, so perhaps schedule your sessions for the morning or late afternoon.
Stocked in the SMEG fridge was cold water and towels. There was also infused water, and wet wipes for disinfecting equipment.
The resort has a daily schedule of fitness activities that run in the morning and evenings, featuring yoga, HIIT, meditation and jogging. Previous reviews I read say that the instructor sometimes incentivises guests with spa treatment vouchers- I didn't try that out, but that sounds fun!
Some activities take place at the neighbouring open-air yoga pavilion, which provides the perfect backdrop for one of those #yogagoals post (and if that's not a yoga hashtag, well, shows what I know).
JW Marriott Maldives: Kids Club
JW Marriott has always marketed itself as a more family-oriented brand, and that's especially the case at the JW Marriott Maldives.
The Little Griffins Kids Club is open from 10 a.m to 9.30 p.m daily for children aged 0-12 years old. Children below 3 years will be on an infant care programme, while children aged 3-12 can participate in a daily activity programme featuring more than 100 different activities.
The interiors have an "under the sea" theme, with different spaces for arts and crafts, board games, reading, and free play.
In the outside area are a set of wading pools with a small splash zone and 0.6M deep section, plus a climbable pirate ship and beach soccer pitch. Movies are screened here on occasion, offering kids and parents an opportunity for bonding.
This is one of the best-equipped kids clubs I've seen in a resort, and I can understand why it's so popular with families.
JW Marriott Maldives: Spa
The JW Maldives spa is located near the gym and yoga pavilion, and open from 10 a.m to 8 p.m daily. You can find the spa menu here; 50-minute treatments start from US$150++.
The spa has a total of seven treatment rooms, split into one deluxe suite and six regular huts.
The deluxe suite is quite a sight to behold, with its own small plunge pool and zero-G style loungers that look out to the endless ocean. In the back are an ice shower, rainforest shower (it literally plays birdsongs), and steam shower. It doesn't cost extra to reserve this room either, so be sure to request it at the time of booking.
Even if you don't manage to secure the deluxe suite, the regular treatment rooms are more than adequate, with ocean views and attached bathrooms.
JW Marriott Maldives: Activities
Snorkelling is one of my favourite activities, and at the JW Marriott Maldives' house reef we managed to spot a turtle, a couple of rays, and many different kinds of fish. It was decent enough, but I think my problem was that I was mentally benchmarking it to the W Maldives, which truth be told might be unfair, since the W is widely acknowledged to offer the best house reef in all of the Maldives.
As an alternative, the resort offers snorkelling trips which bring you out on a boat to more scenic areas. Other excursions include sunset fishing, dolphin spotting, and visiting a local island.
The dive centre has a wide range of motorised and non-motorised water sports, with the latter being free of charge. This includes kayaks, stand-up paddle boards, and paddle boats. I especially liked that they included the glass-bottom kayak too; at the W Maldives this entailed an upcharge.
| | |
| --- | --- |
| | 👍 Update: Good news! The JW Marriott Maldives has removed the rental fee for life jackets, effective immediately. |
I do however need to highlight one practice that I really disagreed with.
Guests are provided with lifejackets in their rooms (the orange one on the right hand side of the photo below). However, these are intended for emergency use, and are not designed for snorkeling (notice the collar which will keep your head from facing down). If you want a lifejacket for snorkelling (the red one on the left hand side of the photo below), you'll need to rent it from the dive centre, where there's a US$10 per day fee.
I understand the fee is collected by an external company, but frankly speaking, if the hotel were to pay the fee on behalf of guests and raise the room rates by US$10, no one would notice at all. What people do notice is that a piece of basic safety equipment comes with a fee, and that's never a good look. It makes it seem like the hotel is placing money over the welfare of guests.
Based on FlyerTalk reports, it seems like this policy has been around for a while. I've spoken to the team about the matter, and they've promised to look into it. We'll see.
JW Marriott Maldives: Breakfast
Breakfast is served at Aailaa from 7.30 a.m to 10 a.m daily. This costs US$50++ per adult, and children under 12 eat free. Bonvoy Platinum, Titanium and Ambassador members enjoy complimentary breakfast for two adults daily.
Seating is all outdoors, and given the heat of the Maldives, it's advisable to come earlier and secure a shaded table. By the way, the best seat in the house is located at the apex of the viewing deck- be the first ones here if you want this one!
The buffet area is located indoors in air-conditioned comfort. It's an elaborate spread with Asian, Western, Indian and Maldivian options, easily one of the best breakfast spreads I've had at any resort.
Near the entrance were deli meats, olives, and a selection of cereals (Frosties, Corn Flakes, Froot Loops, Coco Flakes, Coca Pops, Toasted Oats Granola, Rice Krispies) in open-top containers.
In one corner of the buffet area was a station with yoghurt, nuts, fruits, salad and cheese. The staff will whip up any juice concoction you request (they seemed disappointed my daily order was a rather pedestrian green apple juice!).
Next to that was a small display with cold cuts plus homemade smoked salmon. This was superb. Far too many places settle for the bland, mass-produced supermarket crap, but this was moist with just a hint of sweetness.
Guests could have eggs cooked to order, together with the traditional accompaniments like grilled tomatoes, sautéed mushrooms, beef and pork bacon, hash browns and chicken sausage. The bakery section had a wide spread of fresh-baked pastries, including donuts, cakes, muffins, Danishes and croissants, together with interesting spreads like truffle honey, vanilla honey, kiwi and mango jam.
Vegetable and seafood dim sum, a noodle station, and an Indian food counter were also available.
Finally, there's an island display with an assortment of rotating hot dishes, like fried rice, noodles, stir-fried vegetables, curries, and Maldivian selections.
As good as the buffet is, that's not all. The golden rule of breakfast at the JW Marriott Maldives is "ask and ye shall receive". If there's something you want the kitchen to put together, just ask. They'll do their best to put it together for you.
That's how we got to try additional items like avocado toast, French toast, amazing crepes, plus several incredible Indian items.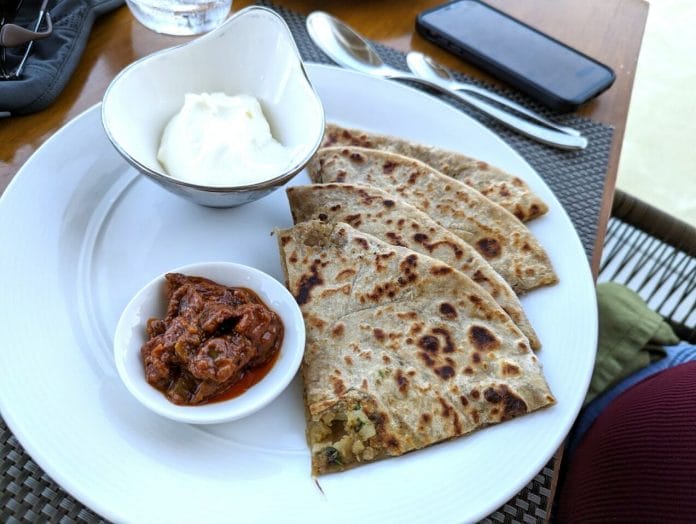 As I said previously, this is one of the best breakfast spreads I've seen at any resort, both in terms of quality and variety. The only thing lacking is a boozy option- having a DIY bloody mary or mimosa station would really be the icing on the cake.
One drawback were the houseflies at breakfast, which I understand is a seasonal problem. They don't bite or anything, but they're incredibly annoying. The staff provide a helicopter-like device that does a good job of keeping them at bay (get three for complete table coverage).
Now this wouldn't be the Maldives without a floating breakfast option. I'm not a fan of the concept, for reasons best summed up here. It's horribly impractical- no one likes eating with wet hands, the food gets cold quickly, the tray keeps floating away every time you so much as prod your eggs with a fork, and you're at the mercy of curious insects.
That said, it's certainly photogenic…
The floating breakfast doesn't come cheap though. It costs a whopping US$225++ per couple, and features items you could anyways enjoy for free at the buffet anyway (plus two glasses of champagne, for what it's worth).
Given the high quality of breakfast at Aailaa, there's really no reason to opt for this unless you absolutely need to have that Instaworthy photo- and even then, I'd only recommend it if you had an Overwater Villa, because the views from the sunken Beach Villa pool aren't all that good.
After taking a few photos, we relocated inside and ate on a table- you know, that place where breakfast is meant to be eaten!
JW Marriot Maldives: Dining
🍽️ JW Marriott Maldives Dining Venues




Venue

Description

Opening Hours

Aailaa
(menu)

Breakfast and all-day dining

7.30 a.m to 10 a.m (Breakfast)




12 p.m to 3 p.m (Lunch)




7 p.m to 10 p.m (Dinner)

Fiamma
(menu)


Italian

12 p.m to 3 p.m

Kaashi
(menu)


Thai

1 p.m to 4 p.m

Hashi
(menu)


Japanese

7 p.m to 10 p.m

Shio
(menu)

Steakhouse

7 p.m to 10 p.m

Riha
(menu)

Indian

On request

Wine Room
(menu)


Private dining

On request

Destination Dining

Guests at the JW Marriott Maldives have more than half a dozen dining venues to choose from, plus specialty dining experiences like a beachfront champagne dinner or a traditional Maldivian Malaafaiy. We experienced the latter on the final night and it was an incredible mix of mouth-watering local food plus a special dance performance.
It's probably no surprise that dining in the Maldives is never going to be cheap. Everything needs to be flown or boated in, and all menu prices are subject to a further 10% service charge and 16% GST (27.6% in total).
Different visitors have different strategies. Some will wait till late morning to eat a huge breakfast, subsist on cup noodles for lunch, then make dinner their main meal of the day. Others will adopt a "go big or go home" approach, believing that there's no sense in coming all the way here and pinching pennies on food.
Which one you choose is really a personal call, but it's worth mentioning the half and full board plans that can help take some of the sting out of the prices.
At the JW Marriott Maldives, these range from US$150++ to US$565++ per adult per day. The entry-tier plan includes a choice of a 3-course lunch or dinner plus 60% off signature restaurants, while the highest-tier plan gives you a free rein of the menu for lunch and dinner (except caviar), plus all the alcohol you could care for including Veuve Clicquot champagne and a daily 50-minute spa treatment.
Fiamma
Fiamma is the hotel's Italian restaurant, located poolside and open for lunch only.
This was a tale of two halves. The first time we visited, the pizza dough was way too dense and heavy, more like a cake than anything else. There was no charring on the crust either.
The panini we ordered…didn't look like a panini at all. This would more accurately be described as a hero or hoagie, and I'm pretty sure they don't use American cheese in Italy (note the neon yellow hue).
I provided feedback to the staff, and the following day they had a do-over. This time round, the pizza dough was properly fermented, creating a much more airy crust. They also used a better quality cheese, and there were hints of charring around the edges.
They also served a much better panini, with ciabatta bread this time.
As a bonus, the chef made a mushroom risotto, which was as good as any I've had.
I was delighted see they took the feedback on board, and hope they'll maintain that standard for future guests too.
Kaashi
Kaashi is one of the JW Marriott Maldives' more unique dining venues, built like a treehouse overlooking the ocean. It serves Thai cuisine, and it was precisely because I didn't expect to find good Thai food in the Maldives that Kaashi turned out to be such a pleasant surprise.
For lunch, we tried the som tam, larb gai and fish cakes. The vegetables in the dishes come from the resort's own garden, harvested that very morning.
Next up was an excellent tom yum soup, plus green chicken curry, grilled prawns with nahm jim sauce, and beef with vegetables.
For dessert, mango sticky rice was served. This could hold its own to anything I've tried in Bangkok!
All the items were delicious (my personal pick would be the grilled prawns- that nahm jim sauce is something else), and l later found out the chef is a Thai native. It's just a shame the venue doesn't open at night, since it does get very warm during the day, but I can understand that a treehouse at night may be something of a safety hazard.
Hashi/Shio
While they're listed as separate restaurants on the hotel's website, Hashi and Shio are actually located in the same venue, on opposite sides of an air-conditioned overwater restaurant (outdoor seating is also available).
Guests can mix and match items from either restaurant, and from Hashi we sampled a platter of tuna and salmon sashimi, plus ebi tempura, California and unagi rolls. It was passable, but if you come here expecting Japanese food like what you get in Tokyo, you're going to be disappointed. The sashimi has to be frozen to be shipped over safely, and the thawing process means you'll never get as pleasant a texture or flavour as if fresh fish were used. In general, I don't think Maldives is the place to be ordering Japanese food.
What was incredible was the rock shrimp tempura. These were served with spicy mayo and seriously addictive.
A huge seafood platter was served next, featuring lobster, calamari, tiger prawns, scallops, reef fish, mussels and tuna. The items that were sourced locally and served fresh were excellent (e.g. lobster), but the previously frozen items were so-so (e.g. mussels, calamari). I'd recommend asking the staff which items are fresh-caught, and sticking to those.
Then it was Shio's turn, and we tried a variety of Black Angus tenderloin and striploin, plus an Australian Wagyu tomahawk. My advice would be to stick to striploin or ribeye over tenderloin. Tenderloin is a lean cut with hardly any fat, and no fat= no flavour, no matter how good the sear is.
Sides of grilled asparagus, wok-fried broccolini and truffle scented potato puree were served too. As you can guess, the last one was a winner.
This is probably the resort's most "dressy" venue (though in keeping with the Maldives' barefoot luxury vibe, there's no dress code), and ideal for a date night.
Wine Room
The Wine Room was my absolute favourite place in the whole resort. Why? It has wine, and it has powerful air conditioning. What more could you want?
This oenophile's paradise boasts more than 1,600 bottles from 320 labels across the globe, and is used as a private dining venue.
For our dinner here, the chef created a special menu featuring crab roulade with avocado, pan fried foie gras with brioche (I thought it was clever how he used the acidity from kumquats to cut the richness of the foie gras), and a rack of lamb. Each item was presented beautifully and tasted magnificent, and I'll say this was the best meal we had at the resort (Riha was excellent too, but this had air conditioning!).
Before dessert came a cheese course like none I'd ever had before. Instead of the usual assortment of hard and soft cheeses, this was served like the fanciest grilled cheese sandwich ever, with an umami-rich melted coating topped with gold flakes. Sensational.
The wine pairings were:
Riha
Riha is the resort's newest dining venue, and one where reservations are absolutely essential.
This eight-seat dinner-only venue (trust me, you wouldn't want to dine here during the heat of the day) is set in a traditional sunken curry pit under a canopy of stars. Riha means "curry" in Dhivehi, and showcases the diversity of Indian cuisine.
Guests are prepared an eight-course dinner by a personal chef, which features dishes from Kashmir to Madurai, Goa, Rajasthan and Bengal, combining Western produce with Indian flavours, creating a unique culinary journey.
Chef Rohit Agarwal runs a tight ship behind the counter, and the dishes were, in a word, sublime. We had foie gras, scallops, lobster, even wagyu beef (contrary to popular belief, the chef explained, beef is eaten in certain parts of India), but as we'd never tasted them before.
Even the tableware showed great attention to detail, with copper glasses, brass, and other traditional Indian place settings.
A dining experience at Riha starts at US$265++ per adult, and while that amount may make some wince, put it this way: for the ingredients you get, the performance you witness, the intimate setting, and the part of the world you're in, you won't find much better.
Departures
We flew back to Singapore on SQ431, which departs MLE at 12.55 p.m. This meant an early morning departure from the resort, and after breakfast, we were escorted to the jetty once more where the staff lined up to say goodbye.
This time, the seaplane would be stopping at two other resorts before reaching MLE (Fairmont and Velaa Private Island). We reached the airport well ahead of departure, and a JW Marriott representative brought us through check-in and all the way to immigration.
Conclusion
The JW Marriott Maldives has plenty to offer with its excellent facilities, high quality breakfast and well-run kids club. There were some maintenance issues with the Beach Villa we were assigned, but it's good to know there's a remedial plan in place.
That aside, this could very well be a great redemption option for Marriott Bonvoy members, since your points can book you into an Overwater Villa for the same price as a Beach Villa (with the fifth night free to boot).
If you have any other questions about this property, do pop them in the comments and I'll do my best to answer!