Singapore Airlines has announced that its SilverKris Lounge in Seoul will reopen from Monday, 5 June 2023, making this the eighth outstation lounge out of a global network of 10 to resume operations post COVID.
With its lovely staff (hopefully the same team from the pre-COVID days has stuck around), gorgeous décor, tended bar and wide array of food options, this will be a welcome alternative to the ho-hum Asiana Lounge, which I visited in late 2021 and found to be extremely underwhelming.
Operating Hours & Location
The SilverKris Lounge at Seoul Incheon Airport is located at Terminal 1, Level 4. Take the escalator opposite the Korea Traditional Cultural Experience Centre near Gate 29 to gain access. 
The lounge will be open from:
6.15 a.m to 11 a.m
1.45 p.m to 4.30 p.m
8.45 p.m to 11.30 p.m
This allows it to serve passengers on all four daily Singapore Airlines flights:
SQ607, departing at 0900 
SQ611, departing at 1120 
SQ601, departing at 1635 
SQ605, departing at 2315
Access rules
Access is available to passengers departing on a Singapore Airlines or Star Alliance flight in:
First Class (+1 guest)
Business Class
Any cabin, with Solitaire PPS Club, PPS Club, KrisFlyer Gold or Star Gold status (+1 guest)
Access is available to passengers departing on a Singapore Airlines flight in:
Any cabin, with Club Vistara Platinum or Gold
Any cabin, with Velocity Platinum or Gold (+1 guest)
Any cabin, with Virgin Atlantic Flying Club Gold
All guests must be travelling on the same flight as the eligible passenger.
Overview: SilverKris Lounge Seoul
The SilverKris Lounge in Seoul received a makeover in October 2019 which saw the introduction of the "Home Away From Home" concept by Ong&Ong. This design philosophy focuses on creating personal spaces that evoke a sense of being at home, like a dedicated living room, kitchen and dining area, together with Singapore-sourced artwork and food.
Visually speaking, this is a stunning lounge. It plays it all modern and sophisticated in parts, like an upscale coworking space decked out with communal seating and individual productivity pods (is that Korean Airlines blue I spot?).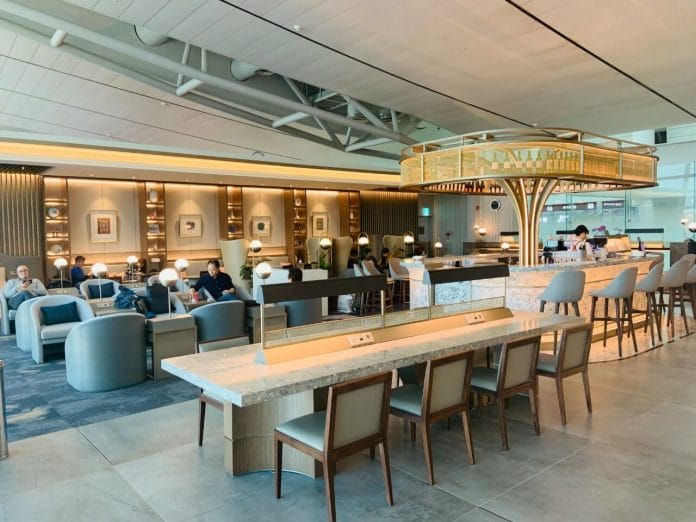 At the same time, it's capable of turning on a dime and wowing you with retro Singapore décor, like this Peranakan-inspired corner complete with display cabinets and trinkets. Stools remind me of a Toast Box/Ya Kun-style atmosphere, only much classier.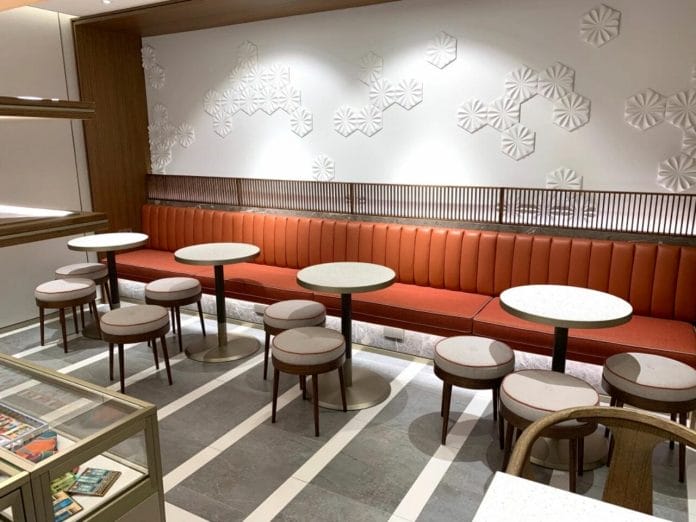 The centrepiece of the lounge is its tended bar, which serves up various cocktails including a mean espresso martini. Champagne, unfortunately, is not served. You'll have to make do with a Louis Perdrier or a Henkell Trocken sparkling wine, depending on what's in stock. 
The buffet spread pre-COVID consisted of items like beef bulgogi, miso salmon, fried tofu, chicken congee, Western breakfast staples and various salads plus cold cuts and desserts. I even spotted a tureen of chilli crab sauce with man tou before!
Shower rooms are also available.
Which SilverKris Lounges are currently open?
Prior to the pandemic, Singapore Airlines had 13 overseas SilverKris Lounges. Adelaide, Kuala Lumpur and New Delhi have been permanently shuttered, and of the remainder, the following have already reopened: 
The following lounges are still closed:
In its latest financial results announcement, Singapore Airlines indicated that it was planning to upgrade some of its overseas SilverKris Lounges. I've heard that Hong Kong will be one of the first to get upgraded, so it's likely to remain closed for most of 2023. I would guess the same for Taipei, since that lounge is positively ancient– it never even got the Home Away From Home upgrade!
Conclusion
Singapore Airlines and Star Alliance passengers flying out of Seoul will once again have access to the SilverKris Lounge from 5 June 2023. This is one of the prettiest outstation lounges in the network, and provides a welcome alternative to the Asiana Lounge.
Just Hong Kong and Taipei left to go!