While Singapore Airlines has its own SilverKris Lounge at Seoul Incheon, it's been temporarily closed since March 2020. Eligible passengers are instead directed to the Asiana Business Lounge near Gate 11 (East). 
At the risk of spoilers, it's an extremely mediocre facility that isn't a whole lot better than hanging out in the main terminal itself. 
🇰🇷 BTS (Back to Seoul)
🇸🇬 Singapore- South Korea VTL 🇰🇷
🛋️ tl;dr: Asiana Business Lounge Seoul Incheon

With overcrowding issues and a virtually non-existent food selection, there's little to get excited about the Asiana Business Lounge.

The Good

The Bad

Very poor food selection

Only four showers

Overcrowded
Access and Operating Hours
Asiana operates four different lounges at Incheon Airport:
First Lounge, near Gate 11 (East) [temporarily closed]
Business Lounge, near Gate 11 (East)
Business Lounge, near Gate 26 (Center) [temporarily closed]
Business Lounge, near Gate 43 (West) [temporarily closed]
The only facility open at the moment is the Business Lounge near Gate 11 (East), which operates from 0700 to 2000 hours daily (the Star Alliance website mentions that the lounge is open till 2200 hours, however). 
Access is available to the following passengers departing on Asiana Airlines or Star Alliance flights:
First & Business Class passengers
Star Alliance Gold members (+1 guest)
Asiana Club Diamond Plus members 
Economy Smartium passengers (Asiana's Premium Economy product) 
This lounge is also open to Priority Pass members, but they must be flying on Asiana Airlines or Star Alliance operated flights. 
To access the lounge, head up an escalator to the floor above the departures concourse. You'll arrive at the reception area, with a large Asiana logo hanging overhead. 
There's no need to go to the counter; simply approach the turnstiles and scan your boarding pass for admission.
While there is a separate First Class Lounge (review here, for those interested), it's been closed ever since March 2020. Asiana is anyways phasing out First Class, at least the way it's traditionally known. The product was renamed "Business Suite" in 2019, keeping the existing First Class seat and lounge access, but reducing catering, baggage allowance and mileage accrual to Business Class levels. 
If you have a trolley bag you don't wish to lug around the lounge, you can store it at one of the lockers in the reception area. 
Seating
Immediately inside the entrance is a series of four communal work tables. These normally seat six people, but because of COVID, only three seats can be used. 
In fact, you'll find these "social distancing" placards scattered throughout the lounge, which reduces the number of available seats by nearly half. 
Further inside are groups of four-seater coffee tables and lounger chairs, laid out along the passageway to the lounge proper. 
Here's where you'll also find the lounge's individual relaxation pods. Each has a lounge chair and ottoman, plus a side table for putting your personal items. Because of their relative privacy, they're in very high demand and were occupied throughout my stay. 
Since I couldn't get a photo, here's one courtesy of LoungeReview.com
The lounge then opens up into the main seating area, which looks a bit odd as it's a series of individual armchairs right smack in the middle- almost as if everyone's supposed to stare at you. Despite that, it was impossible to get a seat here. 
If there's one thing the lounge has, it's good views of the tarmac. These can be enjoyed by seating yourself at the long table running along the windows. 
There's a few more partitioned-off seats here, but just like the relaxation pods, they're in very high demand. 
At the rear of the lounge is the dining area, arranged into two-top seating. A few booth seats run along the side. 
Power and Productivity
The lounge's Wi-Fi network offers extremely fast speeds of ~93 Mbps up and 56 Mbps down. This is pretty much par the course for Korea, however. At all the hotels I stayed in, I clocked similar if not better speeds. 
Most seats in the lounge (except those in the dining area) have universal power outlets and USB Type-A ports for juicing up your devices. 
Food & Beverages
Now let's talk about the F&B selection in the Asiana Business Lounge, and a very sad selection it is. I don't know if it's government regulations or just good ol' penny pinching, but either way, you shouldn't visit this lounge hungry. 
Before you take any items, be sure to wear gloves and sanitise your hands. 
You'll then be able to enjoy a veritable gastronomic bounty that includes delights like prepackaged pastries…
….prepackaged salads and dressing…
…two types of sandwiches…
….and the lounge's sole hot food option, instant noodles. Yes, that's the sum total of the food offerings for passengers here. 
In terms of drinks, there was a soft drinks dispenser…
…bottles of mineral water and UHT milk…
…a couple of juice dispensers…
…and a digital coffee machine. 
The lounge has self-pour alcohol, located in the seating area closer to the entrance. 
Don't expect anything great here- the standard liquors, two red and two white wine options.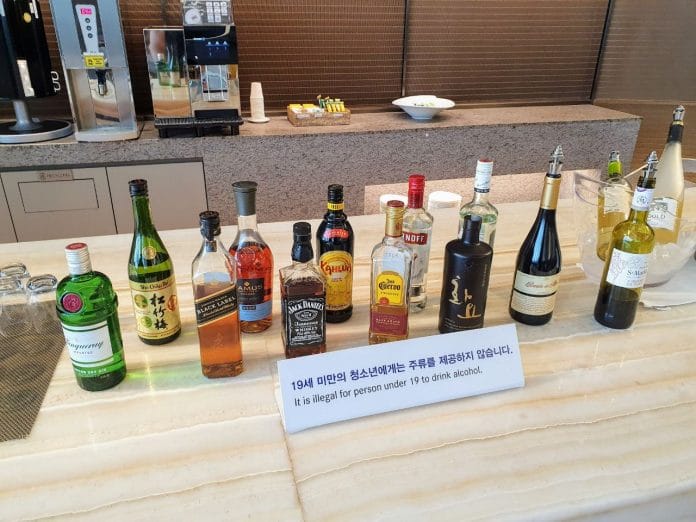 Showers
The Asiana Business Lounge has a total of four shower rooms. To get access, return to the reception area and request for a key. 
Shower rooms are nothing fancy, but have everything you could possibly need (including a toilet with a bidet seat). 
Shower cubicles have rain and hand shower heads, and what's funny is it looks like they sent someone to the nearest pharmacy to buy the shampoo and conditioner. 
The fact there's only four showers means you may face a wait during peak periods, so if you're departing in the evening be sure to request one as soon as you step into the lounge. 
For those travelling with young children, a changing room is also available. 
Conclusion
There's very little to get excited about the Asiana Business Lounge. At best, it's an area to sit and catch up with work, perhaps while enjoying some cup noodles. Then again, the local 7-Eleven would offer something similar. 
In my opinion, Singapore Airlines can't reopen its SilverKris Lounge in Seoul fast enough. Pre-COVID reports look great, with a bar serving up cocktails, a solid selection of F&B, and a gorgeous contemporary design (it was one of the outstation lounges to receive the "home away from home" makeover). 
Hopefully the VTL with Korea will provide the impetus to do so, because the alternative isn't great.