If this post doesn't convince you about the wonders of Lifemiles, nothing will.
I've been travelling around the west coast of the States for the past two weeks and it was finally time to come back. I had a confirmed economy class ticket on EVA, but the idea of sitting upright for 18 + hours didn't particularly appeal to me. I'd been frantically checking the Lifemiles site to see if a business class redemption opportunity would open up (78,000 miles), but the only option they had was flying Asiana via Seoul. On this route. Asiana still uses their old business class angled-lie flat product, and there's no way I was going to shell out good miles for that.
3 days before I was scheduled to fly, lo and behold, ANA First class award space opened. I had never tried ANA's product before but had heard many good things about it, so it was a no brainer- 99,000 miles and $18 of taxes later, and I was all set.
Let's pause to think about this- if I were to book this ticket on a commercial basis (which I could never afford,  but for argument's sake), it would cost US$11,250. I instead booked it through Lifemiles, at an effective cost of US$1,503. Yes, that's more than what I'd have paid for an economy class ticket, but the point is I got to experience a product that would normally have been beyond my wildest dreams. Convinced you should start a Lifemiles account yet?
---
I've never flown from Seattle airport but it's a smaller-sized international airport (37.5M passengers) compared to others on the West Coast (SFO has 47M, LAX 71M). The only Asian carriers operating out of Seattle are Asiana, EVA, ANA and Korean.
I arrived at Sea-Tac at 1030 for a 1240 departure. My parents were flying back to SFO first for an extra day before going back to Singapore, but I had work on Monday so had to leave first. They had offloaded all their shopping on me so I had 3 bags to check-in, 2 of which were really pushing the 32kg weight limit.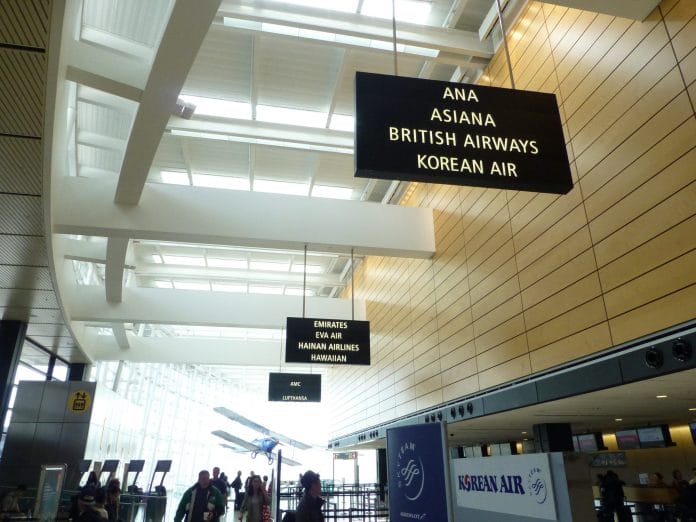 It turns out the bags were 28 and 29kg respectively. All the bags were checked through to SIN, and my 1A seat on both legs was confirmed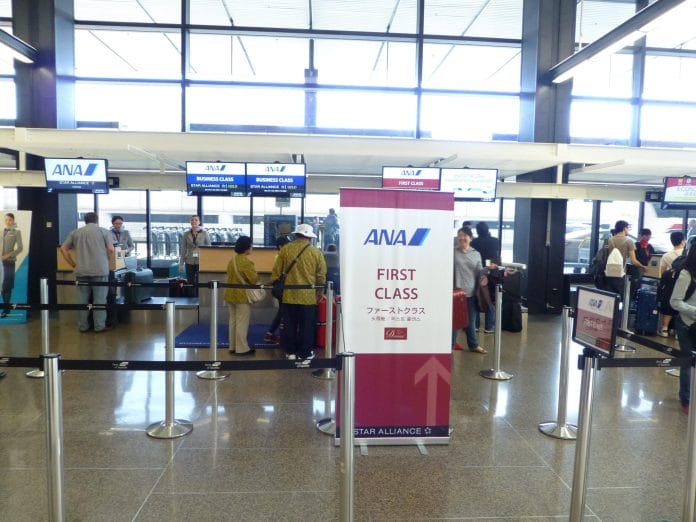 Seattle is supposed to be one of the new airports that has express lanes for Star Alliance Gold members, but I didn't see any standees or anything that would indicate such a thing existing. These are always useful to have because you're bound to run into airport officials who don't know their stuff and think you're trying to cut.
In any case there's a line for business and first class passengers which was much shorter than the regular line. It took me ~15 mins to clear security, which, for an American airport, is really pretty impressive.
After security I headed straight to the lounge. Fun fact: ANA doesn't actually operate any lounges of its own outside of Japan. In Seattle they use a non-airline partner lounge, The Club at SEA (which can also be accessed through a wide variety of partner cards, as seen below)
The lounge is adequate but nothing worth coming to the airport early for. In many ways it's typical of a lounge that is part of a paid-club program. The food is mostly pre-packaged snacks and cookies. There are soft drinks, some stale bread and instant noodles.
But more surprisingly, the lounge also has a full-service bar. The more I think about it the more I'm convinced that ANA is bankrolling everyone's alcohol, at least around windows where it operates flights. I've never seen a paid lounge club offering free flow of alcohol, much less Piper Heidsieck champagne. What I suspect is the arrangement is that outside of ANA flight times, alcohol is offered on a paid basis. But because it's not practicable to distinguish ANA passengers from other lounge guests, everyone gets a free drink during happy/ANA hour.
There is a separate first-class area in the lounge which has waiter service, but because there's really no access control anyone can walk in and use that area. I saw the waitress craning her neck quite hard trying to verify my boarding pass the first time she came over though.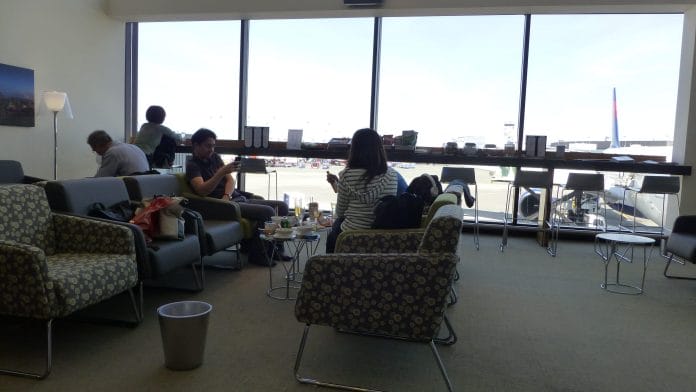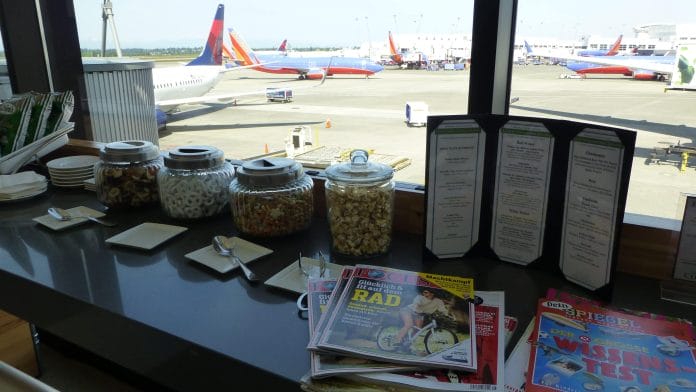 The selection of snacks is exactly the same as outside, just that there's a food menu you can order from. Again, nothing substantial, but it's nice to have things come to you.
I had a chocolate chip cookie with my champagne and did some more work on Milelion- announcing the winners of our launch contest!
Boarding was called on-time. The boarding area was really crowded- I had no idea the SEA-NRT route was so popular. But then again, it makes sense, given the number of technology companies located in Seattle.
 An ANA ground staff escorted me to the front of the line and without further ceremony I entered JA736A for my first ever ANA first class experience. It wasn't disappointing.
ANA has its latest first class product on its 777s, in a 1-2-1 configuration.
The seat is called the "First Square". So named for the shape, I suppose. Even though there is no door, the seat is incredibly private and when you're seated you can't see anyone else. The cabin was only 3/8 full today, and we were all spaced out very evenly, so that helped things even more.
The suite is outfitted in wood panels with tons of storage space for your personal items- so much so that I worried I'd leave things behind.
The stewardess, Aya, came over and introduced herself. Her English wasn't perfect (but then again, I don't speak any Japanese so I'm not really in a position to criticise) but she was extremely friendly and eager to please. She informed me of the flight time today, a disappointingly-short 8h45min.
Waiting at my seat were all the goodies- a Samsonite-branded amenity kit (ANA used to have Rimowa kits, but those have been phased out. I can't decide if Rimowa is better or Samsonite. First world problems), pajamas and a cardigan.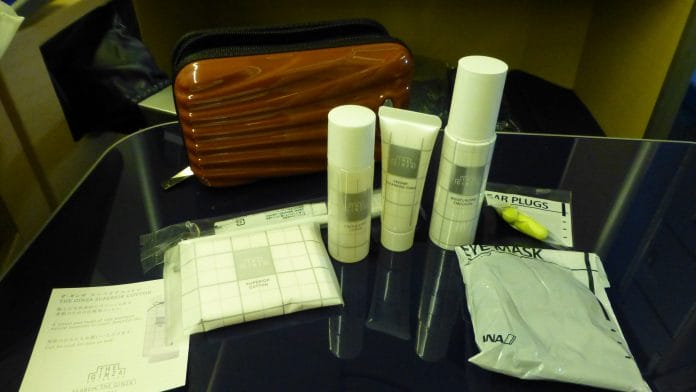 Inside the toiletries kit were earplugs, a toothbrush (an actual good quality one, not the flimsy ones airlines usually give), a Ginza-branded toiletries set, an eye mask and some refreshing wipes.
One strange thing about the headphones that ANA uses is their plug is not the standard airline jack. That means you can't use an adapter and plug in your own headphones. This would be more of an issue if you're travelling in economy and want to use your own buds, because the headset they provide in First class is excellent- SONY branded.
ANA has in-flight wifi, but the rates are ridiculously steep. 20MB for US$24? Come on, this is 2015. Onair, which is ANA's provider, generally charges ridiculous rates. I much prefer the service offered by T-mobile, which gives you an all you can use pass for 24 hours for US$17.95 or so.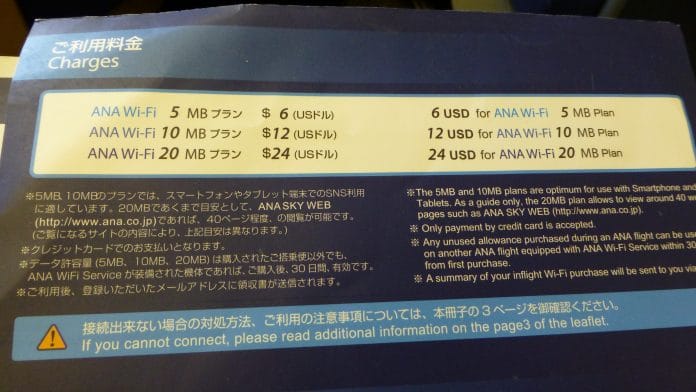 Service began with a hot towel, after which the menu was presented to me.
I had already resolved to take the Western option out of SEA and the Japanese option out of NRT, just so I could have more variety of photographs. That said, the Japanese menu still looked amazing.
The amuse bouche was served first, with champagne. Yes, it's Krug. I know close to nothing about alcohol, but I'm familiar with the big names and Krug is one of them. I didn't care for the amuse bouche much either, it was a strange mix of cheese sticks, pickled vegetables, , a cream cheese filled roll with salmon on top and some strange tuna bread.
For the entree I had the crab meat with caviar.I remember this episode of The F Word where Gordon Ramsey visits a sturgeon farm and they harvest a sturgeon, cut it open and there's tons of these eggs inside which in total were worth something like 3-4K pounds. So I was really excited to try caviar for the first time.
Call me a philistine, but I don't see what all the fuss is about. I even used the special spoon they gave me.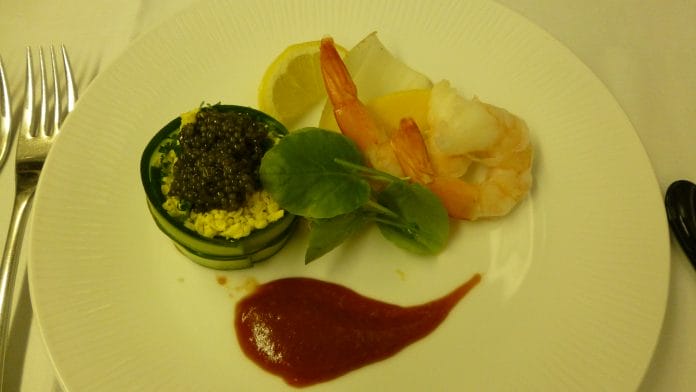 Salad was unmemoriable and left mostly untouched.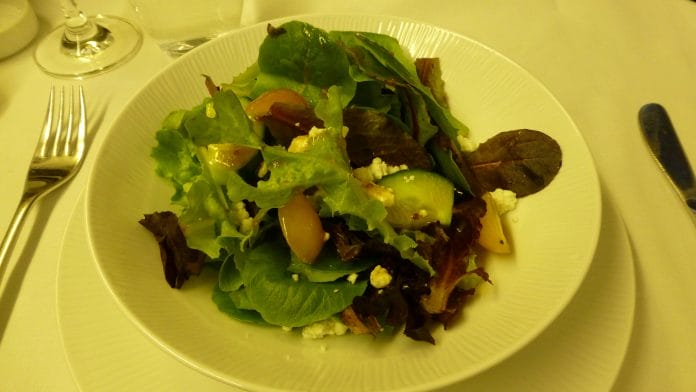 The beef was fantastic. The last time I had beef (on an SQ book the cook flight ex-SIN) it was tough and grey in the middle. This steak was actually leaning a bit more towards rare- plenty of red in the middle. It was tender and came with gnocci and mushrooms. The best part was the roasted garlic on top- I spread it on the steak like a jam and it infused every bite with extra goodness.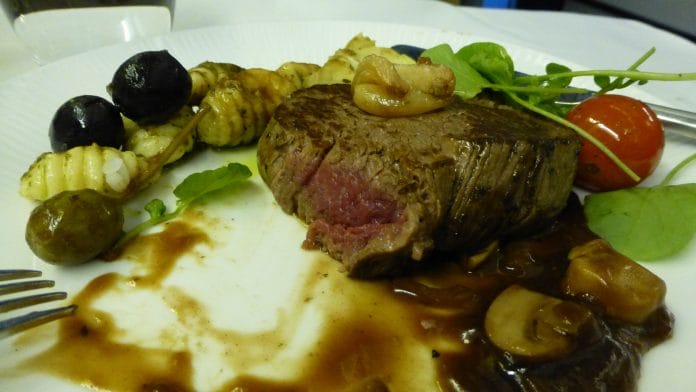 I had it with Japanese rice, which I am starting to love more and more. I have decided that I'm going to try to buy Japanese rice when I get back. It's really that good.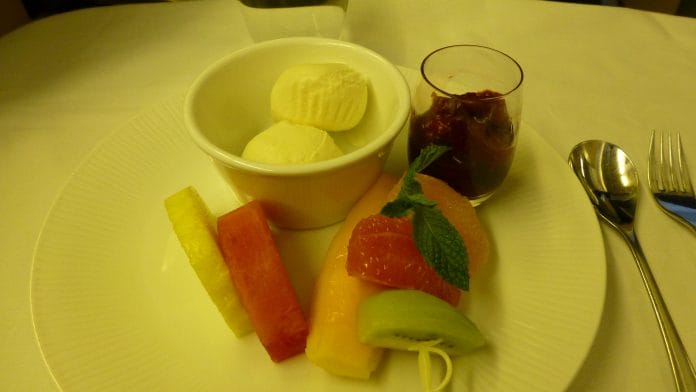 For desert i had ice cream (it was Haagen Daz, I could taste it) and some fruits.  They also served some pralines and macaroons afterwards.
Again, with only 3 people in the cabin the meal service was over as quickly or as slowly as you wanted. The other 2 passengers were just beginning their main course as I finished my meal.
I watched Ex Machina over lunch, having heard good things about it on Rotten Tomatoes. It's a good film, but the annoying thing is that it was obviously censored. Every time a character swore, there would be a very visible cutting out of the sound. And then since the robots are all female, there's this scene where one character discovers all the old models and they're all nude and you can see boobies and stuff. Only on this version everything was digitised so you just saw pixels. The lack of robot nudity was annoying but it did not unduly break the narrative flow, thankfully.
After the movie I decided to take a nap. Since there was so much space, everyone in the cabin had 2 seats- 1 for working, 1 for sleeping. Aya made the bed for me while I went to change into the pajamas, which are really, really comfortable. I've never really been a PJs man- most often I just go to bed in shorts and a t-shirt. But now I know why people wear them. These were really, really comfortable.
The seat itself was lovely. ANA puts a foam sleeping pad on top of the bed when they make it up for you, and gives you an extra pillow to support your neck. The seat is soft but not too soft that you find yourself sinking into it, and with the privacy afforded by the shape of the square suite you don't get a lot of light pollution from your neighbours.
I slept on and off for 3 hours and woke up feeling peckish so I ordered something off the snack menu. Note to SQ: ANA actually has a proper snack menu. SQ's idea of snacks are cup noodles, chips and fruit, even in first/business class. There's something a little wrong about eating cup noodles out of Givenchy chinaware. ANA on the other hand, had an extensive list of items to choose from, some of which could have passed as a meal in themselves.
I ordered the ramen. The ramen is IPPUDO branded but was surprisingly disappointing. There were no accompaniments of any sort. I can't remember but the I could have sworn the last time I flew ANA business class they had some charsiew in the ramen to go along with it. In any case the soup was way too salty.
One movie (Monsters University) and 2 TV episodes of Family Guy later, I also ordered the light meal, which was grilled sabelfish. The meat was tender and delicious, and it was a perfect light meal to end the flight.
We landed 30 mins ahead of schedule in Narita. Strangely we had to go through security again, which I thought was only a requirement on flights continuing on to the USA. In any case I was first in line and there was no one else there, so it didn't take very long.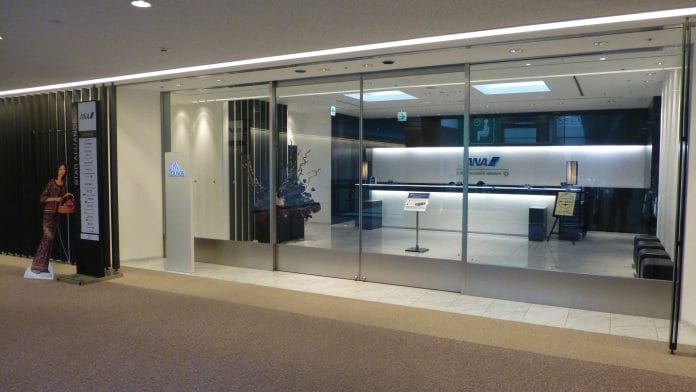 I headed for the ANA's flagship Suite Lounge. Although I was excited to visit it, I knew that ANA, like SQ, errs on the side of conservatism when it comes to lounges. Its lounges are nice, no doubt, but it won't be Virgin Atlantic LHR clubhouse nice, or Emirate in Dubai nice. It doesn't have anything in the way of a spa, or any out of this world amenities.
At registration I was told that the Suite Lounge was very full and maybe I'd like to try the other one closer to my gate. I'm glad I took that advice, because (1) the gate I was flying from was on the other side of the terminal and (2) when I got to the other lounge it was empty.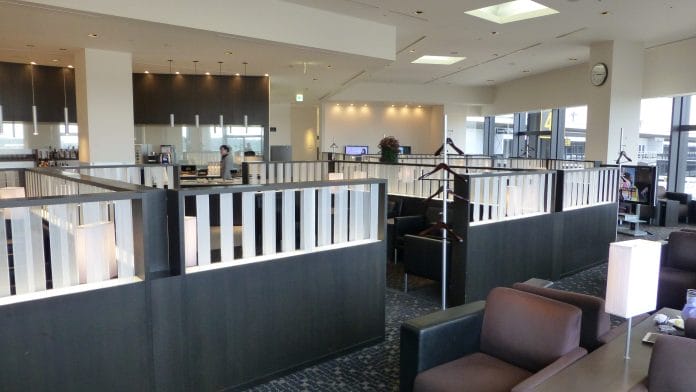 I made a beeline for the shower rooms, none of which were occupied. The toiletries they give are Shiseido branded. I only realised after I had thrown away the extras that Shiseido is a super atas brand. Fortunately, the nice lady at the reception gave me an extra set to take home.
The loo had a bidet. I of course had seen them before, but until I read this NYT article I was too squeamish to use one. I'm going to spare you the details, but damn, I need to get one now. There's something very soothing about warm water. I think I'd better stop here.
The lounge had an ok selection of food and drink but nothing spectacular. I think SQ's first class section had better offerings. . There was an extensive cold buffet as well as a hot  food counter where you could order specific items. There was Japanese curry with rice, some udon options, as well as a western menu with a mishmash of items like spaghetti carbonara and a burger with chips.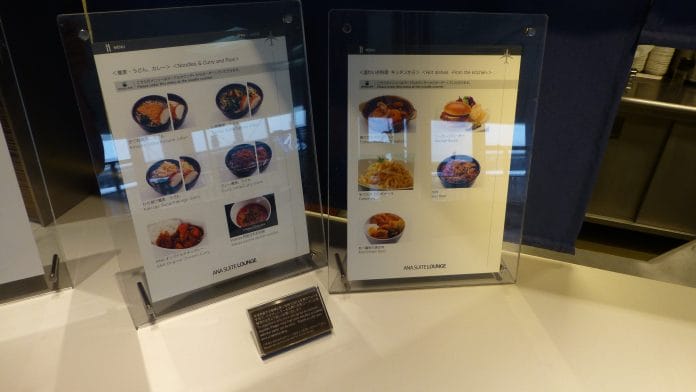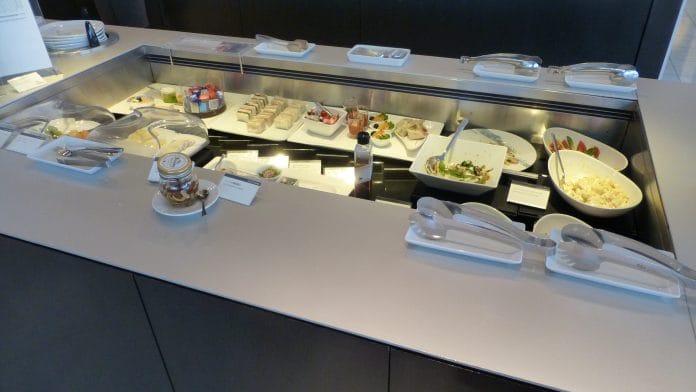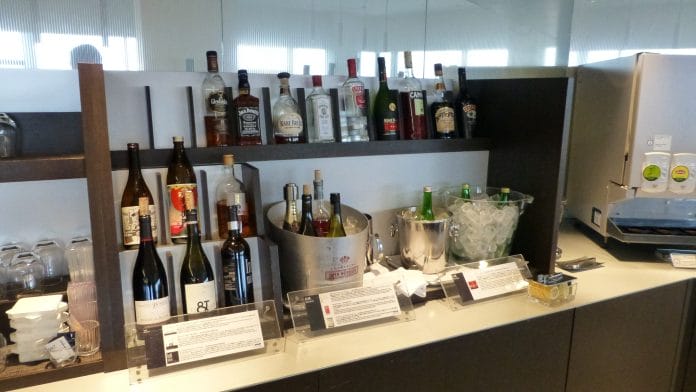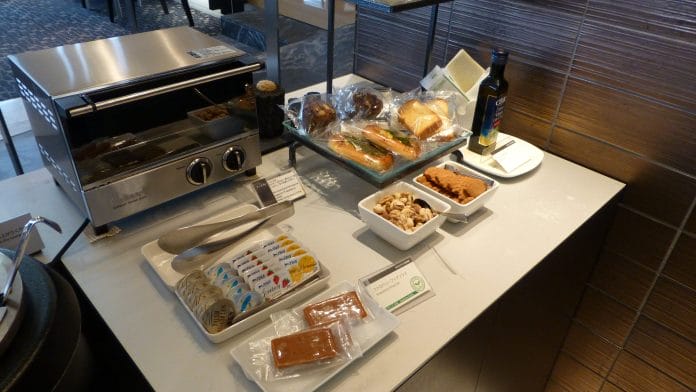 There was more Piper Heidsieck champagne available, which I paired with a beef bowl.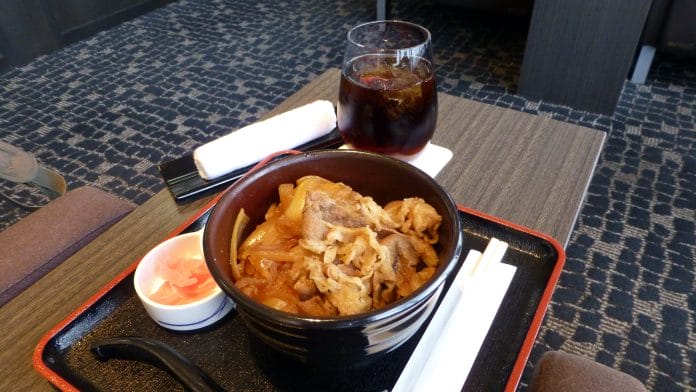 The lounge had some other interesting tchotchkes like this set of ANA Million Miler luggage tags. I think I've flown about 200,000 miles on SQ perhaps? Well, 20% there!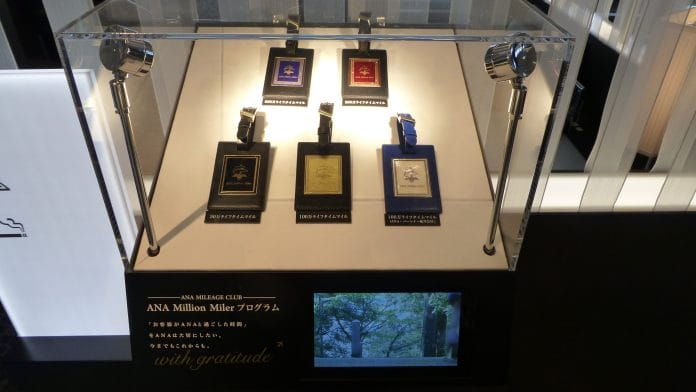 There was also a dedicated Skype room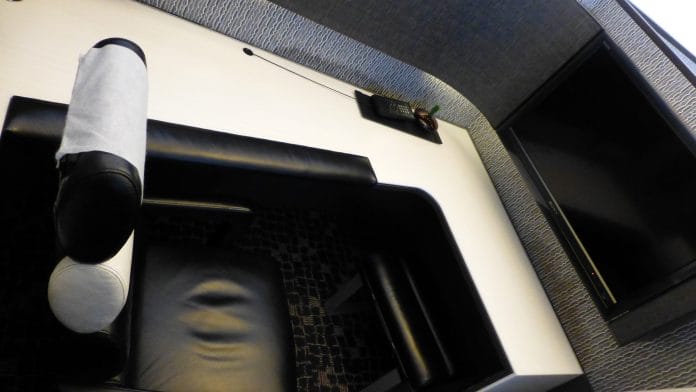 The layover was 3.5 hours in total. It was then time to board NH801 to come back home!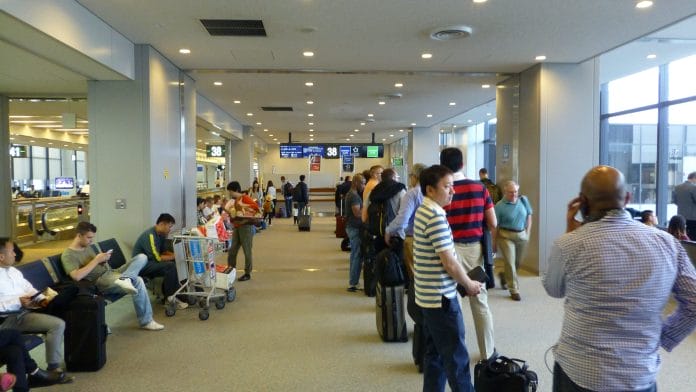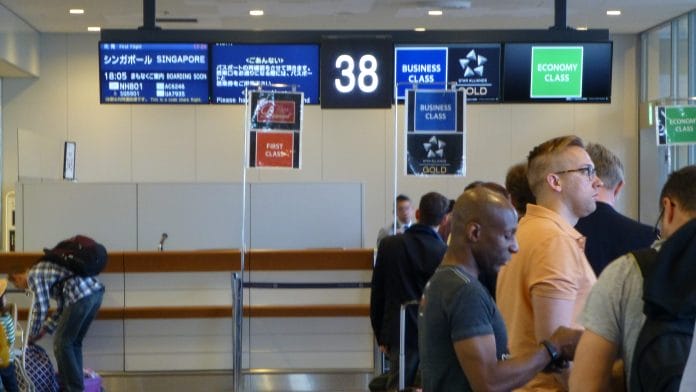 Both NH176 and NH801 utilise ANA's 773 aircraft which have the exact same first class product, so I'm not going to repeat those photos again. But I will give you a guided tour of the loo, because it had the magical bidet.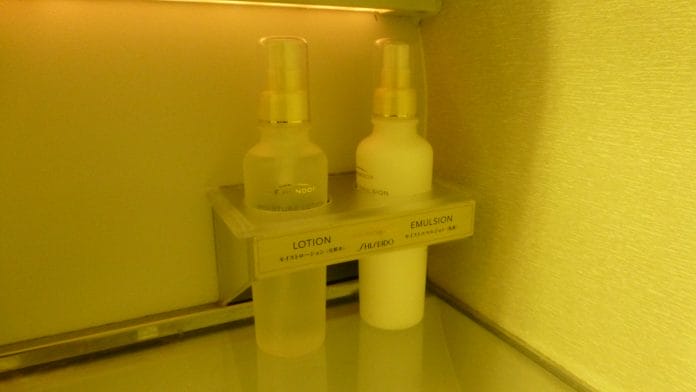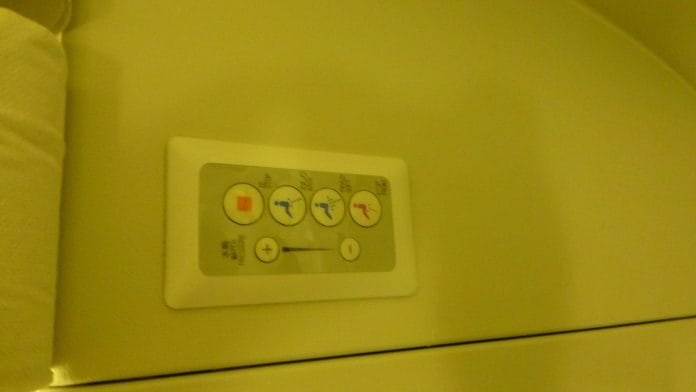 As a side note, I was quite surprised how small the toilet was. I thought that they would build a slightly larger one for First Class passengers, but this loo was just as small as the one in Economy. not that it was an issue per se, but when you consider the benchmark which is Emirates' spa suite, more real estate in the loo can be a good differentiating factor
And of course, I'll show you the food on this leg (maybe I should have shown the food before the loo). I know I said I'd take the Japanese option, but I completely forgot about it and ended up with the western options again. Oops.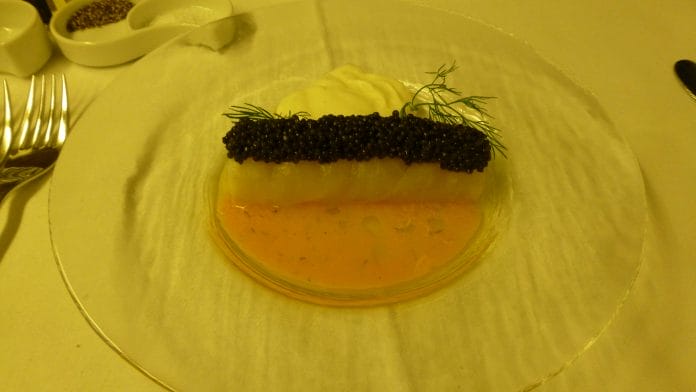 We started off with scallop carpaccio with caviar on top.
And the usual lousy salad. 
Yes, I had beef again. But it was still good!
As was this waffle for desert- it was warm and wonderful.
So- the verdict on ANA First Class? I think it's downright amazing. The hard product is very competitive- yes, it's not upholstered in leather like other premium airlines do, but in terms of comfort it still did the trick. The soft product was delivered very well too- I never had to wait more than 15 seconds to be attended to upon ringing the call bell. And I had very nice chats with the stewardesses on both legs, who were genuinely friendly and wanted to  help me take as many photos as possible.
Put it this way- if I had the miles, and if ANA first class space were available, it'd be a no brainer to book it again.
Now that you've read this, why not sign up for Lifemiles and get the chance to experience trips like this yourself?