December is a good time to review credit card strategies for the new year. What I've come to realise is that although some cards may individually be the best to use in a particular category, when you view your miles earning strategy overall they may not fit in very well.
To elaborate, I'm going to look at every credit card I own now and decide whether I'm going to chuck it or keep it (note- I'm not including those 1 time credit cards I applied for just to get the free gift, eg OCBC Robinson's, DBS Esso, DBS LiveFresh (didn't write an article on that but they had a spend $500 get $80 cashback promotion))
DBS Woman's Card
Use for: Online spending, max S$2K per month
Thoughts: Still unrivaled for online spending. I religiously put $2k of onlines pend on this card each month to max out my 8k miles, then forget about it until the following month. There have been questions as to whether the UOB Preferred Platinum Visa can replace this, because it also gives 4 miles per $1 of online spend.
My response to that is no, not really. UOB's interpretation of online spend is a lot more strict than DBS, so you won't earn points for things like buying memberships or paying renewal fees, paying for fines, topping up your FEVO/IMAGINE card etc.
So this definitely falls into the keep category. 8k easy miles each month means 96K over a year- enough for a 1 way suites ticket to the USA.
Verdict: Keep
DBS Altitude (Visa and AMEX)
Use for: General spending (local), foreign spending whenever there are bonuses
Thoughts: Although the Altitude cards do not earn as much as the UOB PRVI Miles cards do (1.2 vs 1.4 miles for local spending, 2 vs 2.4 miles for overseas spending), I still think they're important to keep for several reasons
First, UOB does not award overseas spend bonuses for payments made in foreign currency which are processed through a Singapore-based payment processor. This excludes Paypal transactions, even those in foreign currencies. I make a lot of foreign payments online via Paypal, so this matters to me. If I were using my UOB PRVI I'd only be earning 1.4 miles per S$1 spent.
DBS on the other hand, defines overseas spend as "Overseas spend is identified as card transactions posted in foreign currencies". Therefore, by using my DBS Altitude, I earn 2 miles per S$1 of spend.
Second, DBS pools all their points into 1 account. Given that I've already committed to use the DBS Woman's card for $2K spend each month, it makes sense that my general spending also flow into the same points balance. I've already paid the $42.80 annual conversion fee, so I can readily transfer out my DBS Points in blocks of 5k points (10k miles) as soon as I hit the minimum
Third, I've found DBS's points promotions to be way better than UOB's. The Visa version of the DBS Altitude has a current promotion where you earn 3 miles per S$1 of overseas spend for Oct, Nov and Dec 2015, capped at S$3K per month. I'm trying to max that out via Paypal payments. So even though I do lose out by using the DBS Altitude cards for local payments (1.2 vs 1.4), I gain much more by hitting the spend targets for their promotions. DBS Altitude now has a great 2x miles promotion for new Altitude card holders which you should definitely check out.
Verdict: Keep, definitely
UOB Preferred Platinum AMEX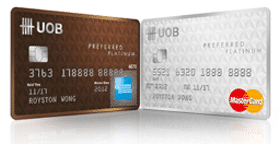 Use for: Dining, local and overseas
Thoughts: This is still one of my favourite cards because 4 miles per $1 on dining can't be beat. UOB recently discontinued issuing this card to new applicants, however I called them and was told that the 10X UNIs on dining will still continue "until further notice". So ominous as that is, I'm going to keep putting my dining spend here until I hear otherwise. (the fallback option is the Citi Clear Platinum Card, which only offers 2 miles per $1 on dining)
This should definitely be a staple card in your wallet.
Verdict: Keep
UOB PRVI Miles
Use for: General spend (local and overseas)
Thoughts: This is still the best general spend card in Singapore at 1.4 miles per S$1 local and 2.4 miles per S$1 overseas. Although UOB's spending promotions are nowhere as good as DBS's, my plaan for 2016 is to concentrate most of my spending across the UOB and DBS portfolios.
DBS cards will be used for online spending (Woman's) and whenever DBS announces any spending promotions for their Altitude line of cards.
UOB cards will be used for dining (Preferred Platinum AMEX), overseas spend (Visa Signature) and general spending (PRVI) for local and overseas.
There was a period where DBS Altitude was my go-to card for all spending (the 6 months after I got it where I was earning 1.8/3/4.5 miles for local/overseas/online hotel and flight spending respectively), but now that that promotion is over, it looks like I'm back to UOB. I managed to hit the $50,000 annual spend figure a few days ago so I'll get a 20,000 mile bonus for that (one of the blessings of having a job that lets you put stuff on your personal card).
Verdict: Keep
UOB Visa Signature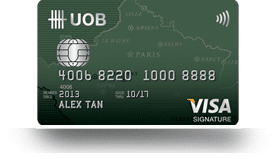 Use for: Overseas or online spend, min S$1K max S$2K per month
Thoughts: I'm relatively new to this card, but I've been trying to discipline myself to use it for my overseas trips. I hate Visa/MC when I'm travelling overseas because using it leaves you vulnerable to DCC (scam, scam, scam), so it requires that I be extra vigilant when signing any charge slip.
The other thing with this card is that it's an all or nothing approach. You need to spend a minimum of S$1K overseas each STATEMENT PERIOD (not calendar month!) in order to get 4 miles per S$1. That requires a little extra effort on my part, tracking via ibanking how much I've already spent and conscious not to exceed S$2K (after which S$1 gets you a lovely 0.4 miles)
Verdict: Keeping this as long as they don't charge me an annual fee
Citibank Rewards
Use for: Department store spending, bags, clothes, shoes, online shopping
Thoughts: Although this card is great if you frequently shop at brick and mortar department stores, bags shops, shoe shops, clothes shops, I just don't do that frequently enough to justify holding on to it. Furthermore, if I'm going to buy stuff online, I'd use either my DBS Woman's Card or my UOB Visa Signature card to earn the 4 miles per $1 bonus.
It makes more sense for me to do that because I'm heavily investing in my DBS Altitude/UOB PRVI Miles cards, so my points pool together and can be cashed out at one go.
I don't nearly spend enough on my Citibank Premiermiles AMEX to justify holding other ancillary Citibank cards. As an end result, what I have now is ~10,000 miles in my Citibank Rewards card which I cannot justify paying the conversion fee to cash out yet.
Verdict: Cancel
Citibank PremierMiles AMEX
Use for: OTA bookings
Thoughts: The only reason I'm still hanging on to this is because Citibank has good tie-ups with OTAs like Agoda, (until recently, 8 miles per $1) and Kaligo (10 miles per $1, still ongoing)
I earned 30,000 miles on this card in January by putting a long stay in Casablanca booked through Kaligo on this card. I cashed that out some time back and since then my miles balance has languished at around the 6,000 mark.
Verdict: Cancel
ANZ Travel Card
Use for: General spending (local)
Thoughts: Ah, the ANZ Travel card. I used to view this as the backup option back in the days when the PRVI and Altitude cards only came in AMEX versions. But now that they're offering Visa/MC versions there's really no need for the ANZ Travel Card.
The problem with this card is that unlike UOB and DBS which have other great points earning cards in their portfolio, ANZ's Travel Card is like an island to itself. Therefore it takes much longer to build up a reasonable balance in your ANZ Travel$ to justify paying the conversion fee to cash out. I've had this card for almost a year and have slightly over 10,000 miles in it.
Also, there is no reason to use this card overseas (except Australia and NZ where there is a 2.8 mile per $1 earn rate) because overseas transactions earn the same miles as local
Verdict: Will probably cancel this card now that the annual fee has come due
Krisflyer ASCEND Amex Card
Use for: Getting the free gifts
Thoughts: I am proud to announce that I have spent a grand total of $3 on this card throughout the year, just to get my 5,000 miles first spend bonus. Since then, this card has been faithfully sitting in my drawer, having given me so much (4 lounge vouchers, 1 free night stay in a Millennium Hotel property, M&C Gold status) for so little (1st year fee waiver).
I'm now told that AMEX no longer does the first year fee waiver for this card, which is sad. In any case, there is absolutely no reason to use this card for any kind of spending (even SQ flight tickets, for which you could get 3 miles per $1 with DBS Altitude)
Verdict: Cancel
cover photo by amrufm