For the uninitiated, The Entertainer is a booklet of coupons that gives you 1 for 1 deals on dining, activities, hotels, spas and retail.
The Entertainer costs S$85 but if you use the code 2016MONEYSMART (I'm sure they doesn't mind me reposting it, they probably earn a commission for every person who signs up using their link anyway) you get S$10 off as shown below.
All the coupons in The Entertainer are valid for the calendar year, ie 1st Jan to 31st Dec 2016. Given that we're already in May, does it still make sense to buy it?
Only you can answer that question, because the value you get depends on your pre-existing lifestyle spending patterns. If you're the type who doesn't really like eating out or in general spends very little money on activities/ spas, you certainly shouldn't let this change that.
But if you already set aside a certain amount of money to indulge in these things, you can still save a lot by buying The Entertainer now.
Below I'm going to highlight some of what I think are the better deals
Dining
The Fat Cow
I do not use the term "life-changing" lightly (I believe the 2 life-changing experiences I have had this year are The Conrad Koh Samui and the discovery of muskmelon), but The Fat Cow is without a doubt life-changing.
This restaurant serves some of the finest Japanese beef to ever make it to our shores, and although it's not cheap (for the best experience, skip the Australia/US offerings and go right for the Ohmi Grade A4 Ribeye @ $120), the 1 for 1 voucher will at least put it in the "splurge" category (as opposed to the insane category)
Oh, and you cannot miss the Fat Rice, which is every bit as good as it sounds
Protip: If you are craving Fat Cow but don't want to burn a hole in your pocket you can go for their lunch menu, where $45 buys you a Fat Cow donburri. The beef won't be as good as the ala carte cuts, it's still tremendous value all things considered.
Ristorante Amarone & Gattopardo
Those who know me know I love my pasta. And am obsessive about it. And that I can spend an hour talking about the differences between bronze-drawn and teflon-drawn pasta, why you should never eat Barilla (much less San Remo which by the way isn't even an Italian brand) and how you identify a good Italian restaurant (they don't use Barilla). A great primer on the subject can be found here
Till then, know that Amarone and Gattopardo  are on the Milelion's approved list of Italian eateries and they both have 1 for 1 with The Entertainer.
I realise each person's dining preferences differ so you should definitely read through the list of restaurants yourself and see if there are 1 or 2 big ticket restaurants where the savings from 1 meal could pay for the cost of The Entertainer itself.
Hotels
Conrad Koh Samui Residences
I mentioned in my article on how to hack the Conrad Koh Samui that the (more expensive) Conrad Koh Samui residences are covered under the 1 for 1 stay voucher. If you're able to find 3 other people to go with you could still stay for as little as S$280 a person a night. Which, considering the usual S$1,000+ rates isn't that bad.
Other beach destinations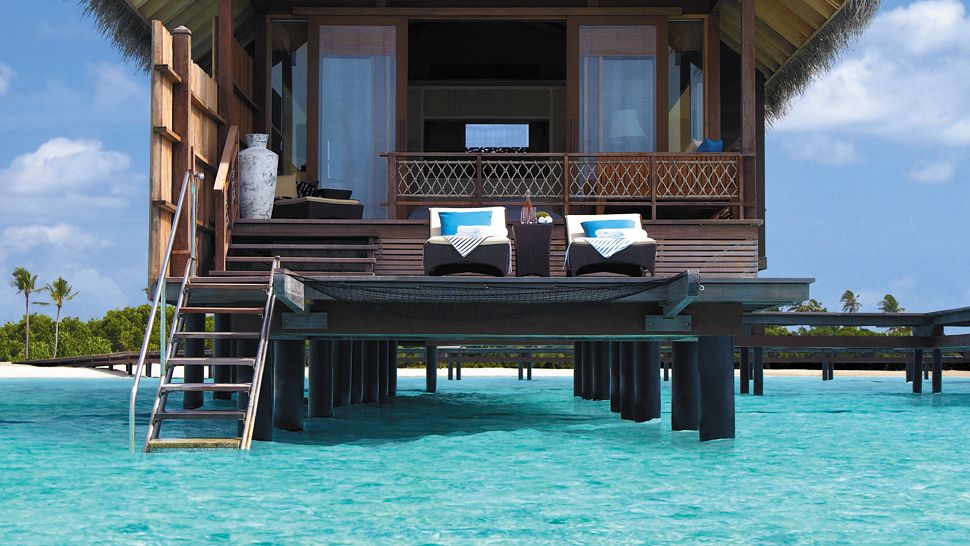 There are also many great hotel deals in beach destinations like Phuket (Banyan Tree, JW Marriott etc), Bali (Fairmont Sanur, Pan Pacific Nirwana) and the Maldives (Banyan Tree, Shangri-la, the Taj). If you're intending to honeymoon in one of these locations then you should see whether you can make these discounts work.
The only caveat I'd add here is that the 1 for 1 deals might not be a great idea in the Maldives, where the best resorts are located on private islands only reachable by seaplane (~US$500 per person). So unless you've got the financial firepower to stay at that particular place your whole trip it doesn't make sense to stay only 2 nights. Contrast this to a place like Phuket or Koh Samui where you can (relatively) easily resort hop after your 2 nights are up. I suppose you could always get your partner to make a booking as well and enjoy 4 nights for the price of 2 though.
Note that the conditions of the voucher require you to book the first night as the "Best Available Rate". This refers to a refundable rate, so while I'm pretty sure that 2 x Prepaid-rate room nights will still cost more than 1 x Best Available rate room night, it does make sense to check and see how much of a deal you're getting
In this example from the Conrad Koh Samui Residences, you can see that the lowest rate available is a prepaid THB 34,425 a night, but the BAR is THB 45,900. Therefore, your savings aren't technically 50%, but more like 33% (based on 45,900 vs 34,425*2)
Activities and Spa
Not my area of specialty, but there are a large number of buy 1 get 1 free treatments. No guarantee that they're the sort of places that won't engage in hard-sell tactics, but there are some reputable names here like Adeva .
Similarly, there is an extensive list of couples activities that you can do on weekends.  Examples include Aqua Spin, BreakOut Games, Climb Asia, Combat Skirmish, Expat Kitchen, LilliPutt Indoor Mini Golf and Forest Adventure.
Conclusion
According to the app I've saved more than $500 already this year (although you could make a good argument about how that's an illusory saving if it made me buy things I would not otherwise have) and I'm definitely going to renew it for 2017 when the time comes.
If you're planning an upcoming big ticket hotel or restaurant spend, it's worth it to check out whether you can use The Entertainer to save some money.