The Long Way to New York: Trip Planning
Singapore Airlines SilverKris Lounge, Singapore
Singapore Airlines A330 Business Class SIN-BKK
Thai Airways First Class Lounge & Spa, BKK
Thai Airways B747 First Class BKK-HND
Getting from HND to NRT
ANA First Class Lounge, NRT
ANA B77W First Class NRT-ORD
United Club ORD
United B767 Economy ORD-EWR
Visiting the US Open
Sheraton New York Times Square
Hilton New York Midtown
Wingtips Lounge JFK & Delta to DC
Exploring Washington DC
Element New York Times Square West
Virgin Atlantic Clubhouse, JFK
Singapore Airlines A380 Suites JFK-FRA
Lufthansa Senator Lounge FRA
Singapore Airlines A380 Suites FRA-SIN
---
I'd been brainstorming a few ideas on how to get from Singapore to New York for my September mecca to the US Open. I could
Fly SQ26 SIN-FRA-JFK, but there was no first or business saver seats available and I'd have to pay $950 of surcharges even if anything opened up
Fly Cathay through Hong Kong, which cost the same number of miles as SQ but with only ~$100 of surcharges. However, no seats are currently available for immediate confirmation
See what creative searching on Lifemiles turns up
I was playing around with the Lifemiles search engine today when I realized that Chicago (ORD) is only a 2 hour flight from New York. I can live with that, I thought. So I started entering different permutations into the system and this is what happened-
When I showed this routing to my mother, she thought I was crazy. Then again, she doesn't understand why I need to have 10 different credit cards either. As those of us in the hobby know, sometimes getting there is half the fun.
And this is a convoluted way of getting to New York, but I'm really excited about this routing because it lets me try some really good premium cabin products…
Singapore-Bangkok: SQ978, Business Class
The trip starts off with SIN-BKK on SQ978. SQ, as you remember, very rarely releases anything other than its regional business class product for partner redemptions. But this is more than sufficient for the short 2.5 hour flight.
And besides, it's essential to get to Bangkok, where something better awaits…
Bangkok-Haneda: TG682, First Class
That something better is the Thai Airways new first class product. I have never flown Thai in First, so this is something I'm really looking forward to. I have a 3 hour transit in Bangkok so that should be enough time to do a review of the first class spa there and try out their first class lounge. Detailed reports to follow.
And, I get to fly with a very old friend ,the B747. The last time I flew the B747 must have been more than 10 years ago, back when it plied the SIN-SFO routes. I was very careful to make sure that the equipment indented had the new, Suites-style first class and not the older product, shown below.
But then again, Thai is infamous for last-minute equipment swaps, so you can never be too sure.
This will bring me into Haneda airport, where it will be time to make an interesting transit…
Yup, that's right. I need to transfer from the HND to the NRT airport to get on the next flight. Fortunately I have 4 hours to make the connection.
There is a wealth of options to get from HND to NRT, but I think I'll take the limo bus which takes 90 minutes and costs JPY 3100.
I'm tempted to make a quick stop in the city to have some amazing french toast at Ivorish, but there's extra impetus to get to Narita airport early to enjoy the lounge for my next leg…
Narita-Chicago: NH12, First Class
I've reviewed the ANA First Class product before from Seattle to Singapore, and I think it's an excellent hard product. I'm also looking forward to the chance to have Ippudo ramen onboard.
Unfortunately, ANA no longer issues Rimowa amenities kits, but their replacement Samsonite ones aren't half bad (doesn't stop the weeping and gnashing of teeth on FT though)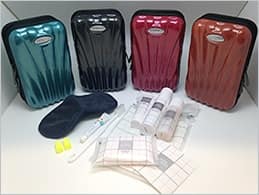 ANA will take me to Chicago where it's time to finish off the great trip with…
Chicago-New York: UA385, Economy
Well, I didn't say the routing was perfect. (I had to manually add this on and pay cash because the Lifemiles engine wouldn't offer me the final leg to EWR/JFK)
Summary
Total Cost: 99,000 Lifemiles (@ 1.375 US Cents + US$92 fees) +  US$184 (ORD-EWR)= ~S$2,200
Does this routing take away precious vacation time? Well I depart SIN at 635pm on Friday and arrive in EWR at 1.50pm. If I took SQ26 I'd be touching down around 11am (because the flight leaves much later on Friday), so it's really not that big a difference.
This routing was only possible because Lifemiles recently started making mixed-cabin class redemptions available, which was a really positive development. I've not arranged the flight back to Singapore, but I imagine I will try my best to redeem some Krisflyer miles (given that it's generally easier to redeem tickets into SIN than out of it)
Any way you look at it, to get to try both Thai and ANA First Class on the same trip for under S$2K (I'm excluding the cost of the ORD-EWR leg) is a miracle in itself.  So if you haven't done so already, please go and open up a Lifemiles account so you can take advantage of the next sale.
Now, if only there were a way to hack US Open tickets…