The Milelion's RTW Trip 2016: Trip Planning
Introduction: Around the world in 28 days
EVA Air B77W Business Class Singapore to Taipei
EVA Air B77W Business Class Taipei to Los Angeles
Silvercar LAX
Avenue of the Arts Costa Mesa
Sheraton Gateway Los Angeles
United A319 First Class Los Angeles to Mexico City
Le Meridien Mexico City
United A319 First Class Mexico City to Houston
United B767 Business Class Houston to Sao Paulo
Sheraton Sao Paulo WTC
South African Airways A330  Business Class Sao Paulo to Johannesburg
Hilton Sandton
Ten Bompas Johannesburg
Turkish Airlines A330 Business Class Johannesburg to Istanbul
Turkish Airlines A319 Business Class Istanbul to Zagreb
Westin Zagreb
Croatia Airlines A319 Business Class Zagreb to Frankfurt
Lufthansa First Class Terminal Frankfurt
Lufthansa A330 First Class Frankfurt to Riyadh
Four Points Riyadh
Air India B77W Business Class Riyadh to Mumbai
St Regis Mumbai
ANA B787 Business Class Mumbai to Tokyo
Asiana A330 Business Class Tokyo to Seoul
Westin Chosun Seoul
W Walkerhill Seoul
Asiana B744 Business Class Seoul to Tokyo
ANA B787 Business Class Tokyo to Singapore
---
Most people hear "Narita" and think "airport". And I suppose that's only normal, given how many people will use NRT in their lifetimes yet never set foot in Narita City.
I had a long-ish layover between my Asiana flight to NRT and my ANA flight back home to Singapore. It was that strange window where it was too long to hang out in the airport and too short to visit Tokyo proper.
Fortunately, I read about the possibility of doing a quick pop out to Narita City during my layover.
Narita City actually has a fascinating history. It was a quiet, sleepy agricultural plot (some would argue that it still is, really) until the 1960s when the government identified the need to build a larger airport to relieve the pressure from Haneda. Narita City was eventually selected.
Tofugu has written an excellent article on the history of Narita airport which is well worth a read. It charts the troubled history of Narita airport, from the initial disagreements with the farmers whose land it sat on to the violent eviction in the 1970s. Some highlights from the Narita troubles include
One Union protest leader running for the Japanese Diet (parliament) ran on a Narita Airport opposition platform. Despite getting 330,000 votes nationwide he failed to win a seat.
Protesters built a steel tower in the area to obstruct construction of a road to the airport.
Numerous incidents of counter violence from security forces on protesters, including one death during the destruction of the above mentioned tower.
The construction of a "fortress" using 100 million yen worth of donations on an area near where protesters expected planes to land. Battles between riot police with tear gas grenades and water cannons and protesters with Molotov cocktails and pachinko-ball slingshots took place when the authorities tried to clear it away.
Arson against a Keisei Skyliner train to sabotage transport to Narita.

Perhaps the most "attention worthy" of these attempts was the occupation of the control tower by the protesters which involved ramming two trucks carrying waste oil through airport entrances and a "red helmet squad" infiltrating the airport vicinities overnight through sewage pipes. They succeeded in destroying the equipment of the airport control tower.
Don't mess with farmers.
The arrival of Narita airport didn't turn Narita City into a bustling metropolis. Thanks to the strong transport networks that link Narita to Tokyo,  there's really no reason why you'd need to put up in Narita for any extended period of time. Tripadvisor's listing for Narita suggests as much-
Narita City is easily accessible from Narita Airport as there are two train lines that head directly there in under 10 minutes. You can take either the JR or Keisei trains, which cost about 240-260 JPY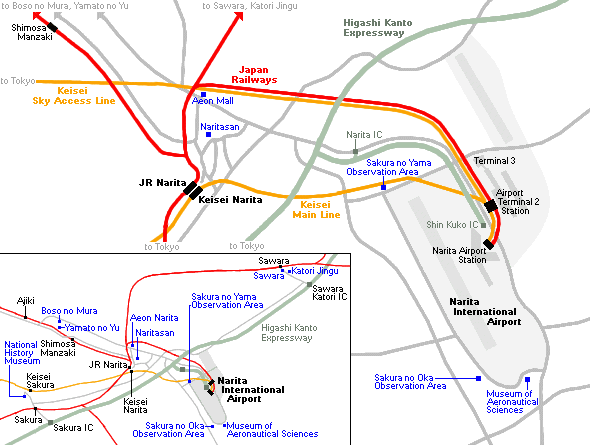 The biggest attractions in Narita City are the temple and park, but culture and nature were not on my to-do list.
Instead, I had two hedonistic goals- eat and shop. I wanted to get some good quality sushi and I needed to visit a Japanese supermarket. So the plan was to visit Edokkozushi and Aeon Mall.
I cleared immigration in record time, thanks to my trusty APEC card. Once through, it was the simple matter of heading down to the train station and catching the first train out.
Edokkozushi is easy enough to find from the Narita City train station, though I somehow conspired to get lost by heading down the wrong alley. It's less than a five minute walk in total. Japanese restaurants do not have English names in the sign board, so it took me a lot of guesswork to figure out that this one was the right one.
Edokkozushi  is a charming little place that probably seats 30 at most. The staff must get a lot of tourists because they understand basic English. They were warm and hospitable.
There is a menu which I forgot to take a photo of but it offers you the choice of several sets. I think the basic set of seven pieces plus a maki roll cost about S$40.
Was this anywhere near the standard of the Tsukiji fish market? Of course not. But it was still pretty darn good. Particular highlights were the otoro (additional charge of ~S$8 equivalent) and the fish roe.
Lunch done, I headed out to Aeon Mall. There's a bus that goes to Aeon Mall from Narita City station. It's quite hard to miss, what with it being Pink and having Aeon Mall written on the side. The fare will cost you JPY250 and the trip is about 10 minutes.
I didn't get any photos of the mall itself, so why don't you settle for this file photo.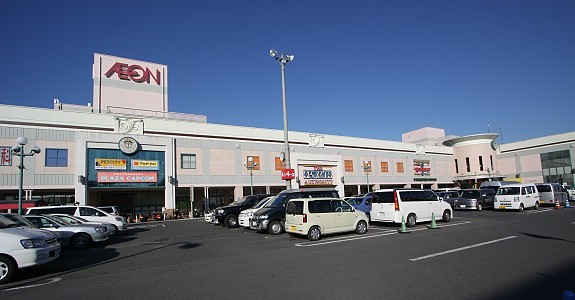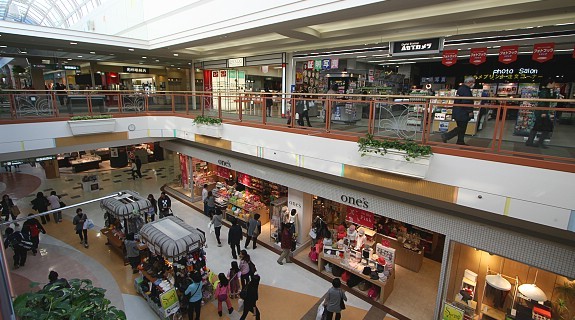 There is a wide variety of stores within Aeon Mall, nothing upmarket but all the staples are there. You can find Muji, a Sports Authority, a 100 yen shop, a hypermarket etc. A good analogy would be to think of a heartland mall in Singapore. If you're heading there you might want to take advantage of the 5% tourist discount (with the yen so expensive now every bit helps right?) I made a beeline for the hypermarket where I loaded up on Japanese snacks and went hunting for melon.
I was crazy about muskmelon ever since I tried a life-ruining piece at the Grand Hyatt Singapore. Japanese muskmelons in Singapore retail at $80+ (if someone knows cheaper ones I'm all ears) but I managed to find a $40 version at the Japanese supermarket.
I'm a novice to all this, but apparently if it's in a box it's good. I was taking a gamble here, because I'm also unclear as to how you tell whether a melon is ripe or not. I was sure it'd be good, but I didn't know just how good until I brought it back to Singapore, chilled it in the fridge for four days and finally cut it open to reveal this
The center was molten and the flesh yielded with the smallest dig of a spoon. It was so sweet it brought manly tears to my eyes. As I dug into it more and more juice pooled in the center in some wonderful soupy gloop. It was heavenly and I want more.
The rest of the mall proved a decent enough distraction- there is a range of F&B outlets there (including a Thai restaurant and the ubiquitous Chinese eatery to cater to China tourists) as well as a cinema for those of you with long layovers (although if your layover is feature film length you might be better off heading to downtown Tokyo)
I headed back to the airport via a cab this time, melon and snacks in tow. The cab ride is ridiculously expensive, about 2,500 JPY, but I had no choice as I'd messed up my shuttle bus timings and couldn't get back to the train station on time to catch a train to the airport (couldn't you just have taken the cab to the train station, I asked myself later)
The Star Alliance carriers operate out of Terminal 1 in Narita Airport
Narita Airport had really long lines for check-in, especially on flights to China (the above queue is for Air China). I peeked at the queues for Singapore Airlines, which were deserted in comparison.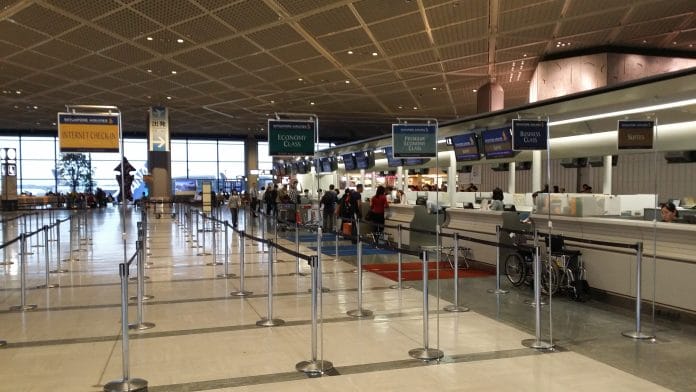 Fortunately, Narita is a participant in the Star Alliance Gold Track program, which allows Star Gold members to enjoy expedited security. I remember seeing this in LHR and a few other places as well. You don't need to be flying premium cabins to use it, so long as you have a Star Gold card you'll be allowed access.
I swung by the lounge briefly but it was packed to the brim and there was absolutely nowhere to sit. You can read a full review of the lounge in the previous BOM-NRT leg.
EDIT: Thanks to William I can bring you one of the wonders of the ANA lounge- the automatic beer pouring machine. It's true, the Japanese are light years ahead of the rest of us.
I was flying on NH801 back to Singapore today. As you can see, the flight was absolutely packed (you can spy the lucky guy in the throne seat second row from the front- look at all that storage space!)
The seat and hard product are exactly the same as that on my BOM-NRT flight, so head on over there if you want to read about it. Whereas on my previous ANA flight I had one of the throne seats in the middle, this time I was at the side in seat 1K
Because I was the front of the plane I had the air vents infront of me. The hypochondriac in me was worried until I remembered that the 787 had some of the most advanced HEPA air filters in an aircraft.
There were minor signs of wear and tear on the seat. I'm guessing I got one of the older 787s (which is saying something considering the first 787 commercial flight wasn't that long ago, back in October 2011)
Fortunately, a sleeping pad was provided on this flight (even though it departed at 5pm). This was absent from the BOM-NRT leg (and that was a red eye). The sleeping pad setup might not be as good as the full duvet setup you get in SQ, but it does offer you more flexibility in deciding whether you want to lounge, sit up straight or sleep.
Pre-departure beverages were served, albeit in plastic cups. I can't remember if this happened for my BOM-NRT flight but either way it's not something you expect from a 5 star airline.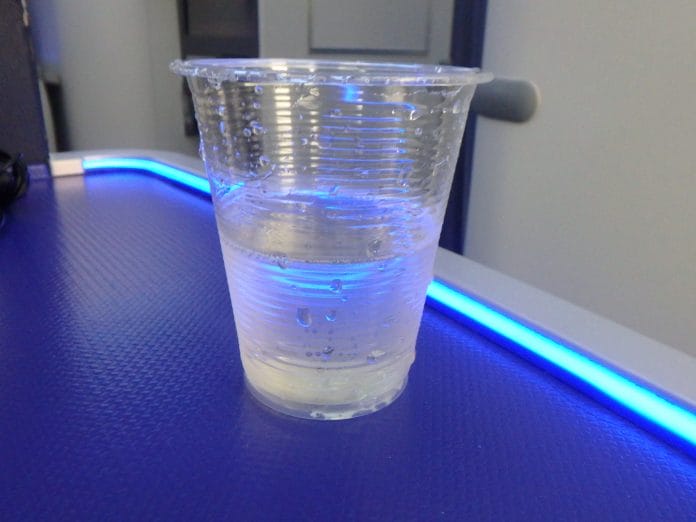 Magazines and newspapers were offered. It was good to see The Straits Times after a month long hiatus
One thing I love about Japanese airports is how the ground staff line up to wave the plane goodbye.
We were soon cruising at 39,000 feet. The 787's electronically tinted windows give some great views.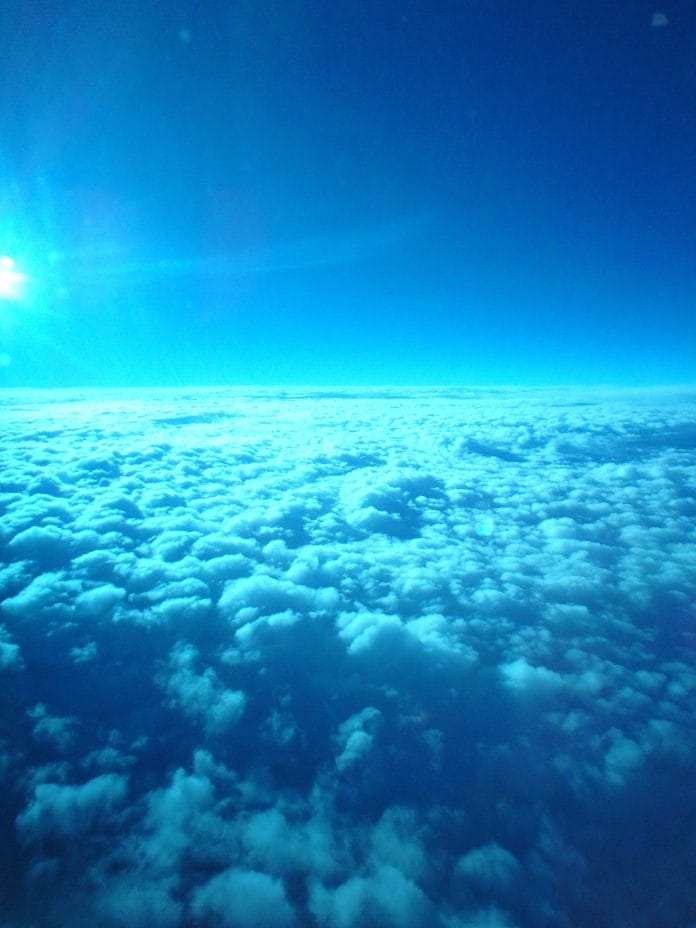 Menus were distributed for dinner. What I have concluded is I need a better way of taking photos of menus. These are nigh on unreadable.
So here's the text version
International Cuisine

Appetizer- Foie-gras and chicken pate, pineapple cofiture, quinoa salad and marinated seabass

Main plate- Rolled wagyu beef with Shalyapin style onion sauce, Japanese shiso herb flavor OR spicy curry with sauteed prawn

Bread- served with Japanese Hiruzen Jersey butter and olive oil

Japanese Cuisine

Zensai- silver-stripe round herring in vinegar sauce, deep-fried jackknife prawn with black vinegar thick broth, simmered bitter melon in soy-based sauce, salt-grilled bonito, dressed okra with sesame paste

Kobachi- marinated eel and cucumber in bonito-vinegar sauce

Otsukuri- frozen lightly roasted bonito

Shusai- simmered Kagoshima berkshire pork in soy-based black vinegar sauce, served with steamed rice, miso soup and assorted Japanese pickles
ANA's usual odd amuse bouche was on offer. This time it was coho salmon rolled with kombu-kelp, conger eel aspic with turmeric-flavored mayonnaise sauce, corn terrine, mini grissini with uncured ham, two kinds of olive and cheese with herb oil. I was not a fan.
The foie-gras and chicken pate was even stranger, and I couldn't understand what role pineapple played in the dish.
Fortunately, the rolled wagyu beef was very good. It's not steak, mind you,  so it's not a question of doneness. The texture was more akin to a stir fry.
After dinner it was a quick snooze and before I knew it we landed at Changi just after midnight, a place that seemed so familiar and yet foreign at the same time. It was good to be back.
And that brings me to the end of my very long RTW trip report! Seems like only yesterday I was flying over to LAX.  It's been a fantastic trip, and thank you all for keeping me company. I hope it's been useful in giving you ideas on which Star Alliance products you might be interested on trying in the near future, perhaps through Lifemiles or one of the Krisflyer sweet spots.
Stay tuned for some follow up reports giving my thoughts on how the different hard products compare, as well as some other bonus material.
Now, to continue working on that credit card omnibus…