NUSS is a club in Singapore that is open to any graduate from NUS or "recognised" local and overseas universities (they never actually specify a list. Trump University, anyone?)
Think of NUSS as "country club lite", offering many of the benefits of a club without the high costs of membership. You have sports facilities, dining facilities, hosting facilities, regular activities, reciprocal golf arrangements with larger country clubs etc.
You can now add an additional benefit to that list- lounge access. NUSS recently announced a partnership with dnata to offer NUSS members complimentary lounge access in Changi Airport Terminal 1 and 3.
Each NUSS member can redeem a maximum of 2 complimentary passes from 1 Dec 2016 to 1 Dec 2017. There is a maximum of 250 passes that can be redeemed by members each quarter, i.e. Dec 2016- Mar 2017, April 2017- Jun 2017 etc etc.
The booking interface should be familiar to anyone who has used the NUSS portal to book any facilities. Not the prettiest but it gets things done.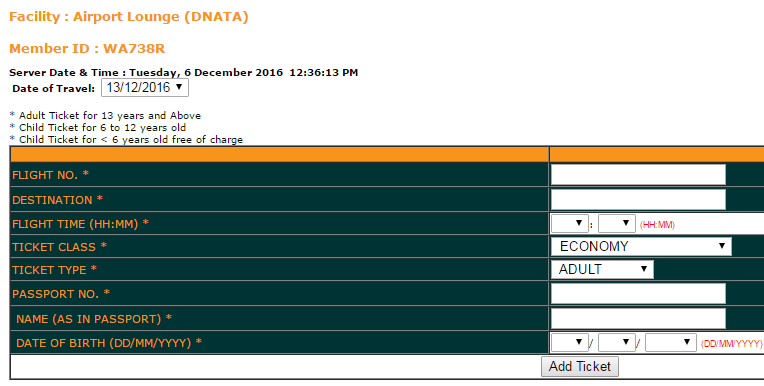 If you've exhausted your 2 complimentary passes you can buy a maximum of 5 additional passes per quarter at the following discounted rate-
DBS NUSS Cardholders- $10 each
Regular NUSS members- $25 each
Regular priced passes start at $50 for adults and $30 for children up to the age of 12. Children below the age of 6 do not require a pass. Have a full read of the FAQ here.
In Terminal 1, dnata operates the Skyview lounge that is used by Cathay Pacific, Delta, Finnair, Priority Pass, Airport Angel and pretty much any other airline/lounge program. I remember visiting this lounge a long time ago and was generally impressed, it was quite good for a contract lounge. You can read a proper review on the lounge here.
EDIT: Since November 2015 dnata is operating a new lounge in T1 that looks a lot nicer. Check out the review here. Thanks Alvin.
I've not yet visited the Terminal 3 facility, but here's the account of someone who has.  Again, if you go in expecting First Class Terminal or Private Room levels of luxury you're going to be disappointed, but if you see it as a quiet place to catch up on some work before your flight, or to unwind with a free drink and watch Netflix I think you'll be just fine.
My stance has always been that Changi Airport is good enough that you don't really need lounge access (and so efficient that you don't need to show up that early). However, if you're already a member, no reason not to take advantage of this.
NUSS membership usually costs S$10,700 but if you're within 36 months of the date of your graduation (first degree/postgraduate degree provided you're taking it within 12 months of your first degree) you pay S$2,140.
If you're thinking of joining, consider using my referral- we'll each get $250 worth of vouchers (F&B at NUSS for me, Robinsons/CapitaLand for you). You'll need to provide my referral code WA738R when you sign up.