On the road again to Rio: Trip Planning
Singapore Airlines B77W Business Class SIN-FRA
Lufthansa B747-8i Premium Economy FRA-GIG
Sheraton Grand Rio Hotel & Resort
Star Alliance Lounge Rio
Lufthansa B747-8i Business Class GIG-FRA
Sheraton Frankurt Airport Hotel
Singapore Airlines A380 Business Class FRA-SIN
---
We had a 2 hour layover in Frankfurt before boarding LH500 to GIG. Ever since SQ terminated its GRU route it's been very difficult to get to South America without doing a massive layover in Europe. Lufthansa is one of the few airlines that offers a reasonable connection (Turkish has reasonable options to GRU but not GIG).
Flights to South America seem to depart from the furthest satellite terminal there is- all in from disembarking SQ326 to reaching the lounge my colleague and I walked 20 minutes and went through 2 (!) security checkpoints. Who said Germans were the masters of efficiency?
Fortunately, there is a satellite Lufthansa lounge at the C gates, where we were departing from. The lounge was packed with passengers heading for Sao Paulo, Rio and Buenos Aires
The lounge had a great selection of things to drink
The mandatory beer taps made an appearance
There was a good selection of German wines and bubbly.
As good as the drinks were, the food options were pretty basic
Hot food options were limited to three dishes, one of which was rice.
I figured it'd probably be a good idea to freshen up before another long flight so I went to find the showers. The lounge only had two shower cubicles but both were empty at the time.
There were basic amenities provided like a toothbrush and shaver. I've said it a thousand times and I'll say it again- SQ really needs to introduce private shower cabanas in their new lounge.
One cool feature is the ability to board from the lounge. It's not quite an aerobridge that leads from the lounge to the plane (as I hear EK has in Dubai), but it's pretty close. When the time comes to board a flight, the lounge attendants unlock the double doors at the rear of the lounge and you exit to the area just infront of the aerobridge.
This would be my first time on a 747-8 and I was really excited. It's a shame that the age of the super jumbo appears to be over, what with the poor sales of the 747-8 and the A380.
Lufthansa launched its premium economy product in 2014, 1 year before SQ entered the fray. The product was first available on the 747-8s, before being retrofitted onto the A340-600s and the A380s. Lufthansa PY seats have 38 inches of seat pitch and are 18-19 inches wide. The hard specs are pretty similar to SQ's PY seats, which have 38 inches of seat pitch and are 18.5-19.5 inches wide, depending on aircraft.
Lufthansa's made quite a few bold claims about their PY product I thought I'd go over. From Lufthansa's PY press release-
I mean, this is what separates the premium economy cabin from economy. Not a separate cabin, but a half height divider across the back row of PY seats.
I've heard suggestions that this is deliberate, because Lufthansa aggressively sells upgrades to PY onboard. The idea is to get passengers in Y to see the posh life in PY and shell out the buy on board price to upgrade. Whatever the reason, it certainly isn't a private cabin like what SQ has. I found SQ's PY cabin private and quiet. By comparison, LH's PY cabin is really only distinct from regular Y by the seat. This screen at the rear of the last PY seat hardly counts as "a clearly identifiable separate compartment"
By the time I boarded, the cabin was absolutely packed. It was near impossible to get a good shot of the seat. On the plus side I have this great front and back shot of the seat.
The seat material is definitely not as luxurious as SQ's PY seat. SQ uses a leather finish, whereas Lufthansa has a cloth like covering. This means the LH seat is not as assuringly firm as SQ seat too, and if you're the type who prefers a firm backing with more support you'd definitely prefer the SQ one.
The headphones in LH's PY are just plain awful. I believe they're the same as those in Y. SQ on the other hand offers the same headphones they use in business class in premium economy- noise cancelling
Each seat also had a scratchy and thin blanket. The pillow is the same as economy (PY on SQ has a larger pillow than Y), and they ran out of additional ones.
At least welcome drinks were served. There was no choice of beverage however, everyone got the same mango tasting cordial. And to my horror, there is no champagne in LH PY. SQ serves a very acceptable Ernst Rapeneau.
Every seat had a full bottle of water waiting. I'm quite amused by how many airlines (SQ included) love to include that in the marketing materials- as if a full bottle of water has become some sort of amazing perk.
One area where LH's PY was better than SQ was the provision of an amenities kit, which you'll find in the side pocket.
Even business class passengers on SQ don't get any amenities kit. Sidenote: I've never really understood why SQ doesn't provide one for passengers. I imagine a lot of cosmetics firms would love the chance to advertise to SQ clientele and provide sample sized toiletries that would defray the overall cost of offering it. And the bag itself is a nice keepsake and constant brand reminder. I can't tell you how many times people have asked me about my Rimowa Eva Air amenities kit, and come away saying "hey Eva Air is really nicer than I thought"
The amenities kit had eyeshades, earplugs, a refreshing towel, socks and a toothbrush kit.
There unfortunately is a lack of storage areas in the seat- apart from a small notch infront of you for storing your phone and maybe some wires, and the seatpocket for storing a laptop, there wasn't much in the way of side storage. 
The flight was completely full without a single empty seat in The full load was no barrier for the 4 mighty engines on the 747-8, of course, and before long we had started our 12 hour voyage to Brazil.
The crew started meal service shortly after take off. Unlike SQ, No menus were issued for LH PY passengers, which I thought was a poor touch. Even a one page menu card would have been better than the attendant having to repeat the options at every row.
There were two options- chicken with spaghetti, or some sort of cheese pasta. Let's get a few things clear. Germans should have nothing to do with pasta. This cheese laden disaster with a smattering of tomato paste on top would make la nonna turn over in her grave.
There was some cold bread, a salad and a brownie to go with the meal. I'd also like to point out that LH serves meals in premium economy in the foil tray, instead of on proper cutlery like SQ does. Meals were served from a cart as well, versus the arrangement in SQ where the crew take meal orders individually and bring them to your seat.
One major saving grace was Lufthansa's Wifi service. Lufthansa's wifi packages start at 9 Euros for 1 hour and max out at 17 Euros for the whole flight. The charges are obviously structured in a way to encourage you to buy the whole flight. However, they're still way cheaper than SQ's OnAir options because they're not volume capped.
There's also the option to pay 5,500 miles instead of 17 Euros (really poor value)
A quick glance at the screen reminded me we still had a long way to go…
After finishing up some work, I managed to catch a fitful 2-3 hours of sleep in the maximum recline position. I think I dreamed of a wonderful world where premium economy finally had lie flat seats. I mean, 30 years ago you'd never have thought business class could go lie flat right? But who knows what the future holds?
The crew turned on the lights and started breakfast service about 90 minutes before landing. For some reason SQ has this obsession in starting meal services as early as possible, which really eats into sleeping time. I might understand this in a high volume cabin like economy, but there's absolutely no reason why meal service in business class needs to start 2-2.5 hours before landing.
Breakfast was an omelette with spinach and cheese. Ze Germans must really love their cheese, I thought, as I took one bite and passed on the rest. There seems to be some inconsistency in the service standards as this meal was served in a proper plate (recall that dinner was served in tin foil).
After breakfast I briefly toured the IFE system. Lufthansa has quite a substantial collection of TV shows and movies, although ever since Netflix allowed the option of downloading content to watch offline I've never really bothered with airplane IFE.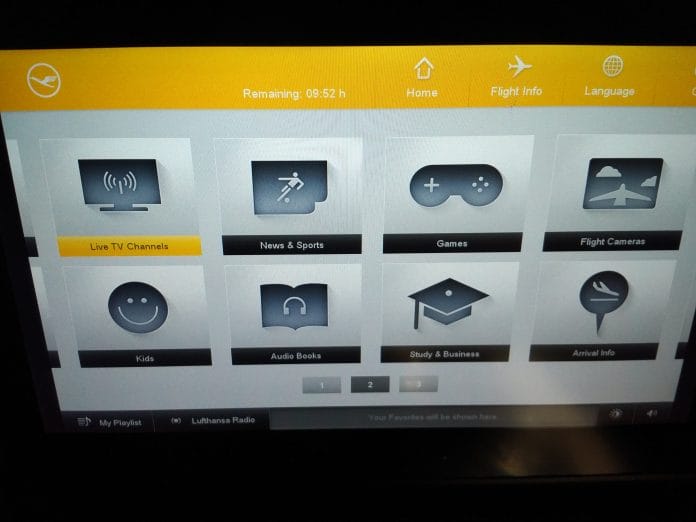 There was live TV available. I wish SQ had this feature, because it'd be awesome not to have to miss things like sports and such just because you're in the air. I still remember watching part of the French Open from the cabin of an Eithad 787 and it was such a surreal experience.
Service wise I didn't think the crew were anything fantastic. I saw call lights frequently go unanswered, and although the crew made occasional passes through the cabin with drinks while people were resting, you definitely shouldn't expect anything near the polish of an SQ flight. SQ has clearly tried to make premium economy a more personalised experience, with individual meal orders and being served one at a time. LH's service routine in PY is more akin to that in economy, the main difference being a better seat and perhaps an "upgraded" meal choice.
My overall thoughts are that LH Premium Economy cannot hold a candle to SQ's product.  Hard product wise there's not too much wrong (apart from a lack of storage space) but it's really everywhere else where it falls down. The lack of a separate cabin is probably the most glaring difference, although it's also small touches like the lack of menus, poor quality headphones, serving meals en masse instead of individually and the lack of champagne.
I think the main thing that LH has going for it is price. To fly from SIN-FRA in PY with LH would cost you S$2,600 versus S$3,200 with SQ. SQ's PY is really overpriced in that respect, which may account for the poor loads and the need to launch a bid to upgrade program, something that would have been unthinkable for "we must protect the exclusivity of our cabins" SQ.
That said, I take the point of view that economy class, premium or otherwise, is still economy class. It might offer some additional creature comforts and if the price difference were really small I'd certainly take it, but I wouldn't be willing to pay a premium out of my own pocket for the product. My miles are reserved for business/first class award redemptions, and where those are not possible I'd rather hump it in economy than pay for something slightly better.