On the road again to Rio: Trip Planning
Singapore Airlines B77W Business Class SIN-FRA
Lufthansa B747-8i Premium Economy FRA-GIG
Sheraton Grand Rio Hotel & Resort
Star Alliance Lounge Rio
Lufthansa B747-8i Business Class GIG-FRA
Sheraton Frankurt Airport Hotel
Singapore Airlines A380 Business Class FRA-SIN
---
After two long weeks in Brazil it was time to head back to Singapore through Frankfurt. I was pleased that this time my upgrade came through so I'd have a chance to do a proper review of Lufthana's Business Class product. Yes, it's far from market leading, but the worst business class product will beat the best economy class product any day of the week (Air India probably being the exception)
GIG airport is nowhere near as nice as GRU, although my sense is they're trying to do some major overhauls judging by the amount of construction boarding I saw up around the place. I'd have thought they would have finished that by the time of the Olympics, but hey, Brazil.
Check in was fast and painless. I was pleased that I had managed to get a seat on the upper deck of the 747-8, which would be my first time sitting on the upper deck of a 747 in a long time. The last occasion I did so was on a Thai Airways flight from Bangkok to Narita, in a terrible angled flat seat, perhaps 2 years ago. The time before that? That'd have to be when I was 10 or 11, going to the US on one of SQ's Megatops. The check in lady confirmed that the seat next to me would remain empty, so that was a plus too.
The Star Alliance lounge at GIG is the newest in the network, having opened in mid-December. It's so new I wasn't even able to find any trip reports on it. It's a bit puzzling why Star Alliance would build a lounge in GIG because GIG isn't a big alliance hub- the only Star Alliance carriers flying to Rio are Lufthansa, United, TAP and Avianca.
These carriers collectively operate 42 weekly flights out of GIG (you should ignore the 140 figure in the screenshot above as that refers to Avianca Brazil, which operates out of the domestic terminal and does not have lounge access). For comparison, in the other airports where Star Alliance lounges exist
Sao Paulo GRU (149 weekly *A flights)
Los Angeles LAX  (312 weekly *A flights, ignoring all the UA domestic ones)
Paris CDG (375 weekly *A flights- quite a few of these will be Schengen flights and will not have access to the *A lounge in the international area )
Buenos Aires EZE (78 weekly *A flights)
Nagoya NGO (64 weekly *A flights, ignoring all the NH domestic ones)
So maybe Star Alliance has big plans for Rio. Either way, it's confusing to me, especially when you consider that GRU is the main international gateway to Brazil and there's already a *A lounge there.
I digress.
The lounge is located on the third floor and is managed by the Plaza Premium Group.
There was no one manning the counter when I got there, so I proceeded to let myself in. Halfway through the lounge dragon showed up and we had to double back to counter to scan my pass. It's more an accounting exercise than anything else- I imagine that all the Star Alliance carriers who use the lounge need to pay Star Alliance a fee depending on how many of their passengers use the lounge.
The lounge opens 24/7 and is accessible to any business or first class passenger on a Star Alliance flight, or to Star Gold members flying in Economy. Members of paid lounge programs like United Club can also access. the lounge.
As per the press release, the lounge is 600 square metres and can seat 150 guests. You can allegedly see Sugar Loaf and Christ the Redeemer from the lounge, although it was late night by the time I got there and all I saw was darkness #gothkid
In line with the design concept of Star Alliance lounges, local touches and flavours have been combined with global branding elements. Brazilian natural woods, stone and concrete elements have been used to reflect the architectural heritage of the city while introducing greenery and moments of colour that accentuate the city's close relationship with nature. Handmade Brazilian furniture pieces from renowned designers add a special touch to the overall design and feel, which can best be described as exclusive and at the same time welcoming. The lounge was designed by Hong Kong based architecture firm MSA, which was appointed by Plaza Premium, the company which will operate the lounge for Star Alliance.
Aesthetically, the lounge is pretty attractive.  The lounge is smaller than I thought it'd be, but they at least bought more than one type of chair…
My first stop was the shower. There are a grand total of 2 shower rooms in the lounge. It works out ok in the end given how few *A carriers fly to Rio, but again it's a puzzlement to me. Building the lounge implies *A thinks GIG passenger numbers will take off in a real way. If that's so, how can they only provision the lounge with two showers?
The shower cubicles have very nice marble finishings but are otherwise tiny
The bath amenities come in pump bottles mounted on the wall
And some basic amenities are provided for shaving, teeth brushing and feminine product-ing.
It needs to be said that this shower had one of the worst water pressures I've ever seen in a lounge shower. Even at full power, the water came out in a trickle. I'm not sure if that was a general problem with the plumbing that day, but it was certainly an annoyance. There also wasn't anything in the way of a sitting area for you to wear your shoes, which is probably another design oversight. Even a chair would have been helpful. I mean, not everyone wants to sit on the loo to put on their socks…
After bathing I went to check out the buffet.
There is a limited hot food selection in the dining area
The catering was pretty forgettable. One BBQ drumlet dish, one potato dish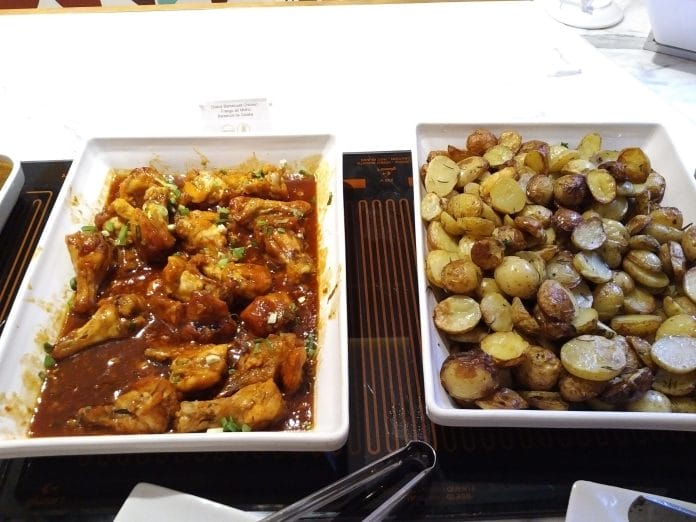 One beef dish and I forget what the item on the left was. None of the food was what you would call amazing. And I was surprised at the lack of hot food options given the lounge was supposed to be for both First and Business class passengers.
Cold food options included sandwiches, wraps, cheese and fruits
There's also an option for hot bread
I vaguely recall the publicity materials for the GIG Star Alliance lounge talking about cooked to order meals. No evidence of that here.
Drinks wise, a few reds and whites compliment the usual soft drinks and juices.
No champagne was available, but there was sparkling wine.
There's also a fully stocked bar where the bartender can make any manner of drinks. Right after I took this photo someone who looked like the manager (dude in the tie) barked at me that photos weren't allowed in the lounge. I didn't acknowledge him and walked off to take photos of other areas. Thankfully, he didn't follow me. Seriously, what is up with no photo policies? Does he think that nefarious agents from SkyTeam and OneWorld are trying to infiltrate the lounge and steal important trade secrets like the brainwave of only putting 2 showers in the lounge? I mean I can understand if other passengers are uncomfortable with appearing in strangers' photos, but the area was deserted at the time.
From a productivity point of view, one thing the lounge gets right is that there are plenty of outlets and USB plugs. The internet was also fast enough for me to download a few additional Netflix episodes to my device before boarding.
My overall impression of the GIG Star Alliance lounge was that it was nowhere as good as the Star Alliance lounge in Sao Paulo (which I reviewed here). That lounge simply has a lot more going for it- higher ceilings which make it seem more spacious, clearly demarcated dozing areas, a wider variety of F&B and generally friendlier staff.
It was a long walk to the gate, so I left the lounge early and headed for the gate, eager to board the plane and head up that stairwell…