On the road again to Rio: Trip Planning
Singapore Airlines B77W Business Class SIN-FRA
Lufthansa B747-8i Premium Economy FRA-GIG
Sheraton Grand Rio Hotel & Resort
Star Alliance Lounge Rio
Lufthansa B747-8i Business Class GIG-FRA
Sheraton Frankurt Airport Hotel
Singapore Airlines A380 Business Class FRA-SIN
---
I woke up (or rather, jetlag woke me up) bright and early at 7 in the morning at the Sheraton Frankfurt Airport hotel. After dawdling around with breakfast and what not, I finally left the hotel at around 930am for an 1140am departure.
Frankurt Airport was quiet this Monday morning, with very short queues and not a lot of foot traffic. There were similarly no queues at any of the SQ check in desks. My bags were tagged to Singapore but curiously, the first boarding pass that printed out was to Rio de Janeiro. I only realised it after I left the counter and had to double back. I can't really explain why that happened, because the two bookings were on separate PNRs. It was one of those weird moments.
It's no secret that SQ's premium economy product has sold very poorly, and the airline has been taking steps to try and monetize the empty seats. They recently started a bidding program that lets you place a bid for an empty PY seat, and they're selling upgrades at the counter too. I didn't ask what the prices were.
I think the fundamental problem is how expensive SQ prices its PY product. They're doing the typical SQ "our product is better than everyone else's and you should be thankful we let you fly it", and that strategy hasn't really been working for them. SQ has an amazing product, but it's appalling how rigid and inflexible the mindsets of their senior management can be.
I had a choice of lounges to visit post immigration. I decided on the Air Canada Maple Leaf lounge, having visited the very underwhelming Lufthansa Senator lounge numerous times before.
Many SQ passengers will go through FRA and never find this lounge, because of the abundance of LH lounge signs near the gate where they disembark during the JFK-SIN layover.
Size wise, it's definitely smaller than the LH Senator lounge but I find it a lot more quiet and tranquil.
There is plenty of seating in the lounge
. Great views of the tarmac too. I didn't know Air Canada operates enough flights out of FRA to justify having its own lounge (26 flights a week), but I imagine they earn back the operating costs by charging other Star partners for access.
Hello, what's that in the background….
It was indeed SQ25, just landed from JFK and ready to do its turn. While the aircraft refueled, so did I.
The Air Canada lounge has a much better selection of food than the Lufthansa Senator lounge in my opinion. It was breakfast time so the breakfast spread was out.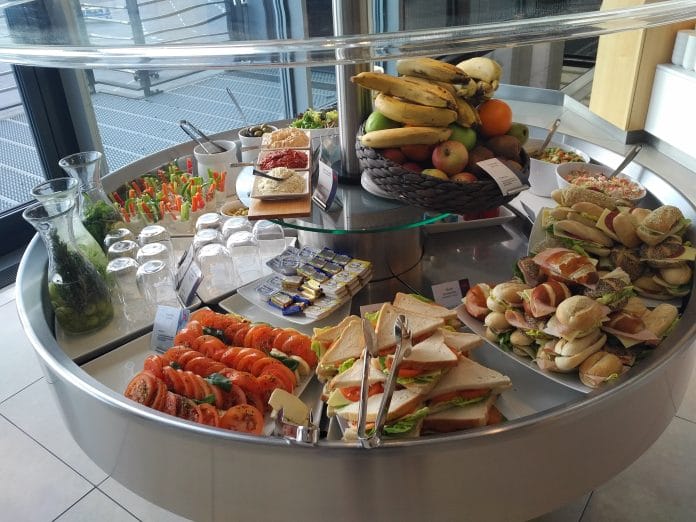 I assembled myself a plate and resumed plane watching.
Boarding began on time and, as you can imagine for an A380 flight, there was a scrum at the gate. It did seem like a lot of people for a Monday morning flight.
SQ has its business class seats on the upper deck of the A380. The version they fly on SQ25 has an all business class upper deck configuration with 86 flatbed seats.
In terms of product design, it's hard to believe that SQ's A380s are already closing in on 10 years old. I mean, these seats are much superior to a lot of the current-gen business class products you'll find on other airlines. And they're 10 years old! As much as I dislike the policies of SQ management, I have to say that their product design team is light years ahead of the game. Which makes me even more excited to see what the new A380s will have…
In terms of condition, however, the seats are showing their age. Look closely and you'll start seeing various battle scars, of repeated pressurization and depressurization cycles, of spilled wine and juice, of nicks and scratches from bags, zips and other pointy things.
The poet in me might suggest that every blemish tells a story, but the critic asked whether it was too much to ask for a mid cabin refresh (the type SQ did with their Suites seats where they went from this
to this)
It's probably a very different financial proposition to refurbish 12 seats (Suites) per A380 versus 86, however.
The seat is thoughtfully designed with a lot of ports and storage space. You get 2 USB ports, in seat power and something that looks like an Ethernet cable.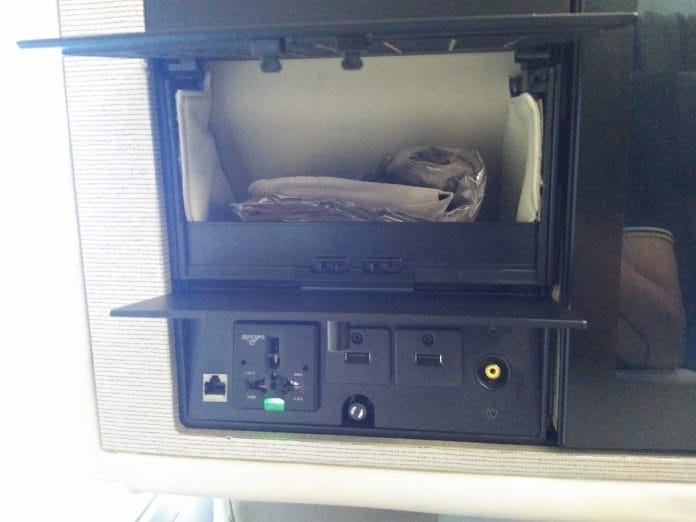 You have two small reading lights on your left and right shoulder with various brightness settings
The excellent noise cancelling PhiTek headphones make an appearance.
And each passenger gets eyeshades, slippers and socks. Earplugs are available upon request.
The crew came over to serve welcome drinks. Unlike the fantastic crew we had out of SIN, this crew was very mechanical and stoic. Passengers weren't addressed by name, no introductions were made and although the crew did everything perfectly fine, it's quite easy to tell when a crew is "into it".
No alcohol is served on ground due to customs regulations so I had some OJ.
Take off views were nothing special this frigid Monday morning.
I read through the menu after take off. The menu cover had the same CNY-inspired design as that on SQ326 over to Frankfurt.
The options, however, were non-festive. I think they only do the special CNY treats ex-SIN. Lunch would be served after takeoff with the following options
There was the usual extensive drinks list that formed the bulk of the menu
The crew came around to serve more drinks after takeoff. Was it too early for champagne? I thought, before deciding that no, it was never too early for champagne. Or for poorly taken photos where you can totally see the guy taking it in the reflection.
As is usually the case with SQ lunch services (except the one I took ex-SIN during CNY), the meal started with satay. I've been quite surprised at the consistency of the satay regardless of which station I'm flying out of. Of course it doesn't compare to what you can find back home, but it's perfectly passable.
I've come to realise that SQ's appetizers tend to be some variation of prawns. I personally like prawns so I don't have an issue with this. I would imagine those allergic to them would have some issue. Garlic bread was served as well.
Craving Asian food, I opted for the duck curry for the main. It didn't look too appetizing but was actually pretty good. Biggest downside was the veggies were mush.
The desert cart came around and I had some raspberry ice cream. How I long for simpler flavors. You could just give me vanilla every single time and I'd never complain.
A fruit basket was also brought around.
The loos on the A380 have these glamor style mirror lights. I would have thought that when you're a mixture of dehydrated and bedhead, bright lighting would be the last thing you want.
The taps on the A380 are automatic though, which should appeal to the germophobes out there (guilty). You know what I really want? Toilets with auto opening doors. Like you wave your hand or something and the door opens. I always cringe when I have to touch the latch after I'm done.
I then flipped the seat into bed mode and passed out. If you want to see photos of the seat in bed mode  (and photos of me with more hair) you can check out this older trip report to San Francisco
I awoke somewhere over Afghanistan with 6 hours left on the flight.
I will keep repeating this until it changes, but SQ does not have a great snack selection. Its hot items are limited to nicely plated and garnished instant noodles. Contrast that with what Etihad has (I know this is comparing F to J, but SQ's F snack menu isn't much better)  and tell me that doesn't look much better than these options.
Anyway, I had what I think was chicken noodles. I couldn't tell because it appears they forgot to put the chicken garnish on it.
And then did some work, and went back to sleep.
I awoke for breakfast. SQ was doing that "wake everyone up 2.5 hours before landing" thing that I still can't figure out.
Fruit was the standard starter for everyone. Random: does anyone actually like grapefruit? I suppose there must be such people out there, but I have yet to meet one of them.
I had the pad thai for the main, still in my "i need Asian food so badly I'll settle for a bad version of it" stage. The dish was awful- it tasted like someone had dumped a whole load of lime juice on it. You couldn't take more than a few bites without making a sourpuss face.
I think this would overall be one of my more average SQ flights. That said, SQ's average is still miles ahead of many other airlines' best.
SQ's A380 seats have had their time in the sun and I'm glad we'll be seeing something new this year. I am holding out hope for mini-suites with doors in Business class, which I think is the natural evolution of the product.
Until the next long trip!