Devaluations, like award show mix ups and male pattern hair loss, are an inevitable part of life.
The reaction from many frequent flyers to devaluations follows a predictable trend
Denial- "This is just a rumour. There's no way the airline would do something so nasty to its customers"
Anger- "How dare they do this to me after I've been so loyal to them!"
Bargaining- "Ok so they've done this but maybe they'll throw us something nice in the next few months"
Depression- "So all the miles I've been working so hard for are now worthless/ worth less (depending on the drama quotient of the speaker)
Acceptance- "There's no way I'm going to switch carriers anyway"
The stages need not be in that order but they always, invariably, end in acceptance. I'll bet you that 90% of the outraged posters on FT/SQTalk/Straits Times Forum/reunion dinner still fly SQ regularly.
We see the same reactions to Krisflyer's latest devaluation. But how does this devaluation compare to the ones that came before it? Is it as bad as it looks?
How often do devaluations happen?
The last two devaluation exercises happened in 2007 and 2012. So I'd say 5 years is par the course for a big one.
However, inbetween big ones you have smaller, mini devaluations. Technically speaking, anything that makes award flights more expensive or difficult to obtain should certainly be seen as a devaluation. A devaluation does not necessarily mean award prices need to be increased. It could be a move that makes awards harder to obtain, or that imposes additional restrictions on existing award (eg 2016 when Krisflyer changed its rules so only premium economy tickets could be upgraded to Business class)
In the quest for great justice, I spent the better part of two days looking for whatever I could find on the previous devaluations.
Let me emphasize how difficult this was. In the spirit of transparency, SQ puts script in its site that prevents the Wayback Machine from effectively trawling the site. Which means I have to piece together information based on scraps I pick up on Flyertalk and SQTalk. And most of those forum posts have links to the SQ website, which have since expired. Which means I have to figure out what people are talking about without actually seeing the document they're referring to.
Behold, my research skills. SQ laojiaos, please feel free to chime in.
A history of devaluations
2007 Devaluation
How much notice did they give?
Officially: 2 months. The news came on 27th November and impacted redemptions from 1st Feb onwards.
Unofficially: the news leaked early on the website and was picked up by Flyertalk on 29th September before being quickly taken down
What did they give?
South Africa economy class awards went down from 60K to 55K. Well, that's something, I guess.
What did they take?
23 award zones were consolidated into 14. This led to a de facto increase in award prices for a lot of destinations
Redemption rates increased. Unfortunately I don't have the entire award chart before and after, but I do know from the mailer that economy round trip saver awards increased as follows

Adelaide: 40K to 55K
Egypt, Middle East: 50K to 55K
Japan & Korea: 40K to 45K
Australia & NZ: 50K to 55K
(this might be confusing because some of these rates are higher than the current threshold, eg Australia is now 50K return in economy saver [at least until 23 March]. The explanation is that certain economy class awards have a price decrease in 2012- read on)
Unrestricted awards (Standard) were increased across the board to 2X the miles of saver. They were previously 1.25 to 2 times.
Companion awards were removed. I never even knew that SQ once upon a time had companion awards. These refer to discounted award tickets that you can redeem provided someone in your party has bought a revenue ticket
Krisflyer members were barred from redeeming First and Business Class saver awards on the new 777-300ER aircraft (i.e. the new 2006 cabin products). Only unrestricted (standard) awards were made available. Of all the moves, this was probably the most dickish.
Did they say "enhance"?
Nope. I mean even Krisflyer didn't have the cojones for that.
2008 Devaluation(?)
How much notice did they give?
13 days- Members were notified on 16th September and changes took place from 29th September
What did they give?
One way awards now cost 50% of round trip instead of 70%. I guess we still take it for granted that one way awards should be 50% of round trip but it's not the case across all programs even today, eg Asia Miles
Introduced "Full" awards. The joke goes you'd have to be a "full" to book one, because they cost more than 5X the miles needed for a saver
What did they take?
There was concern that the introduction of Full awards would reduce seat availability for Saver and Standard awards, despite the fact that the FAQ explicitly denied this. Probably points to trust issues engendered amongst Krisflyer members after the PPS devaluation and the removal of lifetime membership.
6. With the introduction of the Full award, will there be fewer seats available for the Saver award and Standard award?

No, seats for the Full award will be made available in addition to the seats set aside for the Saver award and Standard award.
I'm not thrilled by the availability of saver space still, but I don't think Full awards had any sort of impact on award space. Full awards were pretty much  "last seat availability"- you could redeem them so long as a revenue ticket was available for sale. But why would you? In any case I put a (?) behind the devaluation in this heading because the changes were mostly positive. I'm guessing SQ really got a lot of backlash for the 2007 devaluation and had to throw something out there to appease customers.
Trivia
They also renamed the "unrestricted" award "standard", which is the terminology we have today
Did they say "enhance"?
Yes, but probably justifiably so in this case
As part of our ongoing commitment to making your membership more rewarding, we will be introducing a number of redemption enhancements to the KrisFlyer programme on 29 September 2008 – offering you greater value, convenience and flexibility in redeeming your KrisFlyer miles for award tickets.
2012 Devaluation
How much notice did they give?
Slightly under one month. Changes were announced Feb 3 and took effect March 1.
What did they give?
Krisflyer members were now allowed to make First and Business class saver award bookings on the latest cabin products (777-300ER, A380, A340-500). However, Suites saver awards were still blocked from redemption
Some economy class saver prices decreased, by ~2.5K miles in most categories
What did they take?
Business and First saver awards increased in price as new zones were created and others removed. Amazingly, I managed to piece together the pre-2012 award chart
Europe was the hardest hit region- if you wanted to go to Germany, Spain, the UK, Switzerland or France you'd be looking to pay as much as 45% and 30% additional for business and first class respectively.  Italy, the Netherlands and Denmark were relatively unscathed with only a 9% increase. This is probably due to the fact that at the time, such destinations were still being served by SQ's old 777 aircraft with Spacebeds and not the full flat product. The whole point of this devaluation was to throw Krisflyer members a bone by opening up saver redemptions for the new cabin products, but making them pay more for it
North America also saw significant devaluations of 26-33% in business and 13-19% in first
Africa, the Middle East, Western Australia and ASEAN saw virtually no increases in award prices
The Star Alliance award chart was devalued as well

Economy Awards increased by 20-30K miles for long haul flights eg SIN-Europe/North America. Round trip Singapore to North America increased from 80K to 110K
 Business/first class awards for long haul flights eg SIN-Europe/North America increased by up to 55K miles. Round trip Singapore to North America increased from 140K to 195K
Did they say "enhance"?
Oh yes, yes they did.
We appreciate your invaluable feedback and are pleased to announce that we will also be enhancing our seat award redemption offerings. Currently Saver Award is only available for selected First and Business Class flights. With this improvement, you will be able to redeem Saver Award for First and Business Class on most flights, including First and Business Class on our B777-300ER flights; and Business Class on our A380 and A340-500 flights
2012 Second devaluation(?)
How much notice did they give?
None. Changes were announced on 28th November and immediately took place.
What did they give?
One of the things Krisflyer members had been hankering for since the product launched- Suites saver redemptions. Probably wrong to call this a devaluation
What did they take?
Some standard and full awards for first class increased in price. I think it speaks volumes about how giddy everyone was that on the forum threads I can't find anyone mentioning how much the awards increased
Did they say "enhance"?
Nope. Maybe they don't use that term as much as we think.
2016 Devaluation
How much notice did they give?
7 days. The devaluation was announced 17th May and changes took place from 24 May.
What did they take?
The ability to upgrade to business class from a full fare economy ticket. Upgrades are one cabin only- if the aircraft is Y/J/F you can upgrade from Y to J, but if it's Y/PY/J/F, you can only upgrade from Y to PY, and PY to J
Full awards were removed. No tears were shed
Europe 1 and 2 were combined into a single zone. This had the effect of increasing the cost of award tickets in Business and First Class to Athens, Amsterdam, Copenhagen and Rome and moved the prices in line with the rest of Europe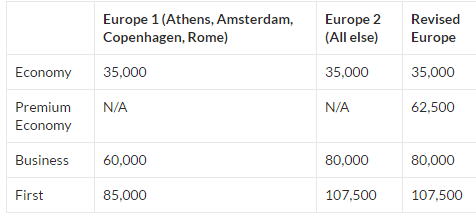 What did they give?
Premium economy class was made available for saver award redemption
Did they say "enhance"?
Nope. Although I'm quite sure they worked the thesaurus overtime.
Adding it all up- how does this devaluation compare to historical?
The 2012 devaluation was probably more severe than the one we just witnessed in that at the upper end, award prices went up as much as 45%. On the other hand, in 2012 there were other regions (eg South China, Middle East) that had no increases at all.
This time round every single award has increased (saver, standard, upgrade) simply by virtue of the fact the 15% online redemption discount is no more. Add this to the fact that we're seeing some significant increase in long haul first and business class awards and I'll say this devaluation feels a lot more painful than 2012's.
What's the silver lining here? I'll give you a hint- it's coming in October and it's a double decker.  Yup- it's SQ's new cabin products that will launch this year.
Here's my crazy theory- SQ wants to avoid the member backlash it got the last time round in 2007 when they barred Krisflyer members from redeeming SQ's new cabin products at the saver level. So they've pre-emptively raised award rates ahead of this new product launch so they can make them available at launch for saver awards. This has the effect of removing some of the ill will the devaluation generates (unlike from 2007-2012 where KF members were left stewing at the fact that saver awards were not available for the latest cabin products). It's clever, and I'm sure it'll placate more than a few people.
But the flip side of the coin is this- for this strategy to work, SQ's new cabin products need to be amazing. And I don't just mean bigger TV screen, 3 more lounging positions amazing. I mean the kind of thing that sends a message to the ME3 and the rest of the pack that SQ is taking back its role as a leader in product innovation.
Many ideas have been put forth as to what the new products will look like. Few concrete facts have come to light. What I do know for sure is that this devaluation has set expectations in Krisflyer members' minds about the new products, and October beckons. Get this wrong, and the mob will be at Airline House with pitchforks and torches. And I'll never fly SQ again.
Ah, who am I kidding.