The recent demise of the HSBC Advance and unicorn nature of the UOB PP Amex have been taken as signs by some people that the dining card is well and truly dead in Singapore.
It looks grim for sure, and I don't know whether any bank is willing to step up and fill the gap for a 10X dining card (a certain loss leader for them). Assuming that doesn't happen, I wanted to lay out a blueprint for how you can make the best of a bad situation.
UOB Preferred Platinum Visa
People (myself included) tend to forget that many restaurants now have Paywave terminals, which means that you can use your UOB PP Visa to earn 4 mpd. This assumes the restaurant isn't a SMART$ merchant, but there are so few that fall into this category anyway (Hard Rock Cafe, Pasarbella, BreadTalk Cafe, Bread Society).
Remember that the maximum amount that can be paid through Paywave is $100 per transaction, but there's nothing stopping you from splitting a bill across multiple transactions. The cap on 4 mpd earning per month is $1,000 for the UOB PP Visa.
Maybank Horizon Visa Signature
Believe it or not, the best card for dining now belongs to Maybank. The little known Maybank Horizon Visa Signature offers 3.2 mpd on local dining, petrol and taxi fares, provided you spend a minimum of $300 a month on the card.
One thing to point out is that Maybank's definition of "dining" is fairly narrow. The T&C state that only merchants with MCC 5812 will enjoy 3.2 mpd. 5812 refers to restaurants and eating places, which should cover the majority of places you might dine at. But it doesn't cover 5814 (fast food restaurants), 5813 (drinking places) and 5811 (caterers). And like all dining cards, it also does not cover dining in hotels which codes under the hotel's MCC.
The bonus points you can earn in a month are capped at 30,000, so assuming you only put dining on this card, you'd max out the 3.2 mpd at $4,285 in a month.
My biggest gripe with this card is that Maybank TREATS points expire after 1 year, unless you're a Rewards Infinite member (requires spending more than $24K in a year). Fortunately, the minimum redemption amount for Maybank TREATS is 5,000 points, or 2,000 Krisflyer/Asiamiles miles. That's certainly a lot lower than the UOB/DBS 10K minimum. So even if you're not a massive spender on dining, you should be able to hit the minimum cashout amount pretty soon.
With an income requirement of $50K, it unfortunately isn't an entry-level card but I think it's well worth a speculative application even if you don't meet the criteria.
HSBC Revolution
Assuming you can't meet the $50K income requirement for the Maybank Horizon card, the HSBC Revolution is a good choice too. You earn 2 mpd on local dining, entertainment and all online spend.
2 mpd is less than 3.2 mpd, obviously, but where the Revolution is better than the Horizon is it has a wider interpretation of dining. The Revolution considers fast food to be part of dining, and explicitly states that spend at clubs, pubs, bars (what's the difference between a pub and a bar?) will get 2 mpd. There also is no minimum spend amount required to earn this.
HSBC Rewards points expire after 3 years, and the minimum transfer amount is 2,000 miles.
OCBC VOYAGE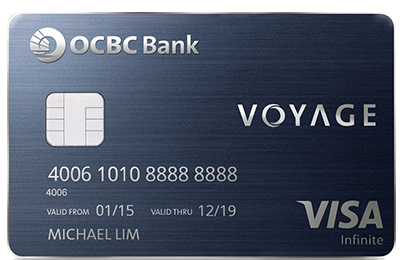 The VOYAGE earns 2.3 mpd on dining, which the T&C define as restaurants, cafés, caterers and fast food outlets. I take this to mean MCC 5811, 5812 and 5814. However, the T&C explicitly exclude bars and pubs, which means 5813 is out of the question. Similarly, hotels and country club dining doesn't count.
The interesting thing about the Voyage card is that you don't earn miles, or points for that matter. You earn Voyage miles (which don't expire). Have a read of any of my past Voyage articles to understand how these babies work, but the TL;DR version is they can either be converted to Krisflyer miles at a 1:1 ratio, or used at a (relatively) fixed value to pay the cost on a revenue ticket on any airline (typically 2-3 cents per mile). I certainly wouldn't use the Voyage card as a general spend card because i feel the 1 mpd general earning ratio is simply not good enough, but if you want to get the card and pay the (not insubstantial) annual fee just to use it as a dining card, well, it's a free country.
Conclusion
I am hearing disturbing rumours that people holding the UOB PP Amex are getting calls from CSOs offering to "upgrade" their cards to something else (One person was offered the UOB YOLO; I told him to call the police because that was certainly a scam call). UOB has certainly demarketed the card, but whether they're looking to actually shut it down, only time will tell.
Those with the UOB PP Amex should make hay while the sun shines. For the rest of you- any of the above methods should help you maximise the miles you earn on dining.