About three weeks ago I was approached by a representative from Grab who told me about the upcoming relaunch of Grab Rewards.
The revised Grab Rewards program expands the ecosystem of partner merchants, allowing you to use your Grab Rewards points for rewards with various partners in Singapore like Deliveroo, KFC and Spotify.
I was offered an upgrade to Grab Platinum status and a bunch of rewards points to "try out the program" (I was never explicitly asked to write something about it but I can only assume that was the hope). I told them I'd be glad to try it out, but added a caveat that anything I received would be disclosed upfront if I ended up writing something.
So I went to research the new Grab Rewards program. And the conclusion I came to was the partner rewards were awful. Based on this, I penned this article:
Grab's new rewards program is a classic lesson in how not to offer rewards
I'd strongly encourage you to have a read of the full article, because it'll help contextualize some of the criticism I have below, but to summarise:
Grab's partner rewards are bogged down by fine print that specifies minimum spend, item exclusions, maximum discounts and first user restrictions
These partner rewards expect customers to use their points to pay for costs of marketing that should be borne by companies
Some of these "rewards" are laughably bad- vouchers you'd expect to get in your email for free, or handed out to you by someone standing on Orchard Road.
My favorite example? You could spend 8,000 points (or roughly $20 of Grab rides) on a 20% off Zalora voucher which requires a minimum spend of $120 and has a list of excluded brands so long one thinks it might be more efficient to just list the included ones.
Never mind that the same offer can be had for free by any Citibank Rewards cardholder. It's more uses for your points, horray!
I wrote an email back to Grab listing out the problems with the program and didn't take the upgrade or points (because that'd just complicate things).
But a few weeks later I came across two sponsored posts done by Mothership and MoneySmart that caught my eye.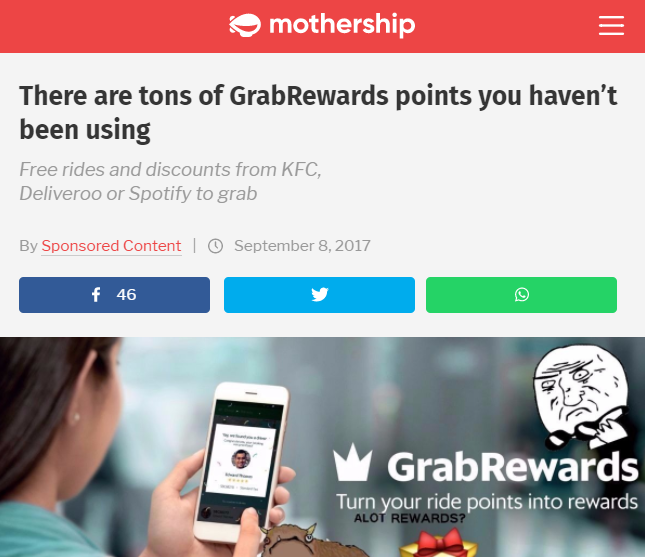 I knew that Grab was probably approaching a range of media outlets, but reading the articles got me thinking about a few things-
Should sponsored posts be objective?
A few months ago I called out Mothership for their sponsored piece on the UOB Krisflyer account.
My criticism was two-fold. The first was that they didn't disclose the sponsorship upfront, which is dishonest because it lures the reader into finishing the article, then throws in the mea culpa of "oh it's sponsored kthxforreadingbye". That's a bait and switch.
Disclosure isn't really the issue here as both Mothership and Moneysmart labelled their articles as sponsored (although Moneysmart leaves disclosure to the end and euphemistically calls it a "collaboration", perhaps unsurprising for a website that has and continues to advertise a Moneysmart exclusive promotion of free luggage when signing up for a HSBC card, despite the fact that the same luggage is available to those who sign up via other channels too)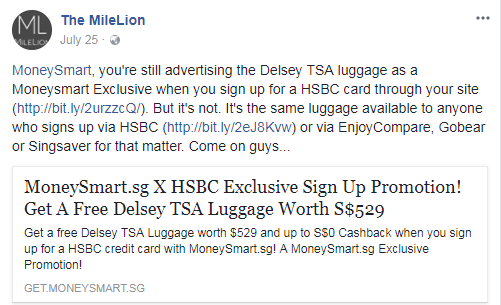 But my second (and arguably bigger) point was that disclosure aside, Mothership's article on the UOB Krisflyer account was poorly argued and supported. I showed how anyone with a basic entry level credit card like the DBS Altitude could earn more miles than the person using the UOB Krisflyer account in Mothership's example (plus wouldn't have to park money in a 0 interest earning account), and how the account was fundamentally flawed with its cap on bonus miles earned.
I get that Mothership's post was sponsored, and it might not play well with the client if you pointed out something like that. But inherent in that statement is the disconcerting premise that a sponsored post should be exempt from the regular standards of editorial rigor that other topics would be subject to, simply because you're getting paid. In other words, they pay your bills, you write what they want to hear. And that's a very, very slippery slope.
Applying that to the situation at hand- the fact is, I'm seeing a disturbing lack of critical analysis in these sponsored posts on Grab Rewards. Take Mothership, for example, where they talk about partner reward options-
But now, instead of redeeming a $5 off your next ride with 2,200 points, you can use 2,300 points to get $7 off your next KFC delivery (min. purchase of $35 required). More value leh!
Let's pause a minute to talk about value. It's a subjective concept, but can we agree that the more often you consume a product or service, the more likely you are to value any discount on said product or service close to face value?
For example, if I take the train every day and spend $2, I'll value a $0.20 discount at $0.20. But if you offer me $50 off a $100 painting I have no interest in, I won't value that discount at $50. And I'd probably take the train discount over the painting discount, notwithstanding that $50>$0.20.
So in the context of $5 off a Grab ride versus $7 off $35 of KFC delivery- intuition tells me that the average person rides with Grab more often than orders $35 worth of KFC delivery (note that it's KFC delivery, not KFC- you can't use the voucher in stores). Therefore I disagree that it is "more value leh" to get $7 off $35 of KFC delivery than $5 off a Grab ride. And to paint this as a good thing is disingenuous, because I wonder which reward the writer will opt for when the time comes.
Every point is a precious gain (we feel you) so if you're looking for 'cheaper Rewards', there are also $8 OFF Love, Bonito at 2,700 points and $5 OFF for Cotton-On full-priced items at 1,700 points.
If you really believed that "every point is a precious gain", you'd be opposed to the idea that you're expected to spend them to get what should be free.
See, what these writers don't seem to grasp is that asking customers to pay for discount vouchers gets marketing fundamentally backwards. Here's an illustration I drew myself (I'm so talented)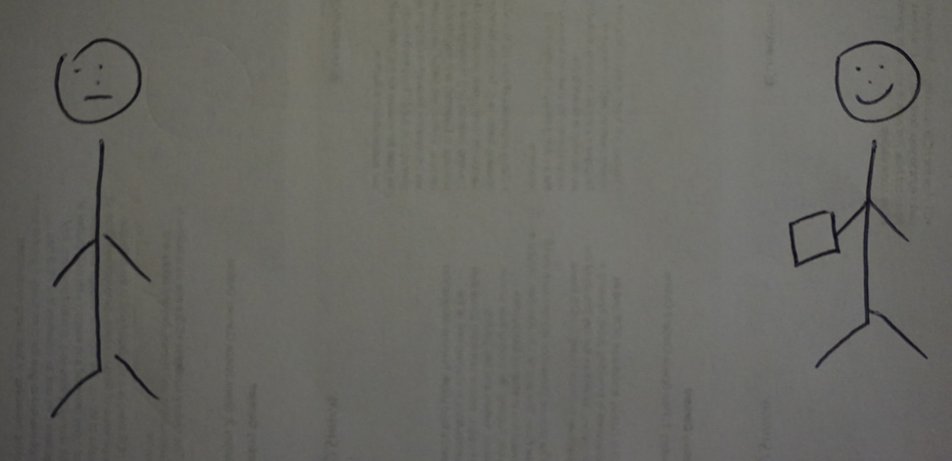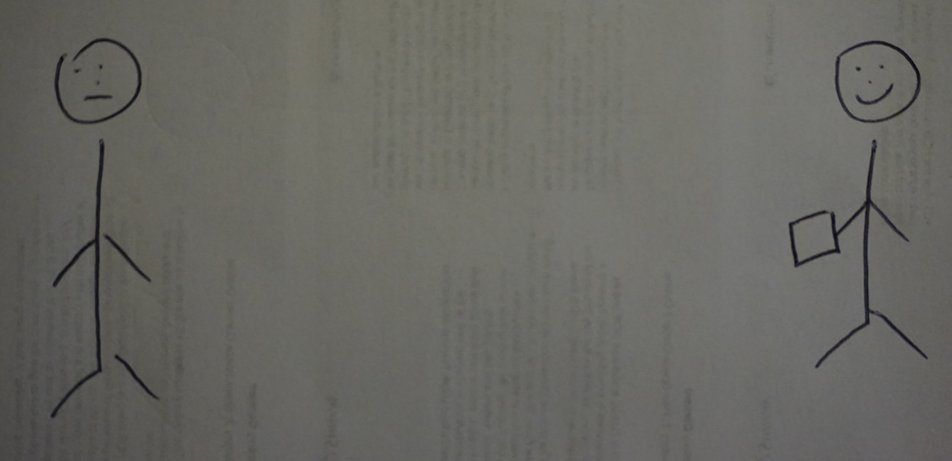 Oh, and Merchant X? It's not hypothetical. That's what Grab is offering with Althea, for 3,300 points (roughly $7.50 of Grab rides, give or take). You need to spend a minimum of $50 and your 12% discount is capped at $10. That'll be 3,300 points please.
So the dysfunction is real. If the marketing objective of Grab Rewards is to get customers to try new brands they would not otherwise have patronized, why make customers pay for that?
As I put it in my other post-
I generally dislike vouchers with minimum spend requirements as they come off as half-hearted, but I have no problem with someone on the street passing me a $X off Restaurant Y coupon with a min spend of $Z because I don't have to pay for that privilege.

I do have an issue with being expected to pay to cover the cost of a company's marketing. Because that's what this is. With this scheme, the cost of marketing (that should be borne by third party merchants as customer acquisition costs) are being borne by you, the customer.

You can see it clearly- Haagen Dazs has a new froyo product and they're trying to drive demand by giving people a "free" taste, so they give 2 scoops free but 1 has to be froyo. Star360 is having problems moving some inventory, so it offers 15% off but excludes popular items like adidas and Nike from the discount. KFC wants people to order more KFC, so they give you $7 off…but want you to spend $35.

So why isn't Haagen Dazs giving away free buy 1 scoop get 1 scoop of froyo free vouchers outside its outlets? Why isn't Star360 giving out coupons for 15% off (with excluded categories)? Why isn't KFC putting $7 off $35 vouchers in the newspapers?
Moneysmart's post is slightly better than Mothership's in that the tone is less gushing, and they also list out some of the restrictions on selected partner rewards in this table (although they don't comment on it).
However, their article lacks any sort of critical voice. You can just feel the writer trying to hit every point on the post brief- ok here's where I talk about earning points, here's where I talk about KFC/Deliveroo/Spotify, here's where I have the call to action.
Moreover, given that Moneysmart (even more so than Mothership) is a place where people come to be educated on good deals and how to be savvy with promotions, points and miles, I think it's an even bigger dereliction of duty on their part.
Can sponsored posts be objective?
Before we bring in the issue of glass houses and projectile hurling, I should point out that The Milelion does sponsored posts too, but we have two criteria:
that the post is disclosed clearly upfront (because disclosure placement matters)
that the product/service in question is genuinely useful to readers, with any shortcomings highlighted
Anything that fails either of the two criteria doesn't pass muster. No exceptions.
There's a school of thought that says sponsored posts are not meant to be objective, because the company is paying you to write good things about them. And if you don't play ball, you're not offering them any value.
I disagree and think that's a dangerous misconception.  The value bloggers give companies is not a fawning voice. The value bloggers give is
(1) Access to your audience
(2) Access to your particular writing style
(3) Serving as a sounding board for product/program design by providing insights on the desired audience
(1) and (2) are straightforward- you've got a group of people who trust you and what you have to say, you have a style of writing they like and respect. But what do I mean by (3)?
Let's think back to the current situation. If Grab came to me with a sponsored post proposal for Grab Rewards, I'd say something like
"Look, I think the scheme you have in place for Grab vouchers is attractive. It offers a ~4% rebate on rides, which is more than what Uber gives. I'd be glad to write about this and how people can save money on transport through Grab Rewards. However, I think your partner rewards program is very weak because of the restrictions in place. Moreover, I think you've got the idea of a rewards program backwards- you shouldn't expect customers to pay to be advertised to. If you'd like, I can be engaged as a consultant to help you understand loyalty programs and design a rewards program that will work for you, your customers and your partner merchants."
And that to me is where websites and bloggers can add true value. Not by being a mouthpiece for companies, but by leveraging what they know about their target audience and subject area to help companies design better product and service offerings.
All this can be offered without compromising on objectivity. And sponsored posts can be objective.  For example, if HSBC, back in the days when they were offering 10X points on online and dining spend with their Advance card, came to me and asked me to write a sponsored post to drive sign ups, I'd have gladly done so. Plus, it'd have been objective too, because for a period that was really the best card on the market for those categories.
In that sense, my content strategy would drive the types of sponsored posts I'd consider writing about. The problem arises when sponsored posts drive content strategy. And that's when you have influencers writing about financial products they barely understand, because hey, got money should take!
I think the blogging community in Singapore needs to take  a serious look at our approach towards sponsorship. Proper disclosure is a good start, but that's setting the bar too low (although even then it seems some people still can't do that). We need to go beyond mere disclosure and start exercising discretion in what we write about. Does it mean being more selective about what you write and which proposals you accept? Yes. Does it mean less revenue in the short run? Yes. But trust me, it'll pay off. And why do you trust me? Because you know my word can't be bought.
What do you guys think?