Dear fellow influencers,
I'm glad you're all as excited about the new Krisflyer UOB account as I am. I mean, why else would you all have, in a coordinated and synchronized manner, simultaneously posted Instantgram posts on the very day the UOB Krisflyer account was launched?
I have to admit, I feel really noob reading all your posts. After all, you guys take better photos than me, have more aesthetically  pleasing bodies than me and also got more followers than me. Staring at your followers list makes me feel like proverbial urchin staring through shop window on cold Christmas eve.
Now, because none of these posts were tagged #sponsored, #ad, #advertorial, or #theypaidmeinsmallunmarkedbills, I must assume that these are all impartial reviews based on your personal experiences with the product. Therefore, I am genuinely concerned that you guys are missing out on some of the best opportunities to earn miles.
Fortunately, I can help you here! I've done some research on the account and while I feel that the overall idea is definitely innovative, there are things that could potentially be improved on. I really hope that UOB takes notice of these and makes some changes so that a great idea doesn't get let down by poor execution.
Hope this helps!
---
Dear ladyironchef
I love your food porny posts and the way you introduce to me new restaurants all the time. You're the reason I haven't seen my feet in years and have the turning radius of a small van. And am currently going to die alone.
However, it seems like you are paying for your restaurant expenses with the UOB Krisflyer debit card. I think this is a mistake. You see, you could easily be earning 4 mpd on all your local dining and online expenses with the HSBC Advance card, without cap, all the way until 31 May 2017!
Yes, I know the card is a bit of a pain in the butt to get, but trust me, when you're earning unlimited 4 mpd without an arbitrary 5% cap and a chunk of money earning 0 interest in the bank, it is the most shiok feeling ever. More shiok than when the Sin Huat crab beehoon uncle actually treated me with dignity and respect and never try to upsell me. Happy days man.
But what happens after 31 May, you ask? Well, we can hope that HSBC, from the kindness of their hearts, decides to extend this promotion again as they have done time and time again in the past. But if they don't, you might fancy gambling and applying for the UOB Preferred Platinum AMEX and hope they take your application, failing which you could get the Maybank Horizon Visa Signature card which gives 3.2 mpd on dining. Not as good as 4 mpd, of course, but might be better than parking funds in a 0 interest account.
---
Dear melissackoh
I love your posts because your photo skills really zai. Every time I see your posts I wonder why I must use Blackberry camera to take all my photos. Then I remember that blur out of focus bokeh is the new black(berry). Ha ha ha!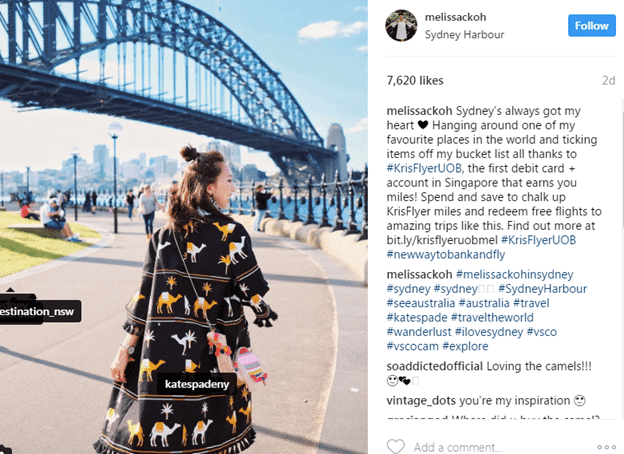 In your post you implied your trip to Sydney was made possible thanks to the UOB Krisflyer account. I am excited because I also want to go Sydney and see koalas boxing wallabies, which I hear is on the national flag.
Now, it takes 56,000 Krisflyer miles for a round trip Economy saver award between Singapore and Sydney.
If you have $3K-$100K in your Krisflyer UOB account (let's take $51.5K as the middle value), you'd be earning 1.4 mpd, the bonus component of which (1 mpd) is capped at 2,575 (5% of $51.5K) per month.
To earn those 56,000 miles, you'd need to spend $5,250 a month for a year on your Krisflyer UOB debit card (25,200 base miles, 30,900 bonus miles- remember, bonus is capped at 2,575 a month!) for a total outlay of $63,000
But assuming you spent an average of 30% on dining out, 30% on online shopping and 40% on everything else, with the right card strategy (HSBC Advance + DBS Woman's World/Citibank Rewards + UOB PRVI Miles) you could get a weighted average of 0.3*4 +0.3*4 +0.4 *1.4= 2.96 mpd! This means you'd only have to spend <$19K in a year to get that Sydney trip!
Plus, you'd be able to put that $51.5K to work for you in koalas boxing wallabies futures. I hear the return on that is non-zero.
Obviously, the equation changes if you have 100k+ in your account, but if you are parking $100K+ without interest in the bank, please let me know who your influencer agency is because mine is clearly not doing its job properly.
BTW, please don't go to Pancakes on the Rocks. Last time I was in Sydney everyone told me that was THE place to go to, but I thought it was super average. This is why I don't like people.
---
Dear bellywellyjelly
I love your travel posts. Super bohemian one. I wish my Bangkok trips could be as awesome as yours but I am scared of new experiences so every time I go it's Paragon–>Roast–>After You–>Patpong–> Emporium
(EDIT: Posts have since been updated with #ad tags)
In one of your posts, however, you mentioned this-
Here's a tip, use the #KrisFlyerUOB Account on your fav budget airlines Scoot & Tigerair to get complimentary additional baggage allowance plus FREE seat selection and more ? (got you covered here)
Don't worry! Bro got you covered too!
You might like to know that your complimentary additional allowance  (5kg) only applies if you buy a minimum of 20kg luggage allowance. And you need to buy this 20kg at the time of booking, not after! If you buy after, hard luck.
Also, you talked about complimentary seat selection. I am balding and have bad BO, so no one wants to travel with me. But if you travel with your friends, you need to know that only the principal cardholder gets free seat selection, even if the other travelling parties are on the same booking.
PS- I'm a bit confused, because from the way you've written your post…
Scratched this off my bucket list on my trip with #KrisFlyerUOB, the first debit card & account in Singapore. 
…it kind of makes it sound like you've already been able to travel with the miles you got from this account. Which is quite impressive given that it was only launched a few days ago, and (assuming your situation matches melissackoh's) you'd have had to have spent ~S$56K to get the 25,000 miles you need for a round trip economy saver (you see your bonus 1 mpd is capped at 2,575 miles each month, meaning you'd have to earn the remainder 22,425 miles at 0.4 mpd)
Moreover, as per the T&C of the UOB Krisflyer debit card, any miles earned only get credited to your Krisflyer account at the end of the month. And it's only 24th April. If you have lobang for faster miles crediting, please share ok?
---
Dear thetravelintern
Hope you guys are doing well. I liked that quote by Eleanor Roosevelt you shared- "Do one thing every day that scares you." This morning I tried using 1 ply toilet paper instead of my usual 2. Don't want to tell you how that went but the important thing is I tried.
You guys mentioned this in one of your posts-
Great travel perks such as free seat selection and convenience fee waiver when booking flights — no more additional charges to deal with while planning your next big adventure
Regarding the free seat selection- see the advice I gave bellywellyjelly. Regarding convenience fee waiver- take care guys. I know it sounds good but you need to spend a minimum of S$250 on a Scoot/Tigerair booking on a single transaction first. Then you'll get a fee waiver voucher that can be used on your next booking.
So technically, you should be saying "no more additional charges to deal with while planning your next next big adventure".  Also, be aware that you get a maximum of one waiver a year per account yeah?
You guys say the Krisflyer UOB debit card is helping you achieve your travel dreams. Let me see if I can help you out there- it takes 25,000 miles to go to Laos in economy saver on Silkair. Assuming the same figures I gave to melissackoh, you would need to spend $1,500 a month, or $18,000 a year to get the miles you need (7,200 base, 18,000 bonus).
But if you used my recommended card strategy @ 2.96 mpd, you'd only need to spend ~$8.5K! Anyway guys, I recommend you save your Krisflyer miles for long haul redemptions. You could get to Laos for <S$400 return trip with budget airlines.
---
So that's my advice!
My fellow influencers, let us continue to maintain the highest standards of transparency and miles earningness. Without us, the public is lost.
Excelsior!
The Milelion