A pilot for account-based ticketing (ABT) launched back in May. This allowed you to use your contactless-enabled Mastercard to pay for your bus/MRT rides, without additional charges. No need for an EZ link card, no need for topups.
The prospect of being able to pay for public transport rides with a credit card was exciting because it implied the possibility of earning rewards points. However, a general rule about rewards points is that banks don't like to award them on so-called non-discretionary spend, or spend that doesn't need to be incentivized. Day to day public transport rides certainly fall into this category, and at the time ABT launched, UOB explicitly said that bus/train transactions would not earn rewards points.
However, it seems their stance has changed. UOB PRVI Miles Mastercard holders got the following SMS today:
It appears that UOB is offering holders of the UOB PRVI Miles Mastercard the opportunity to earn 1.4 mpd on their public transport rides when they sign up for ABT. You can register for ABT here.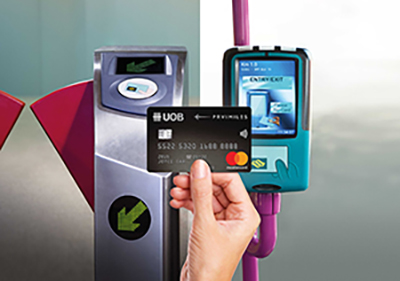 Now I know what you're thinking: UOB rounds down spending amounts to the nearest $5 for the purpose of awarding points. Since each bus or train trip is perhaps $2 at most, does that mean you end up with nothing?
Fortunately, no. In the FAQ you can find the following clarification:
Transactions will be processed and charged to you in your subsequent credit or debit card bills. The charges, which are aggregated, will be accumulated for up to 5 days or after a total of S$15 is spent on transit fares, whichever is earlier. The accumulated amount will be posted to UOB after 3 days. However, it may not be reflected immediately in your credit/debit card accounts
Your transactions will be aggregated, so as long as your spending over a 5 day period is >$5 you should earn some miles.
Technically, UOB is offering rewards for ABT not just on its PRVI Miles Mastercard, but on its other contactless Mastercards too-
| | |
| --- | --- |
| UOB Card | Rewards on your rides |
| UOB PRVI Miles Mastercard Card | 1.4 miles per S$1 spent |
| UOB Lady's Card / UOB Lady's Solitaire Card | 1x UNI$ (2 miles) per S$5 spent |
| UOB Preferred Platinum Mastercard Card | 1x UNI$ (2 miles) per S$5 spent |
| Krisflyer UOB Debit Card | Up to 5.4 miles per S$1 spent |
However, the earn rate is really not worth considering. The UOB Lady's Card and Preferred Platinum Mastercard earn 0.4 mpd, and as for the Krisflyer UOB Debit card…the less said about that the better.
By my estimate I probably spend less than $100 on public transport a month, so this isn't going to be a huge source of miles anyway. Still, every little bit helps, so I'm going to register my card now.