The Sydney Suites Gambit: Trip Planning
Singapore Airlines First Class Lounge & TPR
Singapore Airlines A380 New Suites SIN-SYD
Singapore Airlines SilverKris Business Class Lounge SYD
Singapore Airlines A380 New Business Class SYD-SIN
I caught a cab from my AirBnB in Surrey Hills to the airport. The train would have cost $18, but I had a $15 off first ride Taxify code that reduced my fare to about the same amount. Gotta love competition for Uber, except until that competition gets a bit too successful…
I was surprised that SYD was an absolute madhouse on a Sunday morning. The traffic leading up to the terminal driveway was backed up for more than a kilometer, and we traveled maybe 200m in the space of 10 minutes. It's a good thing I'd budgeted a lot of time to make my flight, but I can imagine quite a few squeaky bums in those cars.
It wasn't much better inside the terminal. Check-in rows A to J were chock a block full, and row K where Singapore Airlines is located (all the way at the end of the terminal, in case you're visiting in the future) was a relative sea of tranquility.
Four orderly queues are indicated at the check-in desk. I wonder if they bring out a separate standee for First Class when the outgoing aircraft is not an A380? Also, where's the premium economy class queue?
At check-in I was presented with my blue boarding pass (this is random but I really love the shade of blue that SQ uses for its business class boarding passes)…
…and more importantly, a Fast Track pass. Australia has a special line for APEC cardholders but my new pass is still being processed so in the meantime I'm a commoner like everyone else. The lines at security and immigration were insane, and having the Fast Track pass (anyone with Star Gold would get one, even if in economy) was a lifesaver.
At long last I exited into the promised land known as "duty free shopping". I was really surprised by how hectic the whole check-in process was at SYD. It could just be the day I visited but I'd advise you not to underestimate it the next time you're there.
It is a very long hike to the SilverKris lounge after security, so plan your time accordingly. Singapore Airlines flights depart from the far side of the terminal, and today we were at Gate 61. I walk very fast and it took me about 10-12 minutes to get there.
You need to take an escalator up one floor, but finally you're there.
The Sydney SilverKris lounge was the first ever lounge to receive the new SQ "home away from home" design in December 2013. It's funny because in this issue of SilverKris magazine, the author writes that the Singapore lounges would be seeing the revamp in 2014. Here we are in 2018 and there's still no word of when this concept will come to Singapore. For what it's worth, I love this new concept. I think it's visually stunning, and given that the Singapore lounges (T2 especially) urgently need an upgrade, this can't happen soon enough.
My boarding pass was quickly scanned and I was admitted into the business class section of the lounge (there's also a first class one, but for all intents and purposes it's the same just with a sit down menu). There's a small alcove next to the entrance with some trinkets from home, including (spot it if you can) a copy of Lee Kuan Yew's From Third World to First.
This area forms part of the overflow seating, and wasn't in use when I visited. Remember that the SilverKris lounge (together with the Air NZ lounge next door) is meant to accommodate all Star Gold, Business and First Class passengers. I saw a few passengers with Air NZ business class passes being directed to the Air NZ lounge (although if they knew their entitlement they could well have demanded access to the Silver Kris lounge. FWIW, the Air NZ lounge was more spacious but had very limited F&B).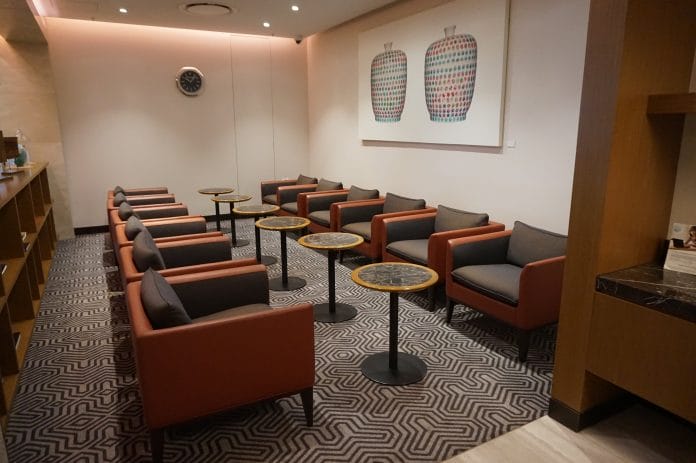 There was even a dedicated drinks counter in this corner, for those who ventured there.
The business class lounge was about half full when I arrived just after 10am. Morning seems to be a peak departure time for Star Alliance flights, and during my time in the lounge I heard boarding calls for Thai, United, Asiana and Air Canada flights as well.
Most of the seating is lounge chairs with side tables, but there was a sort of separate area with proper dining tables too.
The much vaunted productivity pods, that are meant to evoke comparisons with SQ's business class seat, make an appearance. These are great semi-private spaces with power outlets and USB charging (although those ports are available throughout the lounge).
The lounge overlooks the tarmac, where I could see a whole host of Star Alliance jets.
Including this strange unmarked jet. You can see the A380 that operates SQ232 at a remote stand in the background, next to a TG744. This A380 is called 9V-SKU and arrives in SYD as SQ221  at around 7.30am. It then sits idle until it departs at 12 noon as SQ232, so it doesn't make sense for the plane to take up an aerobridge.
Given how seriously the Aussies take their food, I have to say the selection in the SilverKris lounge was disappointing.
There was a salad bar with a few options including something called "caviar dip" which, sadly, did not contain real caviar.
A toaster section with some limited and uninspired bread choices.
And a coffee machine, which in Australia is a form of blasphemy (pop by next door to the Air NZ lounge where there's a barista to make coffee for you).
The hot food selection is really a mish mash of everything. I had a bowl of chicken congee, and assembled a plate of soggy hash browns, chicken sausage, steamed mushrooms and tomatoes, a quiche of some sort and some arugula leaves just for color. Nothing tasted particularly good, and I was surprised there were no eggs in sight. Everything tasted bland and unappetizing.
Although it was only late morning, the alcohol selection was already out in full force. Reading other reviews online lead me to believe the alcohol is available around the clock.
The champagne on offer was Aubert Et Fils that retails at about A$25 at online wine stores. It was perfectly drinkable, but not worth burning through your alcohol allowance when the much more expensive Charles Heidsieck awaits onboard. 
I understand that the First Class lounge serves Veuve Clicquot, which although better is still decidedly a "business class champagne".  Given the high quality of food you can get in the public areas outside the lounge, I'd say the catering in the SilverKris lounge leaves a lot to be desired (in all fairness the selection in the Air NZ lounge was even worse).
There are two shower rooms in the business class lounge, both with attached toilets.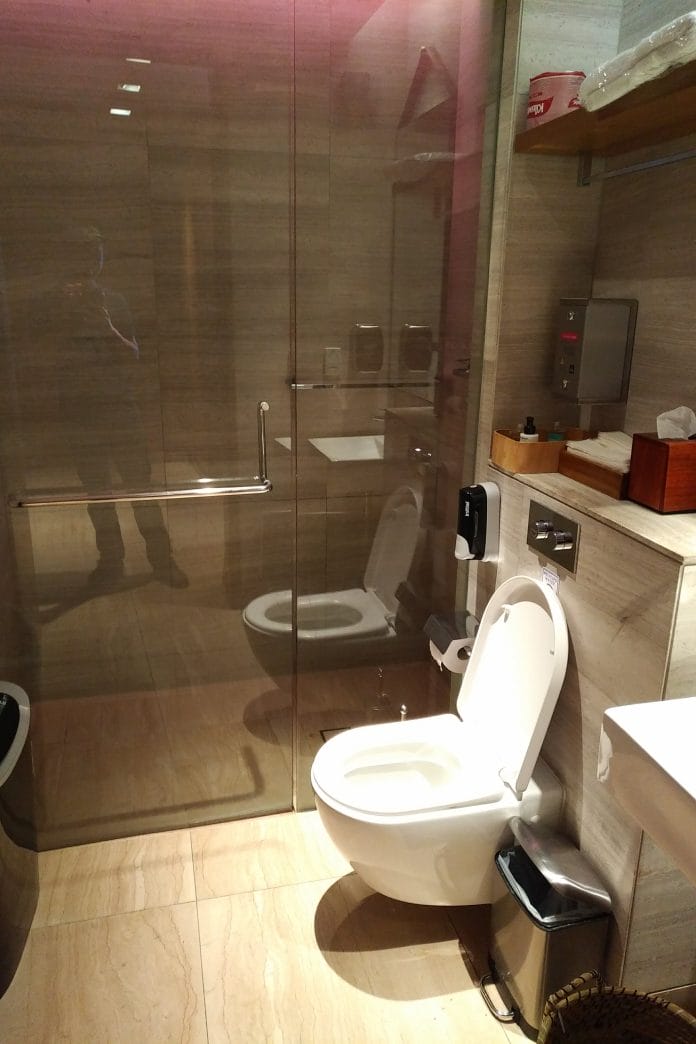 Conclusion
Although I quite like the decor, the poor catering in the business class section of the SKL is a disappointment. It's definitely not the type of lounge that you come to the airport early for.