The Sydney Suites Gambit: Trip Planning
Singapore Airlines First Class Lounge & TPR
Singapore Airlines A380 New Suites SIN-SYD
Singapore Airlines SilverKris Business Class Lounge SYD
Singapore Airlines A380 New Business Class SYD-SIN
---
Introduction & Flights
More than a year ago in an act of Nostradamic precognition I predicted that the new SQ A380 cabin products would launch on either the LHR or SYD route, and my best chance of snagging a saver award was to guess the flight and make a speculative booking.
I ended up booking SQ308 (LHR), SQ221 (SYD), and SQ232 (SYD) in what I dubbed "Suites roulette". I would have booked SQ322 too but there was no Suites saver space available (which only served to heighten my suspicions that it would indeed be the launch route…although that was tempered somewhat by the fact that you'd need two aircraft to offer a daily new A380 service to LHR).
With that many speculative bookings it was hard to go wrong, and as it turned out, SQ221 was the winner. It's a good thing I made the booking all the way back in April 2017 because there is absolutely no Suites saver available on either SQ221/232 right now. Fred somehow managed to get a waitlisted saver award to clear, don't ask me how he did it, but as far as KVS can see, the new A380 only has Suite advantage awards (150,000 miles OW, ouch) available on certain days.
The other new A380 aircraft is currently serving Hong Kong and London on selected days, but it appears that the days operated by this particular aircraft also have suite saver awards blocked. The only suite savers I could find for the HKG route, for example, were on days where the flight was operated by the old A380. That makes me feel all the more better about the 75,000 miles saver award I booked (pre-devaluation; it's now 80,000 miles) and will now fly less than two weeks from now.
I figured that the new business class product would slowly proliferate throughout the fleet and didn't expect saver award space to be blocked; indeed it wasn't. I easily found a business saver award on SQ232 from SYD-SIN, allowing me to review both the new Suites and business class on a single trip.
I have so many questions. What's the new suites bed like? Is the dining setup as awkward as some reviewers have said (apparently you stare across into the opposite suite)? How much privacy does the door really afford? How comfortable is that chair for extended periods of working? How's the new Lalique amenities kit and PJs? Are the new suites bathrooms a real step up from the previous? What's the double bed in business class like? Does a bed that reclines instead of flips over really make a difference? I'll be sure to address all these in the trip report, but if you have any specific questions about the product or service routines feel free to chime in.
On the lounge front, it's been a while since I last visited The Private Room so I'm looking forward to see how the offerings have changed. And I'm also going to visit the Sydney SilverKris lounge, where SQ debuted their "home away from home" lounge concept all the way back in 2013. Digression: at the time, the plan was to roll out the new lounge concept to all SilverKris lounges by the end of 2018. As it stands, Sydney, Manila, Hong Kong, Brisbane, London and Bangkok have received the new lounge makeover. That leaves  Adelade, Taipei, Seoul (under construction), Kuala Lumpur, Perth, Melbourne, and New Delhi. And Singapore, of course. It's hard to see this getting done by 2018.
Hotels
It must be peak travel season in Sydney now, because the rates I found for Starwood properties were…not economical.
It wasn't much better for Marriott either.
In fact,  I wasn't able to find any hotel in a decent location with reasonable rates, so I decided to use up the rest of my AirBnB credit on a place in Surrey Hills at the effective cost of S$104 a night. I know the quintessential miles and points experience in Sydney is to get the Park Hyatt, but revenue rates are ~$1.2K a night for the dates I'm looking at (using a certain corporate code brings it down to $350, but (a) that's still too much and (b) you really shouldn't be using corporate codes you're not entitled to). So in lieu of a trip report, please enjoy the following publicity photo:
Things to do
Because I'm a sheeple (sherson?) Singaporean, my itinerary is filled with very basic things. Like food. I'm going to pig out on breakfast every day. No one does breakfast like the Aussies, and I have a laundry list of places to try (feel free to chip in if you know of others)
The Grounds of Alexandria
Three Williams
West Juliett
Two Good Eggs
Bourke Street Bakery
Dachshund Coffee
Devon Cafe
Bills (tried it in Tokyo, but when in Rome right?)
And I've budgeted for one splurge meal, which right now is a close fight between Matt Moran's Aria or Neil Perry's Rockpool Bar and Grill. I think Aria is edging it because of their pre-theater special (I'm going to watch a production of Antony and Cleopatra because culture) and besides, I'll eventually try Neil Perry's food in the Qantas First Class lounge right? Right?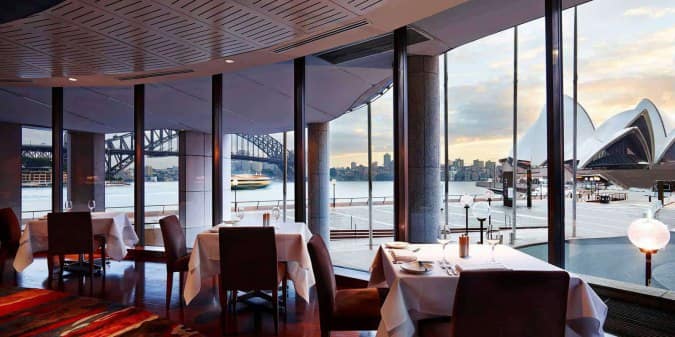 What else? The Sydney Royal Easter show will be in town when I'm there, so it'll be a good chance to watch sheep shearing and single-handedly win the woodchopping contest. I'm doing the Bondi to Coogee beach walk (highly recommended), exploring The Rocks Markets, dodging tourist traps at Circular Quay and the harbor area and meeting up with a few people from the local miles and points community (if you're a reader in the Sydney area, give me a shout).
Sound off with any other tips or must dos, please!