Yes, yes, I'm a month late with this, but those of you who participate in the Changi Rewards program (or are thinking of hopping on board) probably heard that it underwent some changes effective 1 April 2018.
Changi Rewards is kind of like the Dr Who of loyalty programs. Each "incarnation" of the program runs from 1 April to 31 March of the following year. Any points earned in a particular program year need to be redeemed by 30 June of the following year. After that, they're useless.
So, for example, any points earned between 1 April 2016 and 31 March 2017 must be redeemed by 30 June 2017 (notwithstanding the fact that from 1 April 2017 you'll be in the "new edition" of the program). Confusing? Certainly. I guess this limits the outstanding liability of points for the parent entity, and to be fair we have seen airlines do this too (Alitalia anyone?)
The long and the short of it is that the program has been devalued effective 1 April 2018, with points now worth half as much as before. They have added incremental benefits for the top two tiers (Gold and Platinum), however, which in theory should encourage members to go for elite status, if they're not put off by the lower redemption values.
Here's the broad strokes.
The bad
Points are now accrued in blocks of $10 instead of $1
If you thought UOB's $5 earning block policy was bad, wait till you get a load of Changi Rewards' new $10 earning block. Previously, spending $29.90 would earn 29 points at the old $1= 1 point system. Now, that same spend would earn 20 points, because all spending is rounded down to the nearest $10. 
What gets on my nerves is how they've pitched this as a benefit. No, really. Look at this.
Thanks Mr Changi Rewards person because what kept me tossing and turning at night was the inability to earn points in round numbers. That's the thing about programs pitching devaluations as benefits- it's insulting to members and gets them unnecessary ill-will.
Changi Rewards points have been devalued
Here's the old Changi Rewards redemption table. Note the bottom where it says 500 points = $5 voucher.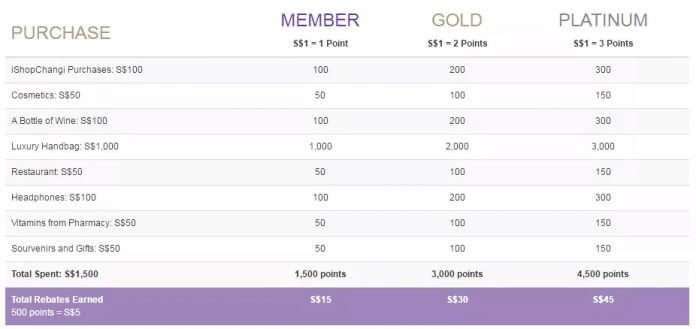 And here's the new table, where you see that the same voucher now takes 1000 points to earn.
Yes, your points have halved in value. I joke about miles and points being the worst investment to hold (in that they don't earn interest, there's no deposit insurance and they can only devalue), but it's incidents like this which remind you why the mantra of what we do is earn and burn. Of course in this case you can't hold your Changi Rewards points beyond 30 June of the following year even if you wanted to, but you get what I mean. Devaluations can happen at the whim and fancy of the program.
Basically, Changi Rewards has gone from a 1% cashback program to a 0.5% cashback program, if you're a base tier member. If you're a Gold member, it's gone from 2% cashback to 1% cashback. If you're a Platinum member, it's still a 3% cashack program.
Remember you can redeem your Changi Rewards points for other rewards in the catalog too if you're so inclined.
Krisflyer mileage transfers have been devalued
This is probably an offshoot of the previous point, but it's worth noting that KrisFlyer miles transfers have been devalued too.
Here's the ratio of Changi Rewards points to KrisFlyer Miles before 1 April 2018.
And the ratio from 1 April 2018. Spot the difference?
It now takes twice as many Changi Rewards points to earn 500 KrisFlyer miles. Basically, $1 of spending at Changi Airport now gets you 0.17 miles. Meh.
The Good
Platinum rebates remain the same
Platinums earn a 3% rebate under the new and old editions of the program.
Entertainer App for Gold and Platinum members
Gold and Platinum members will get an email informing them how to download and activate the Changi Rewards Entertainer App. It's unclear whether this is the full fledged Entertainer App or the scaled down version that seems to have popped up recently in conjunction with other promotions (eg HSBC's $5 Entertainer promo).
2 Free Lounge visits/year for Platinum members
Platinum members will get 2 free lounge passes per year that can be used at the following locations:
Plaza Premium Lounges globally (including Changi Airport Terminal 1)
Ambassador Transit Lounge located at Changi Airport Terminals 2 and 3
Blossom Lounge located at Changi Airport Terminal 4
Parking Privileges for Gold and Platinum members from Q3 2018
No details have been announced about this benefit yet, but I imagine it might look something like what Capitamalls offers with the Capitacard, i.e. 3 free hours of parking per day. Maybe they'll also set aside lots closer to the terminal?
Conclusion
You can see the benefits mostly accrue to those at the higher tiers of the program. If you're a casual user of Changi Rewards, you'll likely find the program much less useful now (a 1% rebate was already pushing it, but 0.5%?). I mean, the program is free to join and if you're going to spend money at the airport anyway, then I suppose it doesn't hurt. There are also other benefits to holding a Changi Rewards card like GST free shopping in the public areas.
Why has Changi Rewards devalued? Because they can. What're you gonna do, switch to a rival Changi Airport Rewards program?