One question I get a lot from my soon-to-be-hitched friends is "what hotel should I book my wedding banquet with to earn the most hotel points?"
That's a good question, because hotel points are so hard to earn in Singapore. We can earn airline miles just like that, but hotel points are a completely different kettle of fish. Getting a solid amount of points thrown in with your wedding can reduce the cost of your honeymoon substantially, especially if you burn them in a high cost destination like New York City or the Maldives.
I put in a fair amount of research, made some calls and probably ended up disappointing a lot of wedding banquet organizers. Let me tell you two things straight off the bat:
Don't expect to earn an amazing amount of points
Much like your wedding night, the number of points you earn for a wedding is likely to disappoint you.
I went into this thinking: ok, I'm a Starwood Platinum-75 member earning 4 points per US$1. So if I spend US$30,000, a lot of points are coming my way.
As it turns out, you don't earn points for event spend the way you would for regular hotel stays. Points for event spend are awarded according to a different scheme, and most hotels only offer points as part of a limited-time promotion. Of the 6 major chains I surveyed, IHG and Hilton were the only ones which regularly offered the opportunity to earn points. Furthermore, with the notable exception of Hyatt, the rebates on offer from most hotel chains are rather underwhelming. It seems that they prefer to throw in other sweeteners into the deal instead of points.
Elite status counts for very little when booking weddings
So, you're an SPG Lifetime Platinum. Or Hilton Lifetime Diamond. Or some other tier that involved you spending hundreds of nights in cramped hotel rooms around the world. Sorry, all that holds the sum total of zero sway with the wedding planning departments.
Time and time again I was told that there were no additional benefits for elite members. At most, holding status means you'll enjoy additional benefits on the complimentary hotel stay that most hotels include in their packages. Conrad, for example, told me that as a Hilton Diamond member I'd enjoy the usual benefits on my room such as lounge access (which I'd anyways have) and late check out (but subject to the usual Hilton caveat of "upon availability).
I do realise that wedding packages involve a lot of negotiation and maybe, maybe having elite status could sway some of the small things in your favor, but there are certainly no published benefits for wedding bookings.
That said, here's a round up of what the various hotels give:
Hyatt
Hyatt has easily the best points offer of all the hotel in Singapore. For bookings made from now till 31 December 2019, World of Hyatt members can earn points based on the following tiers:
What's interesting is the tiered structure that Hyatt offers means that someone who spends US$20,000 will earn the same number of points as someone who spends US$29,999. That's different from the usual US$1= X points relationship that most other hotels have.
1 Hyatt point is valued at 1.8 US cents, so your rebate looks like this assuming you just spend the bare minimum within each tier:
US$10,000 (60,000 WOH points): 10.8%
US$20,000 (90,000 WOH points): 8.1%
US$30,000 (120,000 WOH points): 7.2%
US$40,000 (150,000 WOH points): 6.8%
This is amazing value. Remember that rooms in Category 7 properties, the most expensive Hyatt category, go for 30,000 points per night so you're looking at 5 nights with US$40,000 of spending. Heck, the Park Hyatt Maldives Hadahaa is "only" a Category 6, requiring 25,000 points. If you spent US$40,000 you'd get to stay for a week in a place like this: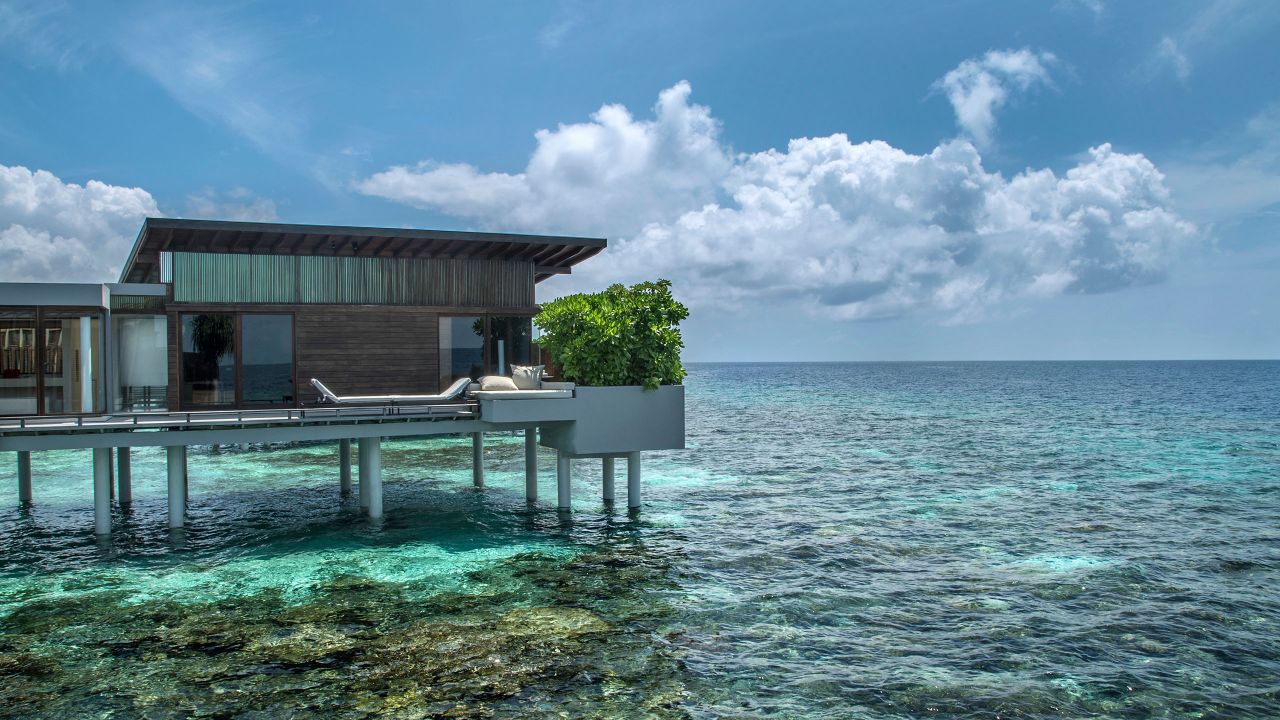 Hyatt properties in Singapore include the Grand Hyatt Singapore and the Andaz Singapore.
Starwood
For weddings booked by 31 December 2018, SPG members will earn 2 SPG points for every US$3 spent, up to a maximum of 100,000 SPG points. 1 SPG point is 2.7 US cents, so you're looking at a 1.8% rebate.
This is a really, really disappointing offer. Assuming 25 tables at S$1,700 each, you'd be looking at a paltry ~21,000 SPG points. Given that Starwood's top properties can cost up to 95,000 SPG points a night, this isn't really much of an incentive to book with them.
Starwood Hotels in Singapore include the Westin Singapore, Sheraton Towers, Four Points by Sheraton Riverview, Le Meridien Sentosa, the St Regis Singapore, the W Singapore as well as the Wanderlust, Vagabond and Warehouse Hotel (which I do not believe are equipped for hosting weddings).
Marriott
For weddings booked by 31 December 2018, Marriott Rewards members will earn 3 MR points per US$1 spent, up to a maximum of 100,000 MR points. 1 MR point is 0.9 US cents, so this is a 2.7% rebate. I'm surprised that Marriott's promotion is better than Starwood's, given the two programs are supposed to be aligning their promotions.
Remember also that 3 MR points= 1 SPG point, so a more direct way of comparing the Starwood and Marriott offers is that Starwood gives 2 MR points per US$1, and Marriott gives 3 MR points per US$1.
Despite this, I'm still not sold on the offer. The highest category Marriott will cost 60,000 points a night, which will increase to 85,000 points come 2019. This means you'd need to spend US$20,000 just for one free night, or US$28,333 come 2019. And that's not even taking into account peak pricing, which can increase the cost of a night to 100,000 points from 2019.
Marriott properties in Singapore include the Marriott Tangs Plaza, the JW Marriott South Beach and the Courtyard by Marriott Singapore Novena.
Hilton
Hilton has an entire site dedicated to destination weddings that teases big points earning opportunities…
…but my inquiries with the Conrad Centennial found that Hilton Honors members earn a mere 1.5 points per US$1 spent, up to a maximum of 100,000 points. A Hilton point is worth about 0.6 US cents, so that's a quite sad 0.9% rebate. A night at the Conrad Maldives will set you back 95,000 points, so you'd have to plonk out US$63K just for one free night! It's worth noting however that until the end of April 2018, Hilton was running a promotion which awarded 10 points per US$1, a much more generous 6% rebate. So if you're in the market for points, it may be worth waiting to see if that promotion comes back again.
Hilton properties in Singapore include the Hilton Singapore, the Conrad Centennial Singapore and the Hilton Garden Inn Singapore Serangoon.
IHG
IHG introduced the Business Rewards program back in 2015 which allows IHG members to earn points for event and wedding bookings. Members earn 3 IHG points for every US$1 of spend. 1 IHG point is worth 0.6 cents, so this is about a 1.8% rebate.
In addition to this, it seems that certain IHG properties award bonus points for weddings on an ad-hoc promotional basis. For example, booking the Holiday Inn Singapore Orchard City Centre during its April wedding show would have netted up to 20,000 IHG points. I'm assuming that these bonus points are on top of the base, because if not that's kind of a lousy deal (in that you'd be better off under the 3 points per US$1 if you spent more than US$6,667, not a lot in the context of weddings). For context, IHG's top tier properties cost 70,000 a night, so again you shouldn't be expecting great things.
IHG properties in Singapore include the Crowne Plaza Changi Airport, Intercontinental Bugis, Intercontinental Robertson Quay, Holiday Inn Singapore Orchard City Centre, Hotel Indigo Singapore Katong, Holiday Inn Express Singapore Katong, Holiday Inn Express Singapore Clarke Quay, Holiday Inn Singapore Atrium and the Holiday Inn Express Singapore Orchard Road.
AccorHotels
Disappointingly, none of the Accor brands offered any points for wedding bookings.The Novotel Singapore on Stevens surmised the situation as such- "Unfortunately, as wedding is a social event, it will not be applicable for Accor points".
Accor properties in Singapore include the Grand Mercure Singapore Roxy, Novotel Singapore Clarke Quay, Novotel Singpaore on Stevens, Mercure Singapore Bugis, Mercure Singapore on Stevens, SO Sofitel Singapore, Sofitel Singapore City Centre, Sofitel Singapore Sentosa Resort & Spa, and three ibis hotels, which to my knowledge do not host weddings.
Conclusion
Hotel points are only part of the picture, of course. If a hotel chooses to give you a discount on tables or additional booze in lieu of points, you'd be advised to do the math and figure out whether it's worth it. Moreover, I can imagine that with the ongoing Citibank Rewards- Apple Pay 8 mpd promotion, many couples are badgering their wedding planner to let them know if their hotel takes Apple Pay. Getting 8 mpd on your wedding banquet sure beats whatever hotel points the property could possibly offer.
tl;dr: hotel wedding banquets may be a great source of credit card points, but hotel points won't really be a major hook dangled by the property. If anyone has experienced otherwise, please let me know!