Unless you've been hiding under a rock of some sort, you'll know that Citibank is running quite the promotion right now with Apple Pay, which lets you earn 8 mpd with the Citibank Rewards, Citibank Prestige and Citibank Ultima cards until 31 July 2018. With no cap.
How they're paying for this promotion is a mystery to me, but I believe it was Wordsworth who said "screw that, get me an iPhone". Make hay while the sun shines and all that, and the interweb is positively abuzz with people figuring out how they can front load their spending before 31 July 2018. I've been receiving many questions about this, so I thought I'd come up with an article.
Can I just say one thing before we start? As with all promotions, this should not be an enticement for you to spend money you do not have. Sure, front load some of your  expenditure if you can, but spending money you don't have for the sake of chasing miles is dumb. If you choose to go down the buying gift cards route, remember also the opportunity cost in terms of foregone interest. Do your homework, be smart and come to your own conclusion based on your circumstances.
Clear? Ok, let's go. Many thanks to the good folks in The Milelion's Telegram Group for freely sharing their ideas!
Grocery Vouchers
This is a fairly obvious one. You can buy NTUC vouchers or Dairy Farm vouchers (which can be used at Cold Storage, Giant, Jasons, Guardian and 7-Eleven) with Apple Pay, and gradually use them over the course of a year.
I believe NTUC vouchers are valid for 2 years upon issuance, and you can buy a maximum of $5,000 at one go (nothing stopping you from breaking this up into more transactions of course).
I suspect some people will be buying to liquidate, and on Carousell I see NTUC vouchers going for about a 5% discount. That's still decent-ish for the seller, insofar as it means buying miles at 0.63 cents each. You can expect to see a glut of grocery vouchers hitting  reseller sites very soon, so even if you couldn't care less about miles (go away) you might well be a beneficiary of this externality.
Prepay your Singtel bill
Through the Telegram group, we've learned that there are these newfangled Singtel Kiosks at selected Singtel shops which allow people to pay their bill through credit card. More importantly, Apple Pay is one of the options available. These kiosks have been spotted at Bugis, Jurong Point, Causeway Point and Comm Centre, although I'm sure there must be more out there.
This means you could prepay your Singtel bill for however many months you see fit, and then gradually draw it down. You could even cash out some of it through Singtel Dash (although the maximum top up for Dash is $200 a month).
M1 apparently has similar kiosks and people in the group are in the process of testing if this earns 20X too. Stay tuned. No love for Starhub so far.
Buy Qoo10 gift cards
If you shop often on Qoo10, you can buy Qoo10 gift cards at 7-Eleven and load up your account.
Now, people are reporting different degrees of success with this. Some 7-Elevens insist that gift cards are cash only. Others accept cards including Apple Pay. So YMMV, but thanks to Joanne on the Telegram Group we have some verified evidence of at least one outlet accepting Apple Pay…
Top up your Suica Card for travel to Japan
Those of you who go to Japan regularly will know the Suica card is as good as having cash. You can use it for transport, you can use it to pay for food, you can use it to shop etc.
The Suica card can be topped up via Apple Pay, once it's been added to your wallet. For those of you who plan to head to Japan on a trip in the future, this could be a viable option for you. To use Suica with Apple Pay, you need an iPhone X, iPhone 8, iPhone 8 Plus, or Apple Watch Series 3. You can also use an iPhone 7, iPhone 7 Plus, or Apple Watch Series 2 that was purchased in Japan.
A reminder that this only works for the Rewards card. The Ultima and Prestige will not earn 20X on foreign currency spending.
Top up your Kopitiam card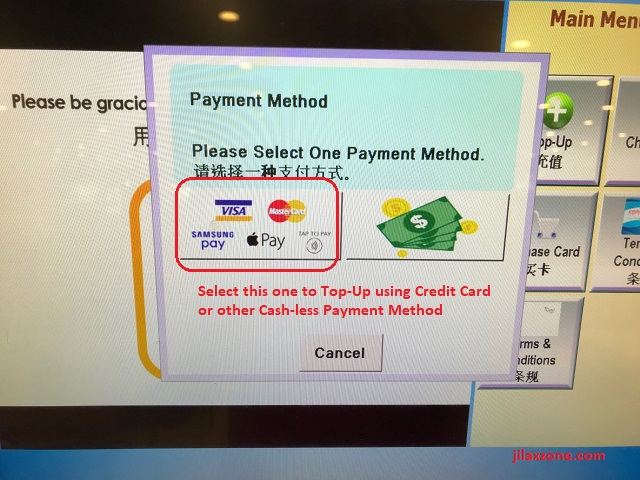 Another way of maximizing your 20X is by loading up your Kopitiam card with Apple Pay for a 2% admin fee. Full instructions can be found in this very helpful article, and it seems the maximum top up you can do at one time is $50. I believe the card is capable of holding more than $50, but the exact amount eludes me.
Do note that despite the image above, it appears that Visa is temporarily not accepted at these top up stations so this method will currently only work for Mastercards (i.e. Citibank Prestige, Citibank Rewards MC)
Buy IKEA Gift cards
If you missed out on the amazing 12 mpd promotion that OCBC ran with its Titanium Rewards card back in March, here's another chance for you to load up on furniture you totally know how to assemble.
IKEA gift cards are valid for 2 years.
Pre-paying tuition fees
I'm not going to be able to give you a play by play of which institutions do and do not support Apple Pay, but we've had reports that The Learning Lab does. It doesn't hurt to check if your child's tuition centre takes card payments, and if so I'm sure they won't mind some additional working capital.
Conclusion: All roads lead to Rome…
If nothing else, this 20X promotion must be doing wonders for the cashflow of major retailers who sell gift vouchers. Remember that if you have any sort of big ticket spending coming up, you should definitely be checking if the merchant accepts contactless payments. Hotel wedding banquets, home renovations (for the furniture component at least), and car repairs are some things that come to mind.
It's going to be hard to go back to "just" 4 mpd after this…
Do you have any other ideas of things you can pre-pay for with Apple Pay? Feel free to shout out below.
[credit_card_shortcode cc_id="21829″]
[credit_card_shortcode cc_id="21824″]