Malaysia Airlines is currently running a status challenge program where it's offering you the chance to attain elite status in the Enrich program by providing proof of status with a competing airline in any alliance.
You have until 31 December 2018 to be matched to an elite tier in Enrich but I recommend doing the challenge earlier rather than later in case it gets pulled early.
Details
If you hold elite status in the following airline frequent flyer programs, you'll be eligible for the status challenge opportunity:
You'll have to submit the status challenge request first via the form on their website. If you're approved for the status challenge by 31 December 2018, you'll have 30-days to complete the requirements set and once you do, your Enrich status would be valid until 31 March 2019.
Here's what you'll need to do to get matched to the respective tiers in Enrich: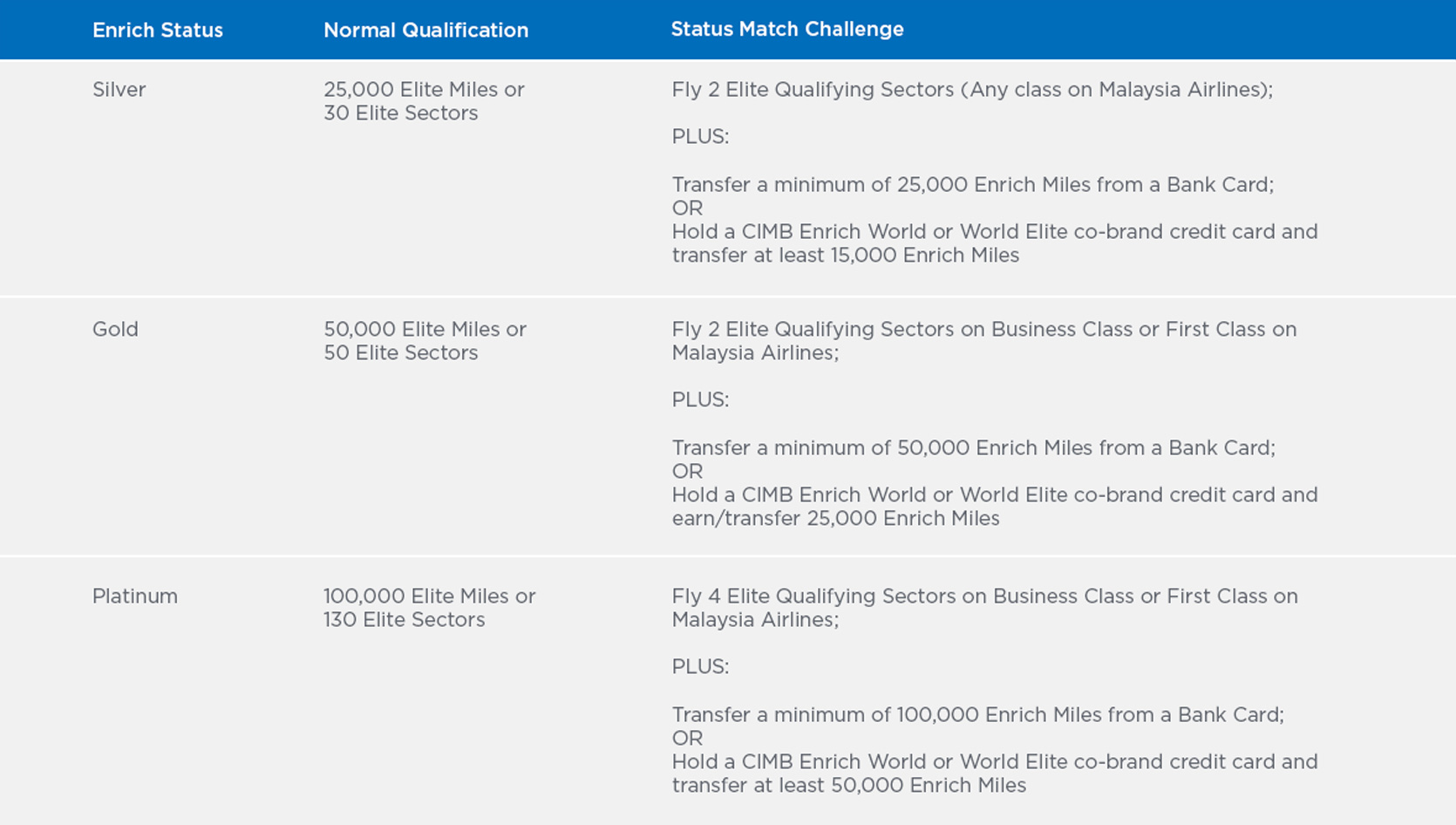 Getting matched to Enrich Silver (oneworld Ruby) is relatively easy with a minimum of two Elite Qualifying Sectors in any class. Return Economy Class fares on Malaysia Airlines to Kuala Lumpur can be quite affordable with fares hovering around S$150 and that will get you the two Elite Qualifying Sectors needed to be matched to Enrich Silver.
For Enrich Gold (oneworld Sapphire) and Enrich Platinum (oneworld Emerald), it's a little different as you'll need to travel on Malaysia Airlines operated Business or First Class flights and clock four Elite Qualifying Sectors.
Again, this is relatively affordable still given the great fares which they're offering with their frequent sales. Even a return Business Class trip on Malaysia Airlines to Penang, Phuket or Bangkok will already get you the 4 Elite Qualifying Sectors needed for the match.
However, there's a catch. You'll have to transfer a certain amount of miles from your bank card into your Enrich account before getting matched. This isn't something that's easy to swallow given the terrible redemption rates Malaysia Airlines has post devaluation of the Enrich program where they made redemption costs tagged to the retail price of the ticket.
To be matched to Enrich Silver, Gold and Platinum you'll have to transfer 25,000 miles, 50,000 miles and 100,000 miles respectively from your bank points to Enrich. Technically, those are the mileage figures which you'll need to attain through flying if you're qualifying for status in Enrich the normal way with butt-in-seat miles.
Malaysia Airlines is currently running a limited time promotion where you'll receive a 10% transfer bonus on converted bank points to Enrich miles. You can find the full terms and conditions of this points conversion promotion here.
In Singapore, only Citibank and American Express cards are transfer partners with Enrich and a minimum transfer block of 10,000 Enrich miles are required per transaction.
Conclusion
With this status challenge opportunity with Malaysia Airlines, the Elite Qualifying Sectors needed are much easier to hit as a return trip to anywhere around the region in Business Class is relatively affordable.
Just bear in mind that when you transfer points over to Enrich, you may or may not get good value from them via a redemption flight given that the cost of awards on Malaysia Airlines fluctuates with the revenue price of the ticket.
However if you're looking for quick oneworld status but don't want to start from scratch and are willing to sacrifice some miles , this would probably be a good option.
[H/T: Gary from VFTW]