Singapore Airlines just restarted the world's longest flight to Newark just last month and it will be resuming non-stop flights to Los Angeles starting from 2 November 2018. There has been rumours of a 5th US destination for Singapore Airlines for quite some time as Singapore Airlines.
Well, that rumour just became reality as Singapore Airlines announced today the launch of non-stop flights to Seattle from 3 September 2019. 
Seattle is SQ's 5th US destination
At the present, Singapore Airlines flies to Los Angeles, San Francisco, Houston, and New York (both JFK and EWR). With Seattle's announcement, Singapore Airlines will be flying to 5 destinations in mainland USA from September 2019.
Singapore Airlines plans to deploy its normal Airbus A350-900 on non-stop flights from Singapore to Seattle since the range of the A350-900 is more than capable to operate the flight. What this means is that the flight will be operated with 3-classes available: Business, Premium Economy and Economy Class.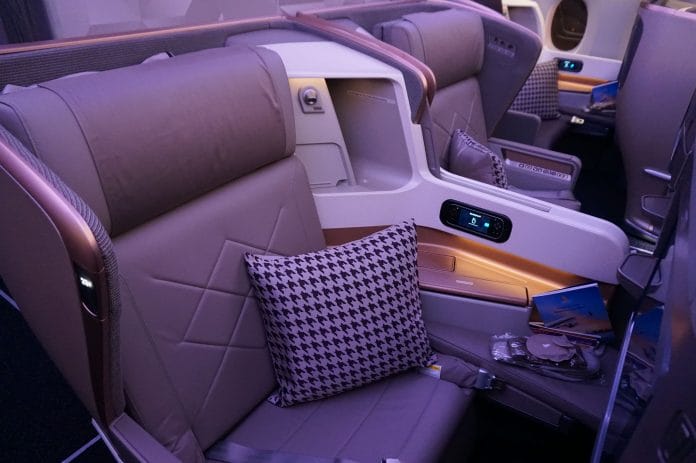 Initially, Singapore – Seattle flights will be operating 3 times a week when flights launch in September 2019. In October 2019, Singapore Airlines will increase the frequency of its non-stop flights to Seattle to 4 times a week.
As per the press release, SQ28 will initially depart Singapore at 0925hrs every Tuesday, Thursday, and Saturday and arrive in Seattle at 0905hrs on the same day. The return sector, operated as SQ27, will depart Seattle at 1040hrs every Tuesday, Thursday, and Saturday and arrive in Singapore the following day at 1730hrs. From October 2019, flight SQ28 and flight SQ27 will operate every Tuesday, Thursday, Saturday, and Sunday.
Why Seattle was picked and what this means for travelers
A year ago, Singapore Airlines announced a partnership with Alaska Airlines which saw SQ flight numbers being placed on Alaska flights. With the introduction of non-stop flights to Seattle, which is the hub of Alaska Airlines, this will allow passengers traveling with Singapore Airlines to enjoy better connectivity to the rest of Alaska's network when flying to North America while reducing the number of stops you have to make.
While Alaska Airlines does offer connections from Los Angeles and San Francisco to various North American cities, connecting through its main hub at Seattle will definitely provide more flight choices to travelers who are heading to the West Coast of the United States and beyond.
Here's Alaska Airlines route network ex-Seattle:
As Seattle is an Alaska hub, your lounge options there are rather limited, especially as a Star Alliance passenger. As of now, there is only a small United Club in Seattle for Star Alliance passengers and United Club lounges are not exactly the best lounges in the world, especially if you compare them to United's latest Polaris offerings. 
I would think that Singapore Airlines might try to negotiate an agreement with Alaska to grant passengers access to the Alaska lounge which is much larger and probably an improvement over the United Club.
Redemption Options
Seattle is located on the West Coast of the United States which falls into Zone 12 of the KrisFlyer award chart. Here's how many miles you will need for a one-way redemption ticket to Seattle:
Using award.flights, there's quite a handful of Business Saver seats available for instant confirmation but only from 19 September 2019 onwards. I did not check for Premium Economy award seats as you really shouldn't be wasting your miles on a PEY redemption.
On the outbound from Singapore to Seattle, there are seats available on the Tuesday and Thursday flights for instant confirmation from 19 September 2019 onwards. The flights on Saturday are not available for instant confirmation in the months of September and October 2019 at the moment.
For those who are intending to take the inaugural flight to Seattle, Saver awards are not available for waitlist which is similar to what SQ did for its inaugural Newark flight but you can waitlist yourself on an Advantage award:
Here are some of the dates in the months of September and October 2019 where instantly confirmable seats are available on the Singapore – Seattle flight:
On the return leg from Seattle to Singapore, the same award space situation also applies where instantly confirmable Business Saver seats are only available from 19 September 2019 onward:
Concluding Thoughts
Seattle has been on Singapore Airlines radar for an eternity and it's great that non-stop flights to Seattle are going to be a reality – although that will only happen close to a year from now. There were some rumours of Singapore Airlines launching non-stop flights to Vancouver as well and I certainly hope that rumour will be coming true as well in the coming months.