In November last year, Citibank started a targeted beta test of a service called PayAll, which allowed customers to earn rewards when paying rental and education expenses with Citibank credit cards.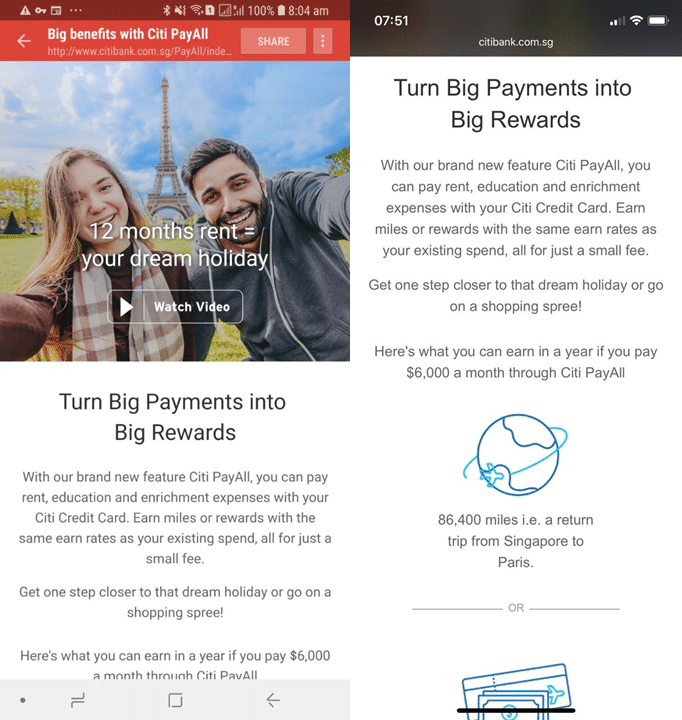 It wasn't a particularly new concept, but what made PayAll different was that the admin fee Citi was charging was way below the competition.
During the beta, the lowest possible admin fee was 1.2%, meaning that if you had a Citi PremierMiles Visa card earning 1.2 miles per dollar, you'd be paying 1 cent per mile. This was flat out one of the lowest costs to buy miles anywhere in Singapore. 
Citi PayAll is now available to all Citi customers for an admin fee of 2%
The first iteration of Citi PayAll was an invitation-only beta, but Citibank rolled out an app update yesterday which made the Citi PayAll feature available to all Citi customers.
When you load the Citi app, you'll see a Payments tab at the bottom of your screen. Tapping on it brings you to the PayAll introduction page.
You'll then have the option to schedule a rent, education, tax, MCST or electricity bill payment.
Enter your payee's details and amount…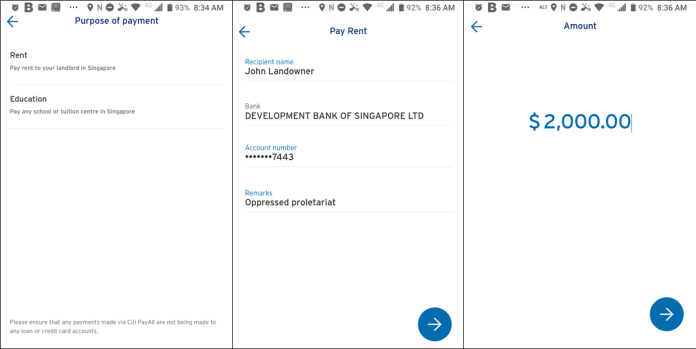 …and then the fun part. Citi shows you in unambiguous terms how many miles or points you will receive for your given payment. I've chosen a $2,000 payment, which earns me
2,600 miles with the Citi PremierMiles AMEX (1.3 mpd)
2,000 points (800 miles) with the Citi Rewards Visa (0.4 mpd)
6,500 points (2,600 miles) with the Citi Prestige (1.3 mpd)
You'll then see the applicable admin fee, which is the same whether you opt for a single payment or monthly payments. I've been charged $40 per month on a base payment of $2,000, so that's a fee of 2%.
A word about admin fees- although the admin fee for the PayAll beta was tiered (1.2-3%, assuming you paid at least $2K), it seems that PayAll now has a fixed 2% admin fee, regardless of what amount you pay.
Buy miles as low as 1.25 cents each, with the right card
How does the card you hold affect the price at which you buy miles through PayAll?
| | |
| --- | --- |
| Card | Cost Per Mile @ 2% |
| Citi Rewards | 5 |
| Citi PremierMiles  | 1.67 |
| Citi Prestige* | 1.54 |
| Citi ULTIMA | 1.25 |
*Does not factor in the end-of-year relationship bonus, which can increase your earn rate to as high as 1.42 mpd
Needless to say, you shouldn't consider using PayAll with a Citi Rewards card. However, the equation becomes much more interesting if you hold any other miles/points earning Citi card. Even at the Citi PremierMiles Visa's relatively "high" 1.67 cpm figure, you're still doing much better than many other options in Singapore as the table below summarizes:
[table id=4 /]
That's awesome, in my opinion, especially given the no-risk approach. Every month we get questions like "does Cardup/ipaymy stilll earn base points with Card X" because everyone's afraid this will be the month the banks pull the plug. Citi is at least promising that you will earn this many points for your payment.
Citi Miles and Thank You points are the most valuable loyalty currency in Singapore
The icing on the cake for me is how valuable Citi Miles and ThankYou Points are. While most banks offer KrisFlyer and at most Asia Miles, Citi gives you a choice of 12 different frequent flyer programs to transfer your points, including useful ones like British Airways Avios and Etihad Guest.
Conclusion
Citi PayAll is no doubt going to shake up the payment facility market in Singapore, and I'm interested to see how the incumbent payment platforms will respond. Once the service expands, it's going to be much easier to acquire miles for less.