Hilton is holding an "Amazing Asia Pacific Sale" from now till 6 September 2019, where selected properties are going for up to 20% off. Stays must be made between 1 June 2019 and 29 February 2020.
Some of the more eye-catching deals include (rates before taxes and service charge)
Hilton Honors members will save a further 5-10% off these rates.
There are more than 200 properties on sale, however, so be sure to check out the full list below. Sales rates are non-refundable and blackout dates apply, so be sure to confirm your plans before booking.
Book Hilton hotels for up to 20% off here
Full payment is required upon booking, so you can use the following cards to earn the most miles
UOB Visa Signature: 4 mpd if in foreign currency, min $1K max $2K per month
UOB Lady's Card: 4 mpd if travel is selected as your 10X category, capped at $1K per month
DBS Woman's World Card: 4 mpd, capped at $2K per month
DBS Altitude Visa/AMEX: 3 mpd, capped at $5K per month
BOC Elite Miles World Mastercard: 3 mpd if in foreign currency
SCB Visa Infinite: 3 mpd if in foreign currency and min spend $2K per month
Use these sales rates to complete your Hilton Gold status challenge (for just $90)
Anyone with a Visa Signature/Infinite card is eligible to participate in a Hilton status fast track offer, which earns you Hilton Gold with just 2 stays/4 nights in a 90 day period. This is way below the usual 20 stay/40 night requirement, and an opportunity to get additional benefits like room upgrades and free breakfast on your future Hilton stays.
You need to register by 31 July 2019 and complete your nights/stays in the 90 days immediately after registration. Only hotels booked through official Hilton channels will qualify. Once successful, your status will be valid for the rest of 2019 and 2020.
The fastest way to complete the challenge is with 2 stays, and since you can't just book two consecutive nights at the same hotel (even if you check in and out), you're going to want to look for properties in close proximity to each other.
If you're willing to go up to KL, then it's difficult to do better than the Hilton Garden Inn Kuala Lumpur Jalan Tuanku Abdul Rahman North and the Hilton Garden Inn Kuala Lumpur Jalan Tuanku Abdul Rahman South.
No, that's not a typo. Look at where they're located.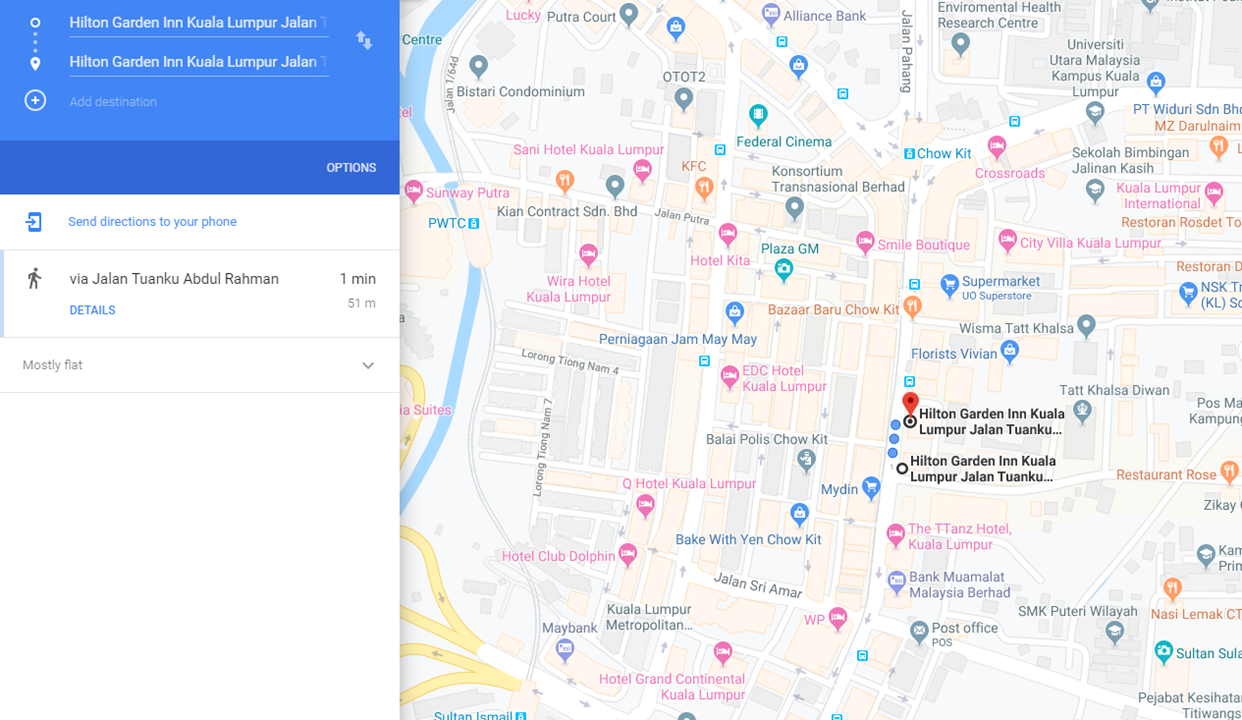 It turns out that these two hotels are run by the same team, but classified as separate properties. This is brilliant, because you can stay one night in the North property and another night in the South to complete your status challenge.
It gets even better. Although the Hilton landing page quotes pre-tax prices of S$42 and S$43 for the North and South properties respectively, if you're a Hilton member the rate drops further to a grand total of MYR270 all-in for two nights, or S$90!
Of course you'll have to think about your positioning costs and all that, but it's hard to argue with Hilton Gold for S$90. Put it another way- getting free breakfast at a Conrad luxury resort for two people each day of your stay will already more than offset the cost.
Conclusion
If for whatever reason you don't have a Visa Signature card, they're a dime a dozen these days. The following cards will all qualify:
Remember to book your Hilton hotels before 6 Sept. Good hunting on the sale!