KrisFlyer Spontaneous Escapes for July 2019 have been announced, with 30% off selected Singapore Airlines and SilkAir flights.
This month's Escapes have come out a bit later than usual, giving you ~12 days to lock in your awards. All Spontaneous Escape awards must be booked and ticketed by 30 June 2019 and are for travel between 1-31 July 2019 (both dates inclusive, blackout dates apply).
Ground Rules of Spontaneous Escapes
Tickets cannot be changed or cancelled. Be sure about your travel plans or buy a travel insurance policy that covers miles bookings

Tickets must be booked online; no phone bookings are permitted

Cannot be used in conjunction with the $100 stopover trick 

Discounts may apply in one direction only e.g. SIN-BKK may be on discount but BKK-SIN may not. Be sure to read the offers carefully 

You must ticket your award during the promotion period. If your waitlist clears after the promotion period ends, you'll pay the regular price

Blackout dates apply. If you're not seeing discounts, this may be why

Your travel must be completed within the Spontaneous Escapes promotion period to qualify. For example, if you fly on the last day of the month but land on the first day of the following month, no discount applies

Remember that the discount will only appear once you've clicked on the selected award
42 destinations on offer for July 2019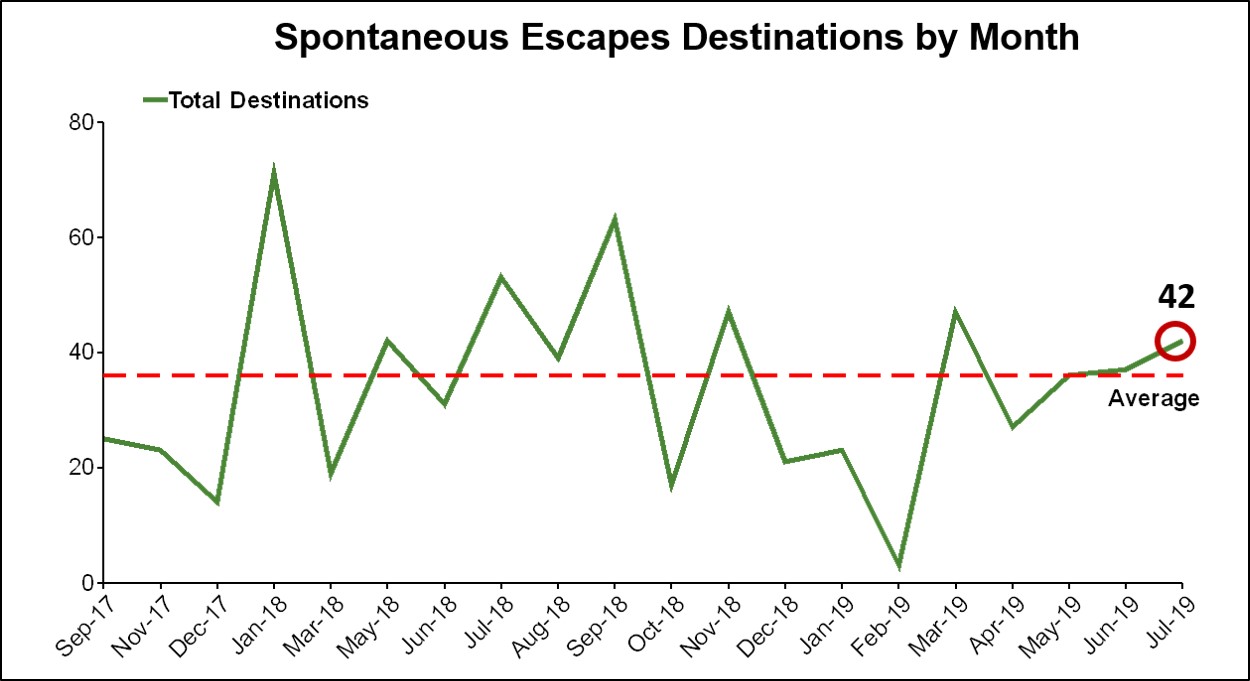 July 2019 features 42 destinations in total (I count Tokyo Haneda and Tokyo Narita as 2 separate destinations), which is slightly above average compared to previous months.
Data nerd? Check out 19 months of historical Spontaneous Escapes pricing
here!
Here's the summary of what's available for SIA and SilkAir in July 2019:
What's good this month?
Business Class awards to Dusseldorf make a return to Spontaneous Escapes after a prolonged absence of one year. That's great because Dusseldorf is a mere 1-2 hour flight away from major cities like London, Paris, Barcelona and Rome. Award space is usually wide open, meaning that you can use it as a springboard to the rest of Europe should awards on direct flights not be available.
SIA flies their A350s to Dusseldorf, which means a very comfortable 2013 Business Class seat. Unfortunately, the discount this month is to Dusseldorf only- on the way back you'll need to pay full price.
If Europe's too far (or too hot) for a vacation in July, most of SQ's Japan destinations are discounted for travel in July, and all (except Hiroshima) are available in Business class, and Tokyo in particular is a great pick at 32.9K miles one-way.
Closer to home, Bangkok is available once more, and you'll get to try the 2018 Regional Business Class on not one, not two but three daily flights (SQ970, SQ978, SQ982). It's an excellent product for such a short flight, as I reviewed recently. I generally don't recommend redeeming miles for short haul premium cabins, but if you want to treat yourself, you could do worse with 15.05K miles one-way.
If you've been eyeing Singapore Airline's latest A380 cabin products, the only destination that has them this month is Shanghai (SQ830/833). 27.3K miles for a 5.5 hour flight may not be the best deal in the world, but when the seat is this good it's hard to argue.
Dubai and Johannesburg are once more on sale- they're already a sweet spot at the regular price of 49K miles for Business Class, and the discounted price of 34.3K miles is just the icing on the cake. That said, I don't think too many would like to brave July weather in Dubai…

I know it's the dead of winter in Australia right now, but temperatures are somewhat milder in Brisbane, and 7.5 hours of Business Class comfort in Singapore Airlines's 2013 Business Class product for 43.4K miles isn't too bad. Do note that the discount only applies from Brisbane to Singapore; you'll pay full price on the outbound leg.
It's not a good idea to use your miles for Premium Economy redemptions, and Spontaneous Escapes don't do anything to change that. You're better off saving up a little bit more for a Business Class Spontaneous Escape, given the big gap in comfort and small gap in miles.
Conclusion
Spontaneous Escapes are a great way of stretching your miles, especially if you're traveling with your family. Remember to ticket your awards before 30 June!
Here's the full list of destinations available (best viewed on desktop):
Singapore Airlines
South East Asia
| FROM | MILES REQUIRED FOR ECONOMY CLASS | FLIGHT NO. | BLACKOUT PERIOD | MILES REQUIRED FOR BUSINESS CLASS | FLIGHT NO. | BLACKOUT PERIOD |
| --- | --- | --- | --- | --- | --- | --- |
| Singapore to Kuala Lumpur | 5,250 | SQ116, SQ118 | – | 13,300 | SQ116, SQ118 | – |
| Kuala Lumpur to Singapore | 5,250 | SQ107 | – | 13,300 | SQ107 | – |
| Singapore to Surabaya | – | – | – | 13,300 | SQ930 | – |
| Surabaya to Singapore | – | – | – | 13,300 | SQ931 | – |
| Singapore to Bangkok | 8,750 | SQ970, SQ976, SQ978, SQ982 | – | 15,050 | SQ970, SQ974, SQ976, SQ978, SQ982 | – |
| Bangkok to Singapore | 8,750 | SQ973, SQ975, SQ981 | – | 15,050 | SQ973, SQ975, SQ981, SQ983 | – |
| Singapore to Manila | 8,750 | SQ916, SQ918 | – | 15,050 | SQ912, SQ916 | – |
| Manila to Singapore | 8,750 | SQ919, SQ921 | – | 15,050 | SQ915, SQ921 | – |
| Singapore to Yangon | 8,750 | SQ998 | – | 15,050 | SQ998 | – |
| Yangon to Singapore | 8,750 | SQ997 | – | 15,050 | SQ997 | – |
North Asia
| FROM | MILES REQUIRED FOR ECONOMY CLASS | FLIGHT NO. | BLACKOUT PERIOD | MILES REQUIRED FOR BUSINESS CLASS | FLIGHT NO. | BLACKOUT PERIOD |
| --- | --- | --- | --- | --- | --- | --- |
| Singapore to Beijing | 14,000 | SQ800, SQ802, SQ806 | 19 – 31 July 2019 | 27,300 | SQ800, SQ802, SQ806 | – |
| Beijing to Singapore | – | – | – | 27,300 | SQ801, SQ805, SQ807 | – |
| Singapore to Shanghai | 14,000 | SQ826, SQ828, SQ830 | – | 27,300 | SQ826, SQ828, SQ830, SQ832, SQ836 | – |
| Shanghai to Singapore | 14,000 | SQ825, SQ827, SQ835 | – | 27,300 | SQ825, SQ827, SQ831, SQ833, SQ835 | – |
| Singapore to Fukuoka | 17,500 | SQ656 | 20 – 30 July 2019 | 32,900 | SQ656 | – |
| Fukuoka to Singapore | 17,500 | SQ655 | 20 – 30 July 2019 | 32,900 | SQ655 | – |
| Singapore to Nagoya | 17,500 | SQ672 | – | 32,900 | SQ672 | – |
| Nagoya to Singapore | 17,500 | SQ671 | – | 32,900 | SQ671 | – |
| Singapore to Osaka | 17,500 | SQ620, SQ622 | – | 32,900 | SQ620, SQ622 | – |
| Osaka to Singapore | 17,500 | SQ621 | – | 32,900 | SQ621, SQ623 | – |
| Singapore to Tokyo | 17,500 | SQ630, SQ634, SQ638 | – | 32,900 | SQ630, SQ638 | – |
| Tokyo to Singapore | 17,500 | SQ639 | – | 32,900 | SQ11, SQ637, SQ639 | – |
| Singapore to Seoul | 17,500 | SQ600, SQ602, SQ608, SQ612 | – | 32,900 | SQ602, SQ608, SQ612 | – |
| Seoul to Singapore | 17,500 | SQ603, SQ609 | – | 32,900 | SQ603, SQ607, SQ611 | – |
South Asia
| FROM | MILES REQUIRED FOR ECONOMY CLASS | FLIGHT NO. | BLACKOUT PERIOD | MILES REQUIRED FOR BUSINESS CLASS | FLIGHT NO. | BLACKOUT PERIOD |
| --- | --- | --- | --- | --- | --- | --- |
| Singapore to Ahmedabad | 12,950 | SQ530 | – | 27,300 | SQ530 | – |
| Ahmedabad to Singapore | 12,950 | SQ531 | – | 27,300 | SQ531 | – |
| Singapore to Bangalore | 12,950 | SQ504 | – | – | – | – |
| Bangalore to Singapore | 12,950 | SQ505 | – | – | – | – |
| Singapore to Dhaka | 12,950 | SQ448 | – | 27,300 | SQ448 | – |
| Dhaka to Singapore | 12,950 | SQ449 | – | 27,300 | SQ449 | – |
| Singapore to Kolkata | 12,950 | SQ516 | – | 27,300 | SQ516 | – |
| Kolkata to Singapore | 12,950 | SQ517 | – | 27,300 | SQ517 | – |
| Singapore to New Delhi | – | – | – | 27,300 | SQ402, SQ406 | – |
| New Delhi to Singapore | – | – | – | 27,300 | SQ401, SQ403 | – |
Middle East
| FROM | MILES REQUIRED FOR ECONOMY CLASS | FLIGHT NO. | BLACKOUT PERIOD | MILES REQUIRED FOR BUSINESS CLASS | FLIGHT NO. | BLACKOUT PERIOD |
| --- | --- | --- | --- | --- | --- | --- |
| Singapore to Dubai | 17,500 | SQ494 | 26 – 31 July 2019 | 34,300 | SQ494 | 26 – 31 July 2019 |
Australia and New Zealand
| FROM | MILES REQUIRED FOR ECONOMY CLASS | FLIGHT NO. | BLACKOUT PERIOD | MILES REQUIRED FOR BUSINESS CLASS | FLIGHT NO. | BLACKOUT PERIOD |
| --- | --- | --- | --- | --- | --- | --- |
| Adelaide to Singapore | 19,600 | SQ278 | 1 – 11 July 2019 | 43,400 | SQ278 | 1 – 9 July 2019 |
| Brisbane to Singapore | 19,600 | SQ256, SQ266 | – | 43,400 | SQ246, SQ256, SQ266 | – |
Africa
| FROM | MILES REQUIRED FOR ECONOMY CLASS | FLIGHT NO. | BLACKOUT PERIOD | MILES REQUIRED FOR BUSINESS CLASS | FLIGHT NO. | BLACKOUT PERIOD |
| --- | --- | --- | --- | --- | --- | --- |
| Singapore to Johannesburg | 17,500 | SQ482 | 1 – 14 July 2019 | 34,300 | SQ482 | – |
| Johannesburg to Singapore | 17,500 | SQ481 | – | 34,300 | SQ481 | – |
Europe
| FROM | MILES REQUIRED FOR ECONOMY CLASS | FLIGHT NO. | BLACKOUT PERIOD | MILES REQUIRED FOR BUSINESS CLASS | FLIGHT NO. | BLACKOUT PERIOD |
| --- | --- | --- | --- | --- | --- | --- |
| Singapore to Frankfurt | 26,600 | SQ326 | 25 – 31 July 2019 | 64,400 | SQ326 | – |
| Singapore to Düsseldorf | – | – | – | 64,400 | SQ338 | – |
Singapore Airlines Premium Economy awards
North Asia
| FROM | MILES REQUIRED FOR PREMIUM ECONOMY CLASS | FLIGHT NO. | BLACKOUT PERIOD |
| --- | --- | --- | --- |
| Singapore to Beijing | 22,400 | SQ800, SQ802, SQ806 | – |
| Beijing to Singapore | 22,400 | SQ801, SQ805, SQ807 | – |
| Singapore to Shanghai | 22,400 | SQ828, SQ830, SQ836 | – |
| Shanghai to Singapore | 22,400 | SQ825, SQ831, SQ833 | – |
| Singapore to Seoul | 24,150 | SQ612 | – |
| Seoul to Singapore | 24,150 | SQ611 | – |
South Asia
| FROM | MILES REQUIRED FOR PREMIUM ECONOMY CLASS | FLIGHT NO. | BLACKOUT PERIOD |
| --- | --- | --- | --- |
| Singapore to New Delhi | 22,400 | SQ406 | – |
| Singapore to Mumbai | 22,400 | SQ422 | – |
Australia and New Zealand
| FROM | MILES REQUIRED FOR PREMIUM ECONOMY CLASS | FLIGHT NO. | BLACKOUT PERIOD |
| --- | --- | --- | --- |
| Brisbane to Singapore | 32,900 | SQ246 | – |
SilkAir
South East Asia
| FROM | MILES REQUIRED FOR ECONOMY CLASS | FLIGHT NO. | BLACKOUT PERIOD |
| --- | --- | --- | --- |
| Singapore to Kuala Lumpur | 5,250 | MI320, MI326, MI328, MI330, MI340, MI342 | – |
| Kuala Lumpur to Singapore | 5,250 | MI319, MI321, MI323, MI325, MI341 | – |
| Medan to Singapore | 5,250 | MI233, MI237 | – |
| Singapore to Penang | 5,250 | MI350, MI352, MI356 | – |
| Penang to Singapore | 5,250 | MI345, MI347, MI349, MI351, MI353, MI355 | – |
| Singapore to Chiangmai | 8,750 | MI702, MI706 | – |
| Chiangmai to Singapore | 8,750 | MI701, MI705 | – |
| Singapore to Phuket | 8,750 | MI750, MI752, MI760 | – |
| Phuket to Singapore | 8,750 | MI749, MI751, MI759 | – |
| Singapore to Yangon | 8,750 | MI518, MI520 | – |
| Yangon to Singapore | 8,750 | MI519, MI521 | – |
North Asia
| FROM | MILES REQUIRED FOR ECONOMY CLASS | FLIGHT NO. | BLACKOUT PERIOD |
| --- | --- | --- | --- |
| Singapore to Chengdu | 10,500 | MI936, MI938 | – |
| Singapore to Chongqing | 10,500 | MI972 | 21 – 31 July 2019 |
| Singapore to Shenzhen | 10,500 | MI962 | – |
| Shenzhen to Singapore | 10,500 | MI969 | – |
| Singapore to Xiamen | 10,500 | MI922 | – |
| Xiamen to Singapore | 10,500 | MI921 | – |
| Singapore to Hiroshima | 17,500 | MI868 | – |
| Hiroshima to Singapore | 17,500 | MI867 | – |
South Asia
| FROM | MILES REQUIRED FOR ECONOMY CLASS | FLIGHT NO. | BLACKOUT PERIOD |
| --- | --- | --- | --- |
| Singapore to Bangalore | 12,950 | MI424 | – |
| Bangalore to Singapore | 12,950 | MI423 | – |
| Singapore to Coimbatore | 12,950 | MI456 | – |
| Coimbatore to Singapore | 12,950 | MI455 | – |
| Singapore to Colombo | 12,950 | MI430 | – |
| Colombo to Singapore | 12,950 | MI429 | – |
| Singapore to Hyderabad | 12,950 | MI472 | – |
| Hyderabad to Singapore | 12,950 | MI471 | – |
| Singapore to Kathmandu | 12,950 | MI412, MI414 | – |
| Singapore to Kochi | 12,950 | MI464, MI468 | – |
| Kochi to Singapore | 12,950 | MI463 | – |
| Singapore to Kolkata | 12,950 | MI488 | – |
| Kolkata to Singapore | 12,950 | MI487 | – |
| Singapore to Visakhapatnam | 12,950 | MI442 | – |
| Visakhapatnam to Singapore | 12,950 | MI441 | – |
Australia
| FROM | MILES REQUIRED FOR ECONOMY CLASS | FLIGHT NO. | BLACKOUT PERIOD |
| --- | --- | --- | --- |
| Darwin to Singapore | 14,000 | MI802, MI804 | – |
| Cairns to Singapore | 19,600 | MI812, MI814 | – |