KrisFlyer Spontaneous Escapes for September 2019 have been announced, with 30% off selected Singapore Airlines and SilkAir flights.

View this month's Spontaneous Escapes here
All Spontaneous Escape awards must be booked and ticketed by 31 August 2019 and are for travel between 1-30 September 2019 (both dates inclusive, blackout dates apply). This gives you 16 days to book, slightly more generous than the historical 14 day average we've seen.
Ground Rules of Spontaneous Escapes
Tickets cannot be changed or cancelled. Be sure about your travel plans or buy a travel insurance policy that covers miles bookings

Tickets must be booked online; no phone bookings are permitted

Cannot be used in conjunction with the $100 stopover trick

Discounts may apply in one direction only e.g. SIN-BKK may be on discount but BKK-SIN may not. Be sure to read the offers carefully

You must ticket your award during the promotion period. If your waitlist clears after the promotion period ends, you'll pay the regular price

Blackout dates apply. If you're not seeing discounts, this may be why

Your travel must be completed within the Spontaneous Escapes promotion period to qualify. For example, if you fly on the last day of the month but land on the first day of the following month, no discount applies
Remember that the discount will only appear once you've clicked on the selected award
47 destinations on offer for September 2019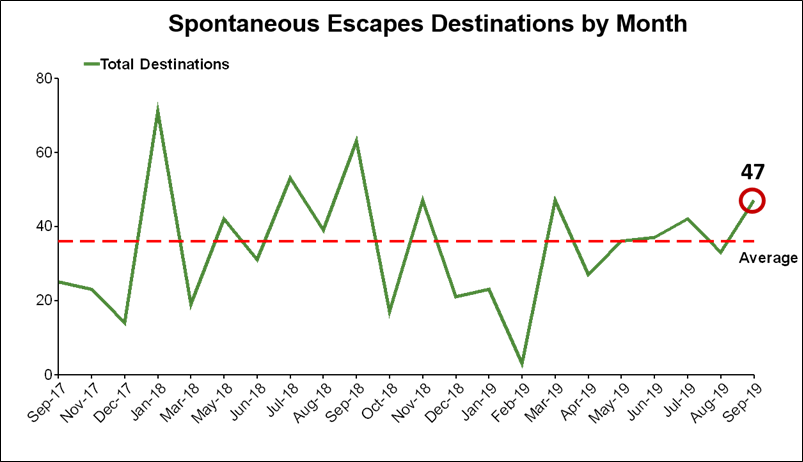 September 2019 features 47 destinations in total (I count Tokyo Haneda and Tokyo Narita as two separate destinations), which is more than compared to previous months.
Data nerd? Check out 21 months of historical Spontaneous Escapes pricing
here!
Here's the summary of what's available for SIA and SilkAir in September 2019:
What's good this month?
After August's relatively slim pickings, it's good to see a relatively larger selection of destinations for September 2019. Here's what caught my eye:
Get the latest A380 Business Class seats to Mumbai
The new A380 cabin products will be serving Mumbai on a daily basis for September, and you'll be able to experience them on SQ424, the outbound flight from Singapore. You can continue to enjoy these seats on Shanghai on SQ830/833. I'm a big fan of the new A380 Business Class seat, and if although these flights are on the short side, it's still a chance to do a double bed in the sky.
Explore all of Japan in Business Class
In August, Hiroshima was only available in Economy Class but for September it's available in Business as well. This means that all of SIA and SilkAir's Japan destinations are available in Business Class for September 2019. Don't expect great things of SilkAir's Business Class, but on a 6.5 hour flight, every little bit of comfort helps.
Oh, Canberra
Canberra has a reputation for being boring, and I can't imagine it features on too many bucket lists (you know how Canberra became the capital of Australia right? They couldn't decide between Melbourne or Sydney, so they decided to plonk it somewhere in between).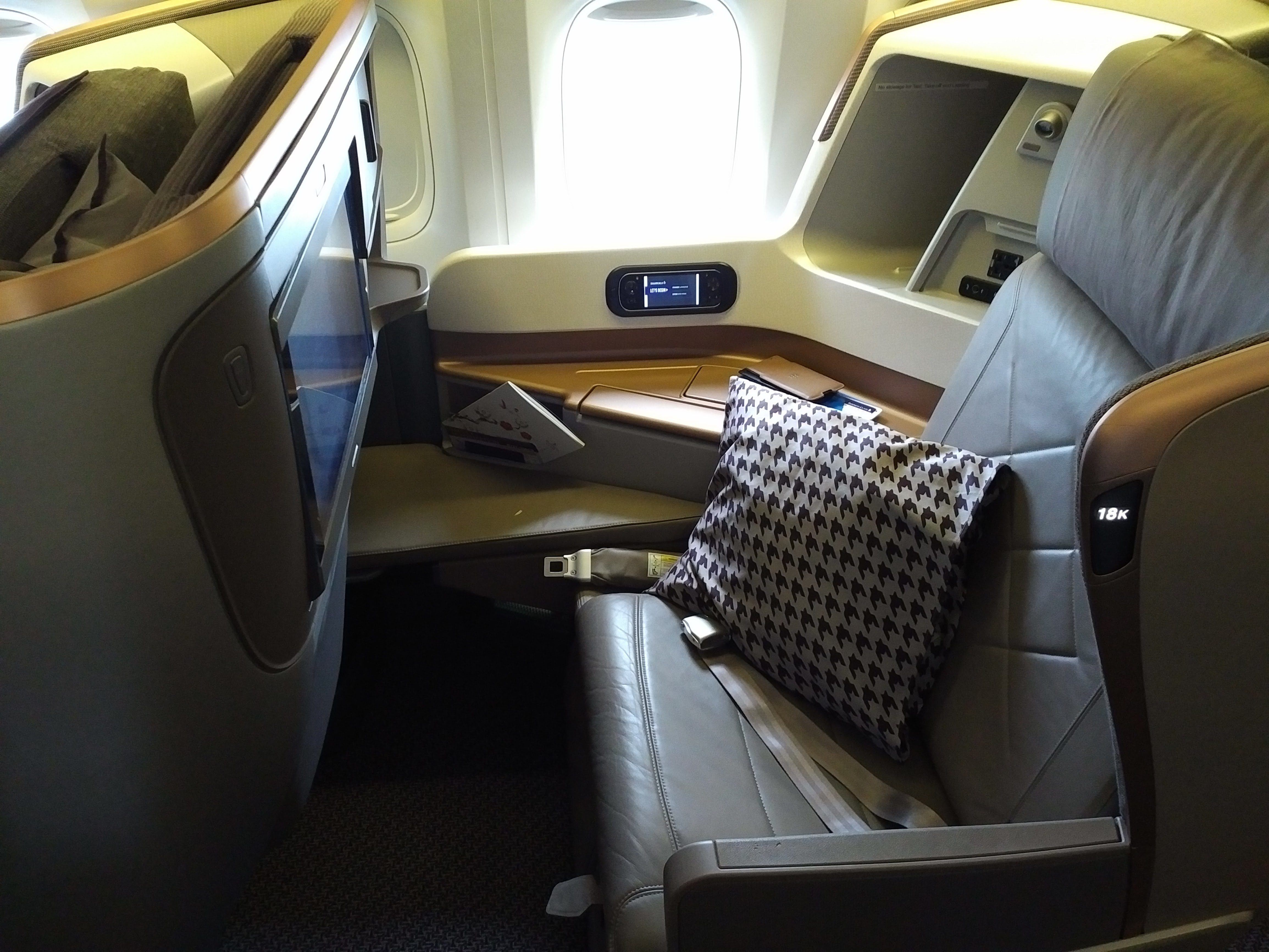 However, given that Brisbane is the only other Australian destination available in Business Class, those who want to fly to Sydney may be thinking of gaming the system by booking SQ288 to Canberra on Spontaneous Escapes.
That's because SQ288 flies SIN-SYD-CBR, and all passengers need to disembark in SYD and clear security again before reboarding for SYD-CBR. What's to stop you from leaving the airport and not continuing?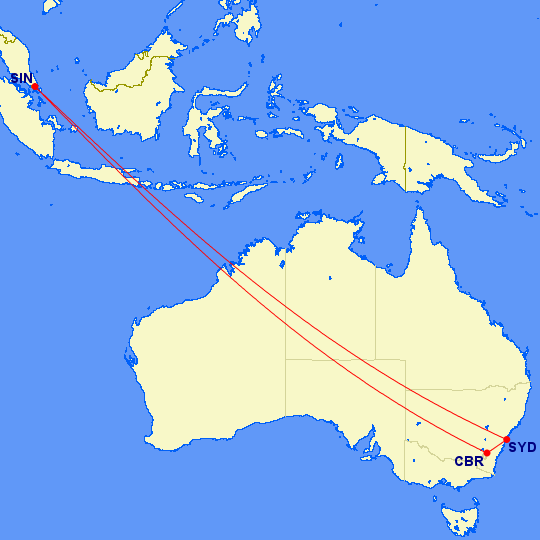 Luggage, for one. If you're checking a bag, you won't be able to tell the ground staff in Singapore "just check it to Sydney please!" Then there's also the fact that this contravenes the contract of carriage of your ticket, and SIA has the right to terminate your account if they find out. I just don't think it's worth the risk, frankly.
If you want to cover the bulk of your journey in Business Class comfort, fly to Brisbane and then buy a cheap flight to your final Australian destination.
Premium Economy doesn't represent good value
There's an extensive list of Premium Economy destinations this month wtih Dubai, Jo'burg, Delhi, Mumbai, Shanghai, Beijing, Seoul, Tokyo, Dusseldorf, Frankfurt and Los Angeles all available for redemption. It's generally not a good idea to redeem miles for Premium Economy Class, and I personally feel that Spontaneous Escapes don't do anything to change that.
However, some would argue that paying a 7K/9K miles premium over Economy Class to fly in Premium Economy to Europe/USA isn't a bad deal. I suppose if you're starting from the position that you'd redeem Economy Class, then yes- it's correct to say that this is a small premium for a small incremental comfort. These long haul flights are no joke, and every little bit helps.
Conclusion
Spontaneous Escapes are a great way of stretching your miles, especially if you're traveling with your family. Remember to ticket your awards before 31 August!
Here's the full list of destinations available (best viewed on desktop):
Singapore Airlines
South East Asia
| FROM | MILES REQUIRED FOR ECONOMY CLASS | FLIGHT NO. | BLACKOUT PERIOD | MILES REQUIRED FOR BUSINESS CLASS | FLIGHT NO. | BLACKOUT PERIOD |
| --- | --- | --- | --- | --- | --- | --- |
| Singapore to Brunei | 5,250 | SQ182 | – | 13,300 | SQ182 | – |
| Brunei to Singapore | 5,250 | SQ181 | – | 13,300 | SQ181 | – |
| Singapore to Kuala Lumpur | 5,250 | SQ116, SQ118 | – | 13,300 | SQ116, SQ118 | – |
| Kuala Lumpur to Singapore | 5,250 | SQ107 | – | 13,300 | SQ107 | – |
| Singapore to Jakarta | 5,250 | SQ950 | – | 13,300 | SQ950 | – |
| Jakarta to Singapore | 5,250 | SQ951 | – | 13,300 | SQ951 | – |
| Singapore to Surabaya | 5,250 | SQ930, SQ932 | – | 13,300 | SQ930, SQ932 | – |
| Surabaya to Singapore | 5,250 | SQ931, SQ933 | – | 13,300 | SQ931, SQ933 | – |
| Singapore to Bangkok | 8,750 | SQ976, SQ978, SQ982 | – | 15,050 | SQ976, SQ978, SQ982 | – |
| Bangkok to Singapore | 8,750 | SQ973, SQ975, SQ981 | – | 15,050 | SQ973, SQ975, SQ981 | – |
| Singapore to Phuket | 8,750 | SQ992 | – | 15,050 | SQ992 | – |
| Phuket to Singapore | 8,750 | SQ993 | – | 15,050 | SQ993 | – |
| Singapore to Ho Chi Minh City | 8,750 | SQ178, SQ184, SQ186 | – | 15,050 | SQ178, SQ184, SQ186 | – |
| Ho Chi Minh City to Singapore | 8,750 | SQ177, SQ183, SQ185 | – | 15,050 | SQ177, SQ183, SQ185 | – |
| Singapore to Hanoi | 8,750 | SQ176, SQ188 | – | 15,050 | SQ176, SQ188 | – |
| Hanoi to Singapore | 8,750 | SQ175, SQ187 | – | 15,050 | SQ175, SQ187 | – |
| Singapore to Manila | 8,750 | SQ916, SQ918 | 1 – 3 September 2019 | 15,050 | SQ916, SQ918 | 1 – 3 September 2019 |
| Manila to Singapore | 8,750 | SQ915, SQ921 | 1 – 3 September 2019 | 15,050 | SQ915, SQ921 | 1 – 3 September 2019 |
| Singapore to Yangon | 8,750 | SQ998 | 9 September 2019 | 15,050 | SQ998 | – |
| Yangon to Singapore | 8,750 | SQ997 | 9 September 2019 | 15,050 | SQ997 | – |
North Asia
| FROM | MILES REQUIRED FOR ECONOMY CLASS | FLIGHT NO. | BLACKOUT PERIOD | MILES REQUIRED FOR BUSINESS CLASS | FLIGHT NO. | BLACKOUT PERIOD |
| --- | --- | --- | --- | --- | --- | --- |
| Singapore to Beijing | 14,000 | SQ800, SQ802, SQ806 | 1 – 17 September 2019 | 27,300 | SQ800, SQ802, SQ806 | – |
| Beijing to Singapore | 14,000 | SQ801, SQ805, SQ807 | 21 – 30 September 2019 | 27,300 | SQ801, SQ805, SQ807 | 26 – 30 September 2019 |
| Singapore to Shanghai | 14,000 | SQ826, SQ828, SQ830, SQ832, SQ836 | – | 27,300 | SQ826, SQ828, SQ830, SQ832, SQ836 | – |
| Shanghai to Singapore | 14,000 | SQ825, SQ827, SQ833, SQ835 | 25 – 30 September 2019 | 27,300 | SQ825, SQ827, SQ831, SQ833, SQ835 | 25 – 30 September 2019 |
| Singapore to Fukuoka | 17,500 | SQ656 | – | 32,900 | SQ656 | – |
| Fukuoka to Singapore | 17,500 | SQ655 | – | 32,900 | SQ655 | – |
| Singapore to Nagoya | 17,500 | SQ672 | 15 – 18 September 2019 | 32,900 | SQ672 | 15 – 18, 23 – 24 September 2019 |
| Nagoya to Singapore | 17,500 | SQ671 | – | 32,900 | SQ671 | 12 – 14, 19 – 21 September 2019 |
| Singapore to Osaka | 17,500 | SQ620, SQ622 | – | 32,900 | SQ620, SQ622 | – |
| Osaka to Singapore | 17,500 | SQ619, SQ621, SQ623 | – | 32,900 | SQ621, SQ623 | – |
| Singapore to Tokyo | 17,500 | SQ12, SQ630, SQ634, SQ638 | – | 32,900 | SQ630, SQ638 | – |
| Tokyo to Singapore | 17,500 | SQ11, SQ633, SQ635, SQ637, SQ639 | – | 32,900 | SQ11, SQ637, SQ639 | – |
| Singapore to Seoul | 17,500 | SQ600, SQ602, SQ612 | 14 – 17 September 2019 | 32,900 | SQ602, SQ608, SQ612 | – |
| Seoul to Singapore | 17,500 | SQ603, SQ607, SQ609 | 11 – 12 September 2019 | 32,900 | SQ603, SQ607, SQ611 | – |
South Asia
| FROM | MILES REQUIRED FOR ECONOMY CLASS | FLIGHT NO. | BLACKOUT PERIOD | MILES REQUIRED FOR BUSINESS CLASS | FLIGHT NO. | BLACKOUT PERIOD |
| --- | --- | --- | --- | --- | --- | --- |
| Singapore to Ahmedabad | 12,950 | SQ530 | – | 27,300 | SQ530 | – |
| Ahmedabad to Singapore | 12,950 | SQ531 | – | 27,300 | SQ531 | – |
| Singapore to Bangalore | 12,950 | SQ504 | – | 27,300 | SQ504 | – |
| Bangalore to Singapore | 12,950 | SQ505 | – | 27,300 | SQ505 | – |
| Singapore to Dhaka | 12,950 | SQ448 | – | 27,300 | SQ446, SQ448 | – |
| Dhaka to Singapore | 12,950 | SQ449 | – | 27,300 | SQ447, SQ449 | – |
| Singapore to Kolkata | 12,950 | SQ516 | – | 27,300 | SQ516 | – |
| Kolkata to Singapore | 12,950 | SQ517 | – | 27,300 | SQ517 | – |
| Singapore to Mumbai | 12,950 | SQ424, SQ426 | – | 27,300 | SQ424, SQ426 | – |
| Mumbai to Singapore | 12,950 | SQ425 | – | 27,300 | SQ425 | – |
| Singapore to Malé | 12,950 | SQ452 | – | – | – | – |
| Malé to Singapore | 12,950 | SQ451 | – | – | – | – |
| Singapore to New Delhi | – | – | – | 27,300 | SQ406 | – |
| New Delhi to Singapore | – | – | – | 27,300 | SQ403 | – |
Australia and New Zealand
| FROM | MILES REQUIRED FOR ECONOMY CLASS | FLIGHT NO. | BLACKOUT PERIOD | MILES REQUIRED FOR BUSINESS CLASS | FLIGHT NO. | BLACKOUT PERIOD |
| --- | --- | --- | --- | --- | --- | --- |
| Adelaide to Singapore | 19,600 | SQ278 | 13 – 30 September 2019 | – | – | – |
| Singapore to Brisbane | 19,600 | SQ245, SQ255, SQ265 | 25 – 30 September 2019 | 43,400 | SQ255, SQ265 | 25 – 30 September 2019 |
| Brisbane to Singapore | 19,600 | SQ246, SQ256, SQ266 | 13 – 30 September 2019 | 43,400 | SQ256, SQ266 | – |
| Singapore to Canberra | – | – | – | 43,400 | SQ288 | 22 – 30 September 2019 |
| Canberra to Singapore | – | – | – | 43,400 | SQ288 | – |
| Singapore to Christchurch | – | – | – | 43,400 | SQ297 | – |
| Christchurch to Singapore | – | – | – | 43,400 | SQ298 | – |
Middle East
| FROM | MILES REQUIRED FOR ECONOMY CLASS | FLIGHT NO. | BLACKOUT PERIOD | MILES REQUIRED FOR BUSINESS CLASS | FLIGHT NO. | BLACKOUT PERIOD |
| --- | --- | --- | --- | --- | --- | --- |
| Singapore to Dubai | 17,500 | SQ494 | 1 – 3 September 2019 | – | – | – |
| Dubai to Singapore | 17,500 | SQ495 | 1 – 3 September 2019 | – | – | – |
Africa
| FROM | MILES REQUIRED FOR ECONOMY CLASS | FLIGHT NO. | BLACKOUT PERIOD | MILES REQUIRED FOR BUSINESS CLASS | FLIGHT NO. | BLACKOUT PERIOD |
| --- | --- | --- | --- | --- | --- | --- |
| Singapore to Johannesburg | 17,500 | SQ482 | 20-30 September 2019 | 34,300 | SQ482 | 20-30 September 2019 |
SilkAir
South East Asia
| FROM | MILES REQUIRED FOR ECONOMY CLASS | FLIGHT NO. | BLACKOUT PERIOD | MILES REQUIRED FOR BUSINESS CLASS | FLIGHT NO. | BLACKOUT PERIOD |
| --- | --- | --- | --- | --- | --- | --- |
| Singapore to Kuala Lumpur | 5,250 | MI320, MI326, MI328, MI330, MI342 | – | – | – | – |
| Kuala Lumpur to Singapore | 5,250 | MI319, MI321, MI323, MI325, MI341 | – | – | – | – |
| Singapore to Penang | 5,250 | MI350, MI352, MI354, MI356 | – | – | – | – |
| Penang to Singapore | 5,250 | MI345, MI353, MI355 | – | – | – | – |
| Singapore to Surabaya | 5,250 | MI224,MI226 | – | – | – | – |
| Surabaya to Singapore | 5,250 | MI223, MI225 | – | – | – | – |
| Singapore to Da Nang | 8,750 | MI632, MI640 | – | – | – | – |
| Da Nang to Singapore | 8,750 | MI631, MI639 | – | – | – | – |
| Singapore to Hanoi | 8,750 | MI654 | – | – | – | – |
| Hanoi to Singapore | 8,750 | MI653 | – | – | – | – |
| Singapore to Phuket | 8,750 | MI750, MI756, MI758 | – | – | – | – |
| Phuket to Singapore | 8,750 | MI749, MI755, MI757 | – | – | – | – |
| Singapore to Yangon | 8,750 | MI518, MI520 | – | 15,050 | MI518, MI520 | – |
| Yangon to Singapore | 8,750 | MI519, MI521 | – | 15,050 | MI519, MI521 | – |
North Asia
| FROM | MILES REQUIRED FOR ECONOMY CLASS | FLIGHT NO. | BLACKOUT PERIOD | MILES REQUIRED FOR BUSINESS CLASS | FLIGHT NO. | BLACKOUT PERIOD |
| --- | --- | --- | --- | --- | --- | --- |
| Singapore to Chengdu | 10,500 | MI936, MI938 | – | – | – | – |
| Chengdu to Singapore | 10,500 | MI935, MI937 | 26 – 30 September 2019 | – | – | – |
| Singapore to Chongqing | 10,500 | MI972, MI980 | – | – | – | – |
| Singapore to Shenzhen | 10,500 | MI962, MI966, MI968 | – | – | – | – |
| Shenzhen to Singapore | 10,500 | MI961, MI965, MI969 | – | – | – | – |
| Singapore to Xiamen | 10,500 | MI922 | – | – | – | – |
| Xiamen to Singapore | 10,500 | MI921 | 26 – 30 September 2019 | – | – | – |
| Singapore to Hiroshima | 17,500 | MI868 | – | 32,900 | MI868 | – |
| Hiroshima to Singapore | 17,500 | MI867 | – | 32,900 | MI867 | – |
South Asia
| FROM | MILES REQUIRED FOR ECONOMY CLASS | FLIGHT NO. | BLACKOUT PERIOD | MILES REQUIRED FOR BUSINESS CLASS | FLIGHT NO. | BLACKOUT PERIOD |
| --- | --- | --- | --- | --- | --- | --- |
| Singapore to Coimbatore | 12,950 | MI456 | – | – | – | – |
| Coimbatore to Singapore | 12,950 | MI455 | – | – | – | – |
| Singapore to Colombo | 12,950 | MI430 | – | – | – | – |
| Singapore to Hyderabad | 12,950 | MI472, MI474 | – | – | – | – |
| Hyderabad to Singapore | 12,950 | MI471, MI473 | – | – | – | – |
| Singapore to Kolkata | 12,950 | MI488 | – | – | – | – |
| Kolkata to Singapore | 12,950 | MI487 | – | – | – | – |
| Malé to Singapore | 12,950 | MI481, MI483 | – | – | – | – |
| Singapore to Visakhapatnam | 12,950 | MI442 | – | – | – | – |
| Visakhapatnam to Singapore | 12,950 | MI441 | – | – | – | – |
Australia
| FROM | MILES REQUIRED FOR ECONOMY CLASS | FLIGHT NO. | BLACKOUT PERIOD | MILES REQUIRED FOR BUSINESS CLASS | FLIGHT NO. | BLACKOUT PERIOD |
| --- | --- | --- | --- | --- | --- | --- |
| Singapore to Darwin | 14,000 | MI801, MI803 | – | – | – | – |
| Darwin to Singapore | 14,000 | MI802, MI804 | – | – | – | – |
| Singapore to Cairns | 19,600 | MI811, MI813 | – | – | – | – |
| Cairns to Singapore | 19,600 | MI812, MI814 | – | – | – | – |
Singapore Airlines Premium Economy awards
North Asia
| FROM | MILES REQUIRED FOR PREMIUM ECONOMY CLASS | FLIGHT NO. | BLACKOUT PERIOD |
| --- | --- | --- | --- |
| Singapore to Beijing | 22,400 | SQ800, SQ802, SQ806 | – |
| Beijing to Singapore | 22,400 | SQ801, SQ805, SQ807 | 26 – 30 September 2019 |
| Singapore to Shanghai | 22,400 | SQ828, SQ830, SQ836 | – |
| Shanghai to Singapore | 22,400 | SQ825, SQ831, SQ833 | 26 – 30 September 2019 |
| Singapore to Seoul | 24,150 | SQ612 | – |
| Seoul to Singapore | 24,150 | SQ611 | – |
| Singapore to Tokyo | 24,150 | SQ630, SQ12, SQ634, SQ638 | – |
| Tokyo to Singapore | 24,150 | SQ11, SQ635, SQ637, SQ639 | – |
South Asia
| FROM | MILES REQUIRED FOR PREMIUM ECONOMY CLASS | FLIGHT NO. | BLACKOUT PERIOD |
| --- | --- | --- | --- |
| Singapore to Mumbai | 22,400 | SQ424, SQ426 | – |
| Mumbai to Singapore | 22,400 | SQ421, SQ423 | – |
| Singapore to New Delhi | 22,400 | SQ406 | – |
| New Delhi to Singapore | 22,400 | SQ403 | – |
Middle East
| FROM | MILES REQUIRED FOR PREMIUM ECONOMY CLASS | FLIGHT NO. | BLACKOUT PERIOD |
| --- | --- | --- | --- |
| Singapore to Dubai | 25,900 | SQ494 | 1 – 3 September 2019 |
| Dubai to Singapore | 25,900 | SQ495 | 1 – 3 September 2019 |
Africa
| FROM | MILES REQUIRED FOR PREMIUM ECONOMY CLASS | FLIGHT NO. | BLACKOUT PERIOD |
| --- | --- | --- | --- |
| Singapore to Johannesburg | 25,900 | SQ482 | 20 – 30 September 2019 |
Europe
| FROM | MILES REQUIRED FOR PREMIUM ECONOMY CLASS | FLIGHT NO. | BLACKOUT PERIOD |
| --- | --- | --- | --- |
| Singapore to Düsseldorf | 45,150 | SQ338 | – |
| Düsseldorf to Singapore | 45,150 | SQ337 | – |
| Singapore to Frankfurt | 45,150 | SQ326 | – |
North America
| FROM | MILES REQUIRED FOR PREMIUM ECONOMY CLASS | FLIGHT NO. | BLACKOUT PERIOD |
| --- | --- | --- | --- |
| Singapore to Los Angeles | 47,600 | SQ36 | – |
| Los Angeles to Singapore | 47,600 | SQ35 | – |