Introduction: Finding my Seoul-mate
Review: Cathay Pacific Lounge Singapore Changi Airport Terminal 4
Review: Cathay Pacific Business Class B777-300ER Singapore – Hong Kong
Mini-Review: Cathay Pacific Business Class A330-300 Hong Kong – Seoul Incheon
Review: ibis Styles Ambassador Seoul Myeongdong
Review: Conrad Seoul
Review: Millennium Seoul Hilton
Review: Asiana Airlines Lounge Seoul Gimpo Airport
Review: ANA Regional Business Class B787-8 Seoul Gimpo – Tokyo Haneda
Review: Hilton Tokyo
Review: United Club Tokyo Narita Airport
Review: ANA Lounge Tokyo Narita Airport
Review: EVA Air Business Class A321 Tokyo Narita – Taipei Taoyuan
---
I was actually in Seoul for a whole month for a school program and I figured back in June, way before my arrival in Seoul that I would be sick of my tiny hostel room after two weeks (plus I needed content for the site). I was staying in a goshiwon and although it was very convenient and cozy (read: walking only 2 steps to pee in the middle of the night), I had the urge to spoil myself with a night in central Seoul.
Having not enough points to redeem a night at the Hiltons in Seoul, I realized that I had a tiny stash of Accor points which I have obtained from transferring my Qmiles from my Qatar Airways account which was enough to offset EUR40 for a stay at an Accor property.
In central-ish Seoul, there are 7 Accor properties dotted all around the city. The ibis Ambassador Myeongdong didn't appeal to me much as I have stayed with them previously in Krakow and viewed them as a rather budget option. I have always been wanting to see what the ibis Styles can offer and thus I decided on the Ibis Styles Ambassador Myeongdong for a random weeknight.
The Ibis Styles Ambassador Myeongdong belongs to both the Accor group as well as the Ambassador group of hotels in Korea. If you wish to read more about that, you can do so here. Tl;Dr they have an agreement with the Accor group to bring in Accor brands to Korea.
Located just 5-minutes from Myeongdong (less than that actually), I actually liked how close it was to the heart of the shopping district but yet it was not right smack in the centre of the crowds. It was also a nice 15-minutes stroll to the Euljiro-1-ga station which is on Line 2.
One thing to note if you are coming to Seoul is that the subway exits are mainly stairs and lift access is shall we say, terrible. If you're traveling with luggage, I urge you to be prepared to lug them up a long flight of stairs everywhere you go.
Oh, one good thing about this hotel is that there is a 24-hours emart (no, not that emart) beside it. Unlike in Singapore, snacks sold in convenience stores are actually affordable.
I arrived slightly after 3 pm and was checked-in quickly. The rate that I had booked was their summer special rate which included a lucky draw where you could win dining vouchers at the hotel. I won a 10,000 KRW F&B voucher which I did not use.
Access to guestrooms is only by key card access which is always a good thing. I have seen 5-star hotels not having key card access to guestrooms in recent times so kudos to the management. As you can see below, the gym and sauna are located on the 20th floor while the hotel's restaurant is on the 21st floor.
The room I had booked was the lead-in Standard Room with a Double Bed. I was assigned a room on the 12th floor which provided decent views of the surrounding area.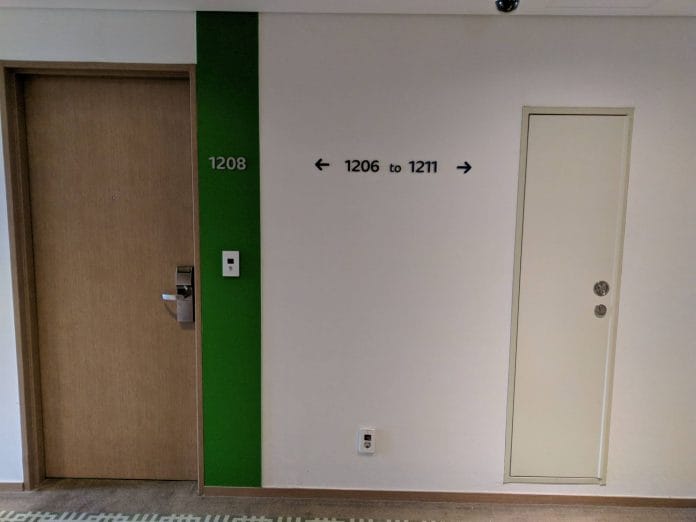 Entering the room, there was a separate room for the toilet and shower which I thought was interesting. The air-conditioning panel was also located right next to the entrance.
Before I move on to the rest of the room, let me just share with you how excited I was to see a remote-controlled bidet. This piece of modern technology should be everywhere. Let's just say…I had fun with the dryer.
Moving on to the rest of the room, it was actually of a good size for a centrally located Seoul hotel and it definitely has enough room for a couple with luggage.
A small work desk/coffee table was located beside the windows and had a nice view of the streets below. Instant coffee and tea along with a kettle was placed on the table as well. While no Herman Miller, the chair was quite comfortable to sit on although it was never meant to be a "work chair".
An open closet (?) and mini-bar fridge with two bottles of complimentary water is located beside the windows along with a luggage holder (?). For the first time ever, a fire extinguisher was present in the room.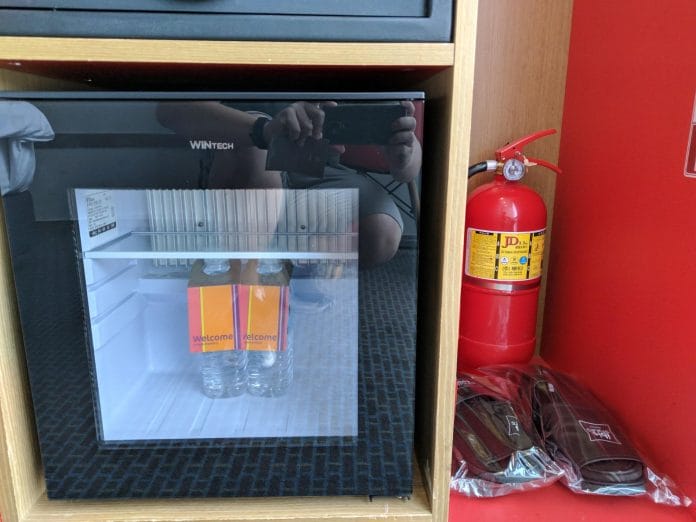 The bedroom slippers which was provided by the hotel was actually made of PVC and not your usual flimsy cloth. I didn't mind being barefooted in these and they were actually quite comfortable. (yes i took them home)
The bedside table had the hotel telephone, as well as various USB cables for charging your devices. This is something you rarely see in 5-star hotels and I was really, really impressed by this.
The bed itself was very comfortable (or maybe it was me being biased after sleeping on the hard hostel bed) and I had a nice sleep that night. Sadly there was a tear on the bed sheets but other than that, the sheets were quite clean (to the naked eye).
The in-room television was of decent quality and there was a good selection of local and international channels available. Images were crisp as well which is something that you don't see sometimes at expensive hotels.
One thing to note was that the walls of the room are rather thin but the windows were quite soundproofed. So if you had a crazy neighbour who was shouting in the morning for some reason…good luck. It wasn't that loud but loud enough for me to notice.
The walk-in shower was of a decent size and the water pressure was good but not fantastic. Body wash was provided in pump bottles while the shampoo was provided in a small bottle. The shampoo smelled great but the body wash felt super cheap. The sink was located in the same compartment as the shower.
The rain shower wasn't really strong so I ended up using the handheld shower instead which gave a much better pressure (duh).
The shampoo was supposedly of a random Italian brand.
Other amenities
The hotel's gym, as mentioned earlier, is located on the 20th floor and it was a tiny gym with not much equipment. If you're a cardio fan then you'll be pretty much pleased that it has two treadmills. Woo. A sauna is also available beside the gym.
The hotel's restaurant was on the 21st floor and it had an outdoor seating area which gave great views of Namsan Tower and the surrounding area. It was even more beautiful at night. It was drizzling slightly that day and thus I couldn't enjoy the views from the top for long in the day.
One thing I particularly liked about this hotel was that there was a free laundry facility located in the basement. Thus, if you're staying in Seoul for an extended period of time, you are able to do your laundry in the hotel itself.
Washing powder is provided but you can always BYO. The laundry room wasn't actually made known to me by the front desk and I had stumbled across it while looking at the floor directory.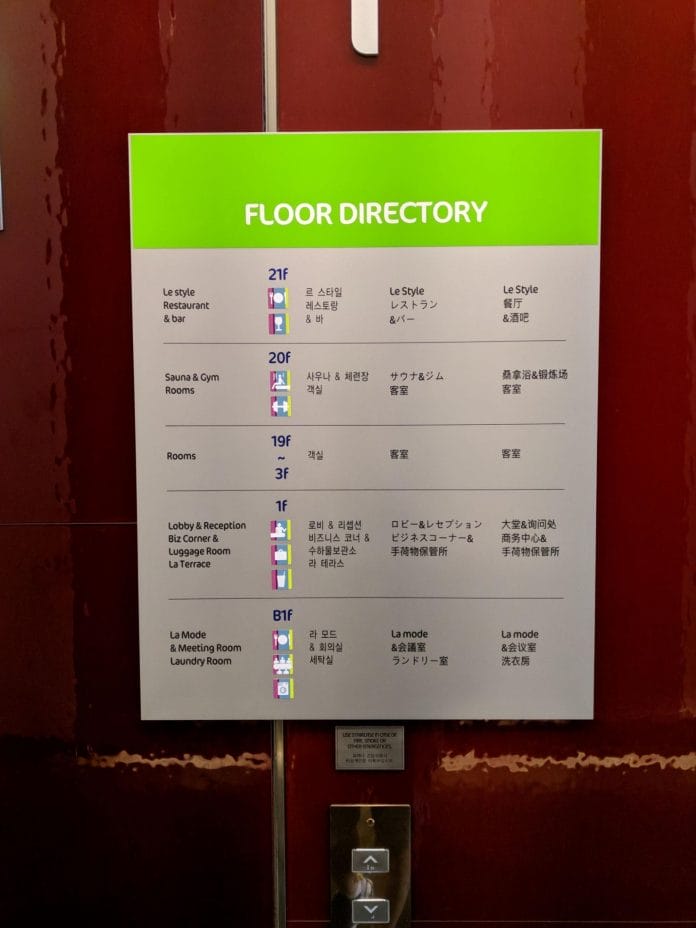 Breakfast
Breakfast was served at the hotel's restaurant on level 21 and the spread was fairly basic. It didn't exceed my expectations yet it wasn't underwhelming at the same time. It was just, acceptable. Coffee and tea were available via a coffee machine and the machine actually made a decent cappuccino.
Oh, and there was a machine where you could make your own waffle croissants. How cool is that?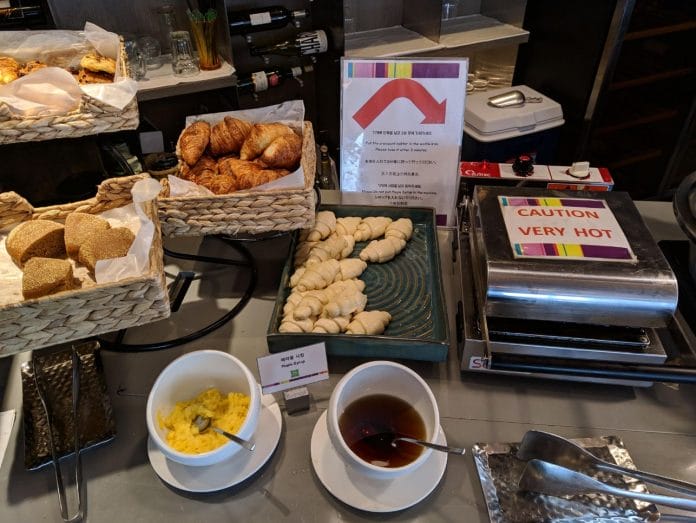 There was a decent selection of hot food available and a weirdly named "halal tomato chicken". Bacon was mixed with broccoli and cauliflower which is honestly a crime. Okay then…
A small selection of salads, cheeses and fruits were also available.
I assembled a not-so-small plate of food and went back to my room to study for a mid-term exam. No, I'm not kidding.
Concluding Thoughts
The ibis Styles Ambassador Myeongdong really exceeded my expectations of what an ibis Styles branded hotel is supposed to be like. Located within a 5-minutes walk from the subway and Myeongdong, this really is a decent "budget" option if you're looking for a hotel in central Seoul. Plus the availability of the free laundry facilities sweetens the deal for travelers who are having a longer stay at the hotel.
But of course, this stay pales in comparison to what's coming next…stay tuned!