Knowing how to earn miles quickly on your credit cards is one thing, but knowing how to spend them wisely is another matter altogether.
What frequent flyer program should you join? What can (and should) you spend your miles on? If you're looking to use KrisFlyer, how does this year's devaluation affect your strategy for making the most of your hard earned miles?
That's what we seek to tackle in Frequent Flyer Programs Demystified, where you'll learn the fundamentals on the ins and outs of airline loyalty programs (with a particular focus on KrisFlyer).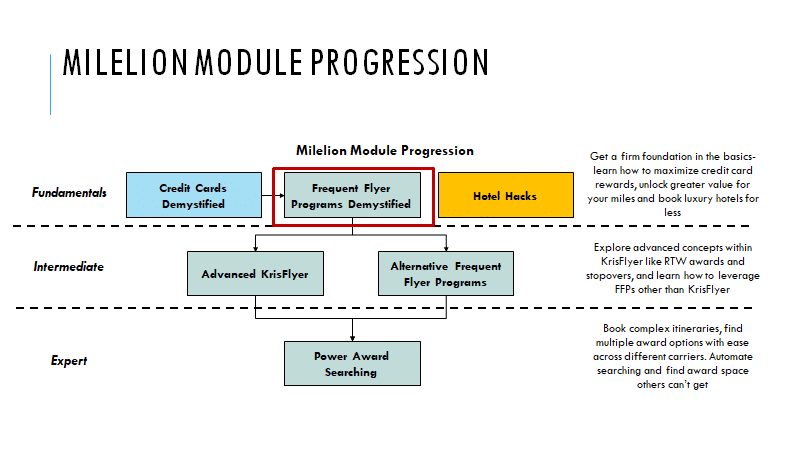 Tickets for this session are now available:
Date: Saturday, 12 October 2019
Time: 2.00 pm – 4.30 pm
Venue: PIAS, 261 Waterloo Street, #02-27, Singapore 180261
Get your tickets for Frequent Flyer Programs Demystified here
Want to attend this workshop but can't make it this time round? Express interest in a future session here and get notified when it goes live.
Early bird tickets are available until 2359 on Thursday 3 October 2019.
Venue sponsor: PIAS
PIAS is the venue sponsor and will do a brief presentation before we begin.

Established in 2001 and licensed by the Monetary Authority of Singapore, Professional Investment Advisory Services Pte Ltd ("PIAS") is a multi-award winning financial advisory firm in Singapore. PIAS offers a diversified suite of financial services and solutions with a personalised approach.
PIAS has one of the largest, most respected and fastest growing network of advisers in Singapore. PIAS' professional advisers provide sound and comprehensive financial advice at both individual and corporate levels.
PIAS is an affiliate of Aviva group of companies. Recommendations provided to our clients may include insurance or investment products from the Aviva Group.
Course Outline: Frequent Flyer Programs Demystified
During this course, we'll cover the following topics:
Learning the fundamentals of frequent flyer programs and airline alliances
Deciding which frequent flyer program makes sense for you
Discovering the benefits of elite membership and how to earn it faster
Taking a deep dive into KrisFlyer and learn what you can (and should) redeem your miles for
Learning how to improve your flying experience by redeeming your miles for the right cabin products
Learning about non-flight redemption options for your miles
Understanding how to improve your chances of getting award seats
The course assumes very little prior knowledge, and is suitable for miles and points enthusiasts of all levels.
---
Found this post useful? Subscribe to our Telegram Channel to get these posts pushed directly to your phone, or our newsletter (on the right of your screen) for the latest deals and hacks delivered to your inbox.