UOB has launched a new sign up offer for the cobrand KrisFlyer UOB Credit Card.
New-to-bank customers who receive approval from 7 October to 31 December 2019 can earn up to 10,000 bonus miles, split into:
3,000 KrisFlyer miles for spending at least S$5 in a single transaction
A further 7,000 KrisFlyer miles for spending at least S$6,000 in the first 90 days of approval
(1) will be credited in the following month after the spend is made. (2) will be credited between 30 April to 30 June 2020, depending on when your card is approved. That's roughly a 6 month period, and a very long time to wait for bonus miles (but as noted previously, the KrisFlyer UOB is really a card for the patient).
| | |
| --- | --- |
| Card Approval Date | 7,000 Bonus Miles Crediting Date |
| 7 Oct- 31 Oct 2019 | By 30 Apr 2020 |
| 1 Nov-30 Nov 2019 | By 31 May 2020 |
| 1 Dec-31 Dec 2019 | By 30 June 2020 |
This is a cobrand card, so miles are deposited directly into your KrisFlyer account with no transfer fees.
This offer is also available through SingSaver, and customers who sign up through the link below will get S$20 cash via PayNow upon approval
Get S$20 cash via PayNow upon approval for the KrisFlyer UOB Credit Card
Existing UOB cardholders are entitled to the 3,000 first transaction miles, but not the 7,000 additional miles.
For the purposes of this promotion, UOB is defining "new-to-bank" as those who do not currently hold any UOB card, or have not previously held the KrisFlyer UOB Credit Card. This is slightly different from the usual convention; if you held a UOB PRVI Miles card, for example, and cancelled it before you were approved for the KrisFlyer UOB Credit Card, you'd still be eligible for the "new-to-bank" bonus.
Do note that the usual spending exclusions apply, and insurance, education, government, and charity payments will not count towards your minimum spend. The full list of exclusions can be found here at points 1.8 to 1.12.
No caps, supplementary cardholder spending counts
To UOB's credit, they have not capped this promotion- so long as you meet the eligibility criteria, you'll get your miles.
Furthermore, the T&Cs state that supplementary cardholder transactions will count towards the spending of the principal cardholder (if you're wondering "why that's such a relief, don't all banks do that", you should see UOB's other promotions)
For the avoidance of doubt, the benefit of all transactions incurred by a supplementary holder of the Eligible Card ("Supplementary Cardmember") in respect of the Promotion shall accrue to the applicable Eligible Cardmember and form part of that Eligible Cardmember's Eligible Transactions
How does this compare to previous offers?
When the KrisFlyer UOB Credit Card first launched in April this year, it actually had one of the best sign up offers on the market.
New-to-bank customers who spent S$2,000 within the first 60 days would get 12,000 bonus miles, while existing customers who spent S$5 would get 5,000 bonus miles.
That offer expired on 14 July, and was replaced by a much worse one. The sign up bonus was cut to just 3,000 bonus miles, with a S$150 cash gift for new-to-bank customers provided they were among the first 1,000 approved applicants. To make matters worse, this 1,000 was a shared cap among all UOB cards participating in the same promotion.
So the current offer is an improvement over the most recent one, but clearly not as good as the launch offer.
How does this compare to other sign up bonuses?
The KrisFlyer UOB Credit Card's sign up bonus matches what DBS is currently offering on the DBS Altitude Card, both in terms of miles and spending. To be fair, the DBS Altitude also has a 180 day waiting period for the crediting of bonus miles. If you're looking at sign up bonuses that don't require the paying of the first year's annual fee, then a better option may be the AMEX KrisFlyer Credit Card (you get 5,000 bonus miles when you apply through an MGM link– scroll to the bottom and select the KrisFlyer Credit Card).
If you don't mind paying an annual fee, you'll find higher miles:spending ratios offered on the Citi PremierMiles Visa and the AMEX KrisFlyer Ascend.
A full list of sign up bonuses can be found here.
Conclusion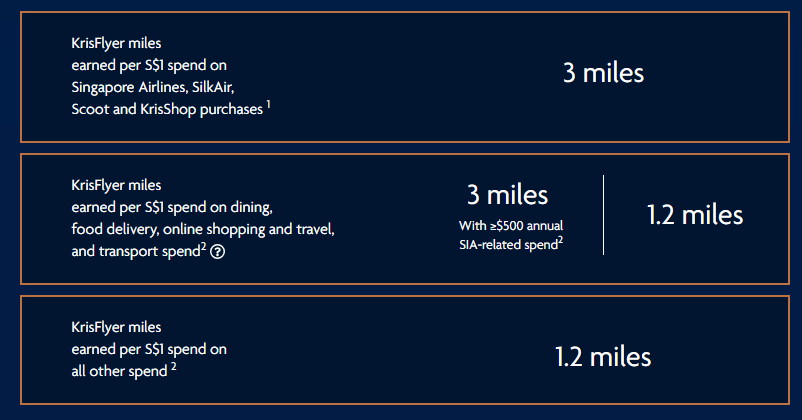 The KrisFlyer UOB Credit Card is a good option for those who want a "one card" strategy, because it offers a wide range of bonus categories. Cardholders will earn 3 mpd on all SIA-group transactions. If they spend at least S$500 on SIA-group transactions in a year, they'll also earn 3 mpd on dining, food delivery, online shopping & travel, and transport spend. Do note that these bonus miles may be credited as late as 14 months after.
However, if you're willing to optimize your spending strategy, you can easily earn more miles by using specialized spending cards. Do remember that the new OCBC 90N Card is offering 4 mpd on Singapore Airlines Silk Air, Scoot, Air Asia and Jetstar tickets, plus all foreign currency transactions, so this is a much better option for those categories.
You can read a full review of the KrisFlyer UOB Credit Card here.