An updated review of this card is now available. Check it out here.
This morning, Singapore Airlines and UOB held a joint event to announce the launch of the new KrisFlyer UOB Credit Card.
I've covered some of the broad strokes in this initial reactions post, but now that the T&Cs have been released it's time to do an in-depth review of the product's key features.
KrisFlyer UOB Credit Card Basics
The UOB KrisFlyer Credit Card has a minimum income requirement of $30K ($40K for foreigners) and an annual fee of $192.60. The annual fee is waived for the first year, and you earn 10,000 miles when you pay subsequent years' annual fees. This is on par with what similar cards like the DBS Altitude and Citi PremierMiles Visa offer.
The foreign currency transaction fee is 3.25%, in line with what we see on the UOB PRVI Miles cards.
As this is a cobrand card, the miles you earn will be credited directly to your KrisFlyer account with no transfer fees (this also means your three-year expiry countdown will start immediately).
Sign up bonus of up to 12,000 miles
KrisFlyer UOB Credit Card applicants who receive approval before 30 June 2019 will earn 5,000 KrisFlyer miles when they spend a minimum of $5 within 60 days of card opening (that $5 is a bit of a weird figure, but I think it has something to do with UOB's policy of rounding down spending to the nearest $5 when awarding points).
If you're a new-to-bank customer, you get an additional 7,000 KrisFlyer miles or a complimentary return ticket to Bangkok, Lombok, or Penang when you spend at least $2K in the first 60 days. This is on top of the 5,000 welcome mile offer. You will need to register via SMS to enjoy this, so refer to the instructions on the website carefully.
In other words, new-to-bank customers who spend $2K in the first 60 days get:
5,000 welcome miles with first spend
7,000 bonus miles with $2K spend
2,400 base miles with $2K spend
That's a total haul of 14,400 miles for $2K of spending, which is one of the better offers out there. Moreover, I'm pleased to see that UOB is not doing one of their usual "limited to first X approvals only" campaigns- if you hit the spending, you'll get the bonus.
Earn 3 mpd on SIA-related purchases, dining, online shopping and transport (but…)
Cardholders will enjoy the following earn rates:
3 mpd on Singapore Airlines, SilkAir, Scoot and KrisShop purchases (a.k.a SIA-related transactions)
3 mpd on dining, food delivery, online shopping and travel, and transport (subject to min $500 spend per membership year on SIA-related transactions)
1.2 mpd on everything else
Although the 1.2 mpd general spending rate is below other cards in the market (including UOB's own PRVI Miles cards which clock in at 1.4 mpd), the 3 mpd bonus categories are very impressive.
First, the good news. There is no cap on the 3 mpd earn rates, which is awesome. Yes, it's not the highest in the market- there are cards offering 4 mpd on dining, online shopping and transport. However, all those come with caps of between $1-2K per month, and in any case I think UOB is positioning this product as the go-to solution for those who just want one card.
Do note that UOB awards miles in intervals of $5, so technically speaking, someone who spends $5 earns the same number of miles as someone who spends $9. Here's a table from the T&Cs illustrating the earning rates:
Now, the catch. The bonus 1.8 mpd on dining, online shopping, online travel and transport transactions will only be credited 2 months after your card membership year. The T&Cs further make it clear that "expedition of accelerated miles is not allowed".
That's a long time to be waiting for your miles, and it makes reconciliation a major headache. Is that a deal breaker? Maybe not, but remember that the 1.2 mpd is credited immediately to your KrisFlyer account, while the 1.8 mpd takes anywhere from 2-14 months to be credited. When you take into account that KrisFlyer miles expire after 36 months, you may find the time frame for using your miles tighter than you'd like.
Dining
UOB has fortunately taken a very broad view of dining (unlike Maybank which only includes MCC 5812: Eating Places and Restaurants)- traditional restaurants, fast food and bars all qualify, as do online food delivery services like Deliveroo, Foodpanda, Honestbee and 4121 (Taxicabs and limousines- presumably so that GrabFood qualifies).
Transport
Both Grab and gojek qualify for 3 mpd, and I assume that if Ryde, TADA et al also code as 4121 they'll get 3 mpd as well. Your regular taxi rides will also qualify.
I'm impressed that Bus/MRT transactions will enjoy 3 mpd. This means that you can tap your KrisFlyer UOB Credit Card at the gantry and earn 3 mpd through the SimplyGo scheme.
Online Shopping & Travel
UOB has a very, very broad definition of online shopping as well. Here's what all those numbers mean:
4816: Computer Network/Information Services
5306: (I can't actually find this one, anyone wants to assist?)
5309: Duty free Stores
5310: Discount Stores
5311: Department Stores
5331: Variety Stores
5399: Misc General Merchandise Stores
5611: Men/Boy's Clothing and Accessories Stores
5621: Women's Ready to Wear Shoes
5631: Women's Accessory and Specialty Stores
5641: Children's and Infants' Wear Stores
5651: Family Clothing Stores
5661: Shoe Stores
5691: Men's and Women's Clothing Stores:
5699: Accessory and Apparel Stores- Misc
5732: Electronics Sales
5733: Music Stores- Musical Instruments, Pianos and Sheet Music
5734: Computer Software Stores
5735: Record Shops
5912: Drug Stores and Pharmacies
5942: Book Stores
5945: Game, Toy and Hobby Shops
5946: Camera and Photographic Supply Stores
5947: Card, Gift, Novelty and Souvenir Shops
5948: Leather Goods and Luggage Stores
5949: Fabric, Needlework, Piece Goods and Sewing Stores
5964-5969: Direct Marketing Merchants
5970: Artist Supply Stores
5992: Florists
5999: Misc and Specialty Retail Stores
Although it's a long list of MCCs, you do need to carry out your transaction online to earn the 3 mpd. So, for example, buying flowers at a florist's physical store would not qualify, but buying them from the florist's website (if they have one) would.
Online travel includes transactions made on Agoda, AirBnB, Booking.com, Expedia, Hotels.com, Kaligo, Traveloka, Trip.com, and UOB Travel.
Exclusion Categories
Nothing too eye-raising to report here, as the usual insurance, government payments, charitable/religious organisations transactions are excluded from earning miles.
Bonus 6 mpd for KrisFlyer UOB Savings Account holders (but…)
One of the big selling points for UOB is the fact that you can earn up to 6 mpd extra on your KrisFlyer UOB Credit Card by putting money in a KrisFlyer UOB Savings account.
6 mpd is headline-grabbing, but the main issue for me is that the opportunity cost of placing money in the KrisFlyer UOB Savings Account is too high. The account earns a paltry 0.05% of interest, no matter how much you put in it.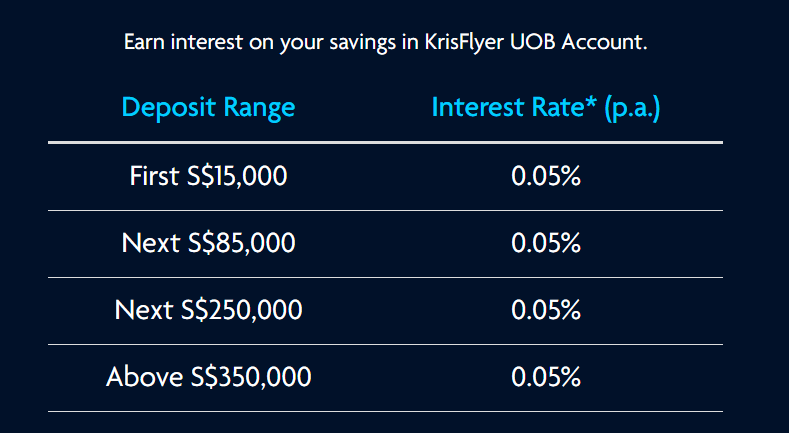 You might try to rationalise it by telling yourself you'll earn back the lost interest in the form of miles, but that's where the other shoe drops. The maximum bonus miles you can earn is capped at 5% of your Monthly Average Balance (MAB).
In other words, if my MAB is $50K, the maximum bonus miles I can earn per month is 2,500– which I'll hit with just $417 of spending!
I value 2,500 miles at $20, so my total "return" for the month is $20 of miles + $2 of interest. For $50K of capital, that's extremely abject. 
Moreover, you only earn 6 mpd if you credit your salary to this account. That means forgoing some very generous bonus interest on other hurdle accounts like the BOC Smart Saver, the DBS Multiplier and the OCBC 360 account. Without crediting your salary, you'll earn 5 mpd.
UOB's own worked examples only serve to highlight how dismal the returns on this account are.
Look at Example 3 in particular: here's someone parking $120K for a year at virtually 0 interest, spending ~$10K on his KrisFlyer UOB Credit Card and only having ~84K miles to show for it. He's basically accepted a return of ~$1,690 on capital of $120K- less than what he'd get with a fixed deposit (plus, if he opted for the fixed deposit he could still generate miles on the $10K of spending with other cards)
So I fancy the card, but not the bank account. Fortunately, you don't need the latter to open the former, and I think you should steer clear of it.
Card features
The UOB KrisFlyer Credit Card comes with additional benefits, which I'll cover briefly.
KrisFlyer Elite Silver Fast Track
Cardholders who open a card between 23 April 2019 and 22 April 2020 can unlock KrisFlyer Elite Silver by spending $5K on SIA-related transactions within the first membership year.
Your account will be upgraded within 6 weeks of the last calendar month of the first year membership anniversary (i.e. not immediately after hitting the spend), and you'll subsequently need to re-qualify through the usual route of hitting 25,000 elite miles in a membership year.
KrisFlyer Elite Silver is…nothing to get excited about. I should know, I've just been downgraded to this tier. You get 25% bonus miles on certain fare classes, priority waitlisting and standby, complimentary standard seat selection and discounted service fees, but that's it.
The AMEX KrisFlyer Ascend is offering a fast track upgrade to KrisFlyer Elite Gold for cardholders who spend $12K in 3 months (1 Mar-1 Jun 19), of which at least $3K is on singaporeair.com. Learn more here. 
$20 KrisShop Rebate
Cardholders who spend a minimum of $100 in a single transaction will enjoy a $20 rebate on KrisShop purchases, capped at one rebate every calendar year. The rebate will be credited to your account within 3 months of the eligible transaction.
Scoot Privileges
Cardholder enjoy priority check-in, boarding, additional baggage allowance, complimentary seat selection, and a waiver of the $10 convenience fee per sector per transaction. For the record, Scoot charges a $20 credit card fee, so make of that what you will.
You also enjoy a one-time booking flexibility waiver per itinerary on Scoot flights, which means you can change your flight date/time or passenger name (the principal cardholder's name cannot be changed).
$15 off Changi Wi-Fi
Cardholders enjoy 2 ChangiWiFi redemption codes worth $15 in a calendar year. This code may be redeemed once per half yearly (ie. Jan-Jun, Jul-Dec) and is limited to the first 1,000 redemptions per month.
$15 off two Grab Rides
Cardholders will get two Grab promo codes worth $15 each that can be used to or from Changi Airport. This code may be redeemed once per half yearly (ie. Jan-Jun, Jul-Dec) and is limited to the first 1,000 redemptions per month.
What's missing?
I kind of wish there were more SQ-specific benefits on this card, because KrisFlyer Elite Silver is really nothing to write home about. Sure, you get special treatment on Scoot, but I don't think that should be the height of aspirations on a product like this.
It's also curious that there's no lounge benefits provided on this card- no one's asking for SilverKris lounge access, but if AMEX can provide a tie-up with Plaza Premium, couldn't UOB do something similar?
Although there's a pseudo airport limo benefit on this card (in the form of the 2 Grab airport vouchers), I wonder if UOB considered adding something more substantial before worrying that their UOB PRVI AMEX would be cannibalized.
Conclusion
As I mentioned in my initial reactions post, the UOB KrisFlyer Credit Card is a worthy product in and of itself (the less said about the accompanying bank account, however, the better). Customers who want a card with competitive miles earning rates and wider acceptance than the KrisFlyer AMEX cards will certainly be attracted.
It will be interesting to see how AMEX responds to this new salvo. Although the KrisFlyer AMEX cards have higher sign up bonuses and better card benefits (at least on the Ascend), UOB's offering generally outperforms them for day-to-day spend.
My main issue with the UOB KrisFlyer Credit Card is the delayed crediting of the bonus miles- I get that from a technical point of view, you can only know after the fact whether someone really spent $500 on SIA-related transactions throughout the year. But wouldn't a better way of implementing this be to tell people "ok, you earn 1.2 mpd on all transactions, but once you hit $500 with SIA you unlock the 3 mpd on these categories for the rest of the year".
That would encourage people to front-load their SIA spending (I suppose you might have gamers who buy a refundable ticket and later try to get their money back, but there are ways of checking that behavior), and it would avoid what I'm sure will happen 14 months from now when distressed customers start jamming the UOB phone lines to do manual miles reconciliations.
If that doesn't bother you, then I believe you'll find the UOB KrisFlyer Credit Card to be a good card to add to your wallet.