Introduction: Finding my Seoul-mate
Review: Cathay Pacific Lounge Singapore Changi Airport Terminal 4
Review: Cathay Pacific Business Class B777-300ER Singapore – Hong Kong
Mini-Review: Cathay Pacific Business Class A330-300 Hong Kong – Seoul Incheon
Review: ibis Styles Ambassador Seoul Myeongdong
Review: Conrad Seoul
Review: Millennium Hilton Seoul
Review: Asiana Airlines Lounge Seoul Gimpo Airport
Review: ANA Regional Business Class B787-8 Seoul Gimpo – Tokyo Haneda
Review: Hilton Tokyo
Review: United Club Tokyo Narita Airport
Review: ANA Lounge Tokyo Narita Airport
Review: EVA Air Business Class A321 Tokyo Narita – Taipei Taoyuan
---
After a short stay in the lounge, I trotted off to the gate for my flight to Tokyo Haneda. The flight that day was operated by ANA's Boeing 787-8 Dreamliner that features their regional Business Class product.
The flight was departing from Gate 38, which was at the other end of the terminal. If you do pay a visit to the Asiana Airlines lounge in Gimpo before your flight, do allocate sufficient time for a stroll to the gate.
Power ports were available at the gate in case you needed to charge your power-hungry devices before your flight.
Boarding was already underway when I arrived at the gate and Business Class passengers, ANA Mileage Club elite members as well as Star Alliance Gold members were already called to board. Sadly, the orderly boarding process that I expected from a Japan-based airline wasn't present and gate lice were already present at the economy class line even before the boarding call was made for all other passengers.
Business Class on the regionally configured Boeing 787-8s on ANA is laid out in a 2-2-2 configuration. These seats are angled flat seats and kitted out in blue (duh) fabric which was quite comfortable and much prefered over the leather style ones on SQ.
A foot/calf rest was built into the seat and proved to be useful for short flights like these when you just want to recline and not put your bed into the fully flat position.
The seat itself was fairly wide and my huge bum (waist size 36) had no issue fitting in snugly. I still had space to wriggle about during the flight. A blanket was placed on every seat. A reading light can be found beside the privacy divider.
Seat controls and the in-flight entertainment remote can be found nestled on the centre console and a small storage area is also located here. A universal power socket and USB-A port are also available for use. Seat controls were via buttons and were easy enough to use.
The tray table was the fold-out type which was on the small side but pretty sturdy.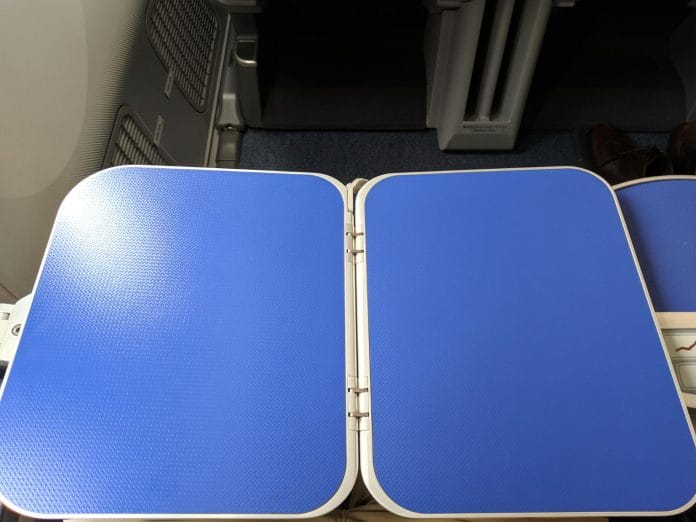 The IFE monitor was on the small side and can be controlled via touch or the IFE remote. It definitely wasn't full HD but it was of a decent quality. A coat hook can be found beside the IFE screen as well.
In the seatback pocket, a pair of slippers (with a tiny shoe horn) and Panasonic branded headphones were placed there. It's nice to see slippers being offered on such a short flight (just under 2 hours) which is something I don't think I received when flying short-haul with Singapore Airlines. A clear folder containing immigration forms could also be found in the seatback pocket.
WiFi was available on the flight and the pricing seems okay to me.
Boarding was completed well before the scheduled departure time and we pushed back on time from the gate. At this point, the safety video started to play and you got to give credit to ANA for being creative with it. On this flight, no pre-departure beverages were served.
We departed from 14L that afternoon over a gloomy day in Seoul.
Shortly after departure, the flight attendants came around to set the tables for lunch. No pre-meal drinks were served as well. A thin paper-like cloth was laid on the table before the flight attendant came around to take meal orders.
The menu for that day was as follows:
For this flight, there was only one main course available which was the hamburger steak since I was flying in the second half of July.
I ordered a glass of champagne to go with my lunch. I'm no champagne guru but I found it to be pretty decent. I still very much prefer Charles Heidsieck that Singapore Airlines used to serve. The entire meal was presented on a tray with the aluminium foil still on the casserole.
The hamburger steak was actually still pretty moist and I devoured it since I did not have anything to eat in the lounge pre-flight.
The bread roll which came with the meal was actually a matcha bread roll and it had just the right amount of matcha "taste".
After the trays were collected, I made a quick run to the bathrooms to confirm that the magical bidet was present. Sure enough, it was!
Toothbrushes are available in the toilets if you need them.
Near the toilets, between the rear Business Class cabin and the front Business Class cabin was a small area where the cabin crew placed a pot box of tea. I imagine on longer flights there would be snacks here too.
Returning to my seat, I ordered a cup of black coffee (with milk) and browsed through the entertainment system.
There wasn't a pillow provided on the flight but the headrest was extremely comfortable to me. Also, with the privacy divider fully extended, you cannot really see your seatmate when you are lying down.
The cabin was kept relatively warm on the flight but thankfully, individual air nozzles were available. (Looking at you SQ)
After a short snooze (read: closed my eyes reminiscing about Seoul), the pilot came on the intercom to inform the cabin crew to prepare the cabin for arrival. Again, this wasn't done a good 30 minutes before arrival. (*cough* SQ *cough*)
We were greeted with an amazing view on approach to Tokyo Haneda airport.
We landed ahead of time and had a long taxi to the gate.
I stayed back to get a clear (but messy) shot of the cabin since I boarded late.
Immigration at Haneda was so fast that I had to wait longer for my bags (and boxes of snacks) to be out on the baggage carousel. Exiting immigration, Tokyo 2020 promotional posters were already set up.
I then headed to buy my airport limousine bus ticket to the Hilton Tokyo and couldn't wait to finally have authentic ramen.