48 hours in New York: Trip Planning
ANA B777-300ER "THE Room" Business Class NRT-JFK
British Airways First Lounge New York JFK
ANA B777-300ER "THE Suite" First Class JFK-HND
ANA Suite Lounge Tokyo Haneda
Singapore Airlines B777-300ER First Class HND-SIN
---
In 2014, ANA was seeking pitches for a new long-haul Business Class product to replace its functional but tired incumbent. They had seen the Fusio seat by Safran at an industry show and loved the concept, but wanted to customize it into something that really brought out the ANA design philosophy and ethos.
To do that, they hired London-based Acumen Design Associates, engaging a Western design firm for the first time in the airline's history. If Acumen sounds familiar, it's because they were the team behind Polaris, the ground-breaking cabin product for United Airlines (although to be fair, anything would be ground-breaking compared to United's old Business Class). Other impressive projects on the firm's CV include Etihad's The Residence and Business Studio.
Acumen and Safran worked with Tokyo Olympic Stadium architect Kengo Kuma to fine tune the design, and THE Room ("the" is capitalized as per ANA's unique style guide) was the result- a clean, minimalist design half a decade in the making that still caught everyone off guard.
The full story of how THE Room came to be is a fascinating one, and well worth a read. But you're not here for a history lesson, so let's dive into the review!
tl;dr

ANA's new Business Class is the best hard product on the market right now, period. With unprecedented amounts of privacy, comfort, and personal space, it's hard to imagine why First Class is needed anymore

The good

The bad

The biggest Business Class seat you'll find on any carrier

An almost embarrassing amount of private space to work, relax and sleep

Privacy doors and partitions mean there's really no bad seat in the house

4K screen feels like a gimmick, with no content and disappointing performance in bright light

Weird design of the three point seatbelt

Doors need to be opened manually, and require significant strength
Note: I was fortunate enough to experience THE Room twice on my way to New York, because NH 802 from Singapore to Tokyo just happened to be equipment swapped on the day I flew it. This is not a regular occurrence, however, and for the purposes of this review I'll draw mainly from the experience on NH 10 from Tokyo to New York when talking about the soft product. I may use some cabin photos from the Singapore to Tokyo leg, which explains why you may notice my seat changing.
Once boarding was called for Business Class passengers, I sprinted down the jetway to JA797A. I must have seen the publicity photos for ANA's new cabin products dozens of times, but nothing really prepares you for seeing it in real life.
This is Business Class? I asked myself as I stepped into the cabin (mind you, I've said similar things about British Airways, but in a not-so-positive way). The paradigm shift was positively Copernican.
I mean, everyone talks about First Class being a dying breed, but this really drives home the point. When Business Class is this good, what more does First Class offer beyond vintage champagne and caviar?
We'll talk about the seat in a moment, but first, a lay of the land. There are a total of 64 Business Class seats on ANA's new B777-300ERs, split into three sections:
A forward mini cabin with 8 seats spread over 2 rows
A main cabin with 40 seats spread over 10 rows
A rear cabin with 16 seats spread across 4 rows
In addition to the 64 Business Class seats, there are 8 First Class, 24 Premium Economy, and 116 Economy Class seats. It makes for a fairly premium-heavy configuration, with 45% of the seats in a class other than Economy. It's no surprise then that these aircraft have only been deployed on routes that have a high amount of premium demand- New York, London, and Frankfurt.
Business Class is configured in a 1-2-1 layout, which means everyone gets direct aisle access. However, where this differs from traditional layouts is that some seats are forward facing, and others backwards facing.
Odd numbered seats are rear facing, and even numbered seats are forward facing. The odd numbered seats are further from the aisle, while the even numbered seats are closer to the aisle.
Here's an example of an odd numbered window seat…
…and an even numbered window seat. Note the difference in the positioning of the side table.
Odd numbered seats give you slightly more privacy from the aisle, but even if you get an even numbered seat, it's not the end of the world as you've got some lovely closing doors (more on that later).
If you're travelling with a companion, the center seats afford plenty of opportunities for conversation.
If you're traveling alone but get stuck in the middle, a full height privacy partition will keep you from ever seeing your seatmate.
There really aren't any bad seats in this cabin, with the usual exception of the ones near the toilets and galley, which you should avoid if you dislike noise and movement. On the Singapore to Tokyo leg, I took a forward-facing middle seat, and on the Tokyo to New York leg, I took a backward-facing window seat. Unless you suffer from severe, and I mean severe motion sickness, there's no need to worry about flying backwards. You won't even realise it.
On to the seat itself. The first thing you'll realise (it's hard to miss) is how wide the seat is. The seat is 38 inches wide. 38 INCHES. For perspective, Singapore Airlines' 2013 First Class seat is "only" 35 inches wide.
Here's me (waist diameter 11 inches) in the seat. It's just mind-blowing to think that a Business Class seat could be this wide. I know everyone talks about how Singapore Airlines' 2006 Business Class seat set the standard for width, but that only tipped the scales at 34 inches. THE Room is far and away the widest seat you'll find on any commercial aircraft, in any cabin.
Look, I even made a chart.
The second thing you'll realise upon sitting down is that the seat is actually pretty low. It wasn't uncomfortably so, but you'll definitely feel it if you've flown other carriers' Business Class products.
Hopefully the photo below gives you a sense of how low the seat is off the ground. Again, not something that unduly bothered me (1.8 m), but curious nonetheless.
In front of you is a leg rest, that stretches beneath the IFE screen. There's no issues at all for those with large feet, as the foot cubby isn't restraining the way some other staggered seats are.
The tray table slides out from beneath the IFE display and is large and sturdy, with very little give when you press down on it. It comfortably took my 14-inch laptop plus a small plate of food on the side.
The table can also be pushed forward to allow for easy ingress/egress from the seat during meal times. That's a feature way too many Business Class seats don't take into account, quite frankly.
One unfortunate thing about the way the seat is designed is that the safety card is positioned just next to the area where the tray table slides in/out, which means it keeps getting bent. This is going to lead to some seriously worn out safety cards over time.
The seat controls are located near the side table. From top to bottom:
A jog dial to adjust the seat's overall position, from full upright to full flat
Three preset buttons for dining, take-off, and full flat (I'd have thought the logical sequence would be take-off, dining, and full flat)
A dedicated button to move the seat itself forward and backwards, like being in the front seat of a car. I guess this is for those who want the IFE screen to be within easier reach
Lighting buttons
The controls are well-positioned, and it's almost impossible for you to accidentally bump them in flight. I also liked that they didn't require inordinate amounts of pressure to push- this was an issue when I flew SQ's brand new A380 Business Class product.
A small coat hook is also provided, although you're unlikely to need it as the cabin crew collect all jackets.
Storage is an interesting conundrum with this seat. On first glance, there should be absolutely no issues with storing things in a seat this big- and there aren't, so long as you're in flight. During taxi, take-off, and landing, you're not allowed to stow items under the leg rest, on the side table, or in the empty space next to you. These will all have to go in the overhead bin.
The only dedicated stowage space comes from a small compartment on the side table, which has magazines, a mirror, and two storage pouches for small items.
This compartment is also where you find the power outlet, HDMI, and USB port. These can be accessed even when the compartment is closed. Just raise this flap…
…and you'll see the ports inside. This allows your wires to come out of the compartment without getting pinched.
The HDMI port unfortunately was covered with an INOP sticker, so I wasn't able to live out my consulting dream of using two monitors at 30,000 feet.
Now let's talk about the feature that gets everyone excited: doors. To close THE Room's doors, you need to press two buttons. The first one is located by the side table, which causes a door to slide out and cover the entrance.
The second is by your armrest, which causes a partition to slide up and cover your side profile.
Put them together and you get this.
Closing the doors is done by the button; opening them is done manually. That is, you need to push the entrance door sideways and the side panel down into their nooks. It takes a fair bit of manual strength, but that's probably because the mechanism is fairly new. I imagine it'll get easier in the future with repeated use.
The doors aren't particularly high, and are meant to hide you from the person across the aisle rather than someone walking down it. An average height person standing in the aisle will still be able to see into your suite, given the right angle.
You'll also have noticed that the doors don't close completely. This is design rather than accident, as remember you need to put your fingers in between to push the entrance door closed. It's not that big a deal, because the only way the person across the aisle could see you is if they were deliberately trying to.
You could tell the crew were extremely proud of the product, as not one but two pursuers came by to explain how it worked. ANA's also printed a useful seat guide for boffins.
ANA offers different headphones in Business Class depending on the route. From Singapore to Tokyo, they had this very uncomfortable pair that sit on (not over) your ears, which allows noise to leak and causes your ears to feel sore after extended periods.
From Tokyo to New York, I thankfully received a pair that fit over the ears, resulting in a much better audio experience.
An amenities kit was waiting at the seat, which was made by Globe-Trotter, a British luxury luggage brand.
The contents were simple- ear plugs, eye mask, a dental kit, and toiletries by Sekkisei Myv– a face wash, a lotion and a cream.
Surprisingly though, there weren't any pajamas provided. Tokyo to New York is definitely a route that qualifies for them, but apparently they're only available on request.
Even though an amenities kit was provided, the crew still came around with an amenities basket that had face masks (I'm surprised they weren't all gone by the time they reached my row), dental kits, eye masks, ear plugs, and face & body sheets.
Also waiting was a pair of slippers, plus a blanket and a thin mattress pad.
Pre-flight drinks were served (in plastic cups, sadly), and I went for champagne. At least I think it's champagne; I know ANA served cheaper sparkling wine on the ground in Singapore to avoid taxes, but I refuse to believe I can't tell the difference. So yes, this is champagne. No one question me.
The chief pursuer came on the PA to announce today's flight time of 11 hours and 25 minutes to New York JFK, and reminded Business Class passengers to fasten their shoulder strap for take-off.
ANA uses a three-point seatbelt (like the kind you have in cars) for THE Room, and this is unfortunately poorly designed. The shoulder strap comes out from behind the headrest, which means (1) when it's connected, you have an awkward thing pressing the headrest cover out from behind, (2) when it's not connected, you have an awkward thing poking the back of your head. You can always move your head to avoid it, but you'll never forget it's there.
I don't see why the shoulder strap couldn't simply extend from the side panel, so it didn't intrude into your headspace.
The safety video played before take-off. ANA has produced a special Kabuki themed video, which is a smart take on their roots.
Dusk was falling as we taxied onto the runway, and very shortly we were on the way to New York.
After take-off, the crew came around to do another round of drinks. ANA serves Duval Leroy Brut Reserve in Business Class, not a favourite of mine but it's apparently the only champagne ranked by Wine Spectator in their top 100 wines, so what do I know?
The crew also passed out menus. Dinner would be served first, followed by a light meal just before landing.
Here are the options for dinner: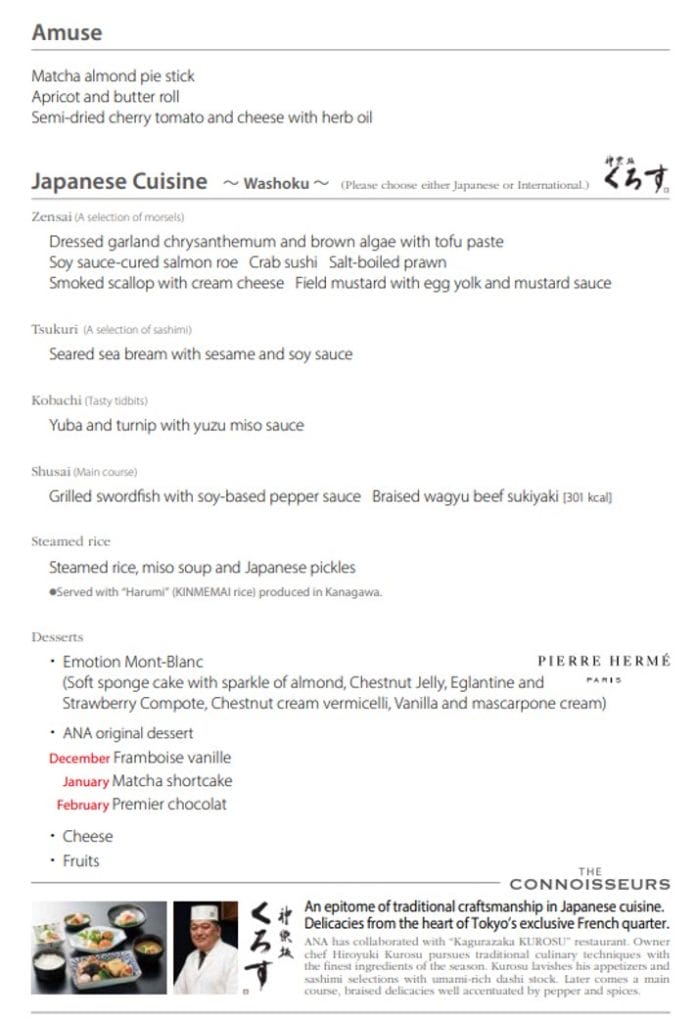 There was also a snack menu featuring items by Ippudo and Tsukiji Gindaco.
The light meal had the following options: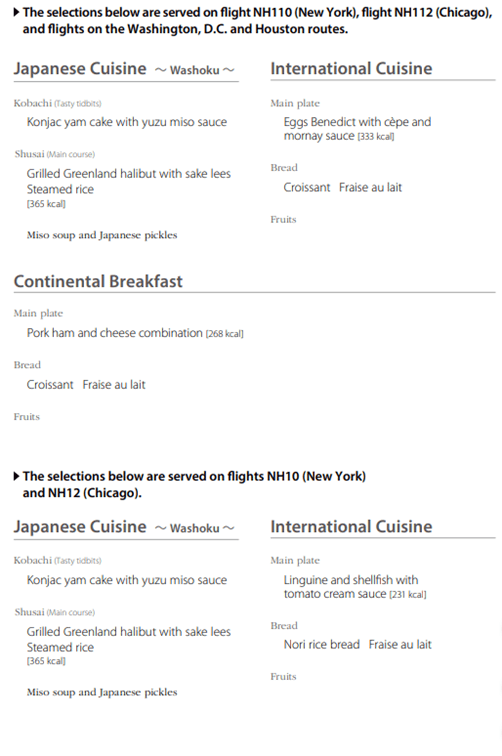 The drinks list is always a highlight on an airline like ANA, with many varieties of Japanese libations to try. There's sake, shochu and umeshu options, along with the usual whites, reds and champagne.
A fun thing about ANA is they stock a premium wine on each flight, which gives you the chance to try something a bit nicer.
While we waited for dinner to be served, I got myself online.
ANA offers three different Wi-Fi plans on board its aircraft. First Class passengers get a full flight pass for free, but everyone else needs to pay. Here we have the classic case of the decoy effect, where the full flight plan (US$21.95) looks substantially more worth it than the 3-hour plan (US$16.95).
It definitely makes sense to go with the full flight plan if you're doing a long haul flight like Tokyo to New York (11+ hours), but on the Singapore to Tokyo leg (under 6 hours) I opted for the 3-hour plan, because it's plenty once you factor in the time for dining, watching a movie, and preparing for landing. You have the option to pause your usage, so you don't have to use the whole plan continuously.
Connection speeds were not bad for an airplane.
One word of warning for ANA's Wi-Fi: you're not able to switch devices. That is, once you've purchased a Wi-Fi plan on a given device, you have to to stick to the same device for the duration of your package. It's not like other portals which allow you to log off and log in on a different device. ANA does mention this during the sign up process, but I just autopiloted through it like so many T&C screens and didn't realise it until later.
The crew set up the table and dinner started with an amuse bouche. I'll be honest, I've never understood the ANA amuse bouche course, which seems to be an odd hodgepodge of sweet and savory items. If anyone's more enlightened about this, do let me know- is it a Japanese thing?
Today's amuse bouche featured a matcha almond pie stick, an apricot and butter roll, and a semi-dried cherry tomato and cheese with herb oil.
For the appetizer and main, I decided to go with the Japanese meal. This started with a zensai (dressed garland chrysanthemum and brown algae with tofu paste, soy sauce-cured salmon roe, crab sushi, salt-boiled prawn, smoked scallop with cream cheese, field mustard with egg yolk and mustard sauce), a tsukuri (seared sea bream with sesame and soy sauce) and a kobachi (yuba and turnip with yuzu miso sauce). 
It's substantially different from what most Singaporeans think of when they think of "Japanese food", but I'm sure this is way more authentic than what we get at home anyway.
The main course was a grilled swordfish with soy-based pepper sauce, and a braised wagyu beef sukiyaki. As with all Japanese meals, the rice is the highlight- I have yet to have disappointing Japanese rice (Yoshinoya in Singapore notwithstanding; Yoshinoya in Japan of course has fantastic rice). Today's rice was "Harumi" from Kanagawa. It was grown by Kinmemai, which you may remember for producing the "Better White" and "Better Brown" rice you can find in Singapore.
I ordered fruit for dessert before I remembered The Milelioness wasn't watching me. Then I ordered a Premier chocolat, one of ANA's "original desserts".
And then since The Milelioness still wasn't watching me, I had some Ben & Jerry's vanilla ice cream. Inflight calories only count half.
It was time to check out the IFE. On ANA's new Business Class, that comes courtesy of a 24 inch 4K screen, the first-ever on an aircraft.
That sounds impressive, but for now it's more gimmick than anything else.
First of all, being able to discern the 4K difference depends on screen size and viewing distance. According to Inch Calculator (it's not what you think), the recommended viewing distance for a 24 inch 4K resolution is 2.4-3.8 feet, or 73 to 115 cm.
Depending on how far you've reclined your seat, the distance from your eye to the screen may exceed the maximum viewing distance, in which case it's not physically possible to tell the difference between a 4K and a lower resolution screen like 1080p. Keep in mind, the calculations above assume 20/20 vision; if you don't have that, the ideal distance shrinks even further.
Second, there's no point having a 4K screen if you don't have 4K content. A reviewer on The Points Guy gushed about how "the 24-inch 4K screen is so crisp that it made working on my MacBook Pro with Retina display feel like I'd gone back to the 2000s."
I call BS on that, because unless he stumbled upon ANA's dedicated 4K channel, none of the movies he watched would have supported the format. And why would they? ANA is the only airline with 4K screens, and even then, only on certain aircraft. Content providers are hardly going to bother until the technology becomes mainstream.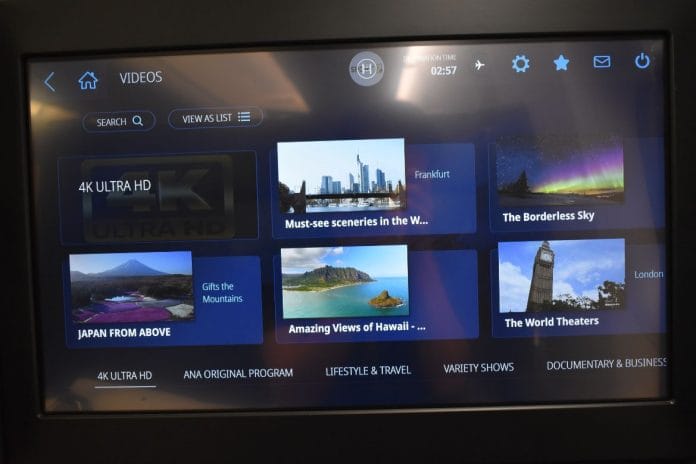 The only 4K content for now is a handful of scenic videos, the kind you might expect to see on TV display sets at Best Denki or Harvey Norman. It did look very sharp when I sat closer to the screen, but I was disappointed that the brightness of the display was not enough to compensate for strong cabin lighting (you can see the reflection of cabin lights at the top, which you shouldn't be able to if the backlighting were stronger).
Here's another example of strong cabin lighting interfering with the display.
And one of strong outside lighting interfering.
Don't get me wrong, I'm not hating on the 4K screens. They're a nice future-proof feature, and there's a lot of potential there. I just don't think you'll notice any discernible difference in the quality of your inflight movie just yet.
Anyway, IFE is not one of ANA's strong suits, at least for English-language movies. I counted fewer than 40 Hollywood titles. The system said they had 48, but ANA double counts movies that have closed captions. For example, Joker appears twice- once as the regular version, and again as the closed caption version.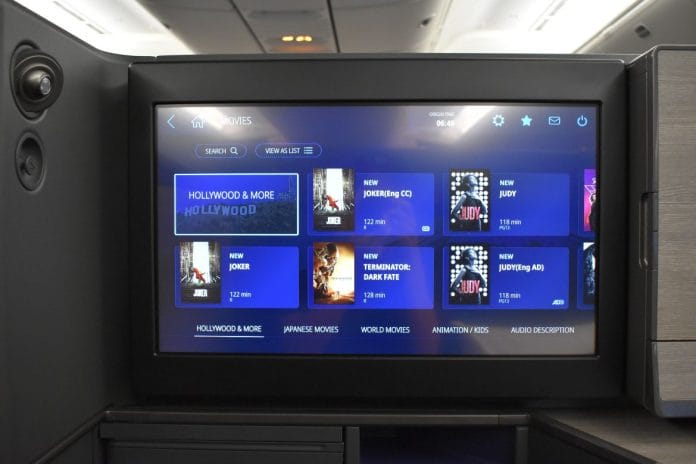 This is clearly no contest for airlines like Emirates and Singapore Airlines, which have enough content for you to circle the globe many times.
I ended up watching Spider-Man: Far From Home. If the display had been a little bit sharper, I might have been able to tell that Peter Parker was Spider-Man all along.
One useful feature of ANA's IFE system is that there's a dedicated button that lets you go back 10 seconds. It helps in situations where the crew comes around to pass you something (and please, when that happens, take the time to look at and speak to them, not continue watching your movie), allowing you to easily jump back without fiddling with the time bar.
Although the content selection is lackluster, ANA does have something Singapore Airlines doesn't- live TV. The ability to catch Premier League matches while flying is incredible. Watching Arsenal be mediocre at 30,000 feet is so much better than at pitch level.
For a country with such a proud gaming history, it's a shame the games selection on ANA (and JAL for that matter) is flat out boring. How far are we from having PS4 quality games on IFE? Why hasn't any company seen fit to invest in it?
That said, the games selection did feature Angry Birds, and there's some novelty to playing it in the air, on a massive touchscreen.
There's even a wide selection of Manga. PG-13 Manga, not the other kind.
I decided to freshen up before turning in. The Business Class toilets on this plane feature countertop sinks with automatic taps and bidet seats (an elegant weapon for a more civilized age).
I think it's really cool that they did a feature wall in the bathroom instead of the usual sterile white. I love the understated grey tones.
There's no amenities drawer like you'll find on SQ aircraft, but there was mouth wash, dental kits and face & body sheets in the storage space next to the mirror.
I returned to my seat and set up the bed. It's fairly easy to do, and you don't have to get out and flip it if you want to go full flat. However, you do need to get out to apply the mattress pad, which I did myself.
You have a total of three pillows and a pad that's on the thin side. I normally prefer a firm bed so that didn't really bother me, but take note if you like something more soft.
If you find the cabin too warm, you can always open the individual air vent nozzles.
I closed the doors and slept for a solid 3-4 hours. Sleep quality was excellent, and I woke up with roughly six hours left to New York.
I wandered to the galley, expecting to see a snack bar set up. Surprisingly, there was none- just an amenities basket and a small plate of chocolates.
So I ordered something from the snack menu instead, going for the Ippudo Soraton (pork broth) ramen. I'm the sort who asks for bari-kata (extra hard) when I order ramen in Japan, so the noodles were disappointingly soft to me. Nothing wrong with the broth though- spot on in flavor and intensity.
I tried the Tsukiji Gindaco takoyaki as well, but these were disappointing too. I suppose it's hard to do such items in an airplane environment, where the whole set up is inviting failure. These are really the sort of things better prepared fresh.
At the two hour mark before landing, a second meal was served. You could pick from a Japanese or Western menu, and I once again went with the Japanese option which was grilled Greenland halibut with sake lees. No, that's not sake leeks, it's sake lees– the leftover bits of the sake making process.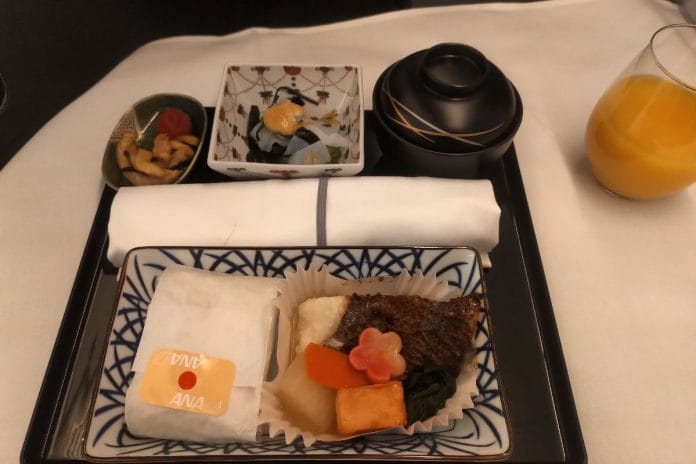 Before landing, the crew brought about a box of pre-landing sweets, with an interesting diorama backdrop.
I realise I haven't said a word about the crew yet. On the Tokyo to New York leg, they were good, but on the Singapore to Tokyo leg, they were phenomenal. Despite the obvious language barrier, they actively tried to make conversations with the passengers. When one of them saw my flurry of photo taking, she asked me if it "was my first time".  I told her it was, for this particular cabin product.
That somehow got lost in translation to become "my first time on ANA", and she got really excited. She brought me a special boarding certificate and a goody bag with playing cards and an A380 balloon, "to celebrate your first ANA flight".
She also advised me where the empty seats in the cabin were so I could take better photos, and when she saw me snapping a photo of my meal…
…came around to flip the main course, explaining "this is how it is properly served in Japan, rice must be on left".
Was it because she saw I was left handed? No idea, but if you say so!
When she found I was connecting to New York, she proactively checked ahead on the next flight and came back to tell me I'd be on exactly the same plane. "I'll just leave my bags here, then" I said. It wasn't even that funny a joke, but she indulged me with a full-on Japanese cover mouth giggle.
It was a cloudy day over New York as we approached JFK. Despite the time of year, it was actually warmer than I expected. 4 degrees on the day I landed, then 8 and 11 degrees on the two days after that.
We parked next to a British Airways B747, and I observed a minute of silence for the poor souls onboard in Business Class, cramped into a 2-4-2 configuration with 20 inch wide seats. 20 inches, my word. Tell that to the next person who says to you with a straight face that "Business Class is Business Class."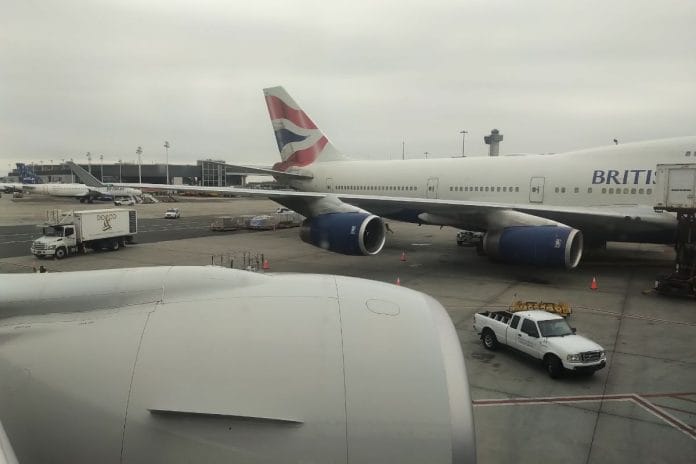 Conclusion
Is ANA's THE Room worth the hype? Yes, in so many ways yes. I'm going to call it the best Business Class product on the market now, although I'll caveat that by emphasizing the "product" specifically. This is only available on a handful of ANA aircraft and routes, and if you get the older ANA Business Class seat, Singapore Airlines still blows it out of the water.
Routes with new ANA cabin products (all schedules daily)
 

Depart

Arrive

NH 10

NRT 16:40

JFK 15:10

NH 9

JFK 10:45

NRT 15:00 (+1)

NH 110

HND 10:20

JFK 09:00

NH 109

JFK 16:55

HND 21:10 (+1)

NH 203

HND 00:50

FRA 05:20

NH 204

FRA 11:30

HND 06:50 (+1)

NH 211

HND 11:40

LHR 15:25

NH 212

LHR 19:00

HND 15:50 (+1)
However, if you compare the best to the best, I don't think Singapore Airlines has anything on THE Room. It felt like a cabin full of First Class suites, and the privacy, comfort, and spaciousness is unprecedented. The 4K screen veers more into gimmick territory for now, but I'll be excited to see what happens over the next few years. Add in the general high quality of ANA's catering and service, and I'd be hard pressed to recommend anything else.
You absolutely need to try this product.