48 hours in New York: Trip Planning
ANA B777-300ER "THE Room" Business Class NRT-JFK
British Airways First Lounge New York JFK
ANA B777-300ER "THE Suite" First Class JFK-HND
ANA Suite Lounge Tokyo Haneda
Singapore Airlines B777-300ER First Class HND-SIN
---
The British Airways First Lounge had been an incredible disappointment, but there was no time to dwell on that because something much more fantastic was coming up: ANA's new First Class.
To better appreciate the new First Class, it helps if you're familiar with the old product. ANA's old First Class is called the "First Square" (it's really more of a rectangle if you ask me, but let's not get pedantic).
On the whole, the First Square is a passable if not spectacular experience. Although it doesn't have doors, the seat offers excellent amounts of privacy thanks to the high walls and wraparound design.
However, if you're travelling with a companion then this becomes more of a bug rather than a feature. Even if you're in the centre seats, the design prevents you from seeing the other person. You'd have to lean all the way in front to have a conversation, a position you couldn't hold for too long. Forget about couple dining, much less double beds. This was a strictly solo experience.
In that sense, THE Suite (ANA's style guide capitalizes "the") improves upon these shortcomings by adopting a new design that preserves privacy while allowing for socialization. THE Suite features movable partitions in the centre seats, which enable couple dining and interaction when lowered.

But that's not the only thing they've changed, of course. THE Suites features privacy doors, a 43-inch 4K IFE display, and a host of other minor tweaks and improvements.
Can this seat compare to the best in the business? Let's find out.
tl;dr

ANA's THE Suite solves the issues with the previous generation First Class, while adding a few new tricks of its own. An excellent choice whether you're travelling alone or as a couple. 

The good

The bad

You haven't lived until you've had a 43-inch 4K IFE screen

Excellent F&B selection, particularly the drinks list

Eight seats means there's still a reasonable chance of finding award space

A nagging feeling that as good as it is, it's not compellingly better than THE Room
Boarding was a much more pleasant affair than your usual US airport experience. Instead of everyone swarming the lines and check-in agents yelling threats at no one in particular, passengers remained seated until boarding was called. ANA First Class customers and Diamond members got to board just after families with small children, and I made sure I was at the head of the line.
Getting good cabin photos is always a stressful thing for me. Not only do you need to be at the front of the queue, you need to vigorously sprint (while not attracting the attention of jittery security personnel) down the jetbridge to the aircraft, all the while hoping there's no further hold up at the door. Once you get in, you have maybe 20 seconds (30 if you're lucky) to snap as many photos as you can before other passengers show up.
I guess it was a good sign that when I entered the cabin and started snapping furiously, the stewardess quickly hustled to close the overhead compartments so they wouldn't get in the picture. Bless her, she knows how the game works.
In a world where airlines are downsizing or doing away with First Class cabins altogether, it's good that ANA is bucking the trend by keeping capacity the same. The new B777-300ERs have eight First Class seats, the same as the old ones.
In contrast, Singapore Airlines cut the size of the First Class cabin on their B777-300ERs from eight to four, and on the A380-800s it's gone from 12 to six. It makes for a more exclusive experience, sure, but that also means award redemptions become even tougher.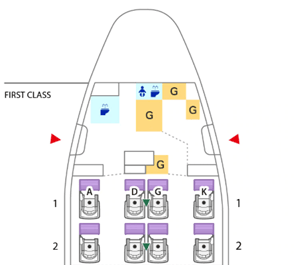 On ANA's new B777-300ERs, the eight First Class seats are configured in two rows of 1-2-1. With so few seats, there really isn't much to talk about in terms of selection. Go for the window if you're by yourself, and the centre if you're traveling with someone. If noise bothers you, take row 2 to be ever so slightly further from the toilet and galley.
The privacy partitions in the centre seats are lowered by default, and you can see how easy it is to talk to your companion if you want to. You don't even need to learn forward; just turn your head.
I picked seat 1K, in the first row on the starboard side of the aircraft. It turned out there were four First Class passengers today, all occupying window seats. This meant we would each have a centre seat to ourselves just for sleeping.
As you'd expect from any First Class seat, there's a tremendous amount of real estate available to you. Unfortunately, ANA hasn't published the exact width of THE Suite, so I'm not able to compare it to THE Room. Just by eyeballing it, however, I do suspect THE Room at its widest may be ever so slightly bigger than THE Suite.
Legroom is definitely not an issue here, with a seat measuring almost 2 meters long.
The huge tray table slides out from beneath the IFE screen, and can be moved forwards/backwards so you can get in/out of your seat during mealtimes. In fact, just because you have a window seat doesn't mean no couple dining- your partner can sit opposite you on the ottoman and dine with you.
Seat controls and the IFE remote are found in the armrest under the window.
Seat controls are straightforward to use:
The first row has three presets for full flat, lounging and take-off/landing
The second row has buttons to individually control the position of the leg rest, lumbar support, and move the entire seat forward/backwards
The last row of buttons handles lighting in the suite. ANA has worked with Panasonic to develop what it calls "dining-friendly lighting", which supposedly shows the food in the best possible light
There's also a jog dial that allows you to adjust the seat's overall position. Methinks Acumen (the seat's designers) like jog dials- you'll also find this on the Polaris seats they designed.
Behind you are two reading lights…
…and to your front is a very subtle wall light that provides a warm glow when switched on.
The IFE remote was touch sensitive, and had a gamepad controller built into it. It didn't suffer from any of the lag or hanging issues that the first generation of touchscreen remotes had.
Unlike THE Room, which had very little storage space for items during taxi, takeoff and landing, THE Suite has it in abundance. Items can be stored under the ottoman (for some reason, this is not possible in THE Room), which already solves for most larger backpacks and shopping bags.
If that's not enough, further storage space is available in a thin elongated compartment in front of the screen…
…as well as under the armrest near the window. Here's where smaller items like handphones, spectacles, and laptop charges can be stowed.
These compartments are also where you'll find the power point, earphone jack, USB and HDMI ports. Just like the inbound leg, the HDMI port was covered by an INOP sticker. It's a shame, because it'd have been awesome to play my own content over the massive screen.
There's an empty literature compartment by your side for magazines and thin books.
This opens up to reveal a vanity mirror.
Finally, each seat also has its own coat storage cupboard nestled into the wall.
Each suite has three windows with electronically-controlled shades, and the coolest thing is you can shut all three at the same time with one button.
I had more fun than I should have playing with this.
Inflight entertainment is provided courtesy of a 43-inch, 4K screen. Unlike Business Class, this screen is not touch sensitive.
I was a bit more dismissive of the 4K screens in Business Class, because at 24 inches in size, you'd have to sit really close to discern the quality improvement. Not so here. With a 43-inch screen, you can see the sharpness of ANA's high-res wallpaper no matter how far back you lean. The backlighting was strong, and I had no issues watching it in bright sunlight. I'll talk a bit more about the IFE content later on.
This wouldn't be a suite without doors, and unlike THE Room's unique combination of a sliding door and a partition, THE Suite uses a more traditional two door design.
There's no button to press here- you simply pull the doors shut via the handles. Do note that the sliding mechanism is locked by default, and you'll need to ask the crew to unlock it so you can close the door.
The doors don't extend all the way to the floor or ceiling, but then again, they don't really need to. They simply add an additional layer of privacy to an already private seat.
ANA's First Class headphones are provided by Sony, and have active noise cancellation. They're comfortable to use and fit well around your ears.
An amenities kit by Globe-Trotter (a British luxury luggage brand) was given to each passenger. The First Class version features the usual earplugs, eye mask, and dental kit, but also has a toiletries set by The Ginza.
This includes a 5 g bottle of creamy cleansing foam, a 5 ml bottle of Essence Empowering (Day) and a 5 ml bottle of Essence Empowering (Night). The Ginza cosmetics are extremely expensive at retail (45 ml of Essence Empowering costs S$1,100!), so get on your wife/gf/mum/tinder date/tinder date mum's good side by passing it to them.
A basket was brought around with additional amenities. The selection was even bigger than what was available in Business Class- there was Shiseido lip balm, packet tissues, pens and even small bottles of ANA's Original Aroma (a blend of 12 natural fragrances including Japanese umbrella-pine and Yoshino Japanese cedar).
ANA provides a set of PJs and a cardigan. both made with 100% organic cotton.
Here's what they look like on a guy who totally doesn't have a tummy.
A day blanket was also waiting at the seat, made with organic cotton from Tenerita. There's a separate, thicker blanket for sleeping.
Pre-departure drinks were served, and small bottles of water were handed out. I had a glass of Billecart-Salmon 2008, intending to switch to Krug once airborne.
We pushed back on schedule (flight time to Tokyo: 13 hours), and ANA's new Kabuki-themed safety video played.
There was a long line to take off at JFK, and we ended up waiting almost 30 minutes.
Once we were underway and climbing to cruising altitude, I got online with the free Wi-Fi pass ANA provides First Class passengers. You'll receive a scratch card with an access code, and remember, the plan can only be accessed from a single device. If you want to use the internet on your phone and laptop, you'll have to buy a separate plan.
Wi-Fi plans on ANA are based on duration, not data usage. There are three plans available:
US$6.95 for 30 mins
US$16.95 for 3 hours
US$21.95 for the full flight
The crew sprang into action after the seatbelt sign went off, and came around with menus.
I was really hungry on account of the lack of food in the British Airways lounge, and couldn't wait to see what was in store. ANA lets First Class passengers dine any time they wanted, but I chose to follow the traditional menu timings.
On today's flight, dinner would be served first, followed by a light meal before landing. As usual, there was a choice between a Japanese and an International menu:
Light dishes were available any time after the first meal service. This is one area where ANA has the beating over Singapore Airlines, whose snack options (even in First Class) are often left wanting.
The meal before landing had the following choices:
The food looked good, but on ANA First Class, the real highlight is the drinks list. It's a chance to indulge in all sorts of Japanese liquors which would cost a bomb if you wanted to sample them individually outside. I'm a notoriously unadventurous drinker, but even I can't resist when I'm on ANA.
The crew took pre-dinner drinks orders, and I have a horrible confession to make.
I heard so much about the Hibiki 21 year old whisky, which costs more than S$1,000 a bottle…if you can find it.  ANA serves this in First Class on selected routes (New York, London, Frankfurt- incidentally, the routes on which the new First/Business Class cabin products are available), and I absolutely had to try it.
But here's the thing: I know absolutely nothing about whisky, and when I requested it the stewardess asked me how I'd like it served. My mind went back to all the bar-tending terms I'd heard in the movies- what was it? On the rocks? Neat? Straight?
She must have seen the panic in my eyes because she prompted me, "with ice?"
That sounded about right. "Sure," I said.
Then it dawned on me. If I was going to be sipping on something that cost this much, why on earth would I be diluting it with ice? That would be a travesty, no?
But it was too late. The glass came with a good-sized portion of ice, and I had to drink it as fast as I could. For what it's worth, I thought it was really smooth (the generic term people use when they really don't know what else to say) and easy to drink. Whisky experts, please chime in. Did I commit some unpardonable crime here?
Oh well, at least I didn't mess up the champagne.
The meal started with an amuse bouche, which today consisted of smoked salmon and scallop tartar in bouchee pie, smoked duck and mandarin orange pincho, grape and cream cheese pistachio ball, and three cheese pepper bars.
Since I'd done the Japanese option on the way over, I decided to go with the International menu this time round.
Proceedings started with a caviar course, served with parsnip mousse.
A mother-of-pearl spoon was provided for the caviar course.
The crew recommended to pair the starter with a white wine, and I had the 2014 Chardonnay Au Bon Climat. This scores a 92 on Robert Parker.
Next up was a garden salad, served with Japanese dressing. I normally poke through airline salads and send them back, but the dressing actually made it very tasty. The presence of bacon bits in the salad helped too.
After the salad came a corn soup. It doesn't sound like the most appetizing thing, but it tasted spectacular. It was creamy without being cloy, and there was a natural richness to it.
I almost went for the roasted halibut and sauteed prawn for my main, but the crew insisted I try the fillet of beef with porcini and pancetta sauce. Now, I've been disappointed with airline beef way too many times, even going so far as to say that good beef is impossible to do on an airplane. And yet, ANA seemed determined to prove me wrong.
Just look at this beauty. Yes, it could always moo more, but this is still pretty darn good. I've had steaks on Singapore Airlines First Class which were cooked till they were grey in the middle, so this is comparatively nirvana.
For the main course, the crew recommended Solaris, a merlot from a Japanese winery named Manns Wines. I didn't even know Japan had a wine industry, but it'd make sense that a culture so obsessed with technical perfection would be able to pull it off.
For dessert, I had the warm chocolate cake with vanilla ice cream.
This was served with some petit fours.
After dinner, I browsed the IFE selection. As mentioned in my previous review, this is not a strength of ANA. The selection of Hollywood movies is extremely limited, and ANA double counts certain titles, like Judy in the picture below. There's a vanilla version, and there's an AD version with Audio Descriptions for the visually impaired.
In other words, what you see isn't what you get. The IFE system says there are more than 50 movies in the Hollywood category, but in reality it's closer to 40.
A small movie selection might be forgiven if the TV selection were better, but this was also slim pickings. There was a very limited selection of full season box sets, and a smattering of random episodes from older TV dramas.
The TV section also contained some completely random things like a riveting documentary on Tokyo traffic safety.
At least there's live TV available, so you can watch President Trump's favourite news network. No, not Fox.
Or you could play Angry Birds (it's so much different on a 43-inch screen).
A 4K screen is useless without 4K content, and because this is such a recent innovation, none of the movies had been optimized for it just yet. ANA does include a small selection of what I'd call "technical demos"- think the looping videos you see playing on display sets in electronics stores. I watched one documentary on the night sky, and I have to say I'm impressed by the potential this screen has once the right content comes along.
I also watched Ad Astra, in which Brad Pitt travels to the farthest reaches of the galaxy to seek an Academy Award.
Before going to bed, I visited the bathroom. ANA hasn't done anything special with the bathrooms on this aircraft, but then again there's only so much you can do with the limited footprint.
The bathroom has a large vessel sink with an automatic tap, and some orchids on the countertop.
As with all Japanese airlines, the toilet has a bidet function. Unfortunately, there's no touchless flush.
One nice feature ANA has added is a thoughtful little platform for you to stand on when you're changing clothes, so your feet don't have to touch the toilet floor.
The other main difference between the Business and First Class bathrooms are the full-sized bottles of "The Ginza" energizing lotion and moisturizing emulsion, each of which costs almost S$230. I have never moisturized my hands so much in my life.
I returned to my seat where the bed had been done up. ANA's sleeping setup features three pillows, a plush duvet, and a curiously thin mattress pad. I don't actually mind this as I like my mattress firm, but I could see it bothering some other people.
The bed was as comfortable as any I've had on an airplane, and I napped for a few hours, waking up over Alaska. The cool thing about having inflight internet is you can track your own flight on FlightAware.
It was time for more food, so I ordered a crabcake sandwich. I've always been partial to Japanese fruit juices (try Aomori apple juice, thank me later), so I was excited to try the Mapple juice on the drinks list. You heard me, Mapple juice. This is a Chardonnay juice made with grapes grown for wine making, but without the fermentation process. Think of it like a luxury grape juice, like only the Japanese know how.
The Mapple juice, in my opinion, was fantastic. It wasn't gratuitously sweet, and the bubbles made it refreshing. This retails online at about S$50 per bottle, if you're interested.
The crabcake sandwich came shortly after, and I was really impressed. The exterior was cripsy, but the crab meat within was still moist. It was seasoned well, and had little pieces of spring onion baked inside for that little extra pep.
I worked a bit more, and before I knew it, the crew came around to ask about the pre-landing meal. I had lost all track of what timezone I was in, so I figured why not have red wine.
This time I had the 2015 Avignonesi, which was excellent (94 points on Robert Parker).
For the meal, I picked the Japanese option. This included a side of marinated pak choy and dried baby shrimp, and a main of saikyo miso-grilled Spanish mackerel.
Because I was feeling guilty about all the booze, I had some token fruits too.
Another hour passed before we touched down at Haneda airport. I would have just under two hours to check out the ANA Suite Lounge, complete with its a la carte dining options. Can anyone say crash diet?
Conclusion
ANA's new First Class fixes everything that was wrong about the old version, and adds some party tricks of its own. The privacy doors, the truly massive IFE screen (it's bigger than the TV I have in my bedroom)…that and the lovely crew made this one of my best First Class experiences.
There was one nagging question at the back of my mind though- was THE Suite really that much better than THE Room? Sure, the food and drinks were higher quality, but in terms of the hard product?
Well, put it this way: modern day Business Class seats are basically what First Class was 15 years ago. The comfort differential is gone, because once you've gone flat, you can't go any flatter. First Class, therefore, can only distinguish itself with the luxury angle- vintage champagne, caviar, high-end toiletries. That said, if your end goal is to fly in comfort and arrive well-rested, you don't need First Class anymore. Nowhere is this more apparent than on ANA's new aircraft.
So I'd still encourage people to try this once for the novelty, but there's no reason to feel left out if you can't put together the miles needed. Business Class is, in terms of hard product, as good as First Class now. Long may that trend continue.
---
Purchases made through any of the links in this article may generate an affiliate commission that supports the running of the site. Found this post useful? Subscribe to our Telegram Channel to get these posts pushed directly to your phone, or our newsletter (on the right of your screen) for the latest deals and hacks delivered to your inbox.