Back in April 2019, Singapore Airlines added ZALORA as an earning partner, allowing members to earn 5 KrisFlyer miles per S$5 spent, with a bonus of 50 miles for spending S$150 or more in a single transaction.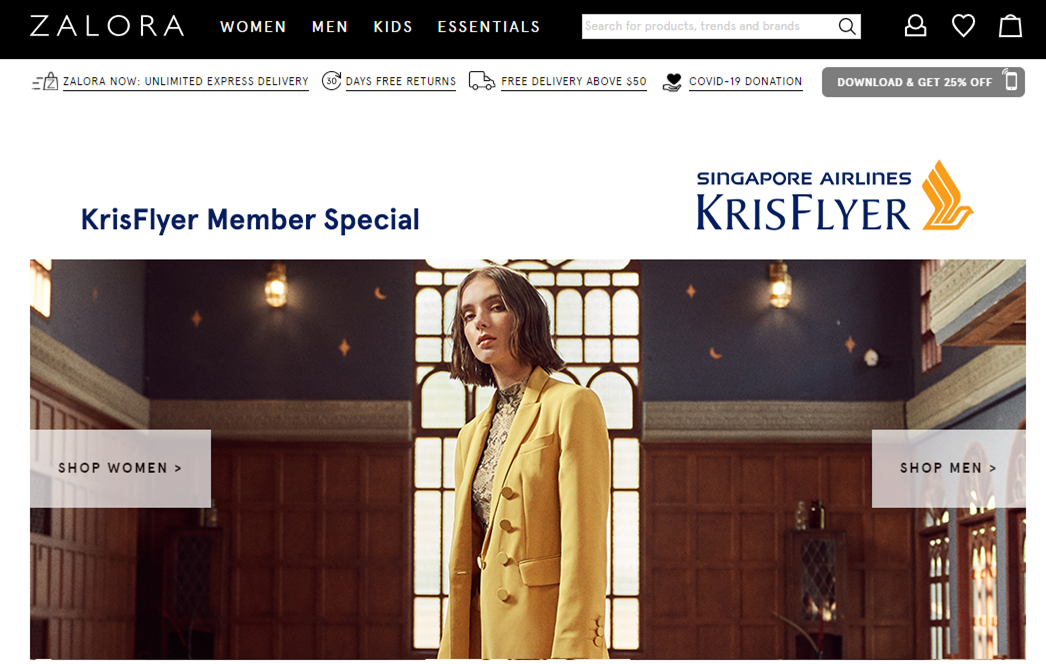 Unfortunately, that partnership is set to be temporarily suspended. As per an update on the ZALORA website:
We would like to inform you that ZALORA will officially suspend the earning of KrisFlyer miles on ZALORA from 1st May 2020 for 6 months. The transactions made before 1st May 2020 are still eligible to earn miles and your earned miles will be credited to your account by 30 June 2020. If you have any questions, please get in touch with ZALORA customer service via live chat or online contact form.
From 1 May 2020, ZALORA will no longer award KrisFlyer miles for a period of 6 months. Any transactions made before 1 May 2020 will still earn miles at the regular rate (5 miles per S$5), and outstanding miles will be credited by 30 June 2020. 
New ZALORA customers can continue to use the code KFNEW2020 to get 26% off their first purchase, while existing customers can use the code KF2020 to get 15% off with a minimum spend of S$100. Both codes remain valid till 31 December 2020.
My guess is that the tightening economic situation means ZALORA doesn't have the margins to continue offering this. 5 miles per S$5 may not sound like an overly generous rate, but it still costs money to purchase those miles from Singapore Airlines. It's also debatable whether miles will be a significant determinant of consumer preference at a time like this.
Other partnerships have also been devalued or suspended
It hasn't been a great couple of months for KrisFlyer partnerships.
At the start of March, Grab increased the cost of KrisFlyer miles by up to 14% (without notice), and April saw Chope shutting down all redemptions (including KrisFlyer miles) until November 2020. Virgin Australia has also gone into administration, and suspended its points transfers to KrisFlyer.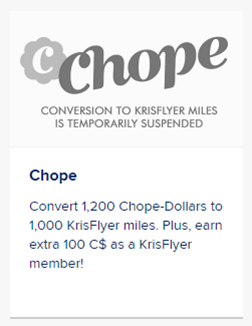 With ZALORA now suspending its partnership, I wonder if other merchants like foodpanda will stay the course or follow suit.
Here's the full list of other ways you can earn KrisFlyer miles on the ground, apart from credit cards.
Conclusion
If you were intending to make any ZALORA purchases, remember to do so before 1 May 2020. Otherwise, you'll have to wait till 1 November 2020 before you can earn KrisFlyer miles again.
(HT: Adam)