Late last year, American Express launched NOOK by Platinum, inside 15 Stamford at The Capitol Kempinski Hotel. This pop-up lounge serves Platinum Charge and Centurion cardholders, and replaces the old Platinum VIBES at Keppel Bay Island.
American Express has extended NOOK's lease till end-2020
NOOK's lease was originally supposed to run till 30 April 2020, but amidst all the upheaval caused by the Circuit Breaker there was some confusion as to whether the lease had been extended.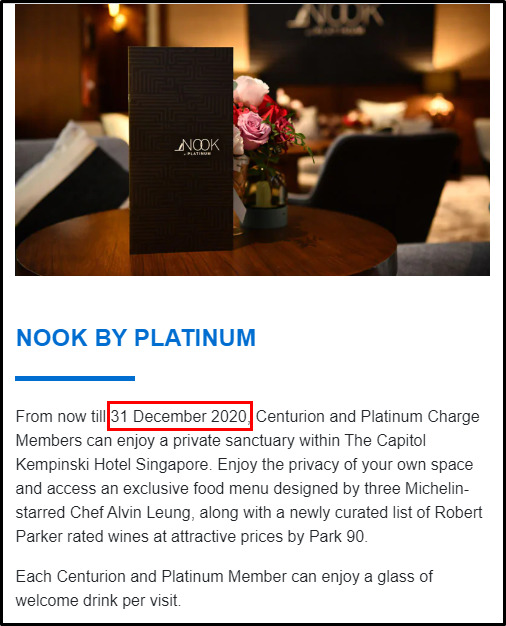 American Express has now confirmed that NOOK's lease has been extended till 31 December 2020. However, NOOK has not reopened yet as arrangements are still being made to accommodate safe distancing measures mandated under Phase 2.
Update: AMEX has confirmed that NOOK will reopen on 26 June 2020. Reservations are recommended, as seating capacity has been greatly reduced due to safe distancing measures
A primer on NOOK by Platinum
For those who need a refresher, NOOK is a private lounge located within 15 Stamford at The Capitol Kempinski Hotel. Access is available to all principal and supplementary cardholders of the AMEX Platinum Charge and AMEX Centurion.
Cardholders are entitled to bring guests, with no official cap. Reservations are recommended however, as walk-ins will only be accommodated if there's sufficient space available.
NOOK is open from 12 p.m to 12 a.m daily, with a lunch service from 12- 3 p.m and a dinner service from 6- 10.30 p.m. The menu and wine list can be found here. Complimentary parking is available with a minimum spend of S$50.
NOOK is a great place to chill with a complimentary welcome drink (a glass of white or red wine for Platinum Charge members, a glass of champagne for Centurion members), and a well-stocked library with a small selection of board games.
There are four working desks with comfortable chairs, allowing you to get some serious work done too.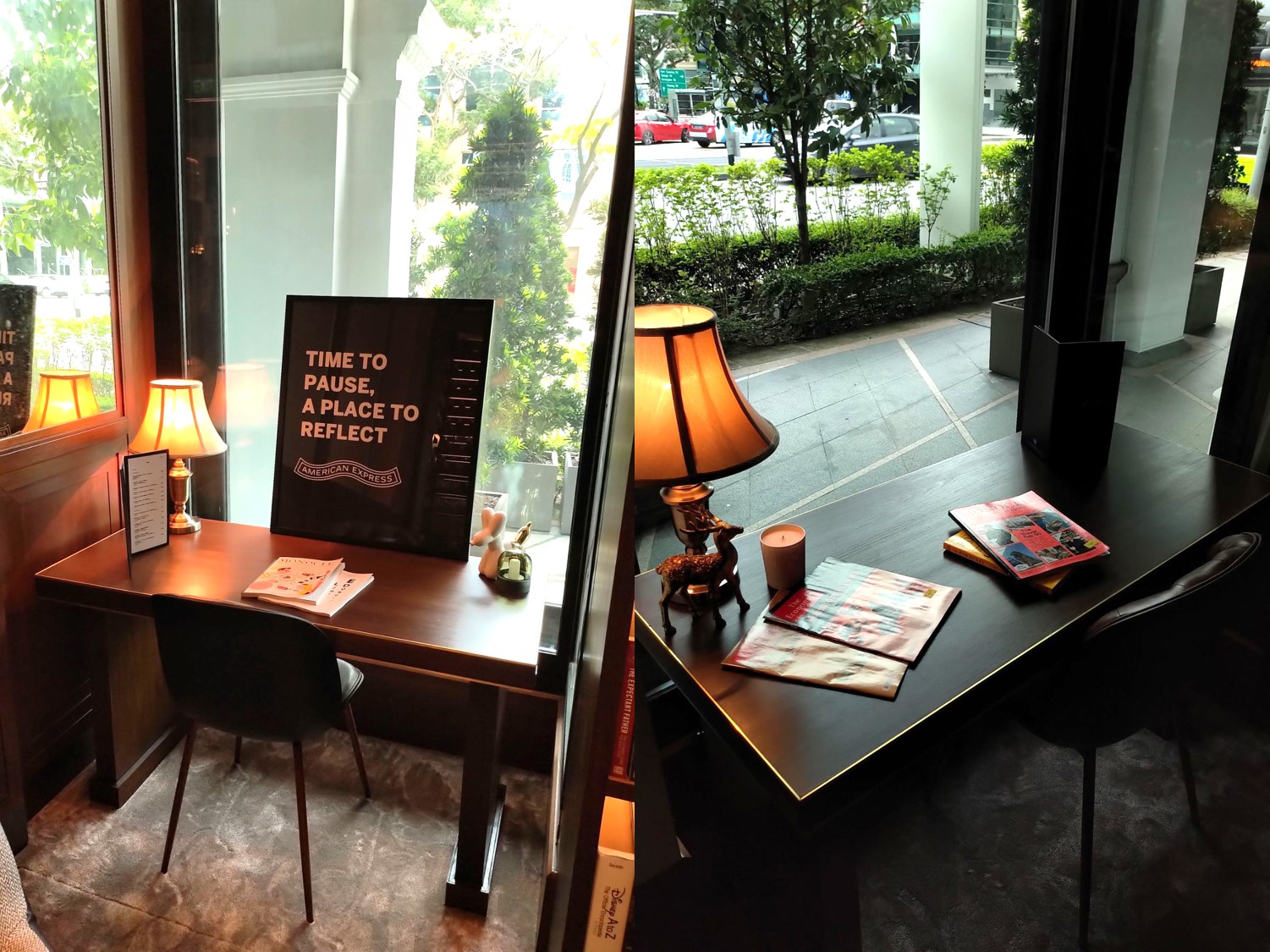 NOOK has its own snack menu, although food can also be ordered from 15 Stamford. Do note that the AMEX Love Dining discount only applies to the latter, not the former. The wine list is extensive, and features numerous Robert Parker-rated offerings.
Free Wi-Fi and charging ports are available, and all in all it's a nice little oasis in the middle of town. It'd be a great spot to pop by after work, but now that so many people are working from home, well…
Conclusion
NOOK's extended lease gives cardholders some additional time to enjoy the facility, and it's well worth a visit if you haven't already been.
I am curious as to how NOOK will implement safe distancing measures, because the place is already small as it is. There are only 30 seats available, and the whole area is maybe a quarter the size of the old VIBES. I've historically never bothered to make a reservation (since I mostly visit on weekday afternoons), but never had issues getting seated immediately. That may change going forward.
If you don't already have an AMEX Platinum Charge card, applying through the link below allows you to earn a bonus 40,000 Membership Rewards points upon approval.