"So darling, I'm booking a stay at the Hotel 81," I told The Milelioness over breakfast.
She didn't so much as blink, confirming that a year and half of marriage had inoculated her against such shock tactics. 
"It's really for the website, you know. I think it'd be good to review staycations across a range of price points, to see what the new normal looks like at different places," I elaborated, doth protesting too much. "Besides, Hotel 81's removed the carpets, so you can't get pregnant by walking across the floor barefoot anymore."
She blinked this time. 
"It's all hard wood now."
There then proceeded a two minute period where I chortled uncontrollably at my own joke, and The Milelioness' eyes made several rotations of their sockets. 
I invited her to join me for this escapade, but she declined, citing how contracting a communicable disease might render her ineligible to practice dentistry. 
Let's back up.
Booking the Hotel 81 Tristar
The STB has been steadily approving hotels for staycations since 9 July, but they've mostly been chi chi establishments, the type which charge you 2% for looking in the mirror twice. 
Then on 17 July came the news that not one, but two Hotel 81 properties had received approval to take staycation guests. 
Amorous couples islandwide rejoiced. Finally, a place where two consenting adults could play Monopoly Deal away from prying relatives and noisy children, enjoy a leisurely swim, luxuriate in the tub, catch up on the latest movies, and feast on Geylang's sumptuous gastronomic bounty. There's nary a better place in all of Singapore for wholesome fun. 
But which one to book- Sakura or Tristar? Both had equally stellar reviews (with one reviewer confirming my suspicions that this was, indeed, a place for "good family time"), as well as compelling rates. 
Hotel 81's website wasn't making this decision any easier, dangling the coveted "guaranteed late check-out" carrot for both properties. 
I ended up doing a little online research on the two hotels (apparently, someone called Sammy has a lot of interest in these places), and once I saw the Tristar's address, there could only be one winner. 
Those of you who know your bible history will be familiar with the story of Onan, from whom we get the term "onanism". I'll spare you the etymology lesson, suffice to say that a Hotel 81 on Onan Road is the kind of thing you can't make up. 
There was just one problem. Hotel 81 Tristar was completely booked out for the next two weeks. Now, I know that there's a lot of pent up demand for staycations among Singaporeans, but I didn't think we could be this vigorous. 
So I called up the hotel to ask, and as it turns out, the website doesn't reflect actual availability. With the exception of the weekend (where, statistically speaking, most people play Monopoly Deal), there were plenty of rooms available. 
I proceeded to make a booking. 
"How many staying?" the clerk asked.
"Just one," I said cheerfully.
There was a disbelieving pause on the other end of the line. 
"…OK sir. But if you have any extra guests you'll need to register them at reception."
I tried to hide my offense at her microaggression. Single diners and theme park visitors are already so discriminated against. Need we extend this stigma to hotels too? What if a man just wanted a quiet space to ruminate on the deeper issues of life and maybe build a pillow fort? 
"I understand," I said. 
"Can I get your name?"
I briefly thought of using a pseudonym. What if I one day wished to run for public office, and my opponents decided to do a little opposition research? That one furtive night at a Hotel 81 might be hard to sell the voters on.
But against my better judgment I opted to be honest, and in less than a minute I was done (with the booking- oh grow up). They didn't even ask for a credit card to secure the reservation, simply telling me that check-in time was 2 p.m, and if I didn't show up by 4 p.m they'd release the room. 
I was all set. 
The Hotel 81 Experience
On the day in question, I ordered a Grab to spirit me away to my staycation. 
Isn't technology great? Back in the day you'd have to skulk into the back of a cab and mumble a sheepish "Uncle, Hotel 81 please". Now, your proclivities can be left unsaid- just you, the driver, and whichever intelligence agency happens to be mining Grab's database at the moment. 
For the sake of plausible deniability (still thinking of those voters), I entered the destination as Cheers @ Hotel 81 instead, so if anyone asked I could say I was only there for a microwavable sandwich and a bottle of overpriced mineral water.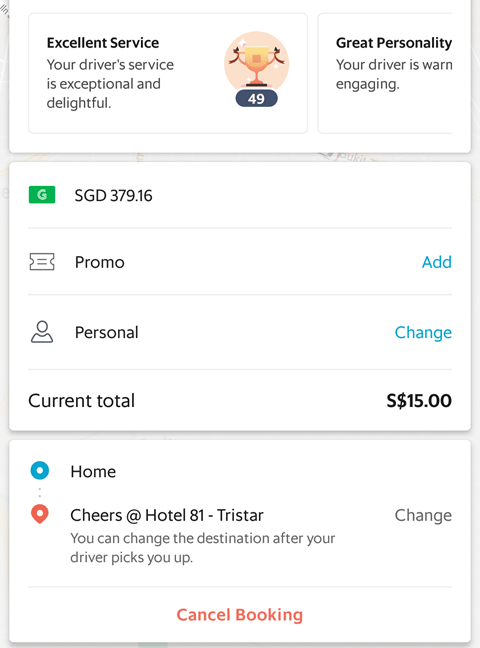 If the driver saw through my subterfuge, he did admirably not to let on. 
"You're going to Hote…Onan Road, right?" he said. Smooth. 
 I conceded I was, and we were off. 
The Hotel 81 Tristar is nestled away on an idyllic corner of Geylang and Onan Road, deep in the heartlands where traditional values are respected, away from the Sodom and Gomorrah that is Marina Bay. 
I thanked the driver, who spotted my wedding ring as I alighted and gave me a concerned look. No doubt he disliked my taste in jewelry, but that was his problem, not mine. 
Now, say what you will about the rising cost of living in Singapore, but Hotel 81 seems to defy all economic reality. Rooms here go for an astounding S$79 nett per night, well below the STB's estimated average of S$108 at other budget hotels. That's 30% lower than the competition, in a segment of the industry where margins are as tight as the lips of the front desk clerk. 
There were some curious looks from bystanders as I diligently photographed every aspect of the Hotel 81 Tristar's facade, but I figured they were just jealous it was staycation-o-clock for me. 
I registered myself via SafeEntry (if you have any jokes about SafeEntry, please make them now), and proceeded inside to check-in. 
Check-in was fast, and I was given an STB-mandated form to declare the purpose of my stay. Quite frankly, I had no idea the difference between "staycation" and "enjoy some private time away from home", but decided the latter was way too euphemistic for my liking. 
The front desk associate confirmed once more that I had no guests in tow, and informed me about the 11 a.m check-out time. Unfortunately, since I booked on the phone and not over the internet, the guaranteed late check-out didn't apply to me. I could, however, purchase additional hours at S$10 apiece. 
Unlike most hotels, Hotel 81 doesn't charge you a security deposit. Instead, full payment is taken upfront, and I'm pleased to inform miles collectors that Paywave is accepted. I dutifully tapped my UOB Preferred Platinum Visa (via mobile wallet) to earn 4 miles per dollar. It was disappointing to see that the Hotel 81 was not safe from the dreaded DCC scam, but I highly doubt that sub-optimal exchange rates are a primary concern for those in the throes of passion. 
I was given an old fashioned room key (sanitized in front of me), and instructed to leave it with reception every time I headed out (how European!). My room was on level 4, the top floor of the building. "Penthouse living here I come", said I. 
The lobby was deserted when I arrived, but that's probably because Hotel 81 has implemented the full suite of Safe Management Measures. Chief among them is that public areas like lobbies be kept as clear as possible, with seating cordoned off to prevent guests from loitering.
I always thought the lobby to be the social epicentre of a hotel- Somerset Maugham was known to hang out in the Palm Court of the Raffles and spin overheard gossip and scandal into famous yarns. Sadly, there'd be no such opportunities at the Hotel 81, unless maybe I wanted to doctor my own fan fic. 
Indeed, all throughout the hotel were reminders that dangerous diseases were afoot, and not just the ones they teach you about during sex-ed. 
I rode the elevator up to the 4th floor, accompanied by a fellow denizen. We traded knowing looks, the kind shared by men who have sought solitude in order to read Murakami's 1Q84 and nothing more. 
There are a total of 116 rooms at the Hotel 81 Tristar. The hotel splits them into four categories, but really, it's just two. There's the Deluxe Room, which comes in Queen, Twin and Triple configurations, and the Family Room, where you bring the kids for a weekend at the happiest place on earth. 
I'd been assigned to room 415, where the corridor light was ominously flickering. 
"I've seen this movie before," I thought to myself. "The protagonist goes into his hotel room and nothing bad whatsoever happens."
Room 415 certainly didn't make the best of first impressions; I stepped in and was immediately assaulted by the overpowering stench of cigarette smoke. However I was pleasantly surprised by the look of the room. 
I had been picturing something out of the Bates Motel, but this was altogether better than expected. 
In fact, the room even had some features which upscale hotels inexplicably miss out on. Like universal power ports- how can you expect to be an international hotel if your guests can't even plug in their devices? 
Many hotels are also aggressively stocking their mini-bars with overpriced drinks and candy. Some have even equipped them with sensors, and if you so much as brush up against that Hershey's or bump that Coke, said item will be automatically added to your bill. How refreshing it was to have an empty mini-bar, completely available for your storage needs (tongkat ali needs refrigeration, right?)
Speaking of the mini-bar, two complimentary bottles of water and some instant coffee and tea were available, as well as a kettle.
A battered but functional luggage rack was next to the TV, and would easily accommodate a large-sized bag. 
For some reason, TVs in this Hotel 81 were all on by default when you entered the room, with the channel set to Fox Movies. I wondered whether this might be an attempt to mask the ambient euphoric noises, although in my opinion, Short Round's voice does nothing to improve the environment for procreation. 
I briefly channel surfed, if only to dispel the urban legend that Hotel 81 had adult content on its TVs. There was nothing unbecoming here at all. Just 20 odd channels of education, news, sports and Indiana Jones.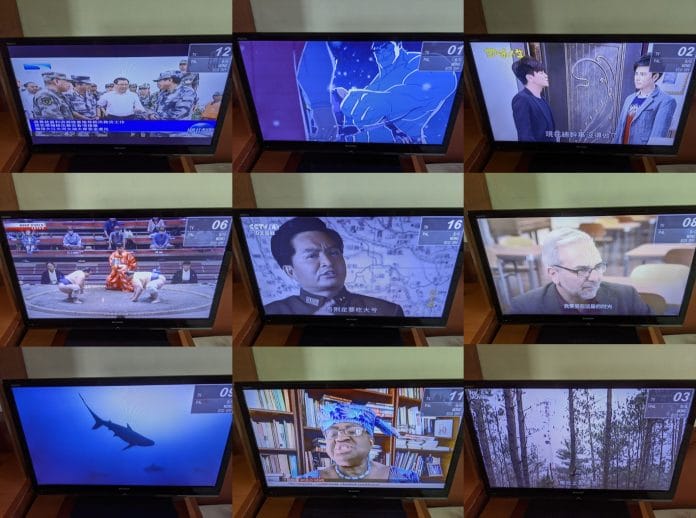 So far so good. Then I made the mistake of exploring more.
On the floor near the window was an indelible stain that looked suspiciously like blood, but I knew it couldn't be, since Hotel 81 Tristar is in fact SG Clean certified. In all likelihood, a teacher brought her term papers here to grade and accidentally spilled red ink everywhere. 
I tried to open the windows to air out that strong cigarette smell, but once the very dusty curtains were drawn back, I found the windows were sealed shut. Perhaps the neighbours had received noise complaints…
For what it's worth, room 415 had a fantastic view of the neighboring Zakat collection centre.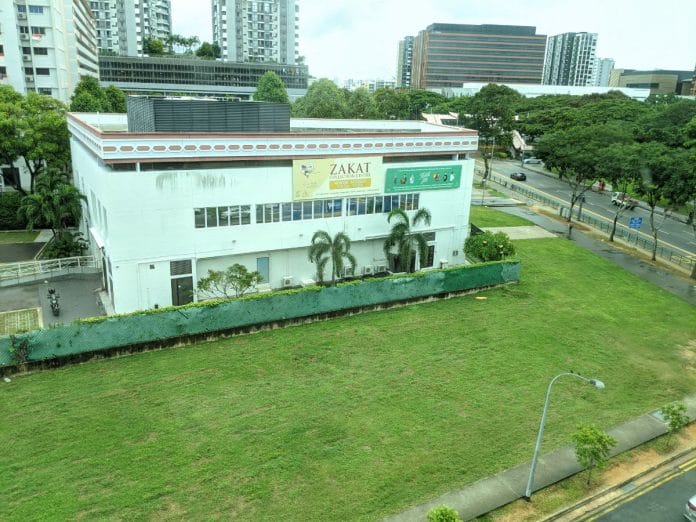 I paid a visit to the bathroom, which was doing its best to channel hospital chic, complete with matching counter and floor tiles. 
It was good to see Hotel 81 firmly embracing the "wash don't wipe" philosophy, as there wasn't a toilet paper holder in sight. Instead, there was a simple bidet hose (which, I might add, even the W Sentosa didn't have). If you really needed toilet paper, there was a wall-mounted multi-purpose tissue dispenser, with paper so thin you needed to hum "Highway to the Danger Zone" every time you wiped your bum. 
It was in the toilet I met my new friend, Roachy. He was hiding under the counter and shy at first but warmed up when it became clear I didn't see him as a food source. 
Roachy advised me to look in the tub, and that's when I realised I probably wouldn't have a bubble bath with a relaxing glass of wine that evening. 
That's when it dawned on me- the red stains on the floor, the rust in the bathtub, Roachy hiding in the bathroom. It all fit together like a Nancy Drew novel. There had clearly been a murder, and the perpetrator had attempted to dissolve the victim in the bathtub. Unbeknownst to him, the whole deed had been witnessed by Roachy, who was now lying low and awaiting admission into the Witness Protection Program. 
Satisfied that I had cracked the case, I went down to ask for a room change. The front desk was apologetic, and said they'd upgrade me to a larger room instead. I invited Roachy to join, but he declined, saying he had friends to entertain.
And so I headed off to Room 409 this time, a Family Room. It was an altogether nicer space, devoid of any smoke smell and with plenty of room to move around. 
It was cute how they'd decided to put the TV next to the bed, perhaps rationalizing that the occupants weren't going to be watching too much of it. 
The bathroom wasn't anything fancy, but on the plus side, it didn't look like someone had recently disposed of a corpse in it. 
I was also pleased to see that Hotel 81 was big on oral dental hygiene, with no fewer than four toothbrush kits at the single sink. Yes, this room was certainly an upgrade on the previous one. 
And then I went to ruin it for myself by running a blacklight test. 
For those of you unfamiliar with how a blacklight test works, it's based on the principle that body fluids like semen, sweat, saliva and urine happen to glow (fluoresce) under UV light. Incidentally, semen glows the brightest because of its particular mix of chemicals (the more you know…).
I'd purchased a cheap $3.90 UV flashlight on Qoo10 and was looking forward to putting it to work. 
If you don't fancy sitting through that video, here's the highlights reel. 
Even the bedside table wasn't free from corruption. A lonesome streak running down the side suggested that someone's aim was not as on point as he might have fancied. 
Similarly, the sheets on the single bed also had some gnarly stains on their undersides. Mercifully, the sheets on the twin bed passed muster. 
Now, I've read that blacklight tests can give false positives, because some cleaning products may also fluoresce under UV light. Whether you want to give the hotel the benefit of the doubt is up to you, suffice to say that I didn't take my shoes off the whole time. 
On to the work test, and could a Hotel 81 room in fact be a place of great productivity? Well, it had a proper desk for a start, complete with a sturdy chair that looked like it could take the weight of two people (and from my cursory blacklight scan, probably had). 
I laid a towel gingerly on the seat, set up my laptop and got online. Security protocols be damned, I'm just going to tell you that the Wi-Fi password at the Hotel 81 is 8181.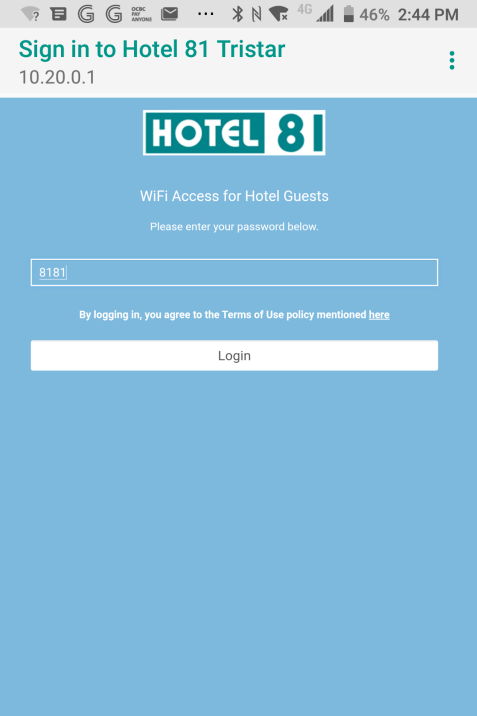 There's something poetic about that, in the same way that the Wi-Fi speed clocks in at 6.9 Mbps. 
This isn't what you'd call zippy, given that my phone was clocking 68 Mbps down/ 21 Mbps up at the same location. That said, it's good enough for HD Netflix, assuming everyone isn't Netflix and chilling at the same time. 
After a couple of hours of work, I decided to explore the facilities. 
Hotel 81 Tristar is one of the few Hotel 81s with a pool, complete with dolphin motif. It was such lovely weather outside that I couldn't believe the pool was empty. What else would you come to a place like this for? 
Oh well, their loss. I hurried down to level 3, and eagerly disrobed for the pool, only for reality to slap me in the face. 
Hotel pools should have reopened under Phase 2, so I was understandably disappointed. I composed a mental complaint in my head- "Dear Sir, I was deeply upset to find that the pool was closed during my visit. It was supposed to be the highlight of my stay at the Hotel 81."
The loss of the pool meant the only recreation was to read the signs on the wall, one of which taught the "call-blow-pump" technique, something I'm sure was widely practiced at this hotel. 
Dejected, I returned to the room and worked a little more, before deciding to grab dinner. The hotel doesn't allow food delivery to rooms, which I suppose rules out any pizza delivery guy role playing, but in any case I decided to head out and stretch my legs. 
It was dark by the time I returned. Hotel 81's vertical signboard glowed like a faint candle amidst the black, invoking a sense of loneliness that Edward Hopper would be proud of. 

All was quiet in the lobby and corridors at night. Those who haven't been to a Hotel 81 might imagine the place to be like Animal House, with rambunctious partying and acts of wanton carnality everywhere.
But in reality, the Tristar was less boisterous frat house and more library. There's a kind of hush over the place, as people try to avoid eye contact and cleaners scutter from room to room tidying up after the hourly guests. The whole time I was there, I never heard the noise level rise above an audible whisper. This was truly a place for navel-gazing. 
Back in my room, I realised that I hadn't actually tested the bed yet. Hotel 81's website boasts of a "branded luxurious pocket spring mattress", and there was no way I'd let a few mysterious stains deter me from trying it out. 
So I did, and discovered that the mattress was pleasantly firm. It wasn't a Westin Heavenly Bed or a Sheraton Sweet Sleeper, but no one comes to a Hotel 81 expecting a good night's rest. 
Except me. I made one final check of the sheets, slung the heavy plastic Do Not Disturb sign on the door, and tried to get some sleep. 
Only I couldn't.
You know that feeling you get when you're trying to fall asleep but your brain won't shut up? That was happening to me. I couldn't get those stains out of my mind, and kept wondering if Roachy might actually be the perpetrator instead of the eyewitness, and maybe now I knew too much. 
The more I thought about it, the more itchy I felt. Call it psychosomatic, but I kept checking my skin to make sure I wasn't getting bitten by anything. And while I certainly didn't see anything, I still couldn't shake the feeling.
This went on for a couple of hours, after which I'm ashamed to say I took the easy way out by flagging a cab and heading home to catch a few winks. The Milelioness was sleeping by the time I got back, but managed to mutter something along the lines of "don't you dare wear those clothes in the bedroom". I was so moved she'd make the effort to talk dirty to me at such an hour, but it turned out she just wanted me to disinfect myself. 
I returned bright and early the next morning, because I imagined they'd be serving breakfast. 
I was right. Not about breakfast, but about imagining it. You see, despite the Tristar's brochure proudly listing breakfast as an optional extra, the hotel didn't actually serve it. Guests are instead directed next door to the coffee shop, making this hotel's breakfast as illusionary as its SG Clean certification. 
With the last item on my list checked off, I duly inspected the room one last time and headed to check-out. 
Here's where I shook my head once more at the barefaced lies of the SG Clean certificate…
…and proudly accepted my certificate of completion. Time seems to pass quickly at the Hotel 81- I checked out at 11:36 a.m, but they printed p.m on my receipt. 
Conclusion
I wish I could say the Hotel 81 Tristar is a rough cut gem, but it's more like an unpolished turd (with the exception of the front desk staff, who were very polite and efficient). That said, it excels at what it sets out to do- provide a private room with a discreet front desk for S$79 a night all-in. 
If you want to staycation on a budget, there are a whole lot of cheap and cheerful options hovering around the S$100 mark like the Hotel NuVe (S$80++), Hotel YAN (S$96++), Hotel Soloha (S$98++) and Hotel G (S$153 nett for 2 nights). Even if you think the Hotel 81 could be some kind of meta-ironic place to bring your spouse, it's probably a better idea to live vicariously through this post. 
If you do visit, however, say hi to Roachy and tell him I'm keeping my end of the deal. 
🏨 In Summary
The Hotel 81 Tristar is not ironically bad. It is bad. Save your S$79 and find a boutique hotel which gives you more bang for your buck.
Do say: Pass the lysol.
Don't say: Those stains were already there when I got here.