While some may have been skeptical about Singapore Airlines' Discover Your SIA experiences, I must say they've acquitted themselves pretty well. Four sessions of A380 dining have more or less sold out, and even the home delivery business has seen some traction (it now comes in cable car form, too!).
It's no substitute for flying, of course, but I've enjoyed the experiences I've reviewed so far.
Now it's time for the final Discover Your SIA experience: Inside Singapore Airlines, a behind-the-scenes look at SIA's training centre with activities for the whole family.
Unlike the tickets for Restaurant A380 @Changi, Singapore Airlines has mercifully chosen a more sane hour for ticket sales to start- 10 a.m on Sunday, 1 November 2020. This means no staying up late tonight (but may mean getting out of bed a bit earlier than some are used to on Sundays).
Inside Singapore Airlines takes place over two weekends during the year-end school holidays:
21 November 2020 (Sat)
22 November 2020 (Sun)
28 November 2020 (Sat)
29 November 2020 (Sun)
What's happening, how much does it cost, and what card should you use to pay for this? Let's find out.
What is Inside Singapore Airlines?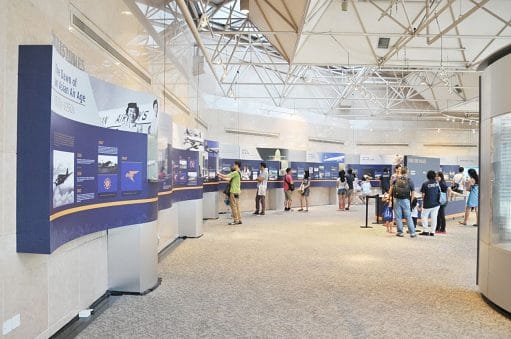 Inside Singapore Airlines
Learn more about what goes on behind the scenes at the SIA Training Centre. For two weekends only, we are opening our doors to give you an inside look into our world with guided tours, activities and curated experiences for all ages.
Journey through our history and see how Singapore Airlines has evolved over the years. Find out what it takes to be a Singapore Airlines cabin crew and pilot. Enjoy additional activities like the junior cabin crew experience, flight simulator training session and so much more.
Bookings open on 1 November 2020 1000 hrs | Full Event T&C
Inside Singapore Airlines consists of two main types of activities- those included in the admission fee, and those that require an additional top-up.
The admission fee includes a meal and limited edition goodie bag.
🎟️ Included with Admission

Heritage Tour

Visitors can travel back in time and journey with us through over 70 years of SIA's heritage. Highlights include a showcase of how our iconic cabin crew uniform and cabin products have evolved over the years.

Behind-the-scenes Training Tour

Perfect for kids and families, this is a rare opportunity to find out from our pilots and cabin crew what it takes to fly and serve in the skies. The tour will feature our latest cabin products and a look at where training on our flight simulators is conducted.

Sustainability showcase

Get a glimpse into what we have been doing to shape a more sustainable future at SIA, from reducing our carbon footprint to our range of waste management measures.

Craft Activities

Children and adults alike can enjoy fun craft activities, including balloon sculpting and making their own batik roses.

Satisfy your in-flight cuisine cravings

Choose from a selection of our popular in-flight meals, including our all-time favourite satay, at any time during their visit. Visitors may earn miles for these in-flight meals too, when they use KrisPay.

Retail Therapy

Visitors can get great deals on KrisShop merchandise, including airline exclusive products. Visitors can download the KrisPay app for contactless payment, and to earn KrisPay miles with their purchases.
💰 Additional Fee Required
Flight simulator experience

Experience the training that goes behind being a pilot with a flying instructor. Take command and go from take-off to landing in the very same flight simulator Singapore Airlines pilots use for training.

Junior cabin crew experience

Turn your kids into junior cabin crew, where they get to dress up in and take home their very own Singapore Airlines sarong kebaya uniform, learn customer service skills, and role-play with you in a mock-up of our A380 Business Class cabin.

Wine Appreciation

Learn about our wine sourcing approach and enjoy four wines —including labels from the largest Burgundy cellar in the sky, accompanied with cheese. Designed for wine enthusiasts and conducted by our air sommeliers.

Grooming Workshop

Achieve the Singapore Girl look with our cabin crew trainers. Be guided through a demonstration on makeup application and the secret behind the perfect Singapore Girl chignon. Bring home your own Lancôme makeup palette at the end of the session.

Junior Pilot Experience

Treat your young aspiring pilot to an interactive experience in a build-to-scale model cockpit which comes with controls, dials and multiple screens. Experience day or night take-off and landing in your airport of choice, guided by our very own Singapore Airlines pilot.
How much will Inside Singapore Airlines cost?
Of all the Discover Your SIA activities so far, Inside Singapore Airlines is the most affordable. Tickets cost S$32.10 for adults and S$16.05 for children (aged 3-12).
| | | |
| --- | --- | --- |
| | Cash Price (Nett) | KrisFlyer Miles |
| Adult | S$32.10 | 3,234 |
| Child (aged 3-12) | $16.05 | 1,568 |
Interestingly enough, Singapore Airlines is giving a higher-than-usual rate for those looking to spend KrisFlyer miles. For [email protected] and Restaurant A380 @Changi, KrisFlyer miles were worth 0.8 cents each. For Inside Singapore Airlines, you get 1.02 cents per mile, or 27.5% more.
I still wouldn't advise most people to spend their KrisFlyer miles on this, although if you have too many on your hands, it's at least better value than before.
For the add-on activities, expect to pay the following:
| | | |
| --- | --- | --- |
| Activity | Price (Nett) | Notes |
| Flight simulator experience | S$535 | Children aged 12 to 20 years old must be accompanied by an adult who is at least 21 years old |
| Junior cabin crew experience | S$94.16 | Suitable for children aged 4 to 10 years old. Available kebaya sizes – S, M & L (size chart to be provided during purchase) |
| Grooming workshop | S$94.16 | Min. age 18 |
| Junior pilot experience | S$72.76 | Suitable for children. Only children above 1.4m will be able to operate the controls independently. |
| Wine appreciation experience | S$40.66 | Min. age 18 |
I suspect that despite the price, the flight simulator experience will prove to be popular. This isn't some run-of-the-mill Microsoft Flight Simulator; this is the actual full motion device that SIA trains their pilots on. The S$535 will cover up to 3 participants, but presumably you'll have to take turns over the course of a 30-minute session.
Also interesting would be the junior cabin crew experience. I wonder if they'll teach them how to deal with "drunk TPPS in 21A asking rhetorically whether cabin crew know who he is"- it's a valuable life skill.
I'm checking with Singapore Airlines whether you'll be able to spend your miles for these as well, and if so, whether you get the usual 0.8 cents/mile rate or the enhanced 1.02 cents/mile one.
Update: From the booking interface, it seems you'll enjoy the 1.02 cents/mile rate for the experiences too
What card should I use to pay on KrisShop?
All KrisShop transactions earn 1.5 mpd by default, regardless of what payment method you use. These will be posted to your account within 30 business days of the transaction.
On top of this, you can also double dip on miles with your credit card. KrisShop.com transactions will be processed as online duty free transactions (MCC 5309), so you can consider using the following cards:
This could be a good opportunity for KrisFlyer UOB Credit Card members to hit the minimum S$500 spend on SIA Group transactions required to trigger the 3 mpd earn rate on dining, food delivery, online shopping, online travel and transport transactions.
Conclusion
While I don't expect these tickets to sell quite as fast as Restaurant A380, I still wouldn't wait too long to pull the trigger. The low price point makes this a great school holiday activity, and many families will be snapping up tickets.
I'll definitely be looking to book the first session on 21 November, and hope to meet up with more members of The Milelion community there!