When the history books of this era are written, the Airbus A380 will surely go down as a cautionary tale of a solution seeking a problem. Developed at an eye-watering cost of US$25 billion and trumpeted as the biggest revolution in aviation since Kitty Hawk, this airborne behemoth never really found its niche.
That's not to say it didn't cause imaginations to soar- the sheer scale of the A380 gave rise to flights of fancy, quite literally. In the early days, there was talk of flying shopping malls, gyms, beauty parlors, staterooms, and every manner of PaxEx that seem like cruel jokes now. Richard Branson spoke of adding casinos and double beds on Virgin Atlantic's A380s, giving passengers "two ways of getting lucky on a Virgin plane."
While we did get the double beds when the A380 debuted with Singapore Airlines in October 2007, pretty much everything else turned out to be hubris. Enough ink has been spilled as to why the A380 never became the smashing success that the minds in Toulouse originally envisioned, suffice to say that when Airbus called time on production last year, the writing wasn't just on the wall- it'd been read, interpreted, and fulfilled several times over. 
Perhaps the grimmest indictment of the entire project came when the WTO ruled that Airbus had received improper subsidies amounting to US$9 billion for the A380's development. Airbus' response was not to deny it, but note that with just 330 orders in 18 years, the threat posed to Boeing was so marginal that any sanctions should likewise be minimal. 
It's kind of funny, if you think about it. 
Restaurant A380: Prelude
In that sense, COVID-19 has merely accelerated the inevitable. While the A380 attracts superlatives like "the cruise ship of the skies" and evokes a sense of longing for the golden age of travel, economic reality is much less sentimental.
IATA does not expect air travel to return to pre-pandemic levels until 2024, and with load factors too low to justify a quadjet superjumbo, most airlines have taken to storing their A380s in climate-controlled hangars and deserts. Some will never return to service, and may soon start populating aircraft boneyards from Teruel to Victorville.
Singapore Airlines is no exception, having flown 7 of its 19 A380s to Alice Springs for long-term storage. Of the 12 remaining in Singapore, none have operated a commercial flight since March 2020.
But despite its dubious commercial value, the A380 continues to capture the imagination of the public in a way that no other aircraft can. So how do you capitalise on this? 
A pop-up restaurant, of course.
It surprised few (except perhaps Singapore Airlines themselves) when Restaurant A380 @Changi sold out in less than 30 minutes. The hottest ticket in town, at the moment, is for a flight that doesn't leave the ground. 
I dutifully staked out the KrisShop website, and in the ensuing melee snagged a seat in the Suites cabin for S$642. It was time for fine dining at 25 feet. 
✈️ Restaurant A380- Suites
Restaurant A380: Arrival
Note: I've also done a review of the Business Class experience, but everything up till the aircraft is the same across all classes. Check out the review here. 
My ticket was for lunch on 24 October- the very first seating of Restaurant A380 @Changi. Registration opened at 8.45 a.m, and I arrived just after 9 a.m to get a head start on the festivities (although in retrospect, there's no compelling reason to arrive earlier than you have to- see below). 
The check-in area for Restaurant A380 is at Row 1 of Terminal 3. You can refer to this guide if you need directions, but it's really quite simple: stop at Door 1 if you're coming by taxi or Grab, park at Car Park 3A if you're driving, walk across the Terminal 3 concourse if you're taking the MRT. 
It'd have been a nice touch to allow Suites guests to check-in at SIA's First Class reception area, but since Singapore Airlines is currently not offering First Class on any of its flights, the facility has been temporarily shuttered.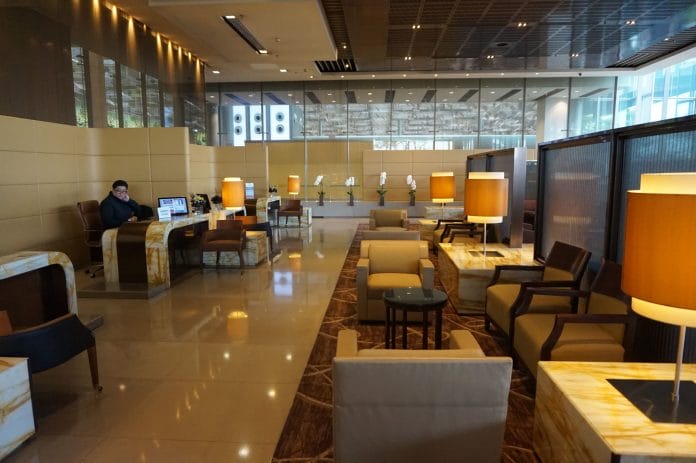 In any case, you won't spend more than a few brief moments here. The entire Row 1 area has been converted into a Restaurant A380 reception, with numerous counters and minimal waiting times. Even at this early hour, there was a steady trickle of people checking in. 
Registration is quick and painless. Simply present your passport, and they'll look up your booking in the system (there's no need to present the soft copy of your reservation confirmation email).  After some simple verification, you'll receive your wristband and an invitation card with your seat number.
On your invitation card, you'll note two things:
First, an SIA destination on the top right hand corner- this corresponds to your group for the aircraft tour.
Second, a colored sticker near the bottom right- this indicates the gate you'll board from (and aircraft you'll be seated on)
In case you didn't know, Singapore Airlines is using two different A380s for Restaurant A380. On the day I visited, blue meant you were on the A380 parked at Gate B4, and yellow meant the A380 at Gate B2. 
From the check-in area you'll be funneled to the special departure lane normally reserved for SIA First Class passengers. A quick bag check will be done here, more of a cursory scan than anything else (a more detailed screening is done at the boarding gate), and you'll be required to surrender your passport for the duration of the event (reclaiming it at the baggage claim area).
Then it's a long walk down the Terminal 3 concourse towards the B gates. There are plenty of staff lining the way, so it's impossible to get lost. 
Don't get distracted by all the duty-free shops! You can't visit these anyway unless you've signed up for the post-lunch/pre-dinner shopping tour organized by Changi Airport Group. 
At the B gates, you'll do a SafeEntry check-in, and then the usual X-ray security scan, complete with metal detector. The rules of engagement here are exactly the same as for a regular flight- no liquids, aerosols or gels above 100 ml, no sharp objects, laptops out of the bag. 
Restaurant A380: Pre-boarding Activities
Straight after security is a set of counters where you can claim your free gift if you've come wearing a heritage outfit, or else a set of rub-on tattoos. 
The free gift is a foldable SIA umbrella, and apparently they're very lenient with regards to what constitutes a "heritage outfit" (some folks with batik masks were able to sweet talk their way into one). Do note there are two kinds of umbrellas- a more sullen grey version, and a more colorful blue one. You're perfectly at liberty to choose which one you want.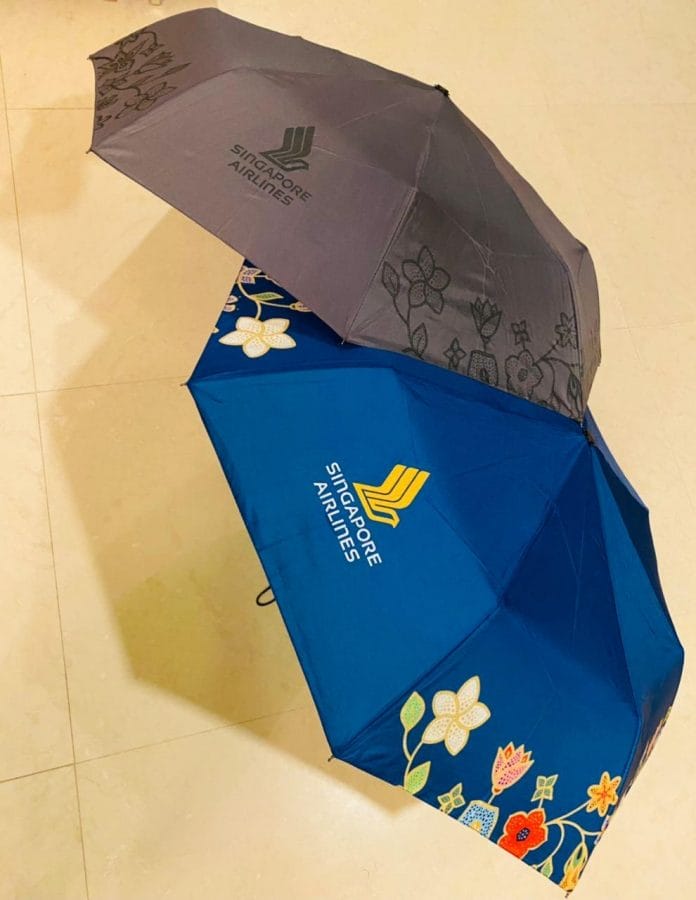 The B gates are meant to be the staging area for pre-boarding entertainment, but I should warn you that there isn't all that much to do. Unless your aircraft tour timing happens to fall in one of the earlier slots, I don't think there's much point in arriving early, as you could finish the other activities in a matter of minutes. 
Photobooth
The first stop for most people should be the photo booth with the Restaurant A380 backdrop, but thanks to social distancing restrictions, it makes for a bit of a difficult shot. You're required to stand in the middle, at least 1 metre away from the SQ girls (this reads like my most recent restraining order). The only way to not block the backdrop is to squat down, hence my awkward pro-golfer pose. 
The staff will help you snap a photo with your own camera, but I thought it'd have been nice if they had the option to print out a physical copy too. 
Caricature Sketching
A total of three caricature sketch booths have been setup in the holding area, and it takes just under five minutes for the artist to draw you like one of his French girls. 
You can choose from four different templates, all of which are suitably A380 themed. 
While the artist captured my voluptuous childbearing hips extremely well, he did make me  look like something of a young Lee Kuan Yew. 
Batik Rose Making
At the Batik Rose Making station, you either redeem a pre-made Batik rose (lazy!), or learn how to make one yourself during the following time slots.
| | |
| --- | --- |
| Lunch Seating | Dinner Seating |
| 9.30 a.m | 4.30 p.m |
| 10.00 a.m | 5.00 p.m |
| 10.30 a.m | 5.30 p.m |
| 11.00 a.m | 6.00 p.m |
It shouldn't take you more than five minutes to fold a rose, unless you're hopelessly incompetent with arts and crafts like me. Fortunately, the instructors have saint-like patience. For whatever reason, I never saw this station crowded- a shame, because it's a fun little activity to do. 
Heritage Showcase
The Heritage Showcase takes place a handful of times, just after the hour. It's a brief 5 minute narration of how the SIA cabin crew uniforms have evolved over the years, with a further 10 minutes for photo taking. 
Everyone crowds the first viewing, but subsequent runs are generally easier to shoot. 
A380 tour
This was without a doubt the highlight of the pre-boarding activities, but also the one that encountered the most hiccups. 
Safe distancing measures mean that only a certain number of guests can tour the aircraft at any one time. This meant that every time someone paused to take a photo (and how could they not, with a plane that looks this good?), the delay would cascade down to subsequent groups. 
As a result, tours started being delayed by 15 minutes, then 30 minutes, then more. My tour, originally scheduled for 10.15 a.m, began more than an hour late. Even when we did get going, there was still a significant jam on the aerobridge, where we waited for a further 15 minutes or so. 
Fortunately that wasn't wasted time, because I lucked out with my tour guides. Both of them were from the product innovation team (the ones in charge of designing the new cabin seats), and they were happy enough to answer my non-stop onslaught of questions. Some random insights I gleaned:
Floor to ceiling walls were considered for SIA's new Suites, but ultimately rejected for fears of claustrophobia
Customer research showed that SIA customers prefer personal space to social areas, hence no bar, and bigger Business Class seats
The idea of showers in Suites was explored, but female customers cited bathing as a "high involvement" activity (something I can believe based on how long the Milelioness spends in the shower). This meant they'd expect a water supply duration that would render the idea economically infeasible
Management is still committed to refitting as many A380s as possible, but with COVID-19 grounding A380s for the foreseeable future, it's highly unlikely the entire fleet will ever be refit
The new lie-flat Business Class seat for narrowbody SilkAir jets was all set to be unveiled, but the B737 Max 8 fiasco forced SIA to push the announcement back. It's unlikely that the first SilkAir jet repainted in SIA livery will have it
Can flat beds in Premium Economy ever become reality? It won't happen anytime soon, but never say never- after all, Premium Economy today is very similar to Business Class 20 years ago. We might even see bunk-style designs that better utilize the vertical space, if those can get regulator approval
I had to ask the door question: can we expect to see them on the B777-9's new Business Class? The answer: A kind of wink that makes me feel cautiously optimistic
During the tour, you'll be taken through the four different A380 cabins, catch a glimpse of the pilot rest area, and get to sit in the cockpit jump seat for a quick photo. However, pilot rest area and cockpit aside, you won't really get to see anything a regular passenger wouldn't. 
Refreshments
Don't expect anything in the way of complimentary refreshments. The B Gates have a single concessions stand which sells drinks and snacks. Expect to pay S$2.00 for a bottle of mineral water, S$2.50 for a Coke, and S$6 for a beer. And no, there's no lounge access for Business and Suites Class passengers.
While you can't bring your own water through security, you can bring an empty bottle and fill it up at the water coolers near the toilet. You should be able to find some disposable cups here too (if not, ask any of the staff members). 
Speaking of the toilets, it was nice to see that Singapore Airlines got into the theme of things and stocked them with the same Penhaligon's amenities you'd normally find in the Business Class lavatory. I also applaud everyone's restraint in not pilfering them. 
To sum up my thoughts on the pre-boarding activities: I realise there are inherent constraints on what can be done due to COVID-19, but I was hoping for something a little more exciting. Perhaps a trivia gameshow with prizes to jazz up the audience a bit (this might run afoul of the rules on live entertainment, come to think of it), or a few more static displays showing how SIA sources their food and wine, or maybe even cooking demonstrations by the chefs. 
As it is, the vast majority of guests breezed through the activities and spent the rest of the time playing with their phones waiting for something to happen. But then again, that's one way of recreating the classic "waiting to board" experience, eh?
Restaurant A380: Boarding and Seat
Boarding was supposed to start at 12.00 p.m but only began 35 minutes later, probably due to the cabin tours overrunning. 
I wasn't there at the time, but I hear the cabin crew got a rousing welcome from everyone when they walked into the gate area. That's heartwarming to hear, as these guys have been through a lot. 
Boarding was called by cabin class. Suites boarded first, followed by the rear cabin for Business Class (rows 91-97), then the front cabin (rows 11-24). In case you were wondering, there's no priority boarding for PPS Club or Star Gold members. 
The last time I set foot on an airplane was early March, and I count myself lucky to have actually flown in 2020. Even though it's a ritual I've done countless times before, I got such a rush this time round- the cabin lighting, the whirling of the galley, the crappy Jim Brickman music playing in the background…how I've missed this. 
Once onboard, the reception was exactly the same as what you'd find on a regular Suites flight. Passengers were warmly greeted at the door by name, escorted to their seats and given a tour, then offered a welcome drink. 
I had Suite 3A, which is actually the smallest of all the six suites. The biggest ones are 1A/F, followed by 2A/F, and finally 3A/F. Something to note for seat selection in the future, but it'll hardly ruin your Restaurant A380 experience. 
I opted for a glass of champagne, and Krug magically appeared at my seat. I don't know if they specially catered 375ml bottles for this event, or whether this is the new standard size for onboard catering (if it results in less waste, I'm all for it). For understandable reasons, there's no hot towel service. 
I've already done a detailed review of the new A380 Suites in this post, so I'll just run through the main highlights here. 
Singapore Airlines' new A380 Suites take the form factor of a private room, with a separate chair and bed (the bed folds down from the wall panel). Critics of the design say it looks like a dentist chair, but if so, it's one heck of a comfortable dentist chair.
The particular aircraft I was on (9V-SKN) had recently completed its refit to the latest cabin products in June 2020. It didn't have the opportunity to operate any flights after that, so everyone who dined during lunch on 24 October got a factory-fresh seat. 
If you've flown Suites before, you'll know that the vanity storage area is where your Lalique amenities kit is normally found. This time, however, it's been replaced with a generic care kit containing a mask, hand sanitizer, and a wet wipe. Don't worry- you'll still get an amenities kit as part of the farewell gift. 
The KrisWorld entertainment system is activated throughout the duration of your meal, and can be controlled through the in-suite digital tablet. It was only upon boarding that I realised the callsign of Restaurant A380 was SQ380- but of course. This was the same callsign used by the inaugural A380 flight 13 years ago from Singapore to Sydney. 
Suites passengers also receive a pair of B&O H9i wired headphones for their listening pleasure. At one point in time, a wireless version was set to be rolled out in Suites, but to the best of my knowledge it never actually happened. That's a shame, because wires have a nasty tendency to snag on tray tables, knock over drinks, and generally get in the way. 
The range of new releases is understandably limited, this being a pandemic and all. But you can still tap into a library of more than 1,800 on-demand movies, TV shows, music albums and games, and I guarantee you'll find something worthwhile.
Fun fact: if you turn on the flight path, you'll see that the SQ380's destination is actually set to Hong Kong. I asked the pilot why Hong Kong, and he told me it just seemed apt, given how we might all be headed there soon.
Also active are the in-seat power outlet and USB port, in case you need to charge your devices. Seeing the contactless payment symbol may freak some people out ("are they going to start charging us for everything?"), but in reality the applications are more benign. Think KrisShop payments, pairing of NFC-enabled headphones, and brainwashing you via 5G other use cases yet to be explored. 
Bathrooms on the aircraft are fully functional throughout the duration of your meal, so you won't need to head back to the terminal if nature calls.
The first generation of A380 suites had massively disappointing bathrooms, in that they were practically identical in size and layout to those in other cabins. Thankfully, SIA rectified this for the new A380- while they didn't install a shower, they at least made full use of the additional space to doll up the two bathrooms real nice. 
The larger one on the starboard side has room for a dedicated vanity area and stool, plus enough mirrors to be Narcissus' dream home. 
The bathroom on the port side is smaller, but still with plenty of room to maneuver. Both bathrooms have waterfall taps with a generous flow rate, as well as Lalique amenities from the Neroli Casablanca range. 
Restaurant A380: Dining
Before long, the captain came on the PA system to welcome everyone on board. I swear they choose pilots based on how reassuring their voices are; once you hear them, you get the feeling that everything's going to be all right. 
After that came the emcee:
"On behalf of all the cabin crew, pilots and SIA management, we're proud to have all of you here with us to experience the A380 in a different light. This is Restaurant A380 @Changi. Now ladies and gentlemen, it's very heartwarming to see all of you support us, although we can't take to the skies right now. I'd like to begin by inviting one and all to celebrate this experience by giving each other a round of applause in this A380 aircraft"
I'm normally a curmudgeon when it comes to this sort of thing, but I found myself clapping too. I just couldn't help it; I was so happy to be back on a plane. 
"We'd like to thank you for joining us in rediscovering Singapore Airlines all over again. Now do enjoy this exclusive dining experience featuring international cuisines and the best dishes from our Peranakan menu, specially designed for Restaurant A380 @Changi by acclaimed Singaporean chef Shermay Lee. Pair your meals with two complimentary alcoholic drinks and a free flow of other beverages. Once again, a huge thank you to all of you- without you, Singapore Airlines would not be a great way to fly. Indeed, we look forward to taking you back into the skies and bringing these experiences to you at 40,000 feet above the ground. I'll come back to you in 3 hours, in the meantime I'll leave you in the great hands of our cabin crew."
It was now time to dine! The Suites menu read as follows:
While SIA officially doesn't provide printed menus anymore, it was still possible to request a physical copy of the drinks list, which was very substantial indeed.
Because boarding was delayed, meal service started late too. The first course of Singapore Airlines chicken satay (paired with a Singapore Sling) only arrived at 1.15 p.m, more than a third of the way through the officially blocked dining time. Late or not, it still tasted great. 
Next to come around was the bread basket, and I am more convinced than ever that there's a secret to heating the garlic bread. When I did it for my SIA@Home meal, I got rock hard boulders. When the crew did it, it came out wonderfully soft and moist. 
Guests on the two A380s were in regular contact via Telegram, and it was clear my plane was falling behind. The caviar course only arrived at 2 p.m, with less than a third of the dining time remaining. It had all the classic accompaniments like egg whites/yolk, chives, creme fraiche and blinis. 
The caviar, I noted, was from a very recent batch produced just two weeks ago. 
You can't have caviar without champagne, and out came the Dom Perignon 2008. Unlike Krug, they don't make this in 375 ml bottles- not that anyone ever complained about having to finish a full bottle of Dom. 
The Bawan Kepiting soup was next, a clear soup with crab meatballs and shredded bamboo shoots. I'd never actually had this dish before, but I was an instant convert. 
As a brief interlude, one of the unfortunate design issues with the new A380 suites is that you don't have much privacy when dining. The positioning of the seats means you'll be staring across into the other suite most of the time. While it's possible to close the door, this makes it harder for the crew to check on your drinks and know when to bring the next course. 
Back to the food, and a roast duck salad may not sound like the most exciting of dishes, but I was pleasantly surprised to find the duck tender and the lettuce crisp. The accompanying rock melon was MIA, however. 
Of all the dishes on Shermay Lee's Peranakan menu, the nasi lemak was the one I had the most reservations about. To be fair, the publicity photos did it no favors at all, making the dish look washed out and unsubstantial. 
But once I tasted it, all misgivings went out the window. Yes, at the end of the day it's two small prawns, a piece of fried chicken, and some ikan bilis with rice, but the flavor of each component was spot on. The prawns were perfectly cooked, the chicken tender and moist, and the keropok paired perfectly with the chili sauce. I wouldn't quite call it an "Anton Ego in Ratatouille" epiphany, but I daresay you won't be disappointed either. 
By the way, if you're counting my drinks (who are you, my hepatologist?), you'll have noticed I'm well over the "two complimentary alcoholic beverages" mentioned in the publicity materials. I can tell you there's no such issues for Suites, and everyone in the cabin got as much as he/she wished. Based on reports, the same applies to other cabins too.
I think a better way of phrasing this is that they catered enough alcohol for every guest to have two drinks, but there'll be kids and non-drinkers anyway, so others can pick up the slack. I suppose what I'm saying is don't be shy to imbibe- there's only so much trouble you can get into on a stationary aircraft*
*The Milelion supports responsible drinking, so long as I don't have to be the one to do it.
A trio of ice cream sandwiches was served for dessert, with pandan, gula Melaka and sweet corn flavors. 
I was beyond stuffed by now, but there was still a further course after this, in the form of cheese and fruits. 
Suffice to say, you won't leave Restaurant A380 hungry. I think it helps that you're dining at sea level too, so your mouth doesn't dry out as much, and you can actually taste the food a lot better. There's no engine noise in the background either, which apparently can dull your senses including taste. 
Despite the late start, we "made up some time en route", and the last dish was served at 3.30 p.m (30 minutes after lunch was scheduled to end). It did mean the second half was quite rushed with dishes coming in quick succession, and while the crew took pains to let each passenger dine at his/her own pace, there was only so much overrun that could happen. The first aircraft tour for the dinner seating was scheduled to start at 4 p.m, so time management is obviously something event organizers will need to work on for future sessions. It also meant there was no time to try out the bed, but the other A380 finished their meal service earlier, and the crew were happy to set up the bed in Suites for those who wanted it. 
At the end of the meal, each passenger received a goody bag. For Suites, this contained a pack of playing cards, a set of packing cubes, and a Lalique First Class amenities kit. There's no Lalique pajamas inside, but other guests requested for and received them- ask and ye shall receive. 
🎁 Giveaway reminder
I'm giving away two Lalique First Class amenities kits as part of a fundraiser for The Food Bank Singapore. There's still some time left to participate, so make a donation of any amount and send your details over to me on Facebook. Read this post for more information!
Restaurant A380: Crew
Restaurant A380 is staffed by an all-volunteer crew (who despite rumours, are compensated for their time), and I want to throw in a special word for these guys.
The past six months have been brutal for them, with pay cuts, retrenchments, and the very real possibility of being infected while on the job. It'd be understandable if their morale were low, yet every crew member I interacted with was so excited to be working again. Even though it'd been a long time since some of them worked an A380, they still showed great hospitality, frequently checking in with passengers and insisting on bringing more of everything. 
While the crew can't accept cash tips or expensive gifts, I know of a few people who brought small tokens like chocolates. Even if you don't have anything on hand, a simple note is good enough- especially when it's paired with awesome artwork like mine (or make it official by submitting feedback).
So try and chat with your crew if you have a chance! I think Restaurant A380 was as encouraging for them as it was for us, and God-willing, we'll all be taking to the skies again soon. 
Restaurant A380: Farewell
Once you disembark from the aircraft, you follow the same process you would if you were returning to Singapore. This means passing through a (deserted) immigration checkpoint…
…and heading over to the baggage claim area, where your passport will be waiting for collection. 
Then it's out the glass doors and back to reality. But how fun this escape was, while it lasted. 
Conclusion
Restaurant A380 is ultimately not about the food (even though it's pretty good by all accounts). If you say "for $X I could go and have a better meal at Y", you're clearly missing the point. 
Restaurant A380 is about an experience, and a shared one at that. It's for people who miss everything about flying, from the hubbub of the airport to a good ol' fashioned gate delay. It's for those who feel a visceral thrill when stepping from jetbridge to cabin, when hearing the chime of the PA system, when sitting back in a plush (or slimline) seat. There was a palpable sense of excitement and energy onboard the plane the whole time, and something therapeutic about being surrounded by people who feel exactly the same way you do. 
Perhaps just as important, Restaurant A380 is a chance to support and encourage the cabin crew. Seeing the video of people clapping and cheering for the SQ crew as they walked through the gates and onto the plane…man, that gave me goosebumps (perhaps even caused a few SQ girls to smudge their mascara too!).
It's impossible to put a price on all that. 
There were certainly things that could have gone better- more activities in the holding gate area, better time management of the tours, some onboard activities perhaps, but ultimately I didn't regret spending a single cent of the S$642, and hopefully neither will you. 
Please share your Restaurant A380 thoughts and experiences!