Accor has launched its Black Friday sale, which offers 40% off hotel stays and double rewards points (registration required).
Rates under the Black Friday sale must be booked from 26-30 November 2020.
If you're staying in Singapore, Malaysia or Indonesia, your stays must be between 7 December 2020 and 8 December 2021
If you're staying in Taiwan, Hong Kong or Macau, your stay must be from 7 December 2020 to 14 March 2021.
Rooms booked under these rates are fully refundable if you cancel at least 72 hours before arrival.
If you're an Accor Plus member, you'll save an additional 10% off (i.e 50% total). Remember, it's possible to get a free Accor Plus membership if you own a small or medium-sized business- just apply for the AMEX SIA Business Credit Card. It comes with a first year fee waiver, and you'll still enjoy the annual free night hotel stay.
Get a free Accor Plus Membership
Here's the deals which caught my eye. Protip: remember to use the rate calendar feature to browse prices quickly.
SO/ Sofitel from S$152 nett
The SO/ Sofitel Singapore has announced that it will be reopening in mid-December 2020, and is already taking reservations from 10th December onwards.
The lowest rate I found was S$128++ (S$151 nett) for a base-level SO COSY room. Do remember that my rates reflect an additional 10% discount due to my Accor Plus membership, but even without, it's still an extremely good rate for this hotel.
Sofitel City Centre from S$191 nett
The Sofitel City Centre has already reopened for staycations, and the lowest rate I can find for a base-level Luxury Room under the Black Friday Sale is S$163++ (S$191 nett).
If you want club lounge access with breakfast and evening cocktails (although they're only one hour at this property), rates start at S$258++ (S$304 nett).
Fairmont Singapore from S$200 nett
The Fairmont Singapore is offering a rate of S$170++ (S$200 nett) for a Fairmont King room under the Black Friday Sale. Do note that this isn't the cheapest we've seen the hotel go for; it's occasionally possible to snag rates as low as S$144 nett during Red Hot Room sales (only available to Accor Plus members, sadly).
Do note that the hotel's South Tower (which hosts the club lounge) is currently being used for SHNs until the end of December 2020 at least.
Sofitel Sentosa from S$206 nett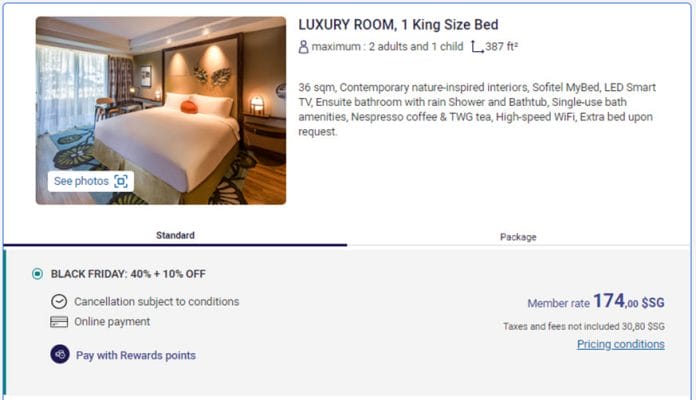 I'd exercise caution with this property, because I stayed a couple of years ago and found the experience extremely underwhelming for the price (indifferent service, dirty rooms, poor quality breakfast).
However, if you crave the location, then the Sofitel Sentosa can be had from S$175++ (S$206 nett) for a few scattered dates in January and March 2021. Don't bother looking at December 2020; rates are through the roof.
Should I redeem Accor points?
Normally, low rates mean you shouldn't bother redeeming hotel points, insofar as you get lower value per point. But Accor Live Limitless (ALL) is a different type of loyalty program, where points are fixed at a value of 2,000 ALL points= 40 Euro (~S$64).
This means that when hotel rates are low, the number of points needed for stays falls as well. If any of these hotels were on my staycation list, I'd certainly consider redeeming some of my stash from the Standard Chartered transfer promotion.
Conclusion
Some good deals here to sift through, and since these rates are fully refundable up to 72 hours before arrival, there's no harm in making a few speculative bookings.
There's no discount at the Raffles Hotel, sadly, but sub-S$200 rates at the Sofitels are definitely worth taking a serious look at.