Update: Pan Pacific has removed the charge for additional room delivery and bottle water effective 4 January 2021
About two weeks ago, I did a staycation at the just-reopened Pan Pacific Singapore. While the stay had its moments, my overall advice for those looking to make a booking was: not yet. 
That's because the hotel, like many others during this period, is clearly suffering from understaffing. This has led to a deterioration of the stay experience compared to before the circuit breaker- a smaller selection at breakfast and in the lounge, longer wait times at reception, and reduced operating hours of certain facilities, to name a few. The Pan Pacific Singapore is clearly capable of excellence, but hasn't quite figured out how to deliver it with the new constraints. 
But while I'm sympathetic to their current predicament, there was one specific aspect I found particularly egregious- the imposition of a "delivery charge" for additional housekeeping items. I mentioned this briefly in my review, but I think it's worth highlighting in more detail. 
Pan Pacific Singapore's S$5 delivery fee
Pan Pacific Singapore has introduced a digital concierge system to handle basic requests, such as facilities reservations and in-room dining orders. Guests can also request additional housekeeping items via this platform, but that's when the following message pops up. 
In case you can't read that, it says (emphasis mine):
"In order to ensure smooth service, we have set the in-room amenities according to the registered guests upon check-in. Please note that any additional requests will be subject to a delivery charge of SGD 5 nett. Requests for additional bottled water is chargeable at SGD 3 nett per bottle."
That's pretty unprecedented for a 5-Star hotel. What this policy basically says is that should you need anything extra- a spare toothbrush, an extra towel, more coffee pods; you'll have to fork out S$5 for the privilege of having it sent to your room. 
Now I understand the hotel is shorthanded, but I still don't see why this is necessary. Wouldn't a simple "we're working as hard as we can to fulfill your requests; please allow additional time for delivery" do the trick? Quite frankly, it comes off as inhospitable, almost as if guest requests are seen as a nuisance, rather than an opportunity to provide great service. 
It's not even clear how this delivery fee would apply to things like the pillow menu- if I'm taking advantage of something that's meant to be a feature of my room, will I be charged S$5 too? What if I order a bottle of water? Do I pay S$3 for the bottle, plus a S$5 delivery charge? And what if I'm simply requesting for something that should have been in my room, but was overlooked? For example, during my stay I noticed that housekeeping had not restocked the tea bags- is it fair that the guest be charged in this situation?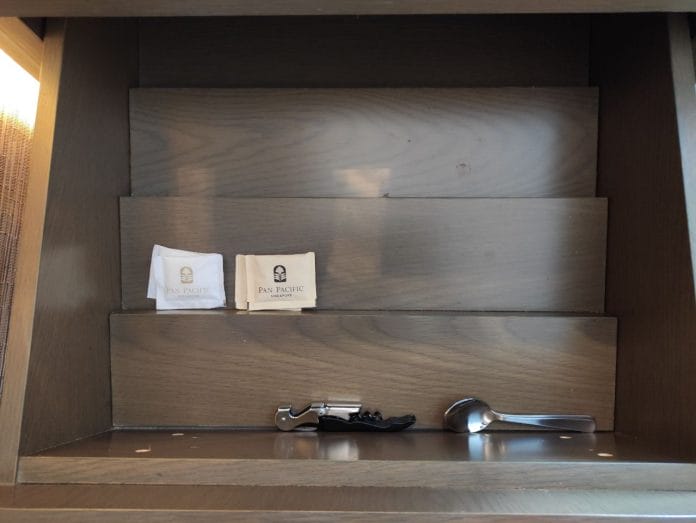 Now, obviously there are some out there who abuse the system and request extra toiletries to bring home, or because they've sneaked in more guests than permitted. I have very little sympathy in those cases, but imposing a blanket S$5 fee per request (1) won't stop such people- what's S$5 when you get to avoid paying an additional guest fee/booking an additional room (2) acts like a system of collective punishment that penalizes everyone. 
If someone asks for extra soap, it doesn't mean they're trying to restock their bathroom at home. If someone asks for extra towels, it doesn't mean they're hosting a party in their room. There are perfectly innocuous reasons for such requests (maybe their kid spilled something on the floor), and they should be fulfilled for free, within reason. 
"Within reason" means applying common sense and judgment, but it's not rocket science. If a room makes repeated requests for shampoo, toothbrushes, toilet paper and coffee pods, you shut it down. If a room makes a once-off request for shampoo, you accommodate them. It's basic hospitality. 
In any case, the system limits you to a maximum of two items per request, so it's not like someone could use this to start building their own pharmacy empire.
Pan Pacific Singapore's response
I reached out to the hotel to learn more about the delivery policy, and was told the following: 
The delivery fee is for per delivery (regardless of the number of items). Our apologies that due to an error, it was indicated as per item during your stay. This has since been amended.

This is similar to the charge we impose during special event dates such as National Day, to manage the high volume of room service requests and which is similarly practiced by other hotels as well. Alternative arrangements have also been made for guests to collect selected items such as additional crockery and cutlery from Pacific Marketplace, our restaurant on Level 1.
First of all, I'd dispute the assertion that this is "practiced by other hotels as well". I've heard of hotels charging delivery fees, but this relates to in-room dining requests and not requests for housekeeping items. I've certainly never seen a 5-Star hotel charging S$3 for an extra bottle of no-brand mineral water, or S$5 to have a towel sent to your room. 
Second, I don't understand why alternative arrangements can be made for the collection of cutlery, but not housekeeping items. If you're facing a manpower crunch, why not ask guests to come to the front desk to collect them? I mean, it's still not what you'd expect from a hotel of this caliber, but if you're willing to do that for cutlery I don't see how this is any different. 
Don't get me wrong; I don't think the S$5 fee is intended to generate extra revenue for the hotel- it's a token sum at best. But what I'm quite convinced it's meant to do is dissuade guests from making requests. And while I'd be much more understanding of such a policy at a budget hotel, this just doesn't gel with the Pan Pacific's 5-Star positioning. 
Guests are already paying Pan Pacific prices; should they really be nickel and dimed for housekeeping items? It's like the hotel is saying "we've given you everything you need for your stay, now don't bother us anymore and see you at check-out."
Conclusion
With the ongoing manpower shortages, there's no doubt that hotel staff are feeling the crunch. But the hotel isn't doing them any favors by imposing policies like this- if anything, it's the front line associate who has to deal with irate guests asking why they're being charged for a simple service request.
If hotels were genuine about improving the experience for guests and staff, they'd take steps to limit their occupancy to a level commensurate with the manpower at hand. When we see five hour queues at check-in, or hotels selling rooms without pool or gym access, it suggests that management is prioritizing packing in as many guests as they can, regardless of the toll on experience or strain on staff. 
A S$5 fee isn't going to break the bank for anyone who can afford a staycation at the Pan Pacific Singapore. But it is going to leave a bad taste in their mouth, and what are the odds they become a repeat guest? One simply doesn't expect to see this sort of policy at a place like this, and there's got to be a better way of resolving whatever it was meant to address.