While the Marina Bay area oozes glitz and glamor with its sparkling light shows, roaring supercars and the occasional fireworks display, its genesis is somewhat more pedestrian. 
So pedestrian in fact, it all began with a road. Back in 1973, the government announced plans to build the East Coast Parkway expressway, a S$300 million project that would connect Changi to Jurong via Collyer Quay. To support the project, land was reclaimed off Nicoll Highway, creating a new site known as Marina Centre. 
There was much excitement about this 106-hectare plot of land when the URA opened it for sale in 1978 and invited tenders from commercial, retail and hospitality operators. Chief among these were plans for a cluster of luxury hotels: Marina Mandarin, The Oriental Singapore, and the Pan Pacific Singapore. 
The Pan Pacific may not have been the first hotel to be completed, but it had the distinct honor of opening first. In November 1986, the doors to the Pan Pan Pacific Singapore opened for the first time, broadcast live via satellite to a media scrum in Sydney.  Its claim to fame? The first hotel in Singapore to use NETS!
The Marina Bay area has grown explosively since then, and guests today are positively spoiled by the range of 5-Star options (Conrad Centennial, Marina Bay Sands and the Ritz-Carlton to name a few). So can the OG hotels still hold their own?
I recently had a chance to visit one of the three old dames- the Pan Pacific Singapore. 
Booking a Pan Pacific Staycation
I was in a bind. The S$400 hotel credit on my AMEX Platinum Charge was set to expire at the end of the year, and the official line from American Express was: no more extensions. Cardholders were expected to use their credit on one of the staycation packages that had been "specially curated" for them.
Sure, if by "specially curated" you mean "jacked up." As I detailed in this post, virtually every hotel they were offering could be booked for much less via the official website, which meant you were throwing away part of your S$400. 
Fortunately, however, there was a way out: booking it yourself. While the official terms & conditions of the hotel credits state that they can't be used for Singapore stays, the AMEX Travel portal nonetheless allows it. The only conditions are:
You can't use the travel credits to book a Fine Hotels & Resorts or Hotel Collection rate
You can't use the travel credits unless the booking costs at least S$400
The first point ruled out all the uberluxe properties- no Capella, Four Seasons or Ritz-Carlton for me. But I did manage to find the Pan Pacific, a hotel I'd been meaning to review for a while on account of their supposedly awesome club lounge. 
Even better, a club room was pricing out at just above S$400, allowing me to use my travel credit with a minimal top-up.
The booking went through without a hitch, and although I couldn't look up my reservation on the Pan Pacific website, the hotel could see everything fine from their end.
So that's how I got my booking, but otherwise, the Pan Pacific Singapore's primary staycation package offers the following:
🏨 Yay to Staycay

Daily breakfast for up to 2 adults

Choice of 11 a.m check-in or 4 p.m check-out or room upgrade, for check-ins from Sun-Thurs only

20% off at St Gregory spa

15% off F&B outlets

Book By

30 Apr 2021

Stay By

30 Jun 2021

Cancellation Policy

48 hours before arrival

More Details
Weekday rates for a Deluxe Room in January start at S$280++ (S$330 nett), with members of the free-to-join Discovery program enjoying a further 10% off. 
Alternatively, check out their recently-launched 100% dining credits offer. 
Pan Pacific Singapore: Arrival and Check-in
The Pan Pacific is located at 7 Raffles Boulevard, on the opposite side of the road as Marina Square (but connected to it via an overhead walkway). It's fairly easy to reach via public transport, with the closest MRT stations being Promenade, Esplanade or (slightly further) City Hall. 
Parking is available at Marina Square and is complimentary for all guests. The easiest way to access the hotel carpark is to enter the hotel driveway and look for the entrance shown above (while the carpark for the mall and hotel are all connected underground, don't use the shopping mall entrance- you'll just get lost and confused). 
Frankly, the Pan Pacific Singapore doesn't make the best of first impressions. The façade is dull and unimpressive, with no markings on the overhang to identify the building. The water fountain out front has turned a sickly algae green, with faded white tiles reminiscent of a disused swimming pool. 
But step into the lobby and things get a lot better. Pan Pacific Singapore completed an S$80 million renovation in September 2012 (overseen by interior design studio CHADA), which saw the guest rooms, restaurants, executive lounge and lobby undergo a major transformation. 
The results speak for themselves. The updated lobby seamlessly blends modern design with John Portman's original neo-futuristic vision. Bubble lifts move silently up and down a soaring 35-floor atrium, with sunlight streaming in from above and occasionally catching the indoor reflecting pool for dramatic effect. 
Directly beneath the skylight in the heart of the lobby are a collection of timber seating pods, shaped like giant lanterns and seemingly floating on the water. These form the perfect backdrop for a leisurely drink, catching up on some work, or just taking photos for the 'gram. 
This is also where you'll find Atrium, the hotel's watering hole. It boasts Asia's longest bar (44-metres), and was originally envisioned as a place for guests to have a tipple while checking in. Come to think of it, it'd have been a nice touch had they given GHA Black/club room/suites guests a pair of coupons for a welcome drink here, but alas. 
On the back side of the bar is a coworking space for those who find their rooms too claustrophobic. This area is open round the clock, with power outlets and access to the hotel's free Wi-Fi (the lobby Wi-Fi is open to the general public with no password required). 
Having read the horror stories from the Grand Park Orchard over the weekend, I was relieved to find the Pan Pacific lobby fairly empty when I arrived on Monday just after 10 a.m. It did fill up towards lunchtime though, no doubt due to everyone clearing their leave this time of year. 
Even though there were just a handful of people in the queue ahead of me, I was ushered over to the (more ornate) GHA Discovery check-in desk, where I was attended to immediately.
Speaking of GHA, here's my first mistake. I never contacted the hotel to add my GHA Black number to my reservation. I know that by right, bookings made through third parties are not eligible for any GHA benefits, but in practice, some hotels extend them out of goodwill. Basically, it never hurts to try (provided you don't go too far and become that guy who demands what he's not entitled to). 
But since I didn't, the hotel had no idea about my status, and when I mentioned it at check-in, there wasn't much the associate could do with regards to upgrades. She tried to look for a two-category upgrade (Pacific Harbour Studio), but all these rooms were full. The best she could do was a one-category upgrade to a Pacific Harbour Room, which wasn't ready right now. I could wait two hours for it, or take the pre-assigned Pacific Room. 
I hadn't done my research and asked if the two were the same except for the view (that's what it sounded like to me); she said they were. But something at the back of my mind told me to wait, and I'm glad I did. As it turns out, Pacific Rooms are 8 sqm smaller than Pacific Harbour Rooms. 
Since we're talking about room types, I might as well walk you through it here. The 790 rooms and suites at the Pan Pacific are divided into the following categories:
Room Type

Size

No. of Rooms

Deluxe Room

38 sqm

441




Deluxe Balcony Room

46 sqm

Panoramic Room

38 sqm

162

Harbour Studio

46 sqm

90

City Suite

79 sqm

16

Skyline Suite

79sqm

10

Pacific Room

38 sqm

39

Pacific Harbour Room

46 sqm

14

Pacific Harbour Studio

65 sqm

9

Pacific Skyline Suite

79 sqm

5

Harbour Suite

121 sqm

3

Presidential Suite

152 sqm

1
What's slightly confusing is that while the Pacific Room/Pacific Skyline Suite is basically a Deluxe Room/Skyline Suite with Pacific Club access, the same does not apply for the Harbour Studio and Pacific Harbour Studio. The Pacific Harbour Studio is a completely different room from the Harbour Studio (and much nicer too), so keep that in mind when booking. 
Unfortunately, there are only nine of these in the whole hotel, so your odds of an upgrade aren't great. 
As a GHA Black member, I was granted a 6 p.m check-out the following day. 
Pan Pacific Singapore: Harbour Studio
I went to have lunch and returned two hours later when my room was available. It was on the 34th floor, which is accessed through a set of bubble lifts that faces the outside of the hotel. This gives you an excellent view of the surrounding area, including the Conrad Centennial (am I only just realising the pattern on the building forms a "13"?)…
…and the PARKROYAL COLL. Good ol' PARKROYAL COLL.
The elevator disgorges you into a vertigo-inducing corridor, overlooking the inner atrium. It reminded me a little bit of the Andaz Singapore, come to think of it. 
My room, 3412, was in a corner of the triangular-shaped floor. 
Although I'd been told by reception that I'd been assigned to a Pacific Harbour Room, I'm convinced they were mistaken. Looking at the floorplans on the website, there's no doubt I was given a Harbour Studio. The mini-bar area with the two high chairs is a dead giveaway, as is the freestanding tub running parallel to the bed. 
But frankly, it wasn't an issue at all. Both rooms are the same size, and I daresay I even prefer the bathroom of the Harbour Studio over the Pacific Harbour Room (which looks awfully dated).
The Harbour Studio measures in at 46 sqm, which makes it notably larger than your average hotel room in Singapore (for context, Grand Hyatt's junior suite is just 8 sqm larger). The room is corporate chic, with warm lighting, grey carpets, and subtly textured wall panels providing a modern feel. Furniture was in good condition, and despite the hotel's age, everything felt like it had been maintained well.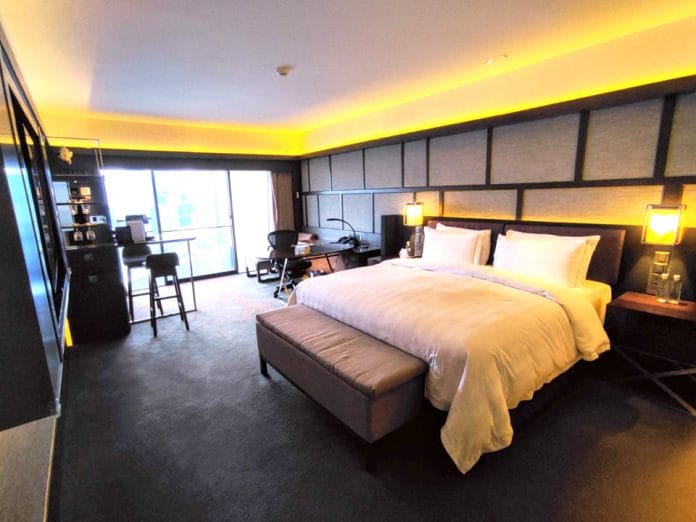 The King-sized bed was extremely comfortable, and if you don't like the default pillows, alternative options such as buckwheat hull, foam, contour or coil spring are available. 
The bedside does not have USB charging ports, but each person gets one universal power outlet. 
Blackout curtains were electrically operated by a wall-mounted remote control near the window, although it'd have made a lot more sense if this were positioned by the bedside instead (I suppose you could always remove the remote and bring it to the bed).
The view from the window was beautiful, whether by day…
…or by night. 
Oddly, my room looked down onto someone's balcony on the 33rd floor. Take note, in case you score a balcony and want to do some hanky panky.
The room had a large work desk with a comfortable Herman Miller Aeron chair. The desk was so large I wish they'd added a second office chair instead of the lounger and ottoman, so you could work with your roommate. 
A Pan Pacific Cares kit was left on the desk, containing two masks, a bottle of hand sanitizer, and two wet wipes. This is identical to the kit you'll find at any other Pan Pacific property, such as the PARKROYAL COLLECTION Pickering or the PARKROYAL on Beach Road. 
At the work desk were two universal power outlets, a HDMI port and a USB charging outlet. 
Wi-Fi speeds clocked in at 19 Mbps both down and up, which is sufficient for HD quality Netflix (Ultra HD requires 25 Mbps, but it's doubtful you'd need that here since the TV in the room doesn't support streaming). 
 
🔽Download
🔼 Upload

Mandarin Orchard

273 Mbps

294 Mbps

M Social Singapore

46 Mbps

49.Mbps

YOTELAir Changi

29 Mbps

49 Mbps

W Sentosa Cove

34 Mbps

34 Mbps

The Fullerton Hotel

23 Mbps

24 Mbps

PARKROYAL Pickering

24 Mbps

23 Mbps

Shangri-La Singapore

19 Mbps

18 Mbps

Pan Pacific Singapore

19 Mbps

19 Mbps

Dusit Thani Laguna Singapore

19 Mbps

19

Mbps

InterContinental Bugis

15 Mbps

15 Mbps

The Capitol Kempinski Hotel

16 Mbps

13 Mbps

Hilton Singapore

13 Mbps

14 Mbps

Marina Bay Sands

11 Mbps

11 Mbps

Andaz Singapore

8.0 Mbps

9.5 Mbps

The Barracks Hotel

7.3 Mbps

7.7 Mbps

Hotel 81 Tristar

7.0 Mbps

6.8 Mbps

Raffles Hotel

6.9 Mbps

6.8 Mbps

Hotel Soloha

4.7 Mbps

5.1 Mbps

Hotel G Singapore

4.4 Mbps

4.8 Mbps

Internet speeds based on Speedtest.net scores
The TV is surprisingly small by modern standards, measuring in at just 32 inches. It has limited smart capabilities, supporting selected YouTube channels but not streaming from personal devices. 
What sets the Harbor Studio apart from run-of-the-mill rooms is the presence of a small mini-bar area, complete with two high chairs. I don't know why, but this brings the whole room together, serving as a dining nook (and display cabinet, spot the magic conch) of sorts. 
On the counter is a Nespresso machine, complete with three coffee capsules. These aren't the regular capsules, however, so you won't be able to use them with your machine at home. These are the the Nespresso Pro type, typically sold to businesses rather than consumers (supposedly to stop employees from bringing the pods home). 
Sadly, it appeared that whoever serviced my room forgot to restock the tea (TWG). I requested for some, and it came in about 40 minutes.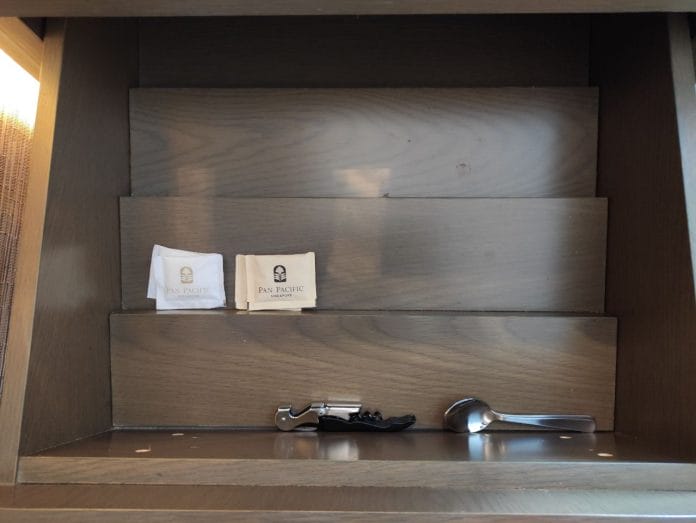 Non-alcoholic drinks in the mini-bar are free (not that there were any alcoholic ones inside to begin with) for guests with club lounge access, but otherwise, note that the fridge is equipped with an annoying sensor that automatically adds an item to your bill when you so much as breathe on it.
My fridge had one classic Coke, one Coke Light, one Sprite, one green tea and two bottles of orange juice. 
The wardrobe outside the bathroom had two bathrobes, an iron (but no ironing board), and a safe. There's plenty of storage space for your own clothes, as well as a large-sized roller bag. 
The Harbour Studio's bathroom features a peakaboo window that looks out to the bedroom, but if you're feeling less exhibitionistic, electric blinds can be lowered via a switch on the wall.
While there's only space for one sink, the basin is fairly elongated and there's a good amount of counter space to put your personal items. 
A large free-standing KALDEWEI bathtub was the highlight of the room. What I like is that the tap was offset to the side, instead of being fixed at one end. This allows one person to recline on each side- the only thing missing were bath pillows. 
In addition to the bathtub, there's a rain shower with a hansgrohe mixer. The shower cubicle is on the cramped side, so it's probably single occupancy only. 
The toilet had a TOTO electronic bidet seat, which automatically opened the lid when it detected your presence, warmed the seat, and misted the insides to prevent…sticking. 
Bathroom amenities were by The White Company, which also provides the amenities for British Airways Club World.
With the exception of some stains on the wall and bathroom floor (which were probably paint as they didn't come off with rubbing), the cleanliness of the room was up to scratch.
While Pan Pacific rooms will never be mistaken for anything other than a business hotel, at least it wasn't boring. I liked the design ethos, the sizeable bathtub made for a relaxing soak, and the mini-bar allowed you to separate your work area from your eating area. 
Pan Pacific Singapore Club Lounge
The Pacific Club is located on the top floor of the hotel, and is open daily from 1 p.m to 10 p.m. For breakfast, club lounge guests will be directed to Edge (see below). The lounge only admits guests aged 12 and above, so take note if you're staying with kids in tow.
In the past, lounge access was available to GHA Black members regardless of the room they booked. That policy was perhaps a bit too generous, and has since been revoked. The only way to get access now is to book a room that comes with it. 
Once you exit the lift, you'll be funneled to a check-in counter, where your temperature is taken and a Safe Entry declaration is made.
After that you're free to choose where you want to sit. The club lounge was part of the 2012 renovation and boasts a gorgeous decor with Oriental accents, open shelves holding heritage trinkets, and a choice of either table or lounge style seating. 
At each end of the lounge is a private meeting room, which club lounge guests can reserve at no charge for two hours each day. Subsequent hours are chargeable at S$53.50 nett each.
While the lounge has commanding views of the CBD and Marina Bay Sands, they're unfortunately marred by the ugly overhanging roofs that are all too visible once you approach the windows. 
All club guests get complimentary pressing or laundry of up to two pieces of clothing per night. This benefit is non-cumulative. They'll also enjoy the following meal presentations:
Afternoon tea: 3 p.m to 5 p.m (menu)
Evening cocktails: 6 p.m to 8 p.m (food menu | drinks menu– ignore the prices, they're all free during cocktail hour)
Food items are served from a rotating menu that changes daily, and as per the current regulations, there's no buffet spread. This means the selection has been reduced significantly from pre-COVID days, a real shame. That said, you can order as many servings as you wish. 
On the first day, the following items were served for tea:
My favourite item was the chicken salad, surprisingly. But the rest of it was pretty good too, with the cheesecake and muscat yuzu being particular highlights. Just avoid the quiche, which crumbled at the slightest agitation and was devoid of personality. 
Since I had late check-out on the second day, I was able to try another tea set. 
The highlights from this one were the oreo cheesecake, wild mushrooms on toast and chocolate tart. 
One big plus for the lounge is that they serve fresh juices throughout the day- if there's something better than green apple juice, I don't want to know.
The evening canapes menu read as follows:
While this selection may have nothing on the pre-COVID days, at least the items were of good quality. The poached prawns were delicate and sweet, the chicken sausages had snappy casings and no detectable gristle. 
Requests for additional portions were quickly fulfilled, and staff were attentively yet discreetly patrolling the lounge to offer drink refills and clear used service items. 
The club lounge has a full service bar, which will whip up various concoctions during evening cocktails:
Singapore Sling
Lychee Martini
Cosmopolitan
Margarita
Whiskey Sour
Royal Blue Pacific
Pepp's Berry
We tried a Margarita, Royal Blue Pacific and Pepp's Berry, all of which were excellent. My personal favorite would be the Royal Blue- sure it's neon, but I'm pretty sure that means it's good for you. 
The champagne selection used to feature a choice of Taittinger Brut Champagne or Laurent-Perrier Cuvee Rose, but that's now scaled back to a Nicolas Feuillatte Brut. It's definitely drinkable, but a half step below the previous options. 
The first glass I received was completely flat, so I returned to the counter and requested for a fresh one. The staff insisted the first glass was poured from a new bottle, but poured another one anyway. I'm skeptical, really, especially when comparing the two.
I definitely enjoyed the Pacific Club experience overall, but I think I felt a bit disappointed because I kept comparing it to the pre-COVID reviews I'd read. I mean, some of the spreads here look incredible, and I fervently hope it returns to that standard soon. 
But you know what's crazy? Even with the scaled-back experience, I'd still rate this as one of the better club lounges in Singapore. 
Pan Pacific Singapore: Facilities
Pool

Gym

Spa

Yes: 7 a.m to 8 p.m


Yes: 7 a.m to 8 p.m

Yes: 11 a.m to 7 p.m
(Wed-Sun only)

Kids' Club

Business Centre

Others

No

No

Tennis courts
Swimming Pool
🏊‍♂️ Pan Pacific Singapore Pool Timings

0700-0830

1300-1430

0830-1000

1430-1600

1000-1130

1600-1730

1130-1300

1730-1900

 

1900-2000
The swimming pool is located on the 4th floor, and is open daily from 7 a.m to 8 p.m. Guests are entitled to one 90-minute slot each day, but do note that if you book the last slot, you'll only get one hour of usage. That's the cost for catching the sunset, I suppose. 
The pool consists of two semi-circles- a smaller, shallow one for children, and a larger deeper one for everyone else. Apparently, there used to be underwater music piped into the pool, but I think they've done away with that. Also gone is the Pan Pacific logo that was once stenciled to the bottom, eroded away by years of chlorine and other bodily fluids. 
Scattered around the pool's perimeter were sun loungers and cabanas, none of which required reservations. I did not observe the chairs being wiped down between uses, or any staff in the pool area for that matter. 
If those are full, other lounge chairs are available around the games area, but these don't really have much of a view- you're looking out at the hotel's herb garden.
Gym
🏋️ Pan Pacific Singapore Gym Timings

0700-0830

1300-1430

0830-1000

1430-1600

1000-1130

1600-1730

1130-1300

1730-1900

 

1900-2000
The gym at the Pan Pacific Singapore follows the same hours and booking slots as the swimming pool, i.e 7 a.m to 8 p.m daily, with a maximum of 90 minutes per day. 
Inside you'll find Technogym equipment with treadmills, free weights, and other specialized stations. The staff thoroughly wipes down equipment between use, and bottled water is available on request. 
Spa
The St Gregory Spa is open 11 a.m to 7 p.m from Wednesday to Sunday, so I wasn't able to pop in. Expect to pay S$70++ (S$82 nett) for a 30 mins foot massage, with 60 mins body treatments starting from S$160++ (S$188 nett). The full spa menu can be found here. 
Other Facilities
Around the pool area you'll find a giant chess set, a table tennis table (paddles and balls available from reception), and a ring toss game. It gives the place a bit of a resort feel, and provides additional distractions for kids. 
Speaking of which, kids can also enjoy the use of a small playground, just next to the hotel's tennis courts. 
The Pan Pacific has two tennis courts, but unlike the extremely reasonable Shangri-La (S$10.70/hour), these cost a whopping S$45/hour. 
For those preferring a quieter area to chill, a few huts can be found near the spa area, with curtains that can be drawn for privacy. 
Pan Pacific Singapore: Breakfast
Served at

Cost

Style

Edge

S$48++ (adult)
S$24++ (child)

A la carte buffet

Hours

Sparkling Wine?

Discounts?

7 a.m to 10.30 a.m

Yes- for club guests

None
At the moment, breakfast for all guests is served at Edge- even those with club lounge access. It's advised that you make a prior reservation from one of the following time slots: 
0700-0800 (last order 0745)
0815-0915 (last order 0900)
0930-1030 (last order 1015)
That seems like an awfully short time to have breakfast- just 45 minutes to order and 60 minutes to eat. The consolation is that the rule isn't enforced unless capacity restrictions demand it; on the Tuesday morning I was there, we arrived around 8.30 a.m and stayed for more than an hour, not encountering any issues. I imagine the situation might be worse on weekends though, so do take note. 
All ordering is done through a digital platform. You're given a password which allows you to submit your orders (unlike other hotels, the ordering system isn't locked to the Wi-Fi network, so someone outside the hotel with the right URL could order if not for the password). 
Unfortunately, the selection is extremely small. There are basically five options to choose from:
An American Breakfast Set with eggs done your way, hash browns, mushrooms, grilled tomato, bacon and sausage links
Chicken Congee
Nasi Lemak
Belgium Waffle
Pancakes
That's it. The staff can bring toast, fruits and cereal on request, but otherwise, this is all you have to choose from. 
Not only is the selection small, the food is, for lack of a better word, bad. Guests with Pacific Club access used to enjoy things like truffle eggs and french toast, a far cry from the powdery eggs and limp waffles now served up. 
The American Breakfast set was competently executed, if rather unexciting. The bacon could have been more crispy, but at least the egg yolks were still runny and the hash browns somewhat crispy. You can request your eggs to be done over easy, scrambled, or omelette style; either way the sides are the same. 
Like the American breakfast, the congee was nothing to write home about. They could have been more generous with the chicken (only a few small shreds were included), and the plating of the condiments wasn't the most attractive.
I was disappointed at the default meat to carbs ratio for the nasi lemak. A huge dollop of rice formed the centerpiece of the dish, with a tiny chicken wing alongside it. Extra chicken was brought on request, so be sure to ask. 
I ordered one serving of the pancakes, but I guess the system must have taken that literally because one pancake appeared. It's probably for the best though, because I'd just have wasted the other. The pancakes were dense and cakey, suggesting there was too much egg in the batter or the pancakes had been pressed down during cooking (which pushes out the air- never do that). 
One of the perks of Pacific Club access is a champagne breakfast, and this applies even at Edge (as well it should- with the menu now the same, this is the only thing you're paying extra for). 
I took a sip of champagne…then paused.
Something was off. The bubbles were there, but there was a cloying sweetness that I didn't expect. Could it be I'd been served something else? This had the potential to be a very embarrassing moment if I was wrong, so I took another sip and examined the color. This seemed to be lighter than I remembered. OK, I decided. I'm going to raise it. 
Hesitantly, I asked the server whether this was really champagne. She went to check, and to her credit was completely upfront about it. I'd been inadvertently poured a glass of prosecco instead of champagne, and a replacement glass was brought immediately. For those of you wondering what the fuss is about, see if you can identify which is which without reading the caption:
So call me a lush if you will, but I am pleased that I can successfully identify the difference between prosecco.
I can't help but think of my experience at the PARKROYAL Pickering, where breakfast was equally dire, saved only by the presence of champagne. I'd offer the same verdict here- if breakfast isn't included in your rate, I'd be hard pressed to pay S$48++ for this. 
Other Dining Options
| | |
| --- | --- |
| Restaurant | Status as of 15 December 2020 |
| Atrium | Open |
| Edge | Open |
| Hai Tien Lo | Open |
| Keyaki | Open |
| Pacific Marketplace | Open |
| Poolside Bar | Open |
| Rang Mahal | Open |
| LuLu's Lounge | Closed |
Members of the free-to-join GHA Discovery program will enjoy 30% off F&B at the following restaurants until 30 December 2020:
This offer is only applicable for weekday a la carte buffet lunch and dinner at Edge, and weekday a la carte menu at Hai Tien Lo and Keyaki. The discount does not apply to alcoholic beverages and takeaway items. 
Keyaki
Before we even talk about the food at Keyaki, we need to talk about the setting. Keyaki must be the most unique Japanese restaurant in Singapore, set amidst a beautifully-landscaped garden, complete with koi pond and garden pavilion. 
While the pavilion and its Shoji-screens make for nice photos, you don't actually dine there- it's reserved for private events and receptions. Instead, head to the adjacent building and enter the restaurant through the automatic sliding door. 
I visited Keyaki a couple of times before this staycation (thanks to the AMEX S$50 Pan Pacific dining credit offer), so for variety's sake I'm including those photos too. 
I've tried both teppanyaki and sushi items. While I won't say it's the best I've ever had in Singapore, it's certainly respectable. I have a soft spot for the seafood fried rice (S$13++), as well as the mixed mushrooms (S$12++). The prawn (S$26++) is expensive, but the sweet juicy flesh almost makes you forget the price for a moment.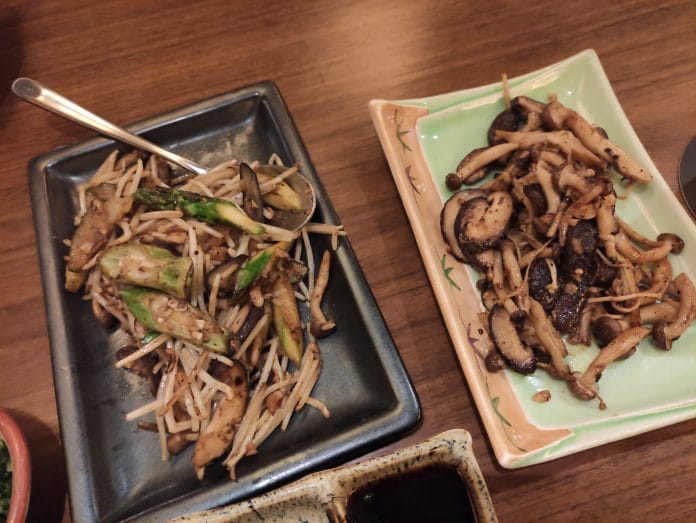 Sushi was acceptable, if not outstanding. The negitoro hand roll (S$24++) and blue fin tuna (S$9++) were my pick of the lot. Do remember to request for freshly-grated wasabi; by default they offer the green playdough stuff. Trust me, once you've tasted real wasabi, you won't ever go back. 
As mentioned, the 30% discount at Keyaki only covers a la carte items, and excludes all sets including kaiseki, teppanyaki multi-course, nigiri sushi moriawase, bento, and gozen. While that sounds like an extensive list of exclusions, I realised that when you add up the a la carte cost of individual nigiri, it comes out to about the same as the set- plus you have more control over what exactly you want to eat. 
Pacific Marketplace
Pacific Marketplace is the hotel's not-quite-all-day dining venue (open daily from 11 a.m to 10 p.m), serving up a mixture of local and international cuisine. Afternoon high tea is also held here at S$88++ (S$104 nett) for two persons. 
Recommended items from the menu include Heritage Chicken Rice (S$17++), Crayfish Laksa (S$26++, this was formerly served with lobster), and Prawn Noodle Soup (S$22++). The delightfully-named Ham Solo (S$18++), basically a dressed up ham sandwich, is also considered a signature dish. 
I'm a sucker for a good prawn noodle soup, so that's what I went with. While the prawns were disappointingly small, the broth was rich and hearty, with a depth of flavor that could only come from hours of stock brewing. It didn't quite hit the heights of the prawn noodles at PARKROYAL Pickering, but was still satisfying. 
Protip: Pacific Marketplace is not covered under the 30% GHA Discovery discount, but you can still save 15% by paying with an American Express or Citibank credit card. 
Pan Pacific Singapore Service
It's quite clear the Pan Pacific Singapore is understaffed.
I mean, I was literally told this upon entering the hotel. The gentleman manning the temperature taking station handed me a card and said that since so many of their colleagues were stuck overseas and unable to enter Singapore, the hotel was now using MIKA, a digital concierge system. 
It was a bit of a strange greeting, really, and almost seemed like they were pre-empting guests to lower their expectations. It reminded me of US flight attendants who start their briefing with "we're here primarily for your safety…"
MIKA can handle breakfast, pool and gym bookings, at least in theory- it refused to recognise my room number, so I had to visit the front desk to get it done anyway. It also didn't understand requests for alternative pillows from the pillow menu. 
You can request additional housekeeping items through MIKA, but here's what royally cheeses me off. Suppose you need an extra towel, more water, or more shampoo. The hotel will charge a delivery fee of S$5 per item. It's absurd that a five-star property would want to nickel and dime its guests like this- imagine paying S$800 for a suite and being told you need to pay S$5 if you want an extra toothbrush sent to your room!
This policy was not in place when I stayed from 14-15 December, but when I was revisiting MIKA to write this report I noticed it'd been quietly added.
Once again, there's simply no reason for the hotel to charge this, token amount though it may be. It leaves a bad taste, and seriously, isn't there a better solution? Couldn't the hotel ask guests to come down to the front desk to collect items? It still wouldn't be what you'd expect from a 5-star hotel, but still a heck of a lot better than charging S$5 a pop. This is a terrible precedent, and it'd better not catch on. 
Other signs the hotel was understaffed were that service requests typically took about 40 minutes to fulfill, and there was no turndown service offered in the evening. It's unfortunately part and parcel of the staycation experience now, and while I believe most guests are inclined to be sympathetic, they'll be much less so if you're charging delivery fees for basic items. 
Service interactions in the lounge were great (breakfast less so), with the staff remembering names and drink preferences. I was amused to get a visit from the guest services executive during afternoon tea on the second day to apologise for the champagne/prosecco mess up at breakfast (I swear, I didn't make a scene). He invited me to cocktails again later that evening, but I had to decline because of work. It was a nice gesture though, and I appreciated it. 
Conclusion
My overall verdict on the Pan Pacific Singapore? In two words: not yet. 
The hotel just reopened for staycations in early December, and it's clear they're still trying to find their feet. If you visit now, you're likely to get a watered-down experience, while not really saving all that much compared to regular rates. 
There's no doubt in my mind the Pan Pacific is capable of delivering the goods- many pre-COVID reports in the Milelion Community confirm it. But although all the raw ingredients required for a great stay are present, they need time to figure out how to assemble them in light of the new restrictions on everything. They're clearly going to make some mistakes along the way (that S$5 delivery charge is particularly egregious), and the question is whether you're willing to pay to be part of that learning process. 
Not yet.
Overall ranking of Phase 2 staycations
Pan Pacific Singapore
*Andaz Singapore ranking is as per my 1 October 2020 visit; the experience has notably declined since then. 
🏨 In Summary
While even a scaled-back Pan Pacific lounge experience can compete with the best of them, this is a hotel that's best given some time to rediscover its operating tempo. Charging S$5 for an extra towel doesn't help. 
Do say: The neo-futuristic architecture expresses a hope for a better tomorrow
Don't say: If they didn't want flashers, they shouldn't have built a bubble lift