Maybank has launched a new offer for contactless payments that runs from 18 January to 31 March 2021. Registered customers can earn up to 17,000 TREATS points (equivalent to 6,800 miles) simply by making contactless transactions of at least S$10 each.
This is limited to 1,000 registrations, so you'll want to get registered ASAP.
Maybank contactless payments promotion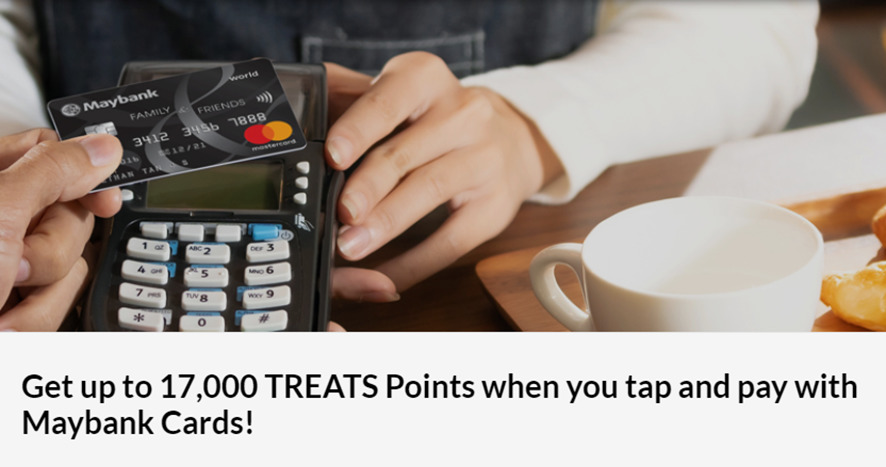 To register, download the Maybank TREATS SG mobile app from the App Store or Google Play and login with your Maybank online banking username and password. Locate the promotion under Privileges –> Highlights –> Maybank Contactless Promotion. Tap "Save to my coupons" to register, and you're set. 
Once registered, you will earn bonus points as follows for contactless transactions (min. S$10 each) made from 18 January to 31 March 2021:
Make 1-9 transactions: No bonus
Make 10-19 transactions: 3,400 TREATS points
Make 20-29 transactions: 6,800 TREATS points
Make 30-39 transactions:10,200 TREATS points
Make 40-49 transactions: 13,600 TREATS points
Make 50 transactions or more: 17,000 TREATS points
Assuming you make 50 transactions on the dot, you receive an extra 136 miles per transaction, and assuming you spend S$10 on the dot, that's an extra 13.6 mpd. Therefore, it would be worth switching away from your UOB Preferred Platinum Visa, although you'll want to be mindful of orphan points if you don't use Maybank cards all that much.
Assuming 50 contactless transactions & S$10 average value
 
 

Maybank Horizon

Maybank VI

UOB PPV

Base

0.4 mpd

1.2 mpd

0.4 mpd

Bonus

13.6 mpd

13.6 mpd

3.6 mpd

Total Miles

7,000 miles

7,400 miles

2,000 miles
Successful cardmembers will receive a push notification via the TREASTS SG app after the bonus points are credited, which will take up to 60 days from 31 March 2021 (i.e end May 2021). 
Excluded transactions
Transactions with the following merchants will not count towards the S$10 minimum spend:
Payments made to government or government-related institutions, agencies or companies or for government or government-related and services (court cases, fines, bail and bonds, tax payment, postal services, parking lots and garages, intra-government purchases and any other government services not classified here);

Betting or gambling transactions;

Brokerage/securities transactions;

Payments to insurance companies;

Payment of funds to pre-paid accounts (e.g. EZ-Link transactions, Transit Link transactions




etc.);

Online payment gateway transactions (e.g. PayPal, Skrill and Bidpay etc.);

Transactions made via AXS or SAM;

Transactions of a corporate/commercial nature;

FlexiCash, FlexiPay, 0% Interest Instalment Plans, funds transfers, cash advances, finance charges, late payment charges, annual fees, reversals, interest charges, any other miscellaneous charges charged to the Cardmember, or payment of funds to prepaid  accounts such as those listed below [truncated- refer to T&C for full list]

Any transactions deemed by Maybank at its sole discretion to be unsuitable or inappropriate to be considered as an eligible transaction for purposes of the Minimum Spend or this Promotion
There's little to be concerned about here, given that your contactless payments will be made at physical retail merchants and you're unlikely to cross paths with any of the exclusion categories listed above. The full T&C can be found here. 
What can you use TREATS points for?
Maybank TREATS points can be transferred to the following frequent flyer programs, or used as statement credit at a very poor rate. 
 

TREATS Points: Miles

5,000: 2,000

12,500: 5,000

2,500: 1,000

Transfers to Air Asia BIG are also available, but really not worth contemplating
A fee of S$26.75 nett applies per transfer. This conversion fee is waived for Maybank Visa Infinite and Maybank World Mastercard members. 
Conclusion

Bonus TREATS points are awarded on top of your usual base earn rate, so there's no reason not to register. 50 contactless transactions should be fairly easy to hit in the 2.5 months you have, especially if you're thick-skinned enough to ask the cashier to break up your bill. 
(HT: Miletitude)